Chicken Tagine #slowcooksunday //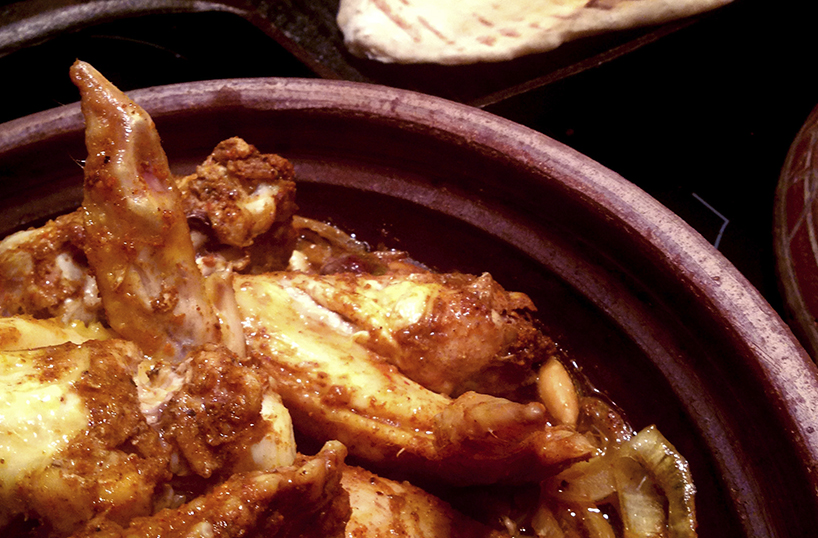 Before you head out for that Sunday walk to the pub, put this Chicken Tagine on low and come back to a hearty meal.
The days are colder, the nights are longer, and those summer salads just aren't cutting it anymore. As much as you'd hate to admit it, winter is nearly here and with it comes some hearty dishes.
Slow-cook Sundays began last year with a few cheap meats made rich with spices, sauce or vegetables, and a lot of time in a warm place.
This week, we tried and tested the Moroccan chicken tagine.
For this dish you can use any grade of chicken (free range of course) because it becomes so immersed in spices and flavour and ends up so juicy that you'd never guess you bought it in Lidl.
While there are many flavours to the chicken tagine, we tried preserved lemons with olives. To be honest, you don't even need to use preserved lemons – just slice the rind off a lemon (or even an orange) to give you that citrus flavour. We opted for a jar of olives as they're a little bit softer. If you're feeling more adventurous, try adding sultanas and almonds.
In Morocco, the chicken is marinated in Ras el Hanout. Translated it means 'head of the shop' and contains a vast mix of spices which makes it different in every shop or stall. It contains around 15 ingredients but you'd probably find enough in your spice cupboard to do the trick.
Once you have all the ingredients the cooking process is so simple, and with the heat set to low you can take a Sunday walk (to the pub) and come back to a delicious, hearty meal.
Serves: 4
Cooking time: 1 hr 30 mins
Preparation time: 10 mins
Ingredients:
1 whole chicken – cut into pieces and skin removed
4 small onions, sliced into strips
3 garlic cloves, sliced
2 tsp ginger
1 tsp pepper
1 tsp turmeric or saffron
1 tsp salt
Half tsp cinnamon
3 preserved lemons, flesh removed and rind sliced, or sliced rind of 1
Lemon or 1 orange
Half jar of pitted olives, sliced
2-3 tbsp Olive oil
175ml Chicken stock
————————————————————————————-
Method
1) Put the chicken, onions, garlic, spices, lemon and olives into a large bowl and mix. If possible, prepare the night before or marinate in the fridge for several hours.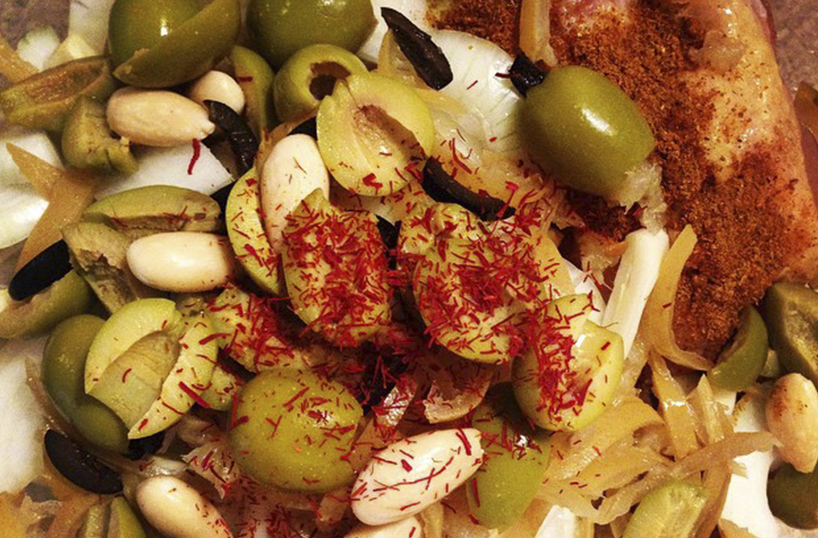 2) Coat the bottom of the pot with olive oil. You can use a traditional tagine or a casserole pot, as long as you have a large enough pot so that you're not piling the chicken on top of itself and there's a lid to allow it to steam. The shallower the better.
3) Remove the chicken and place the rest of the ingredients at the bottom of the pot, add the chicken stock, being careful not to wash the ingredients, and then lay the chicken on top. Drizzle with a little more oil and then put the lid on.
4) Depending on what dish you're using, either leave on medium-low on the hob or on 180 in the oven untouched for 90 minutes. The lower it is the longer you need to leave it. After that, turn the chicken and pour some juice over the top. It's technically cooked and ready to eat at this point, but leave for another 30 minutes if not longer until the chicken falls away from the bone and the onions are really soft.
Additional extras
Add some flat bread or couscous is perfect to soak up the juices.
What Sundays are made for. Enjoy!
Words by Firuze French