Slow Cook Sunday – Beef Shin Stew //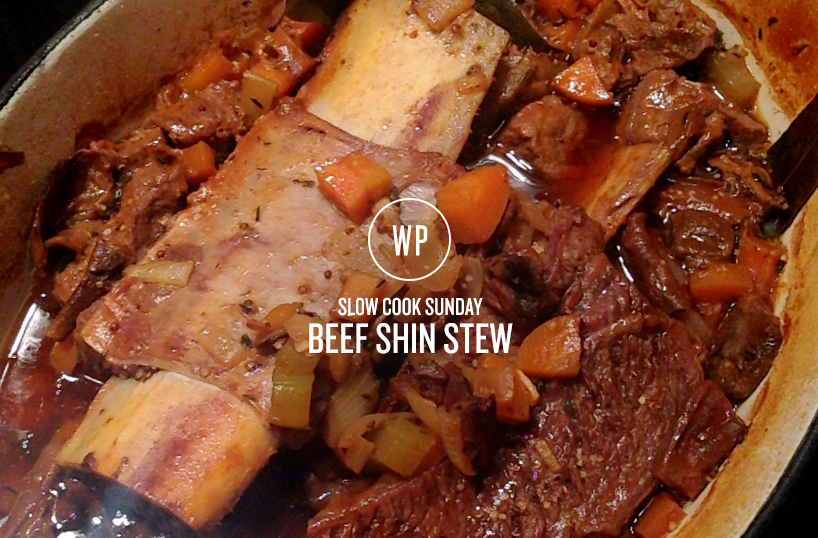 There's no denying that the months of BBQs and light dinners are no longer comforting in the cold. But rather than going back to your ordinary roast dinner, why not try a Slow Cook Sunday?
Cooking something slowly on a lazy Sunday while you go out for a walk, a cheeky drink or watch the game (not us… the boys!), means you'll come back to a melt in the mouth meal with little effort. We've already posted a slow cook Chicken Tagine recipe (view here), now why not try a slow cooked shin of beef.
Beef shin is usually a cheap cut because it's mostly bone, but that all adds to the flavour. There are other cuts you can use, but for a truly great show stopper make sure there is bone. If you don't have enough meat, add some stewing steak, but the bone adds to the dish.
For the sauce, the beef should add enough flavour that you don't need too much liquid, but you will still need a bit to allow the beef to simmer on a low heat. I've opted for a Brown Ale to add a full bodied and slightly bitter balance to the sweetness of the carrots, but you can switch this out for a dark red wine if you wish. Also, make sure you have beef stock on standby in case it gets too dry too early (it will all depend on the simmering time), but it's ok if the sauce thickens up in the last 30 minutes as you don't want it too thin.
The beauty of this recipe is that all it takes is some browning and sauteing beforehand, then all of the ingredients are left to simmer, melt and turn into a fully flavoured stew. I served this dish with fresh bread and salad, but for a more filling meal serve over buttery mashed potato and vegetables.
Serves: 4-6
Cooking time: 4 hours
Preparation time: 10 mins
Ingredients:
800g-1kg shin of beef (add stewing beef if there isn't enough meat)
1 large onion, diced
2 carrots, peels and diced
2 sticks of celery, diced
1 bay leaf
1 tablespoon herbs such as rosemary, thyme or oregano, dried or fresh
1 bottle of brown ale (we chose Samuel Smith's Nut Brown Ale)
Handful of porcini mushrooms
500ml beef stock in case it gets dry
Fresh bread and salad to serve
————————————————————————————-
Method
1. The first thing you want to do is brown the meat in a casserole pan on a medium heat on the hob. Some say this is to seal the meat, but really it's to get the flavours going and into the pan. Add salt and pepper and a cheeky knob of butter (you can use vegetable oil instead if you prefer). If your shin bones are rather large, do them separately to the stewing steak. If you need more meat (if there isn't enough on the bones) chuck this into the pan now and seal in the same manner.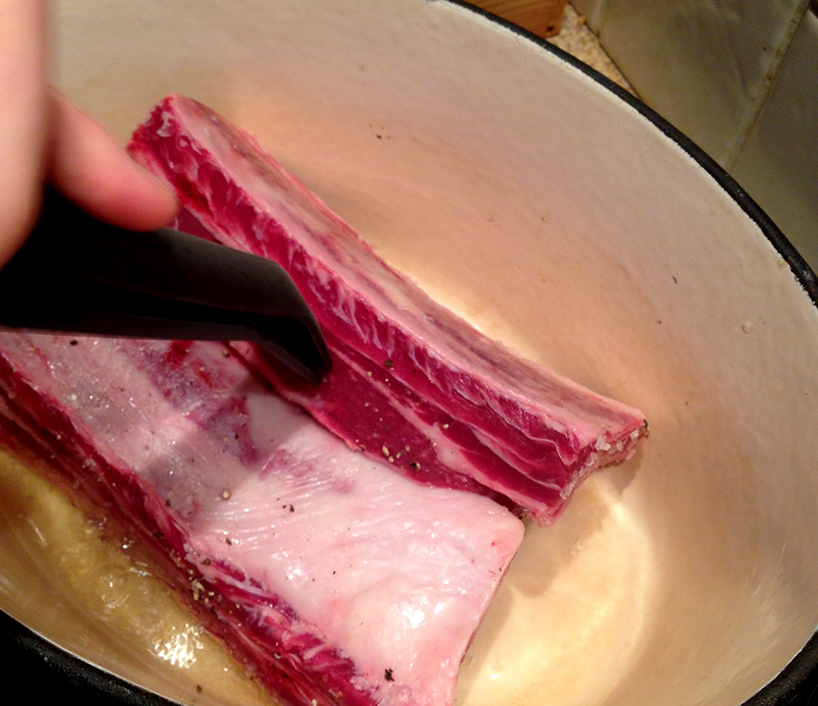 2. Remove all the meat and sauté onions, celery and carrots in the same juices. Add a bay leaf and the herbs.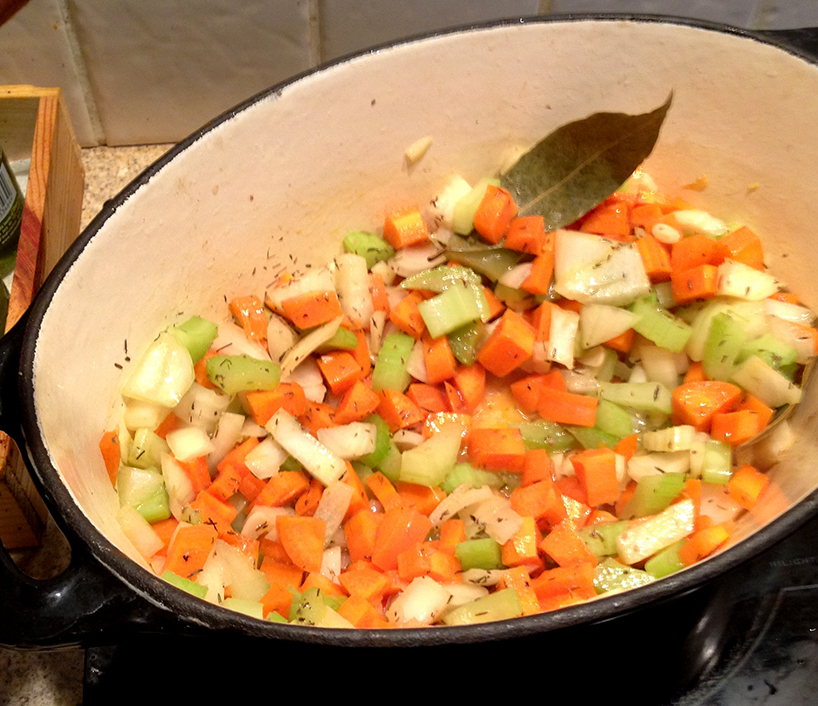 3. Add the meat back into the pan, add porcini mushrooms and pour the ale over the contents of the pan.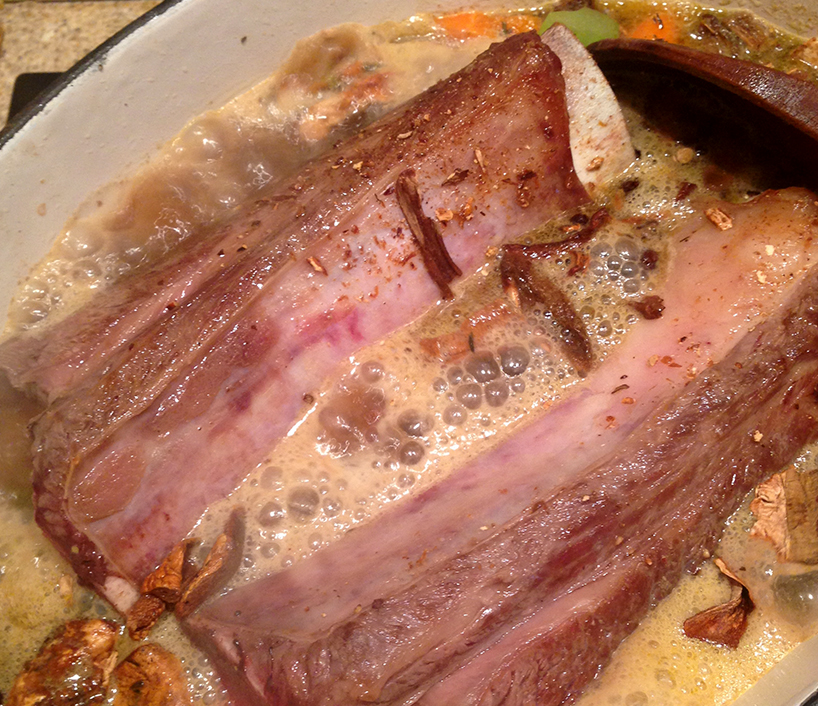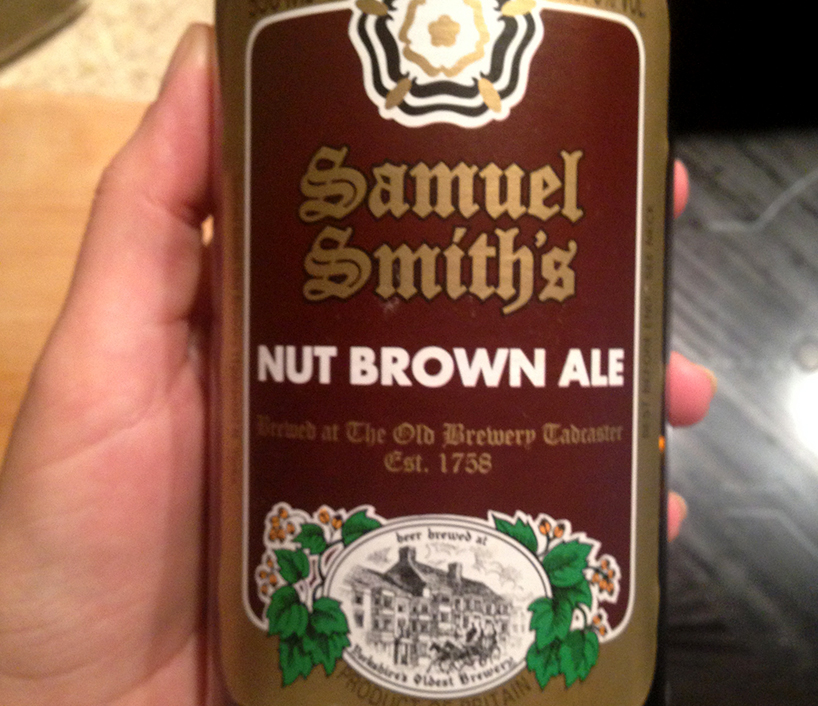 4. Turn the heat down to low and allow to simmer for up to 4 hours. If it begins to look dry add beef stock and put the lid on the pan. You'll know it's ready when the shin bone slips out of the meat, like this…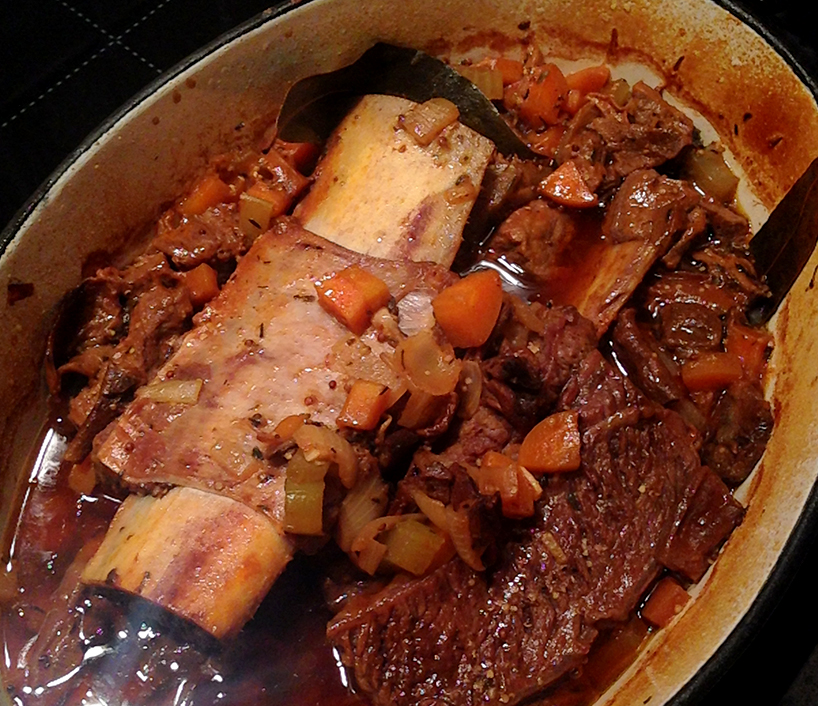 5. Serve with bread for dunking and salad to accompany.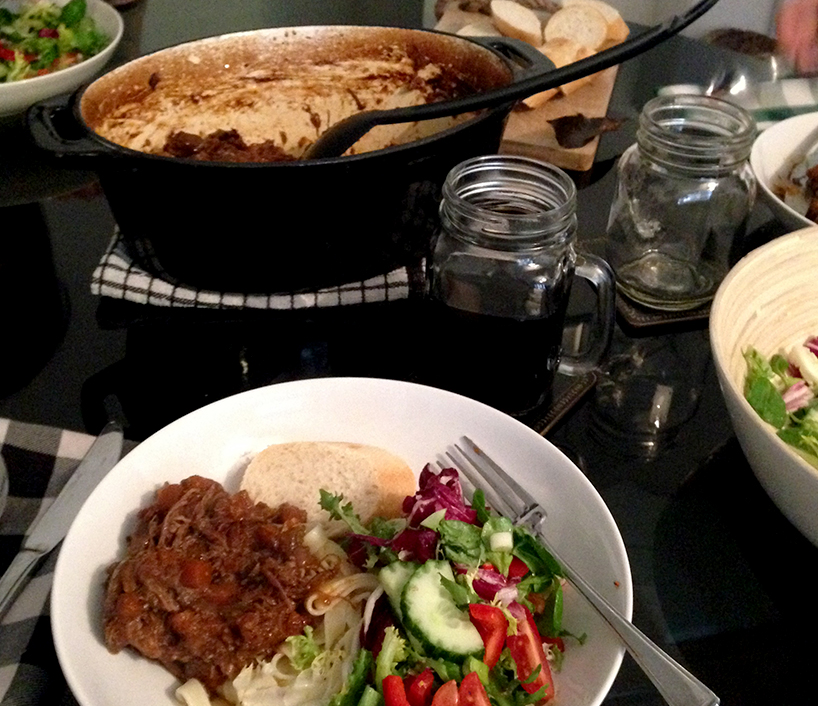 This is a great dish to set going before work or to do early on a Sunday morning and leave stewing for Sunday lunch. Yum!
Words by – Firuze French
Images © To Work or Play 2016