The power of Puy Lentils //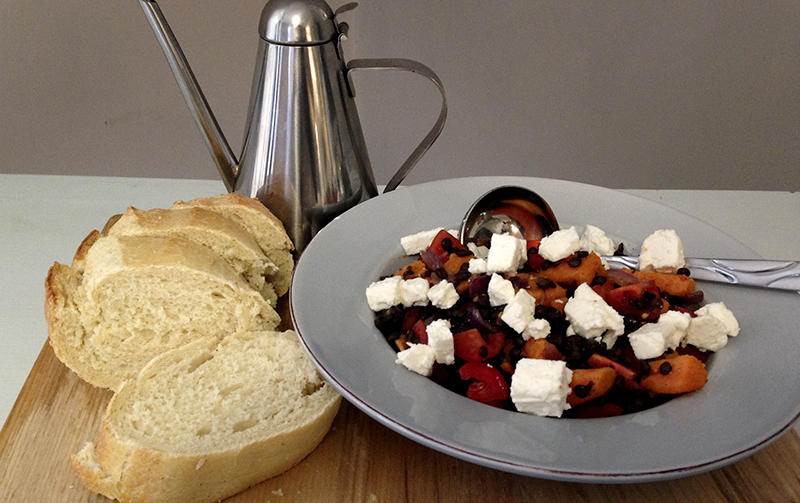 NJ gives you a recipe for a quick and easy summer salad that's a little more hearty that lettuce.
Lentils. They don't look very appealing, but they are a great lunch ingredient. They contain just 1% fat (no that wasn't a typo, I really did mean 1%) and 44% insoluble dietary fibre, which helps eliminate blood cholesterol. They also contain happy vitamins (not a technical term) such as A and C, and other lovely chemicals that prevent disease. They're made of 'good' carbohydrates which suppress the appetite making them perfect for dieting. Oh, and they taste ok too.
Interested?
There's lots of things you can do with Lentils, but here's my quick and yummy salad option. Great for light lunch:
Serves: 2
Cooking time: 10 mins
Ingredients:
Puy lentils – You can buy these ready cooked
Sweet potato
Cherry Tomatoes
Feta cheese
Red onion
————————————————————————————-
Method
1) Peel 1 or 2 sweet potatoes and cut into cubes. Boil in water for about 20 minutes.
2) Meanwhile, finely chop a couple of red onions brown in a  frying pan on, mid heat, until crispy (not black, no one loves a burnt onion).
3) Cut the tomatoes into quarters and mix with cooked lentils.
4) When potatoes are ready strain and set aside.
5) When onions and potatoes have cooled off mix with tomatoes and lentils in a large bowl and top with chunks of Feta cheese. Add seasoning to your taste.
6) You can add a dressing to this if you wish or have it as is. If you want to add a dressing one of my fav's is honey a dash of mustard mixed with a bit of olive oil.
And you're done. Told you it was easy!
Lentils are versatile you can adapt them with whatever you fancy, from adding sausages to a hot lentil main, to a cold grilled veg and haloumi cheese. You can use them as an accompaniment to fish or you can even make a warming winter soup. Whichever way you choose there brilliant filler for work lunch that will keep you going through a hectic day.
Words by – Natalie Jahangiry
Images © To Work or Play 2015