Tikka Masala for Everyone //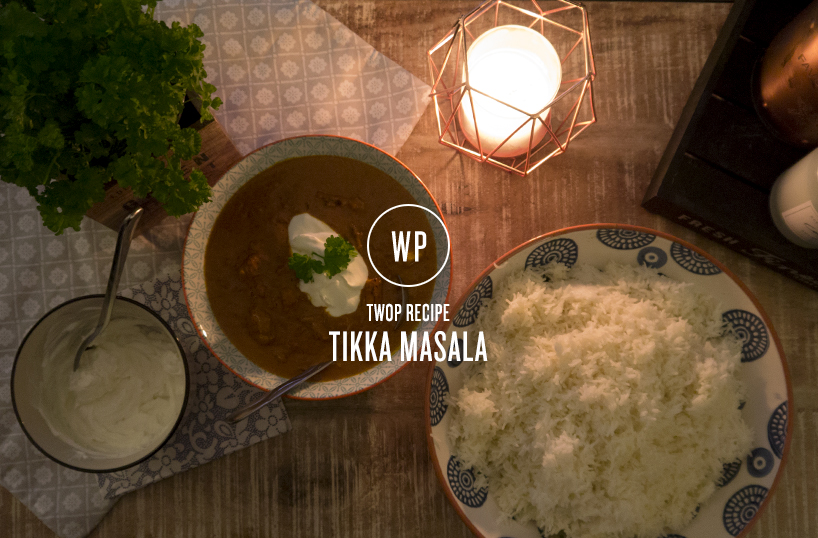 We give you a Masala recipe that can be made for either veggies or carnivores… or both. Follow our simple steps to achieve a delicious curry suitable for all needs.
Curry is a dish that will never go out of fashion. There's one to suit all tastes from mild to spicy, dry to saucy – whichever you prefer there's a recipe to suit you. Of course curry as we know it, is inspired by an Anglo-Indian evolution of traditional recipes, crafted to suit a British palate. But nevertheless it's a good hearty meal that can put a smile on even the grumpiest face and suitably fill a grumbly tummy.   
When it comes to a good curry I have to admit, I'm a bit of a wuss. I like mine creamy and mild. Also, being a veggie, I thought I was limited to choice, until I discovered paneer – which was a game changer. So here I give you my recipe for a deliciously mild Tikka Masala that can be made with either chicken or paneer or maybe both if you fancy!   
Serves: 3-4
Cooking time: 1.5 hours
Preparation time: 25 mins
Ingredients:
Main ingredient – chicken or paneer… or both
A pack of boneless chicken thighs
2 packs of paneer
For the curry itself
1 large onion, finely diced
Rapeseed oil or coconut oil
3 cloves garlic, minced
1 tsp turmeric
1 inch piece whole ginger, peeled and grated
3 tbsp tomato paste
2 tbsp garam masala
2 tsp paprika
1 tsp chopped chilli, optional if you want to add some heat
2 tsp rock salt
1 can chopped tomatoes
1 can coconut milk
A dollop of coconut cream
150ml double cream, optional
To serve
Sour cream
Fresh parsley, chopped
Basmati rice and naan bread, to accompany
Greek yogurt to accompany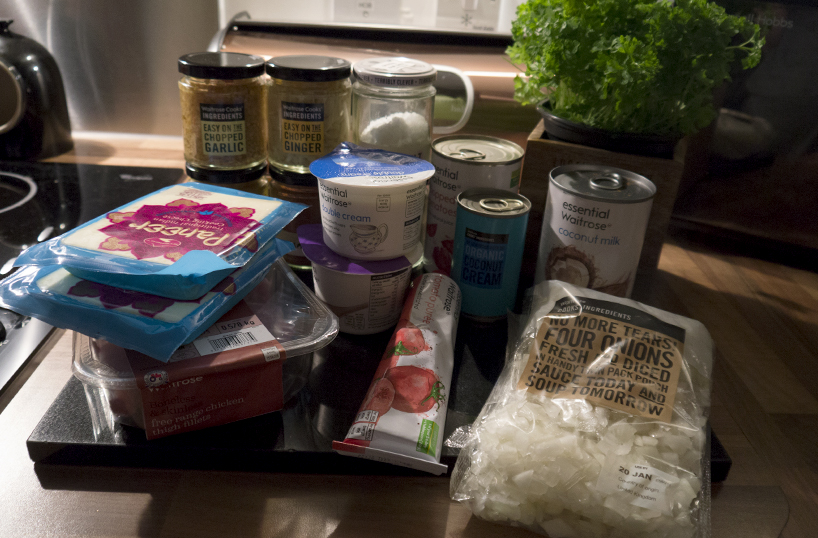 ————————————————————————————-
Method
1. A heatproof casserole dish is best for cooking this dish (if you have one) or a deep non-stick pan. Put the pan on a high heat. Finely chop the onions. Add a splash of rapeseed oil / coconut oil into the pan and fry off the onion.
2. Finely mince the garlic (or cheat by buying pre chopped garlic) and then make the curry paste while the onions are frying. To make the paste chuck the chopped garlic, turmeric, ginger, tomato puree, garam masala, paprika and chilli (if you want chilli) and a bit of oil into a blender and whizz until combined into a paste form.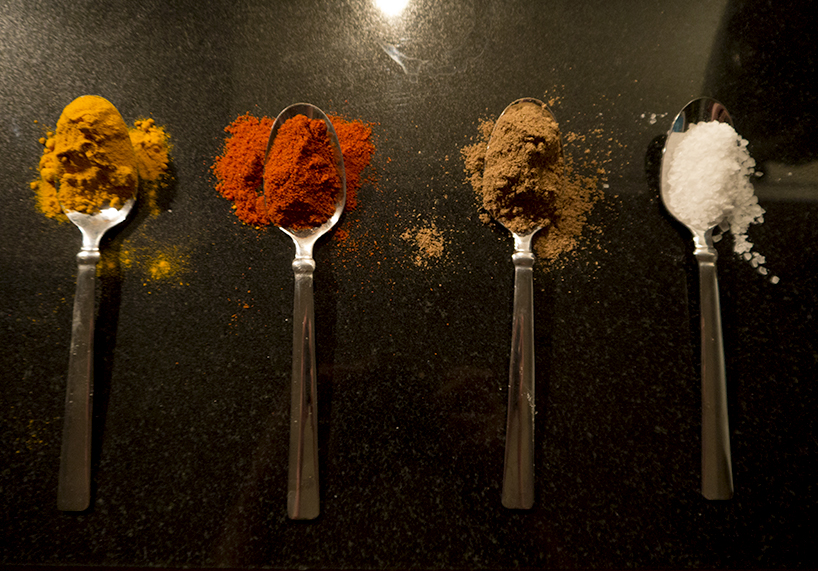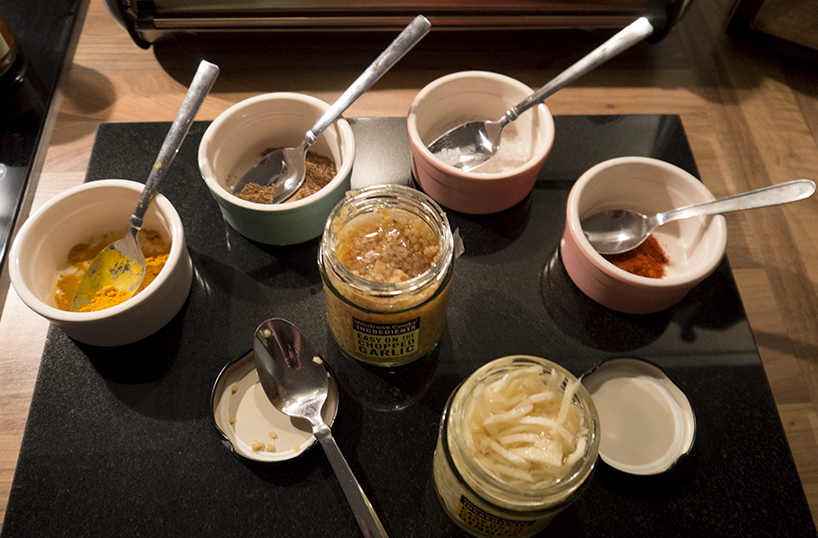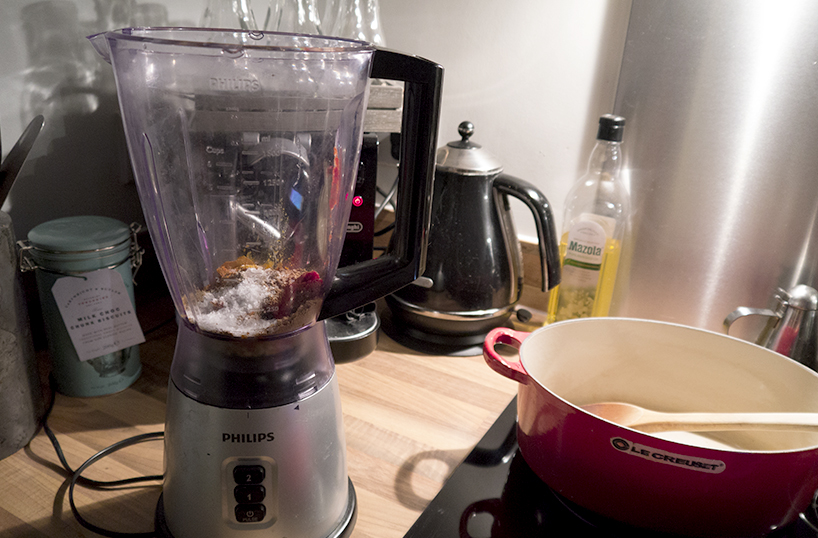 3. Add the paste to the onions in the pan, mix and fry for a minute.
4. For the meat eaters: If you are making the meaty version of this curry this is the point to add the chicken to the pan. Chop the chicken into pieces and remove any skin. Fry for 5 minutes to brown the meat and seal. If you are making the veggie version skip this step.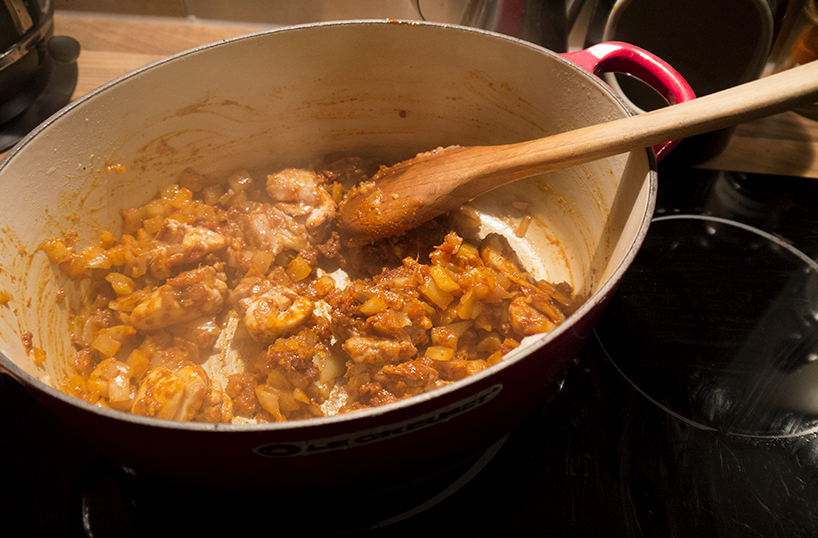 5. Turn the pan down to a medium heat and add the can of chopped tomatoes. Followed by the can of coconut milk and dollop of coconut cream.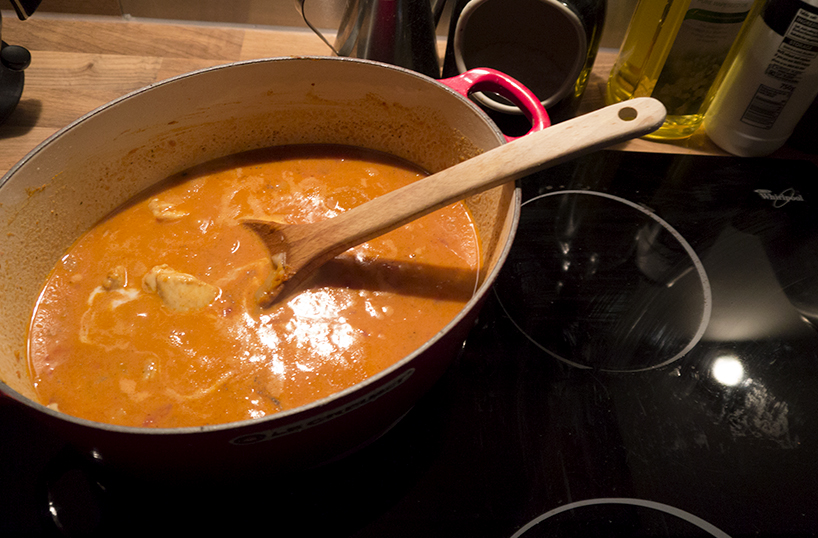 6. Mix thoroughly and put the lid on the pan. Simmer on a low heat to slow cook for a good hour, ideally more.
7. For the veggies: With 30 minutes to spare prepare the paneer by cutting into squares and frying with rapeseed oil in a separate pan, on a medium heat, for a few minutes. Make sure to turn the paneer over to brown each side. Meat eaters can skip this step or add paneer for an extra texture. Once browned add the paneer to pan and remove the lid allowing the sauce to simmer for half an hour to thicken.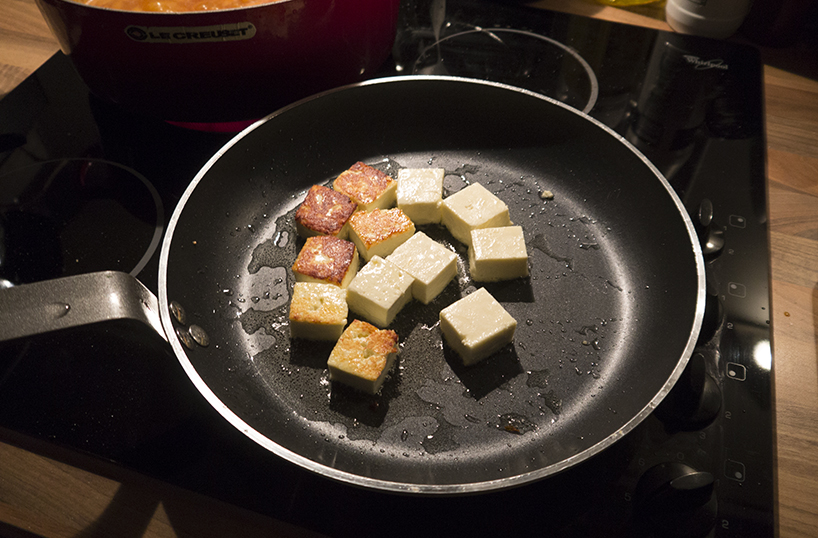 8. When the sauce has thickened take the curry off the heat and add the double cream if you want to make it super creamy.
9. Top with a dollop of sour cream and some fresh parsley and spoon over fluffy basmati rice. Serve with naan bread and Greek yogurt to accompany.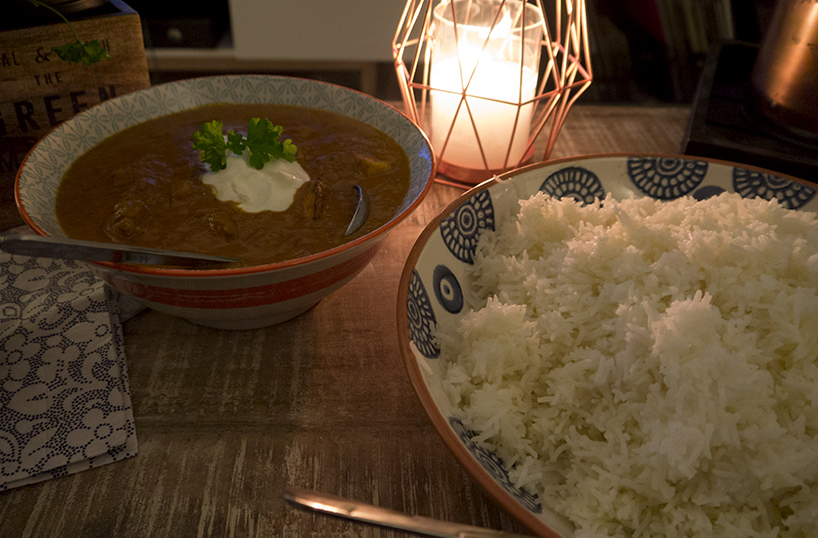 Warmingly hearty and filling. Delicious.
Words by – Natalie Jahangiry 
Images © To Work or Play 2016