Warm Root Veg Salad //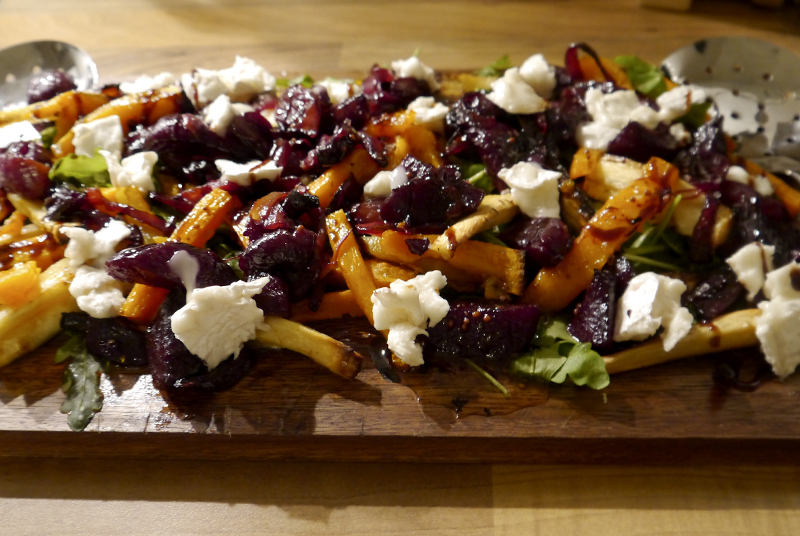 As the dark nights creep in, warm yourself up with a delicious warming root veg salad.
This salad takes hardly any time to prepare and is a winner when it comes to an after-work meal or cooking on-mass for dinner parties. It's also light and healthy, so what's not to like?!
Cooking time: 45 mins
Preparation time: 15 mins
Ingredients:
(Note: Use as much veg as you fancy, depending on party size)
Carrots
Parsnip
Sweet potato
Red onions
Rocket
Goats cheese
Beetroot (pre-cooked)
Balsamic vinegar or glaze
Extra Virgin Olive oil
For the dressing:
Honey
Wholegrain mustard
Olive oil
————————————————————————————-
Method
1) Preheat the oven to 220OC
2) Peel the carrots, parsnips and sweet potato and chop into batons of a similar size. Stick the root veg in a roasting dish and drizzle some Olive oil over.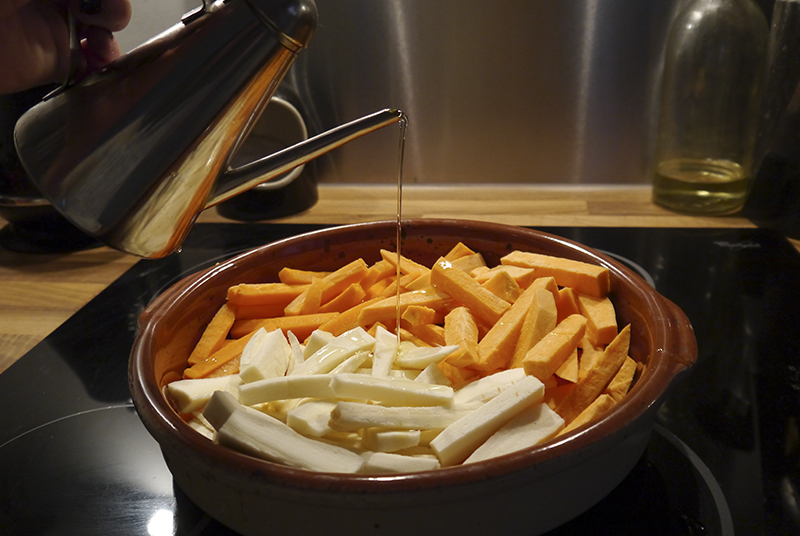 3) Peel and chop the red onion into nice chunky pieces. Grab your beetroot and chop into similar size pieces. Put these into another roasting dish and coat in balsamic vinegar or glaze. Get all the veg in the oven and set the timer for around 45 mins.
4) Just before the veg has finished cooking you can make the dressing. Stick a good glug of olive oil in a bowl and pour in about 2 teaspoons of honey and the same of wholegrain mustard. Mix together and add salt and pepper to your taste.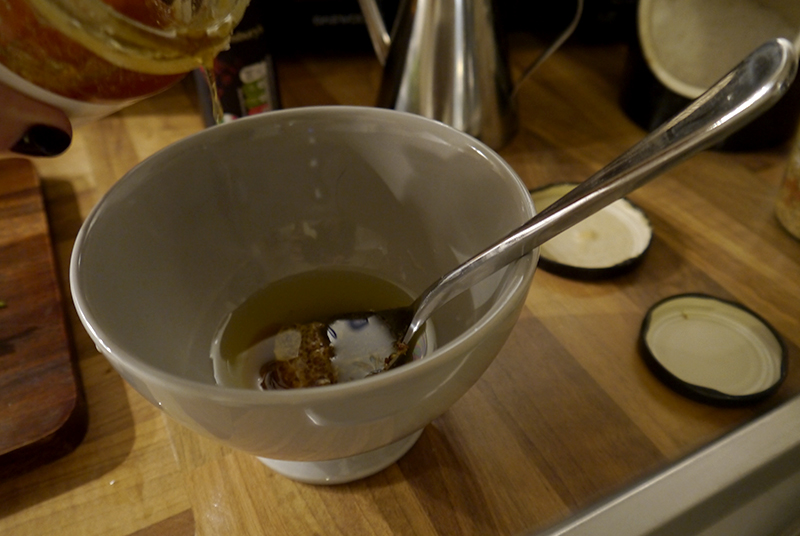 5) Get your rocket and lay at the base of the salad. As much as you fancy, there's no right or wrong way to do this recipe.
6) Start by laying out your carrots, parsnips and sweet potato on top of the rocket bed.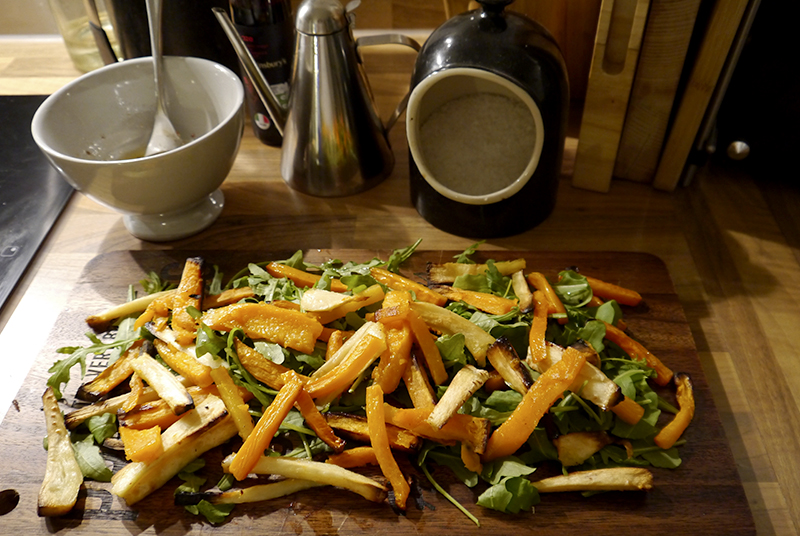 7) Next layer is your caramelized onions and beetroot. Cover with some of that sweet dressing at this point also.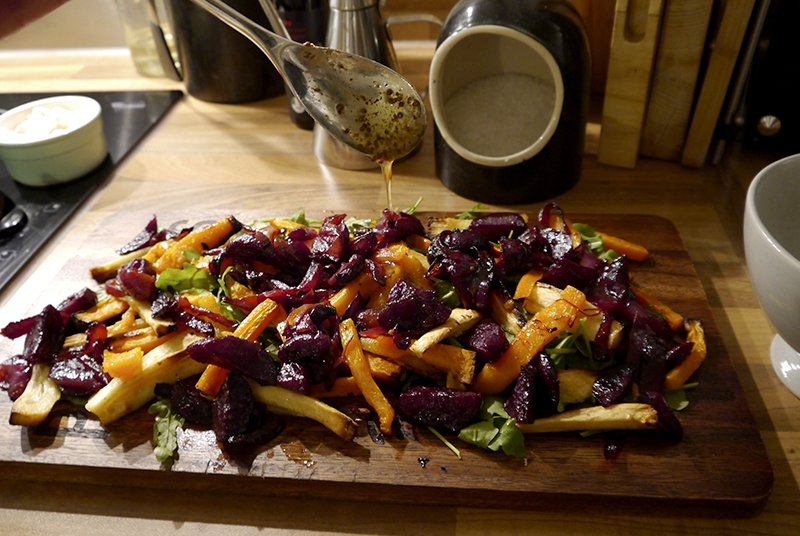 8) And finish with some creamy goats cheese and a sprinkle of rock salt.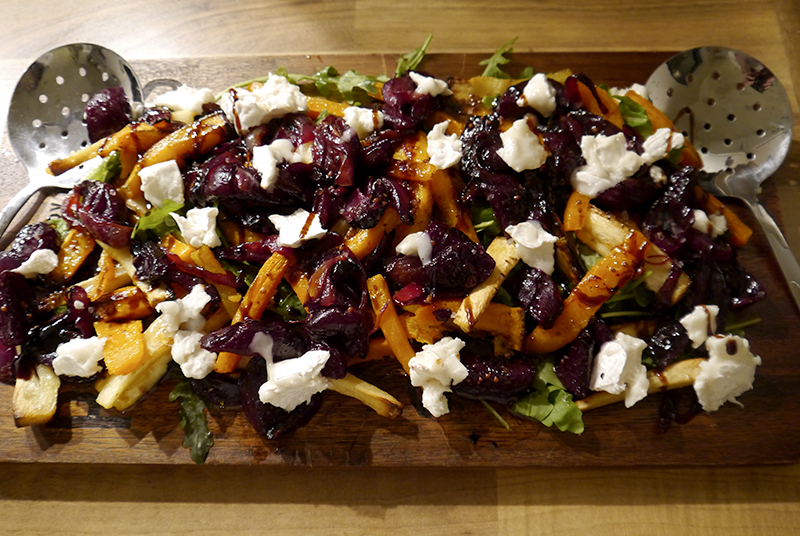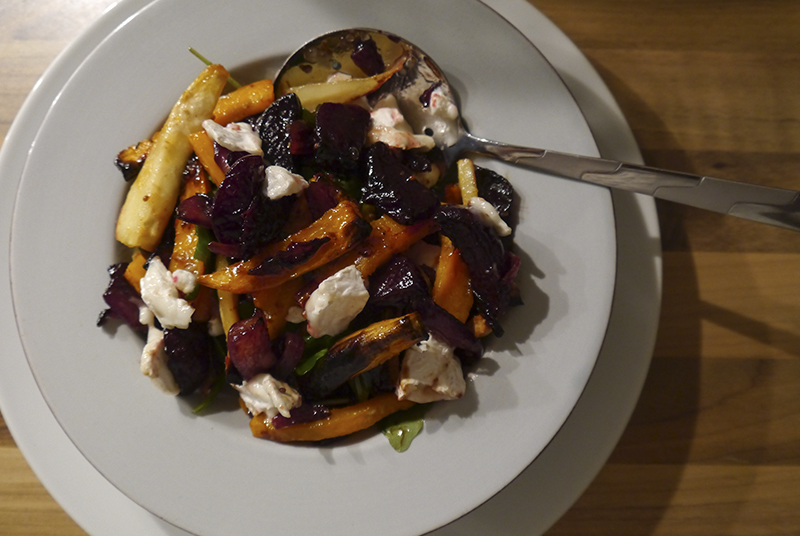 Voila, you're done! For dinner parties you can serve on a large wooden board and just stick a few serving spoons in place for guests to help themselves or if you are enjoying this on your own just fill a big bowl and tuck in.
Words by – Natalie Jahangiry
Images © To Work or Play 2015