How to Save Money When You Live in London //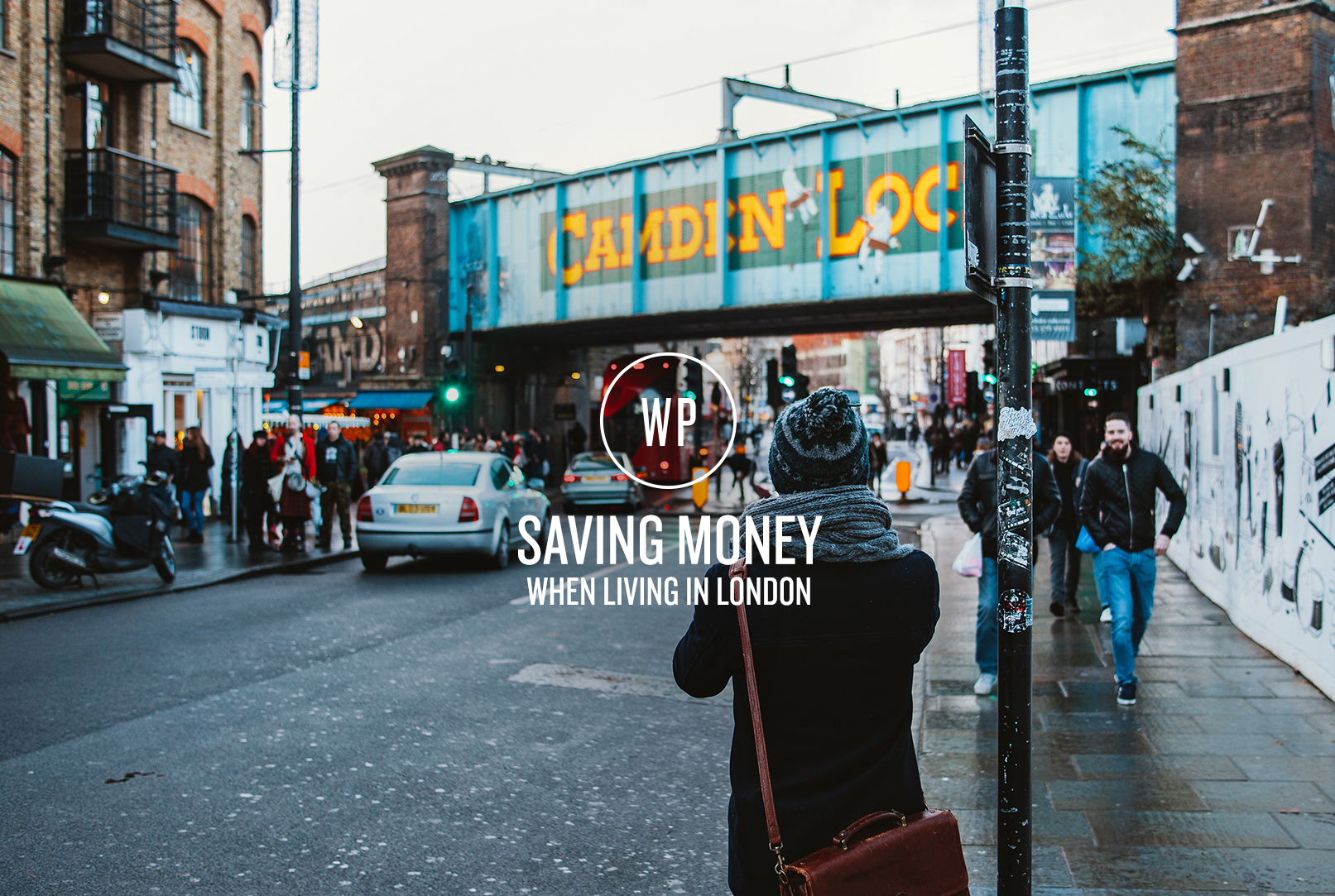 Love London but struggle to save money? Here Sophia Chettleburgh gives tips on how to enjoy the city without breaking the bank.
Being surrounded by London's alluring restaurants, bars, pop-ups and shops on a daily basis, I often find myself putting my savings account to the back of my mind. I sometimes feel like I'm missing a trick when walking back to Liverpool Street Station on a Friday evening to go home, I see overworked and over excited people spilling out from pubs and bars into the streets, eager to spend their hard-earned wages on beer and pricey cocktails. I begin to think that maybe I too deserve to be out enjoying myself and letting my hair down after a long week at work.
But truthfully, at 26, the thought of going out straight from work on a Friday evening and spending anything up to (and sometimes more than) £100 leaves me cold. A few years ago the mere mention of happy hour would have had me rushing out of the office at 5pm on the dot, but I'm tired of feeling horrified the next day when I check my bank balance and see the damage from the night before. I do of course enjoy going to the pub or a bar with friends, but for me personally there is a bigger picture now that my partner and I are saving up for our own place. We also really want to fit some more travel in whilst we can afford to be (moderately) generous with our pennies.
As we desperately try to squirrel away our money, we are finding paying for summer holidays and going out with friends increasingly difficult and we are often left feeling guilty about spending money on trips away and social gatherings when we feel we should be saving. Having worked in the city over the last 5 years I've cottoned on to a few ways which enable me to have fun, socialise and make memories whilst allowing me to be frugal with my money. Here are some tips and ideas for cheap but fun things to do in London:
What to do
There are plenty of cheap or free activities to do in London to make your weekend more adventurous and exciting.
Cinema: Cheap Tuesday's are available in many Vue cinemas, which takes around a third off of your ticket price. You can also put Nectar card points towards your tickets.
Museums & Galleries: The V&A, British Museum, Science Museum, Natural History Museum, National Gallery, Saatchi Gallery amongst others are all free to visit.
Parks: Hyde Park, Richmond Park, St James's Park, Kensington Gardens and Regent's Park are just some of London's beautiful public parks that are perfect for lazy Sunday walks.
Where to get lunch
Buying lunch in London is an incredibly expensive habit. But by the time you get in on an evening you don't feel like making lunch for the next day and any excuse for an extra 5 minutes in bed in the morning means that we leave the house empty handed. So when lunchtime hits and your find yourself sandwich-less you pop next door to Pret and spend a fiver. If you do that every day that's £25 a week, £100 a month – just on sandwiches!
Boots: Their meal deals are around £3.80 and include a drink, sandwich/salad/wrap and a side which is pretty good value. Going one step further however, Boots also offer the following sandwiches on their own for just £1: ham, cheese, tuna mayo, egg mayo and chicken mayo. Plus if you have a Boots card you'll receive 4 points for every £1 you spend.
Eat: Eat have recently introduced a stamp card system; after 10 stamps you get a free lunch. This does exclude certain items but most of their hot food and soups qualify for a stamp.
Costa: with their trusty coffee club card offering a massive 5 points per £1, you can soon accumulate enough points for a free toasted sandwich or panini.
Where to drink
It's easy to just pop into your local after finishing work for the week, but it's even better to find a great bar with a happy hour.
Barrio East: a tropical dream of a bar that have a daily 'Amigo Hour' – cocktails are £5.50, beers are £3.50 and you can get £5 off of a house bottle of wine.
Café Kick: every day from 4-7pm cocktails are £4.95, bottles beers are £2.50 and a bottle of house wine is £12.
The Escapologist: from 5-7pm it's two-for-one on cocktails, two-for-one on house beer bottles and two-for-one on glasses of house wine and prosecco(!)
How to travel
Public transport in and out of London can really take a huge chunk out of your monthly wage, so be sure to check for alternative routes and ways to travel. For example, on a morning I get a train to Liverpool Street Station and then take a 20 minute walk to my office instead of jumping on the tube from Stratford. It saves me £1 a day, which doesn't seem overly significant but it's £5 a week, £20 a month and in this tough climate, every little helps.
There are lots of places within comfortable walking distance from Liverpool Street; you can walk to Oxford Street in under an hour, Bethnal Green is around 30 minutes away and both London Bridge and Clerkenwell are just 25 minutes away. Save yourself some money each week and get a bit fitter in the process.
————
Words by – Sophia Chettleburgh
Visit Sophia's portfolio here to view more of her work. Alternatively ask her questions on Twitter here.