The Secret to Happiness //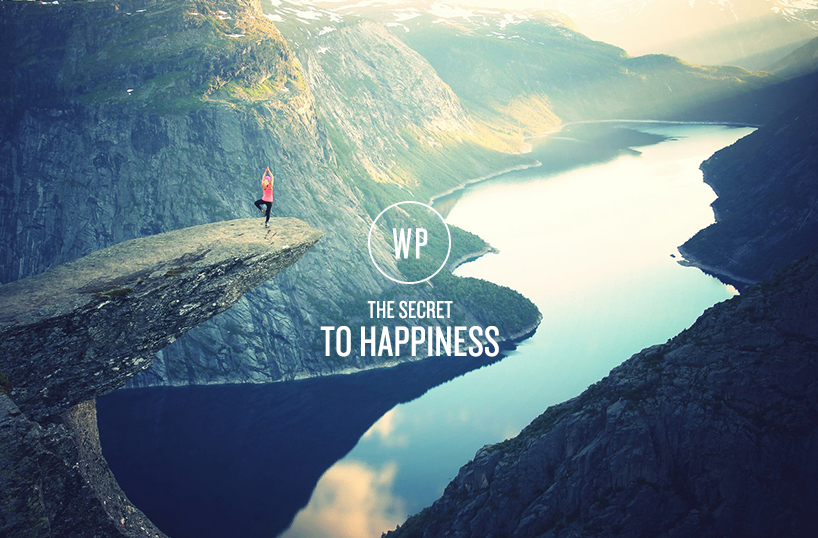 How do you find happiness? Guest playmate Cornelia Lucey explores different methods of changing your routine that could effectively improve your everyday life. Read more to find out how:
So how do you find happiness? Easy peasey. It's within you. Isn't that great? We spend our lives fixating on different things that make us unhappy, but often forget about the things that make us smile. Now I'm not saying don't change the things that get you down if you're able to do something about it, but the continual layer of anxiety that makes us think 'mweh' or 'wtf' at each of life's hurdles is often our own responsibility and the good news is we can change it, which sometimes means not reacting to a stressful situation head on. The job that isn't perfect, the living situation that isn't right, the constant feeling of being drained by the daily grind… getting hung up on these things is unnecessarily driving down your health and happiness. And yet we actually have control over this, we can make ourselves happy with no drastic change and no heavy price to pay, instead it's as simple as taking time out to get in touch with our true selves.
Over the last 4-5 years I've noticed that around the cold darkening days and heavy indulgence in the lead up to Christmas (along with the hysteria that is the season to be jolly) I sometimes struggle to keep my positive light switch on. There are various reasons for this, but this year I decided to make a change before I let the negative craze kick in, the craze that's only temporarily lifted by copious amounts of booze on a night out and then plummets me back down to earth the following day while sat at my desk wishing I was in bed. Don't get me wrong, the festive season can be wonderful, but it's also hectic and sometimes I find it hard to balance my work and play life. This year I made a conscious decision to change this and by doing so decided it would be good to take myself away from city life for a weekend of escape: no booze, no expectations – just calm and relaxation.
I just spent the weekend at (don't laugh at me because the laugh will be on you… yes it's a little funny) a Buddhist meditation retreat in Brighton called Bodhisattva Kadampa Meditation Centre and having spent two nights relaxing, any impending doom has been released and my anxiety is back down to zero… where it belongs! I'm very pleased to say it's worked.
"How did it work and what exactly did it involve?" I hear you ask, well I will explain.
The course: Arriving on the Friday night with my sister, who I'd accidentally roped into my cunning plan for peace of mind, we embarked on a series of peace invoking meditations set over a two day programme. Here's a little breakdown of activities:
The first session when we got there concentrated on finding inner peace, and breathing… it's amazing how much your breathing can influence your mind. The following morning we had five 1hr activities ranging from topics such as how to escape inwardly when you need a sense of clarity to how to appreciate your surroundings and consider others' needs before your own. These sessions were mixed in with some breaks and of course some lovely walks along the beach (we were in Brighton after all).  The vegetarian food (which suits me as I'm not far from a veggie!) consisted of homemade wholesome soups, dumplings, salads and quiches… it was delicious. Admittedly some of the sessions were new to me, such as the experience of escaping inwardly and meditating, but ever since we left I've been practising sometimes haphazardly twice a day. I can't emphasize the total natural high you can experience, giving you the sense you are totally in the 'zone' of calm and clarity.
The result: I'm reminded of how bloody lucky I am, how incredible our lives are, how strong I actually am inside and that I shouldn't lose track of that and neither should you. Above all I was reminded that sometimes we need to take a little break for ourselves (in whatever way you see fit) to step back, relax and remember who we are. It really does put everything in perspective!
So this year Christmas will be a happy occasion for a different reason – not for propping up the false hype of the season where everything must be perfect (the perfect family, the perfect present, the perfect day), but actually for imperfections, great friends, loving family and being thankful for how lucky we are. I hope that beyond Christmas I'll remember how easy it is to take some time out to find a sense of clarity and happiness within. Hopefully with this approach I can help bring my happiness to those around me and bring happiness out of them too.
For more information and to book the course visit the Bodhisattva Kadampa Meditation Centre site here: www.meditateinbrighton.com
Words by Cornelia Lucey.