Review: Petersham Nurseries //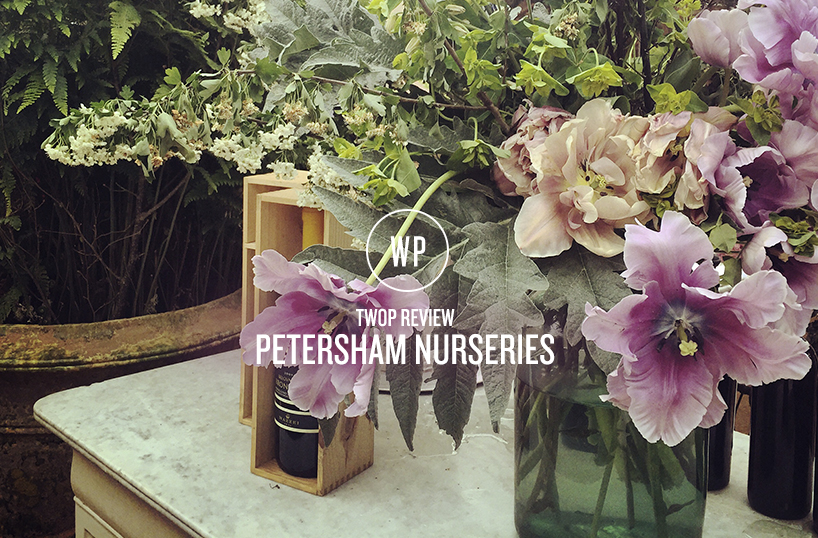 Fancy supper in what is essentially, the poshest garden centre cafe you will ever eat in? Well try Petersham Nurseries in Richmond. Nat reviews:
Wander through a picturesque park, step through a field and down an enchanting walkway and at the end you will find Petersham Nurseries, the poshest garden centre you will ever eat in. A bohemian paradise where flowers drape from every corner to provide an idyllic setting for one of the prettiest restaurants in London. Forget Clos Maggiore, this place is the bee's knees.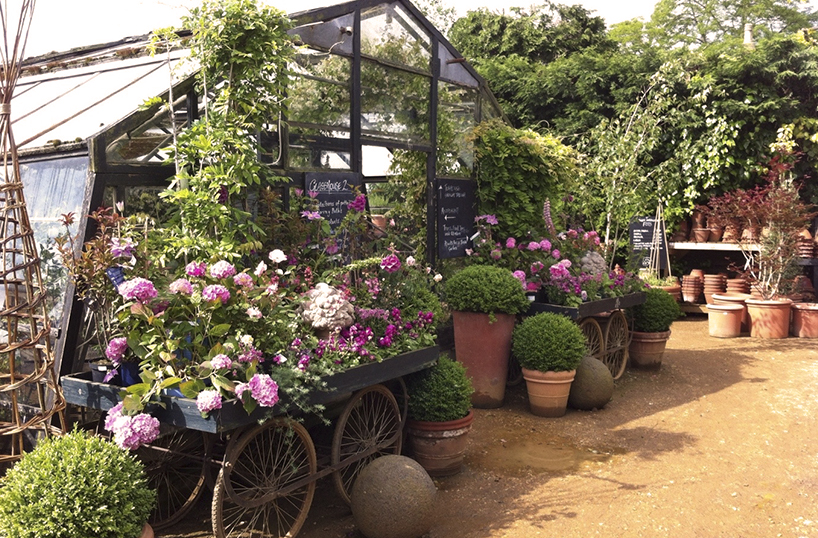 After meandering through rows with potted plants on sale, in the grounds of Petersham House, you will find the main restaurant (or cafe as it's referred to by the venue itself), which is essentially an oversized greenhouse… but we're not talking the kind of greenhouse that sits at the bottom of your garden where spiders take residence and tomatoes overgrow. This greenhouse is more like a stately wedding marquee and is actually used for weddings on the odd occasion.
Bursting through a crooked door into a rather quirky room you are greeted with the smell of a divine combination of fresh flowers and food. The rustic shabby chic interiors make for a rather romantic setting while French style mismatched wooden furniture sits on crooked floors and fairy lights hang from the roof, setting quite a cosy ambiance for eating.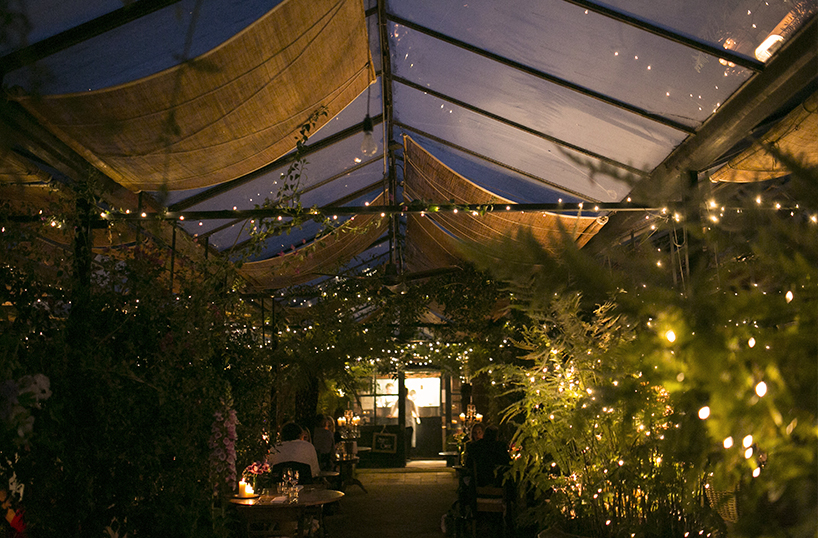 Let's talk about the food. The eatery lost its star when Skye Gyngell left to set up her first solo venture, Spring at Somerset House , but in all honestly I don't believe this has had a negative effect on the venue itself as the food was delicious. Former Hix Soho chef Damian Clisby has now taken over as head chef and with Lucy Boyd (gardener, food writer and cook) works together on Italian flavours, combining technical skills and shared passion for ingredients, with an evolving menu inspired by what is growing in the gardens itself.
From the menu, which changes daily, we started with some delicious appetizers of tomato bruschetta (with deliciously succulent tomatoes grown in the gardens) and fried zucchinis. We then ordered three courses, naturally. I had a fresh mozzarella with broad beans and sourdough bread to start, a tomato salad with stuffed courgettes topped with mascarpone cream for main and I finished the meal with an adult version of jelly and ice cream – prosecco jelly with strawberries and vanilla cream. Auntie Shirl had heirloom tomato soup, then wild mushroom risotto, and olive oil ice cream with chocolate sauce and honeycomb. Uncle Bri had tagliatelle with asparagus to start, Monkfish with green beans and red peppers for main and finished with baked lemon tart. Every dish was extremely delicious, delightfully fresh and accompanied by a small scattering of pansies which topped off the presentation, putting the cherry on top of each course.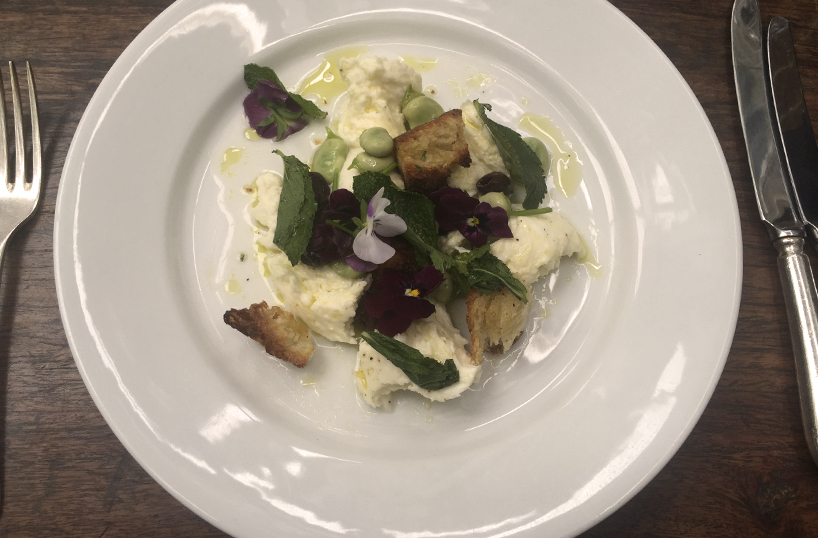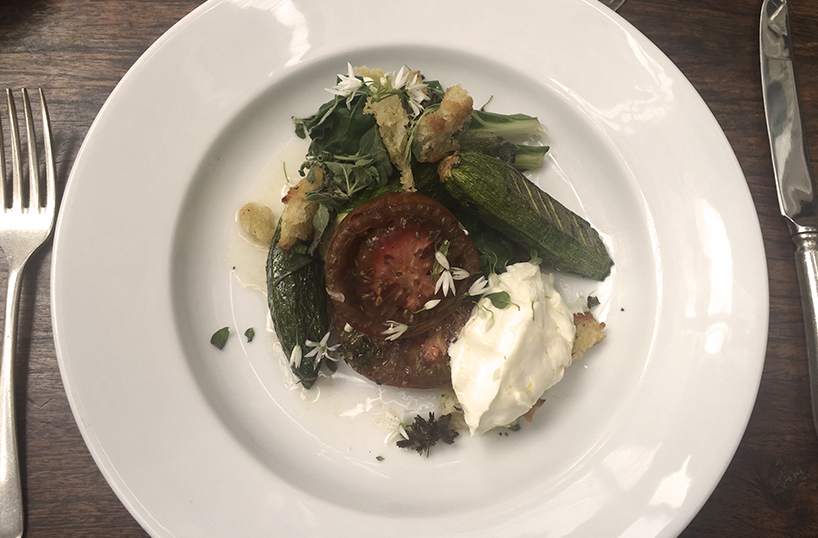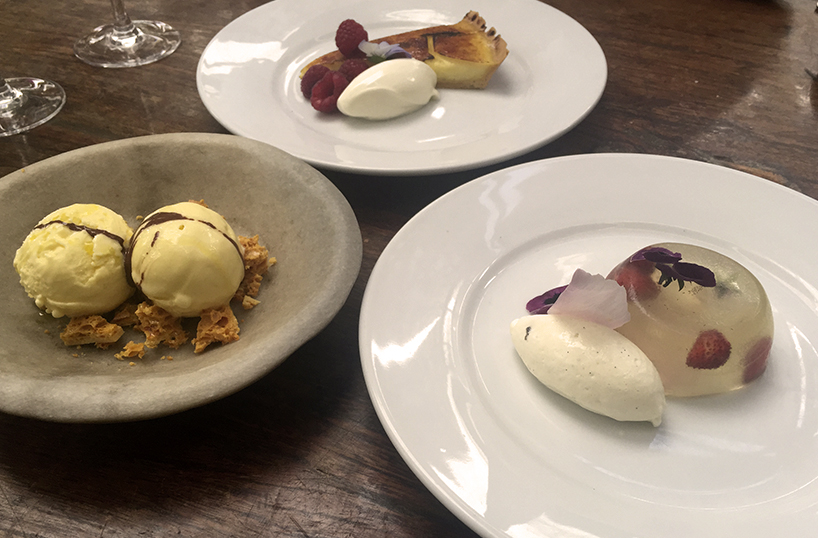 In the same greenhouse, attached to the cafe, is a small shop that sells beautifully crafted furniture, plants and interiors. Have a browse, but you may have to dig deep if you into your pockets if you want to purchase anything as prices are pretty expensive.
Talking about prices… In the past there have been grumblings over the cost of eating at Petersham, with many suggesting the food does not match the bill, but I beg to differ. Yes, this is somewhere you would only really visit on special occasions, and yes it's pretty expensive considering it has no Michelin star, but given its in one of London's most sought after areas, the unique manner of the venue itself and the delightfully delicious dishes they serve, I think in all it's worth it, not only for the food but the experience itself. So if you're looking for something special to escape from the city that's within walking distance from a tube station this is the spot for you.
For more information or to book a table (do this well in advance) check out the site here.
—
Client Friendly: Client-wooing
Affordability: Ouch, sorry (Uncle Bri's) wallet £££
Nearest station: Richmond
Dress code: Glad-rags required
Best for: Schmooching
Words by – Natalie Jahangiry
[Some imagery courtesy of Petersham Nurseries]