Review: Jar Kitchen //
We visit Jar Kitchen, a smart and friendly eatery in the heart of Covent Garden.
Jar Kitchen has created quite a buzz since opening their doors earlier this year, and we were quite excited to visit, not only for the interior and home canning atmosphere, but also for the food. The eatery, which takes residence on Drury Lane, is run by Lucy Brown and Jenny Quintero and serves a brief menu with prices sitting between a cafe and a restaurant.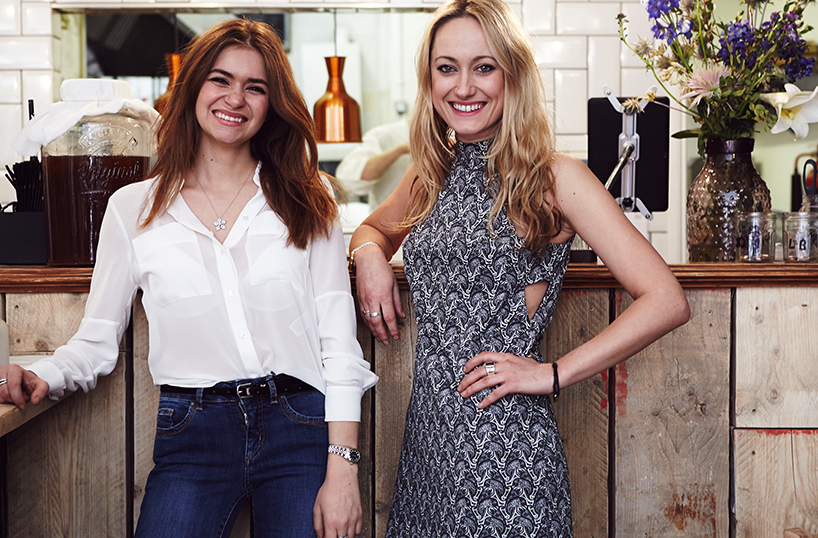 As we arrived at the small, barely branded black building, we realised that the venue could easily be walked past by the bustling theatre goers looking for pre-theatre meals. The location, it seems, would be found more through word of mouth than passers by. So here we are pointing you in the right direction.
Stepping inside the tiny room we were seated at a reclaimed wooden table. A large blackboard was painted on the left wall, pillows with cat patterns on were scattered around the room, a bar sat at the back of the room crafted from scaffolding planks, white tiles graced the walls and an open kitchen looked out onto diners. The remaining decor was typically created using jars. Jar lights hung above the counter, tea lights were in jars and shelves were covered in yet more jars – fitting given the name of the place! In its entirety it's a cozy rustic spot.   
For our 11:45am Saturday brunch booking it seemed only natural to try the cocktails on offer. A Bloody Mary was served in, you guessed it, a jam jar with a sprig of rosemary. The Elderflower Spritz was served in a wine glass, and it all felt very sophisticated for a Saturday morning.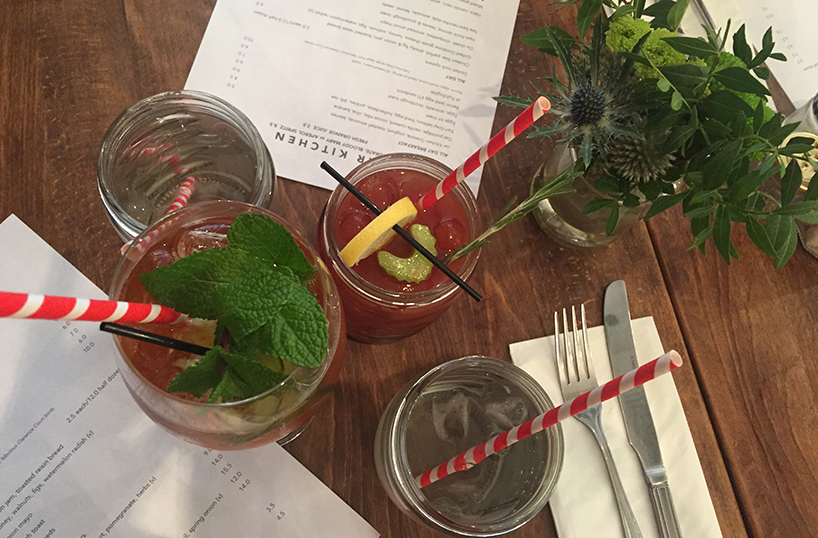 As we looked over the seasonally sourced menu, which changes daily, and debated what to feast on, we ordered some avocado on toast to share (£7). While nicely presented, the consistency of the avocado was more like a perfumed purée rather than the fresh avocado we are used to, and we didn't quite know what to make of it. In saying that it may have been the only fault we encountered when it came to food.  
For starters we shared some Dorset rock oysters (£2.50 each), served elegantly on a bed of salt resembling ice and presented with lemon and Tabasco. Nat then devoured the grilled goats cheese with honey, walnuts and figs (£7), which when combined were the perfect flavours for a refreshing and satisfying brunch. I enjoyed the duck confit (£14) that fell perfectly from the bone and tasted delicious, while Vanessa had the sea bass ceviche (£7.50). We all shared some fresh heirloom tomatoes (£4.50) and sweet potato fries (£3.40). I do recommend you try the sea bass ceviche before winter really is upon us, and switch to the ox cheek croquettes (£6.50) for colder days. Yum!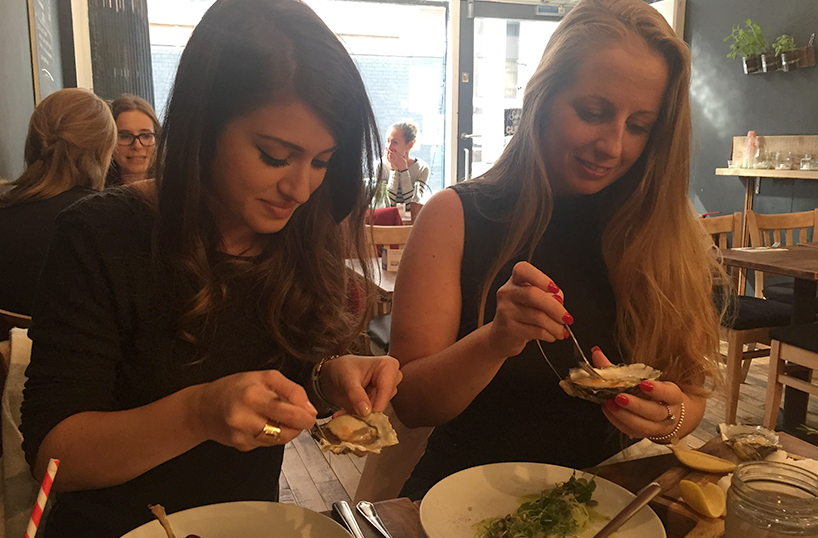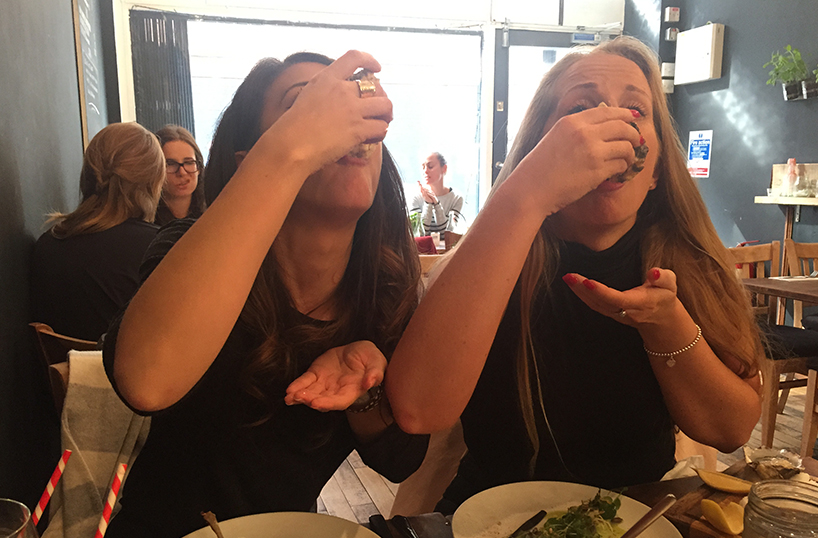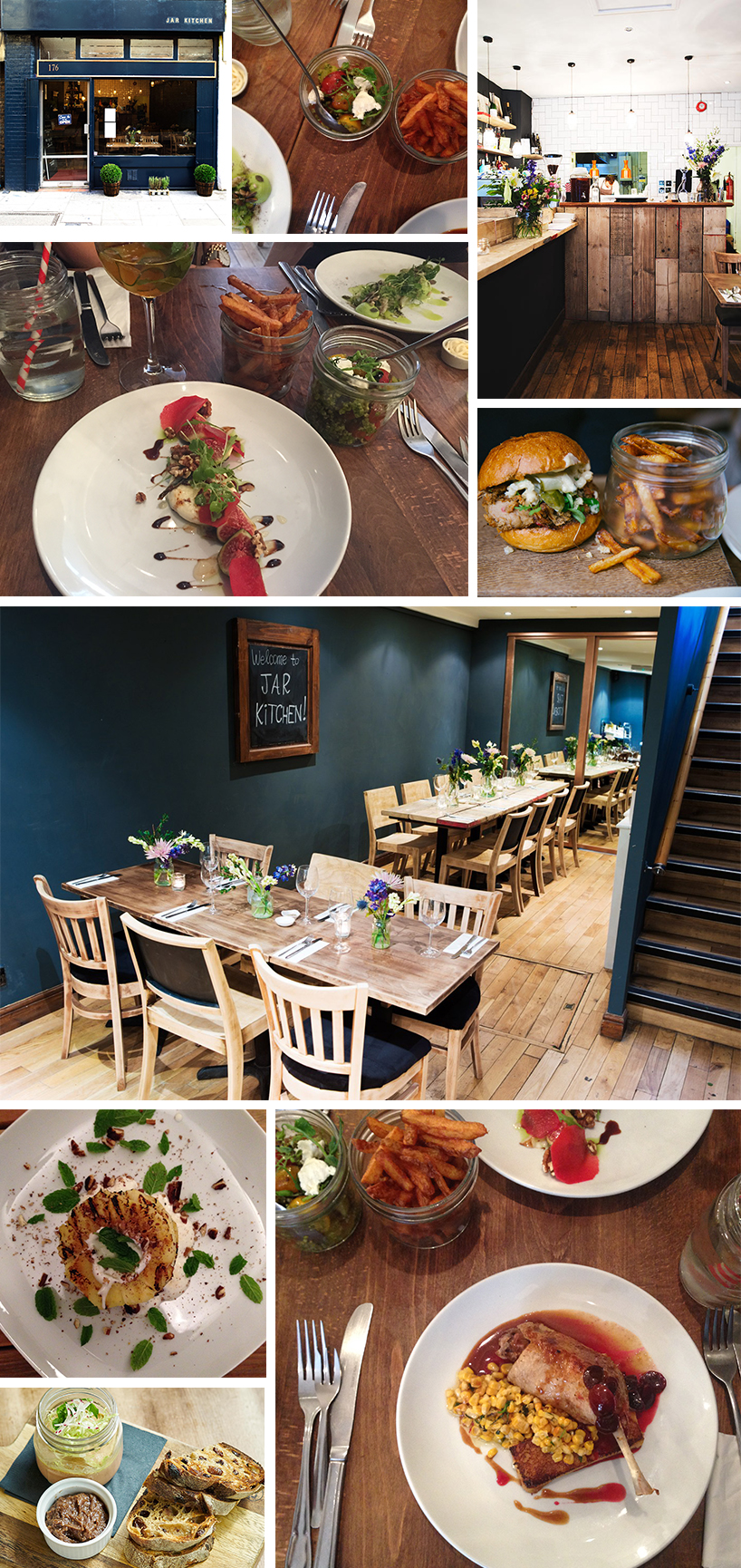 When we made the booking we had been wondering how all of the food, especially brunch, would be served within jars. Wouldn't that be overkill? But we were pleasantly surprised to see that jars are used sympathetically in either a decorative manner, for sides or drinks. You'll be happy to hear that they do have plates and do put them to good use, rather than forcing you to eat out of jars for gimmicks sake.   
While most dishes aren't overly complicated, the simple but creative style has a lot of flavour. The intimately laid back nature of this eatery lends itself to be a perfect little spot for lunch, brunch and daytime mini bites. Jar Kitchen would also suit a casual dinner with friends rather than evening destination for date night. Overall a cheerful experience and I would recommend a visit if in the area.
To find out more or book a reservation visit the Jar Kitchen website here.
—
Client Friendly: Not right for talking shop, but would work for casual meetings
Affordability: A little treat ££
Nearest station: Covent Garden
Dress code: Any clothes goes
Best for: Lazy days
Words by – Firuze French
[Some imagery © To Work or Play 2015. Others courtesy of  Jar Kitchen & About Time Magazine]