Review: Spring Restaurant //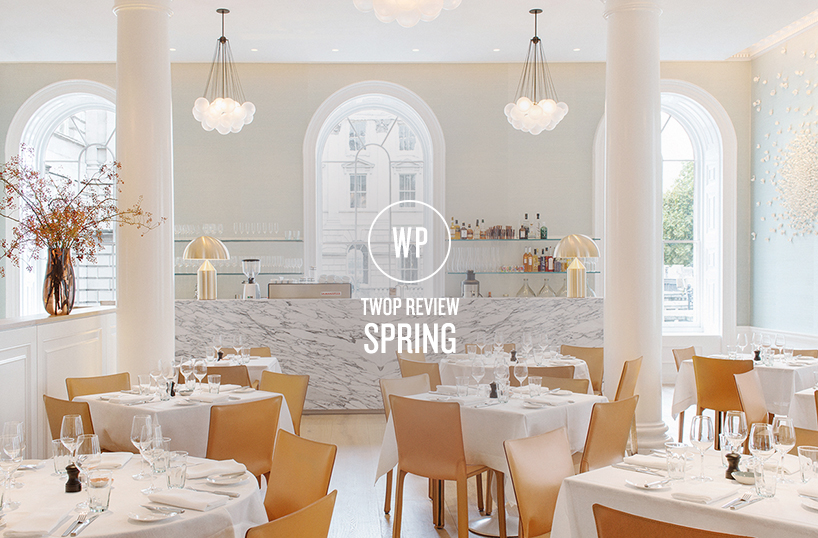 Guest writer Emily Eaves gives us an insight into acclaimed chef Skye Gyngell's first solo venture – Spring at Somerset House. Read Emily's review below.
I had sort of come to a stand off with London restaurants. It was a combination of things really; I objected to not being able to reserve a table, I no longer wanted to drink my wine from a jam jar and as Summer disappeared, I really wasn't all that keen on queuing outside (without cover) with an icy hostess eventually 'allowing me' to come inside – for a designated time slot, after which I absolutely had to have vacated the table.
For £40 or less, I could buy some good meat or fish, and still have money left for an excellent bottle of wine. I could chuck in a dessert if I wanted and all of this fed two people, sometimes more. Months have gone by and I've been smugly cooking in my tiny London kitchen, yet still hearing friends moan of the queues for pork buns, the attitude of arrogant bar staff and the fact that a New York style burger van thinks it's OK to charge £10 for a hamburger.
I thought I'd got it sussed. I didn't need restaurants or pop ups, I could do my own thing and shun them all. I'd cook and eat at home or go to other people's houses and suggest safari suppers or grown up picnics. We didn't need menus scrawled on chalkboards or brown paper, and if we wanted artisan bread we could get a loaf for £4 at a farmer's market instead of paying the same for a few slices with a minimalist swirl of butter.
Then I went to Spring. Located in Somerset House and run by Skye Gyngell, it's one of the most beautiful restaurants I've ever seen. The guard I entered with, the one that contained the cynicism and restaurant resentment I'd been harbouring all these months, fell at the first hurdle as hostesses in slick tailored uniforms welcomed me and took my coat. I'd forgotten what it was like to be looked after like this, to be led to a table and immediately offered a glass of water – still or sparkling.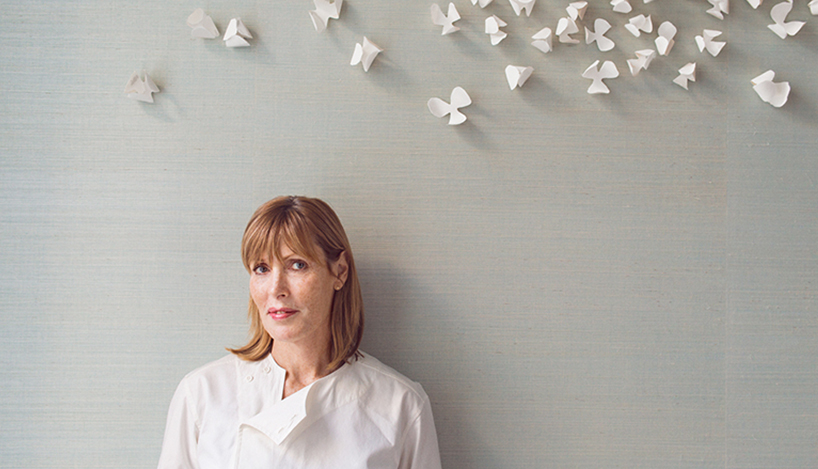 I arrived before my guest and I sat for several moments transfixed by the room. I felt none of the usual need to reach for my phone or pretend I was busily reading the wine list, instead I wanted to look, to see, to watch. The room was ethereal; waiters, sommeliers and maître d's positively floated around the room, bucket sized vases of flowers sat on striking marble countertops, there was a gentle rising and falling of contented chatter as glasses were filled and dishes were served.
There is no doubt that the design of the restaurant is stunning, and indeed the press release details the various collaborations that Spring has entered into on everything from the flooring to the crockery to the shirts that the waiters each wear. Yet the space is about more than that. Everything is thoughtful – the background soundtracks, the linen on the tables, the bowls of rock salt, the tiles on the floor of the loos.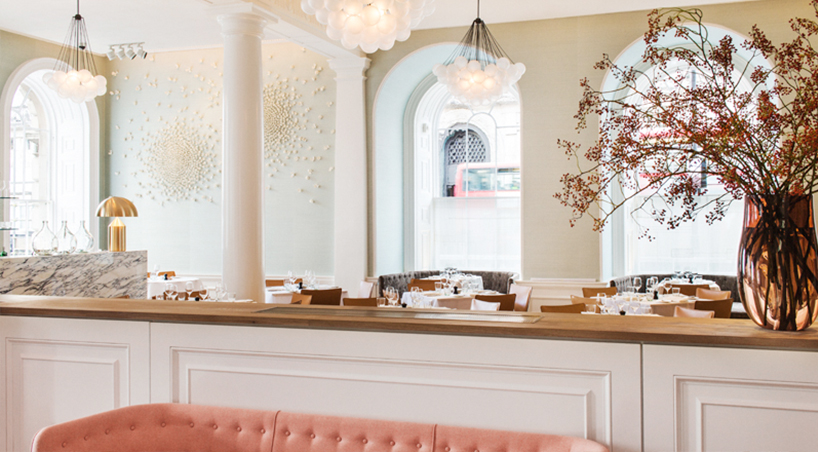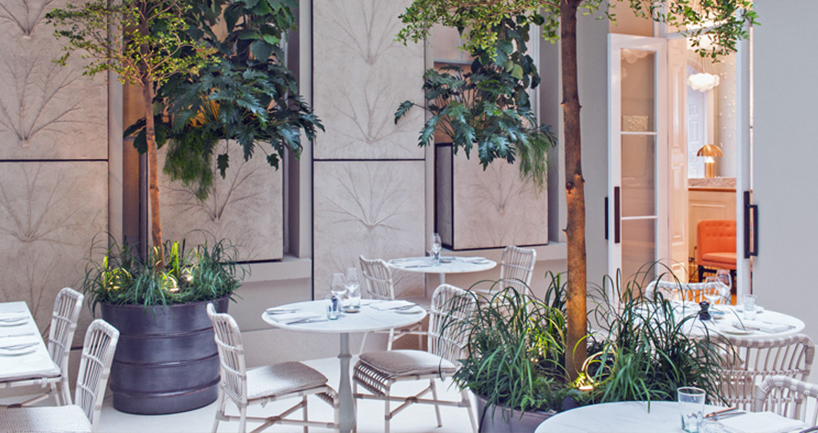 Nobody scorned me when I asked what 'taglioni' was (it's divine, served with White Truffle Butter), just as the waiter explained to my guest what 'persimon' was with a passion that showed he'd both tasted the flavour and enjoyed spreading his knowledge. The menu was short, devoid of foams or veloutes or desserts that required French degrees to pronounce. The dishes were well portioned with tastes and textures that I replayed in my head for days afterwards. My particular favourite was the Grilled Rabbit with creamed kale and lentils, and the crab with garlic, chilli and polenta for starter will only set you up for success.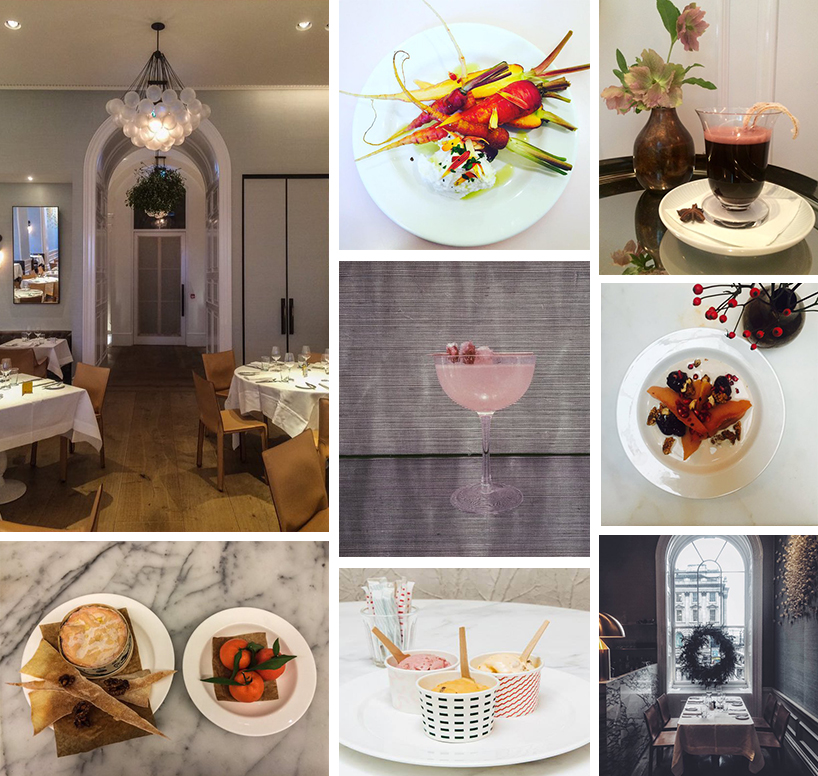 I felt almost intoxicated as the Winter light came through the window and we finished our lunch with a strong coffee, served in white china cups with striped sugar sachets on the side. I realised that my stand off had been futile, I'd been fighting the wrong cause. I love food, and I love the experience of eating out and everything it entails when it's done well. I'd written off all restaurants, which was foolish because so many can bring such pleasure and delight.
It took an afternoon at Spring to deliver me to the realization, which I fully appreciate that not everyone will get the chance to enjoy, yet for all those of you feeling disenchanted or disillusioned like I was, find your Spring wherever it may be and fall back in love with the world of food.
For bookings and more information visit the Spring Restaurant website here.
—
Client Friendly: Client-wooing
Affordability: Ouch, sorry wallet £££
Nearest station: Temple
Dress code: Glad-rags required
Best for: Schmoozing
Words by – Emily Eaves
[Imagery courtesy of Spring Restaurant & Somerset House]