Review: Swingers //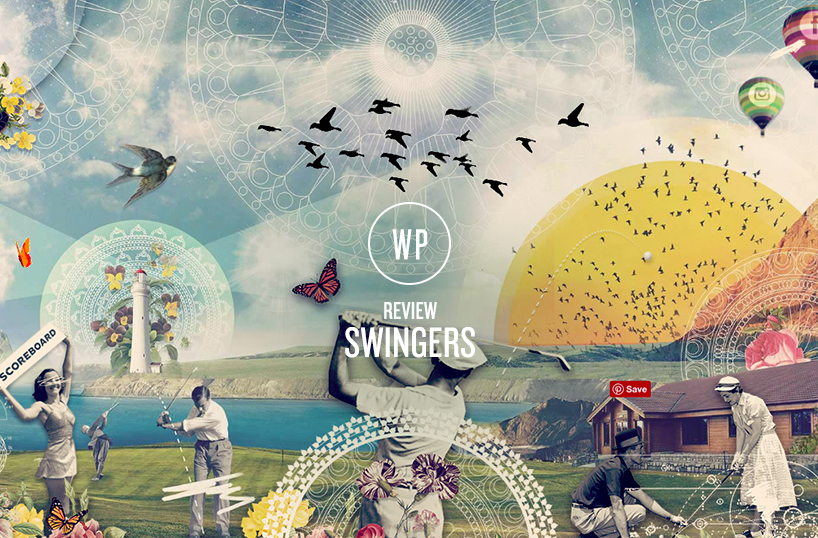 A stone's throw from the Gherkin is a underground club to get your game on. Here we review London's latest craze, Swingers.
Swinging is really fun. No… not like that (you dirty lot), as in swinging golf – crazy golf to be exact. In the words of the company itself "Swingers is brought to you by the Institute of Competitive Socialising, a group of like minded individuals who believe that life is better when it includes an element of competition – and that competition is best enjoyed with friends. 
To that end, the ICS created Swingers – the crazy golf club, a venue that takes the holy trinity that is crazy golf, street food and amazing drinks and combines them all into one incredible social experience."
You may have heard of Swingers before, they set up an initial spectacularly successful idea as a Shoreditch pop up last year. After playing on this success the team behind the concept decided to open a permanent venue cramming in an array of fun activity under one roof.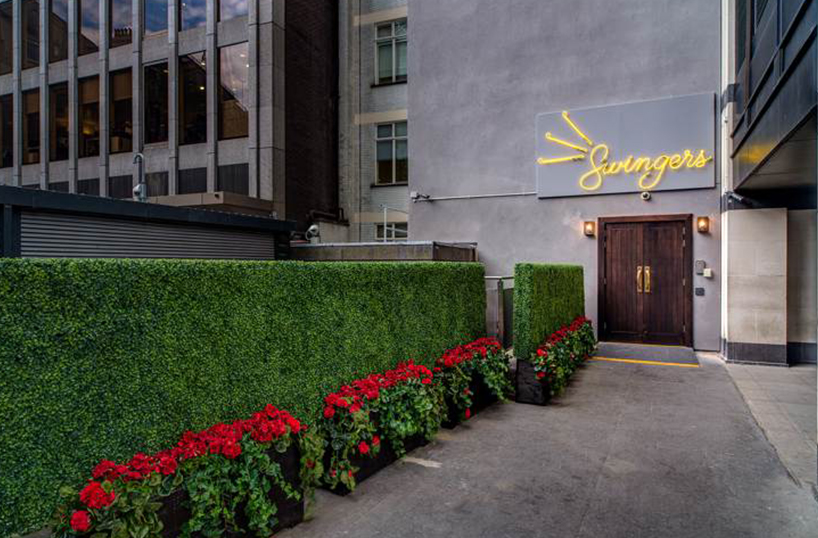 Based on a 1920's British countryside golf club the venue has an all round club house look and feel. Think lots of wood panelling, lush foliage, industrial lighting, exposed brickwork and parquet flooring. At 16,000 square feet it's a large open space of "socially competitive fun" consisting of two mini golf courses – The Windmill and The Lighthouse, five (yes FIVE) cocktail bars, three of London's favourite street-food vendors, a two story clubhouse (with a gin terrace) and a DJ.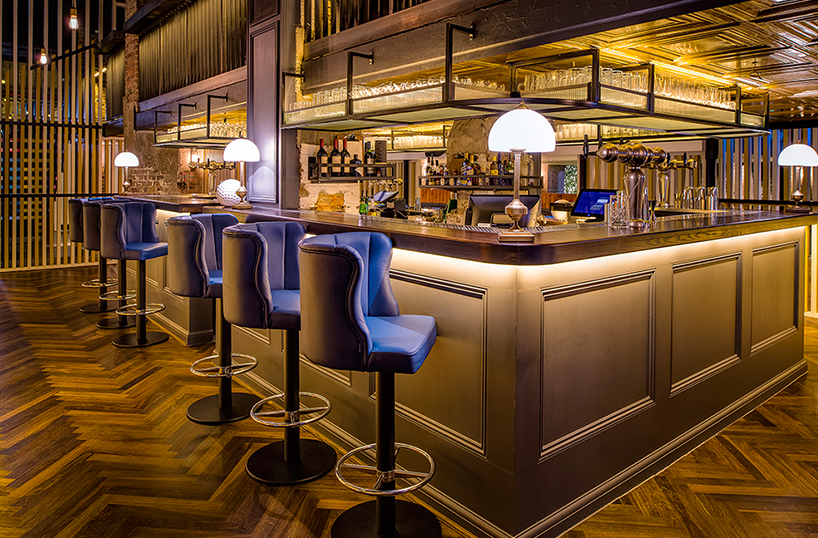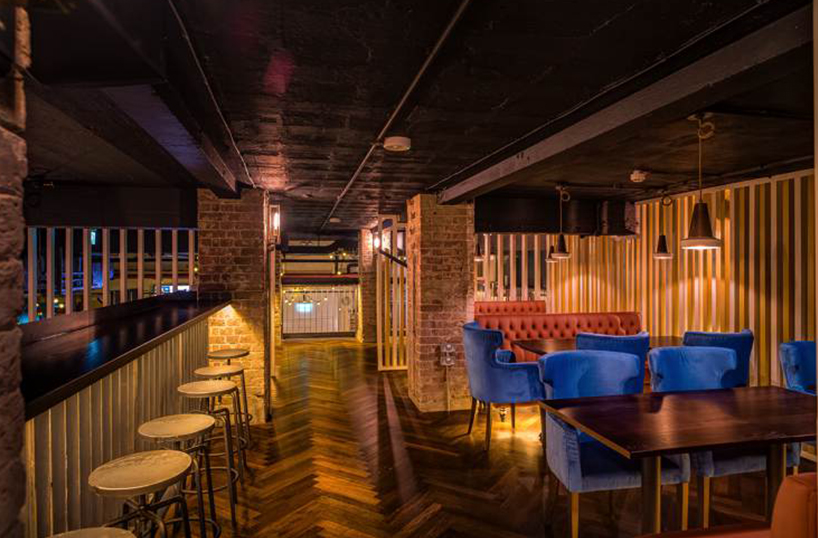 Tom and I booked tickets wayyyy in advance (it's a very popular haunt) and come play day we ventured down to The City to find out what all the fuss was about and unleash our competitive streaks. We entered the venue under a flashing neon light, wandered downstairs and collected our scorecard (very important) before heading straight to the bar… naturally! Picking up two very delicious G&T's we sat down in the eating area to grab a quick bite before the big game.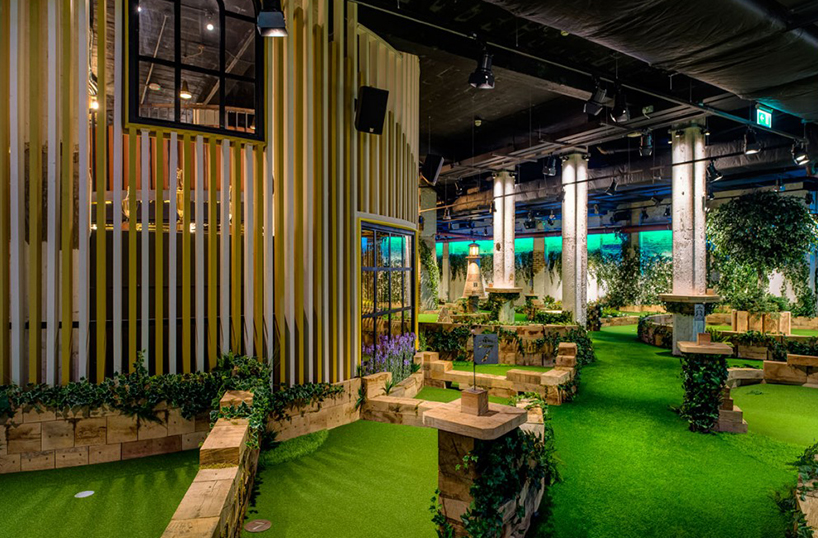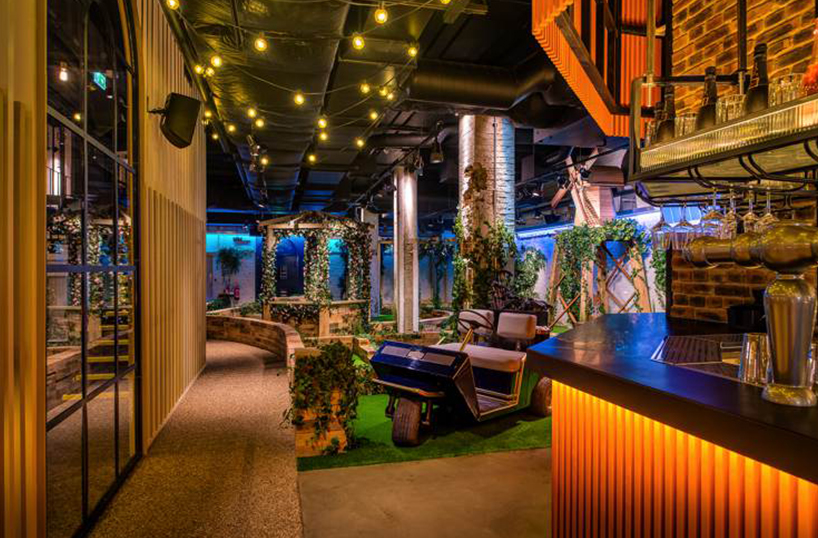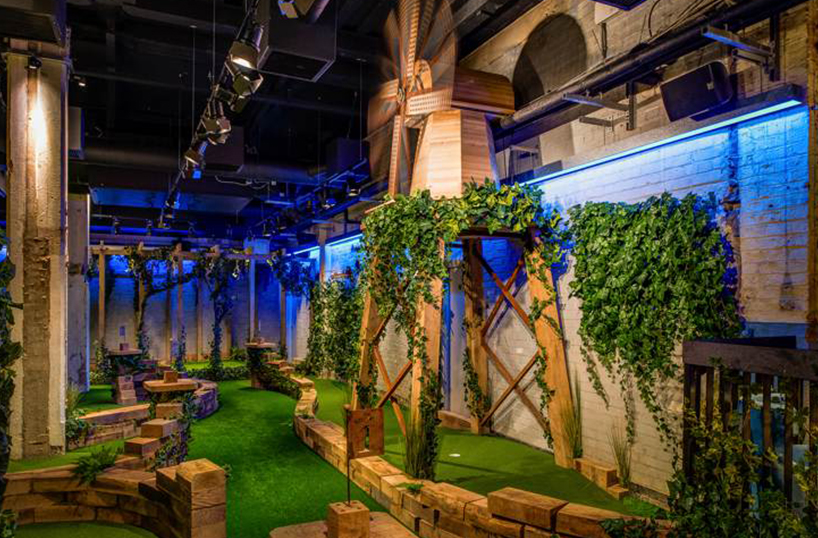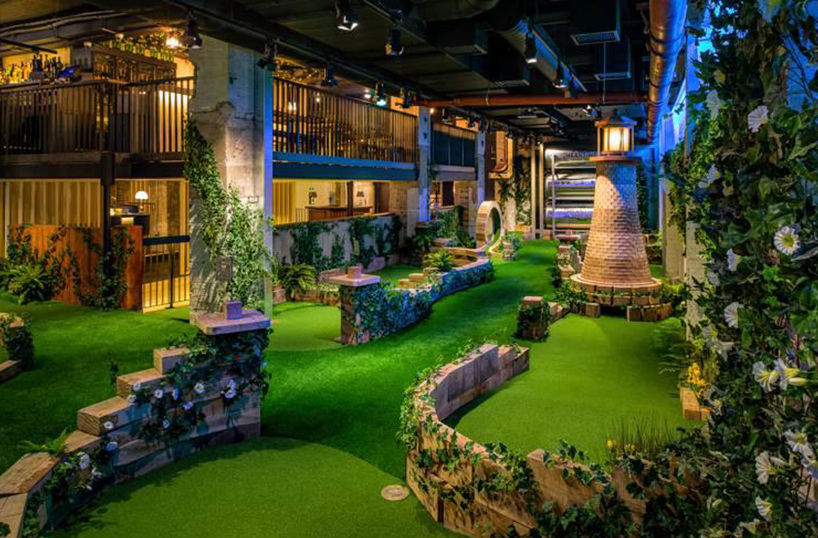 The venue has a brilliant combination of acclaimed eateries on site from London's best pizzas to posh kebabs. Pizza Pilgrims was set up by brothers Thom and James Elliot in 2012 when they drove their little three-wheeled pizza van back from Sicily to London on a pizza pilgrimage to learn the secrets of Italy's national dish. Enjoy their famed Nduja or for the sweet tooth try the Nutella pizza. Le Bab has been reviving and redefining the famous 'kebab' at their restaurant in Soho's Kingly Court to great acclaim since January. Headed by a kitchen team previously at Le Gavroche Le Bab aims to refining kebabs as we know them into a delicious street food meal. With a choice of chicken, pork, kofte or paneer kebabs you can't go wrong! Patty & Bun are known for their Mayfair eatery where hungry Londoners would queue around the block to eat one of their famous burgers. After expanding into branches all over London, and now available in Swingers, the team have sparked a wave of excitement amongst burger lovers with offerings such as the popular Ari Gold or Colin Montgomery burgers. It's safe to say there's a killer trio of food options on offer to satisfy any hunger pains.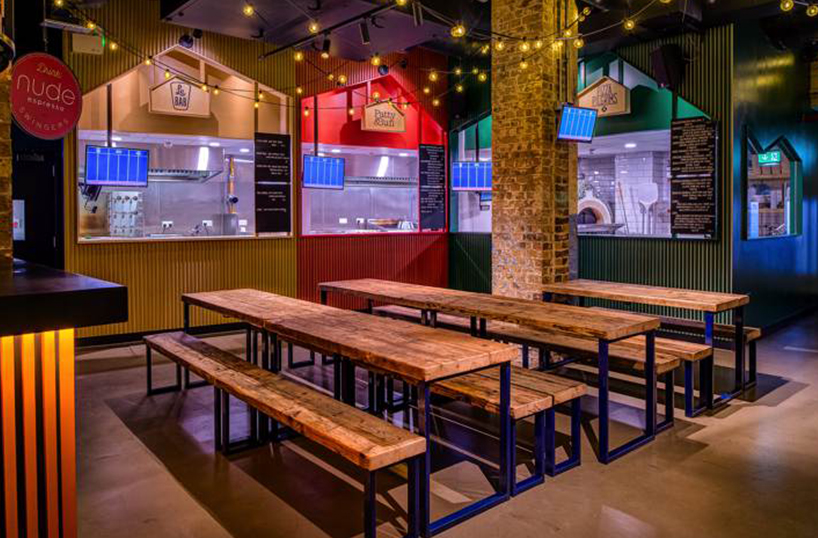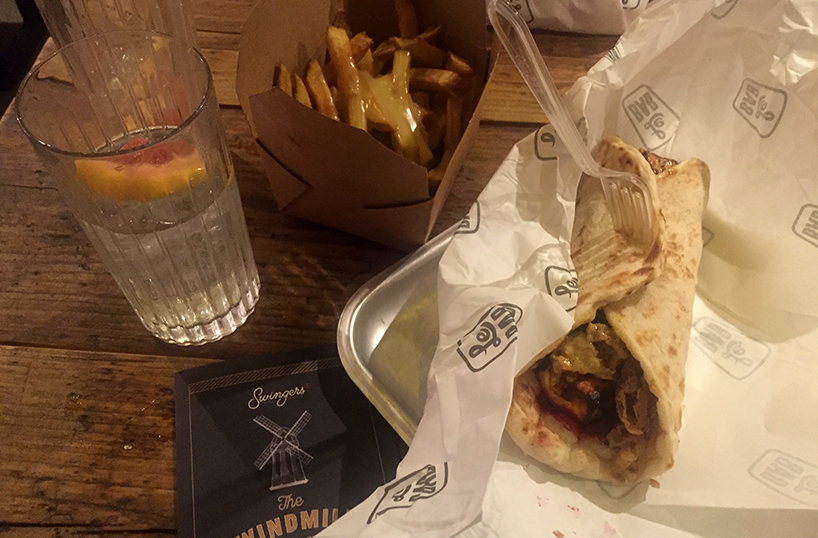 After hearing some great reviews of the "posh kebab" joint Le Bab, we decided to give that a go. Tom ordered the Pork Shawarma with charred hispi cabbage and chermoula mayo (£8.50) and I ordered the Paneer Tikka with beetroot puree, curry mayo and crispy onions (£8). We also shared some fondue chips (£3.50) – because, well… because we were quite frankly hungry / greedy! After a lot of "OMG" and "Ummmmmm" we came to the conclusion that they were probably the most delicious kebabs we had ever eaten. Even my veggie option hit all the right buttons, obviously not entirely healthy but a totally delicious combination of flavours – could eat another right now!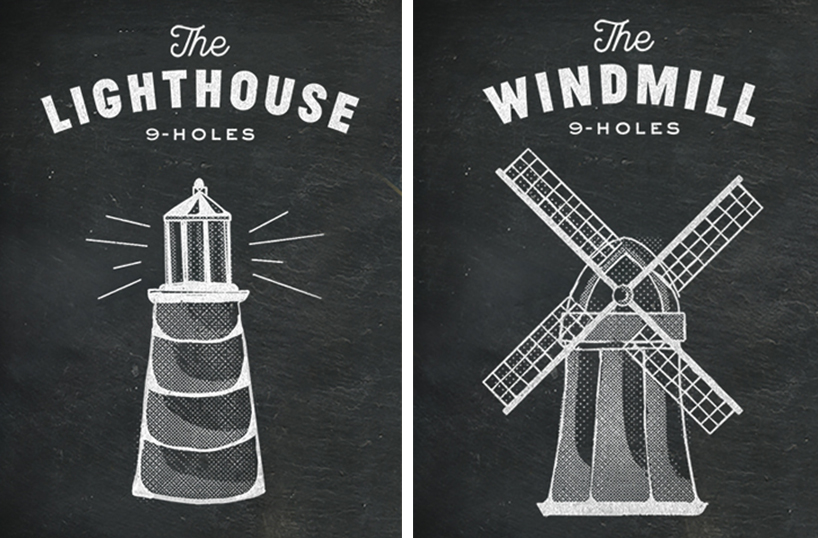 Onto the course. Starting at The Windmill we were handed golf clubs and a pencil to fill out our scorecard (read the rules on the scorecard – quite a giggle). The aim is to work your way round each hole, potting the ball in less than 6 shots. Each hole is different and includes obstacles such as balancing the ball along a skinny bridge, aiming in between a windmill or looping around sandpits. Caddies are dotted around the venue to offer a helping hand and waitresses are at your beck and call, ready to refresh tiring athletes. Of course, it became a genuine competition between Tom and I, a fight to the death, a head to head battle. Ok maybe not as dramatic as that, but we did get competitive. As usual I lost… but I let him win!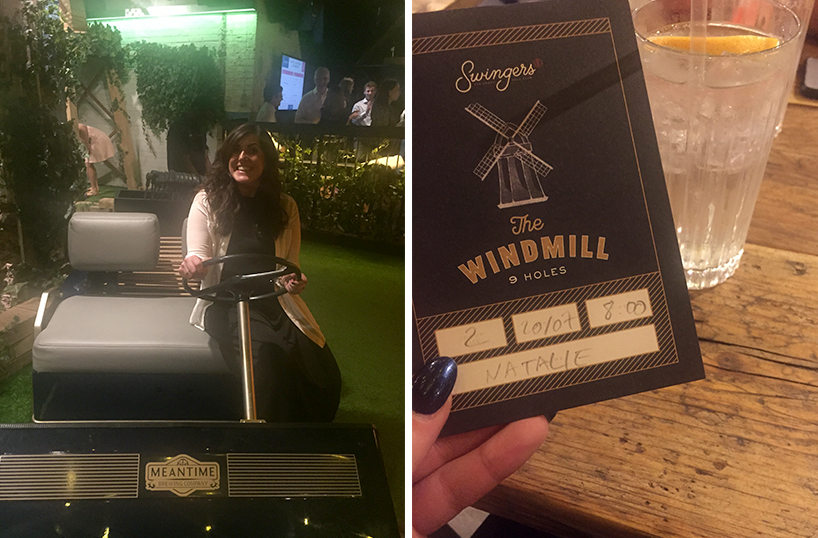 For £13 per person it's jolly good fun. Book now on the spiffing looking website to avoid disappointment. Visit the gloriously designed site here for more details and to book your game now.
Words by – Natalie Jahangiry
Images © To Work or Play 2016 / Swingers