Review: The Alchemist //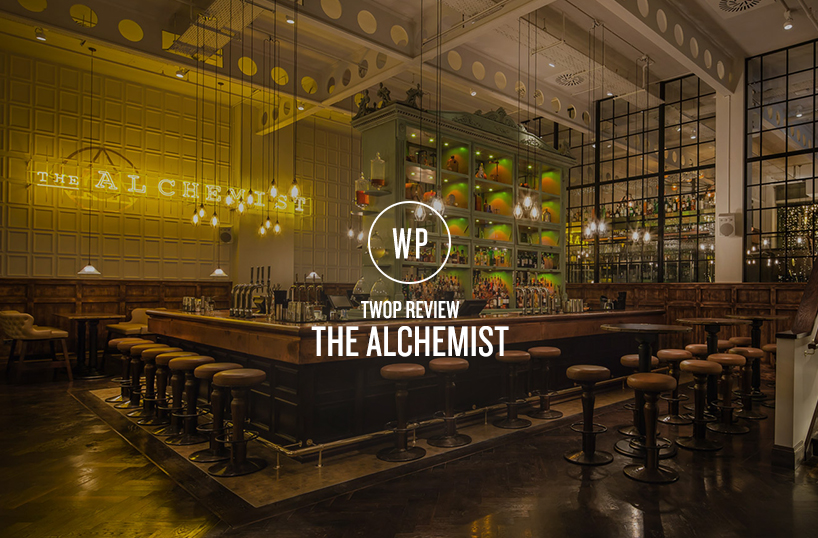 If you're looking for city drinks with great atmosphere, innovative cocktails and a delicious food selection then you need to head to The Alchemist. Vanessa reviews.
The Alchemist is a chic restaurant and cocktail bar in the heart of the city. Alchemist by name alchemist by nature it offers a few innovative molecular concoctions. With drinks at its core, highly skilled mixologists use a selection of techniques to really tempt your tastebuds. On our mid week visit Nat and I shared a Mad Hatter's Tea Party (£20.00 for two people), which consists of Ketel One, elderflower liqueur, Cointreau, citrus, gomme and water all cooked up and infused with fresh fruit, served warm and poured over dry ice to create a smoking drink in a teacup! It was very dramatic and a total show piece… in my opinion this cocktail ranked right up there as one of the best I've ever had! The fact that it looked pretty spectacular helped too.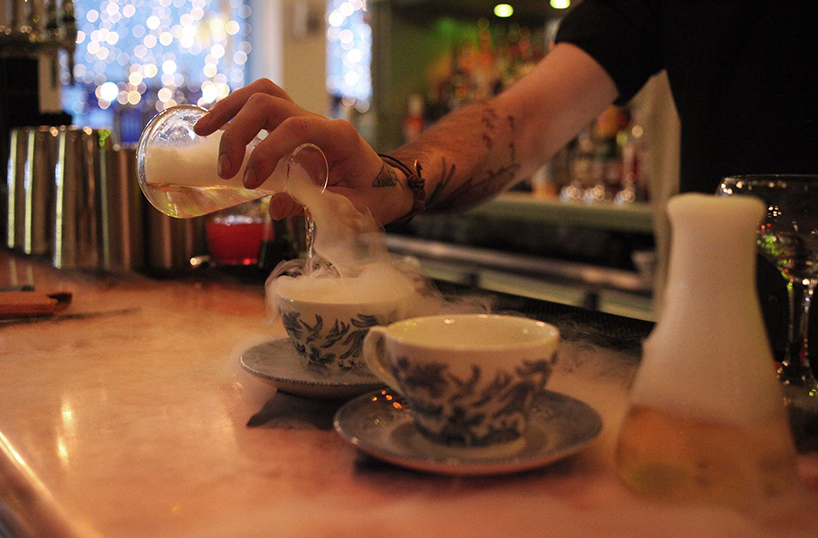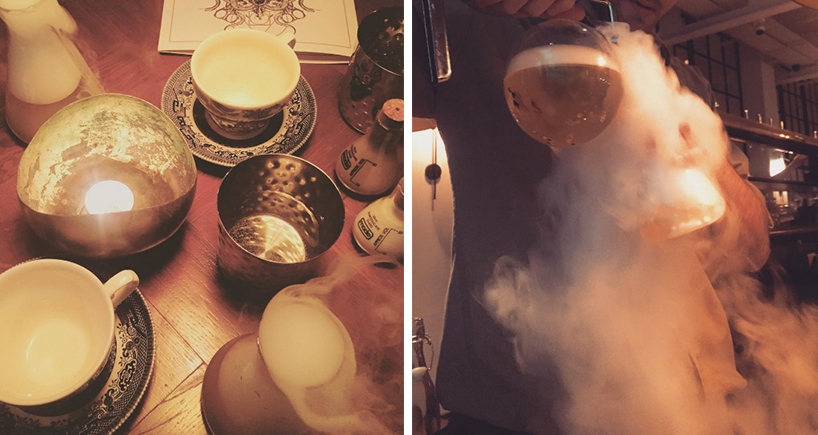 Next up food. After guzzling from our tea cup cocktails we had worked up an appetite so couldn't wait to enjoy some of the dishes on offer. Whilst deliberating we ordered some truffle and parmesan popcorn (£2.75), which was so divine we ordered more! The new menu has a wide variety of world cuisine and whilst this would usually put me off a restaurant The Alchemist pulls it off. After the popcorn we shared some nachos (£4.95), I then had two sea bass fillets with veggies (£17.95) and Nat had giant couscous salad (£10.95) with a side of chips (£2.95). Everything was cooked perfectly and super yummy. The Alchemist isn't just for weekdays either. Their Saturday breakfast and lunch menu is equally delicious and having tried both I can recommend trying it all!
As for decor, the city based bar is cool and sophisticated. A cosy atmosphere is created with fairy lights draped from windows, stylish wall panels, low lit industrial lighting, exposed ceilings, brown leather seating and chesterfield sofas suitably placed around each area – all sat under the glow of the large neon light proclaiming "The Alchemist" (in case you forget where you are!). The main bar sits in the middle of the ground floor while the restaurant sits slightly higher looking down on the tier below. The areas are separated with stylish glass window panelling, but the flow between each space is seamless. In the dining room a smaller bar sits to the left while boothed tables are scattered around the room creating a welcoming, laid back atmosphere. The branding of the bar (which is a biggie in Nat's eyes) perfectly suits the interiors. From the website to the embossed menu, it all screams class making it very appealing.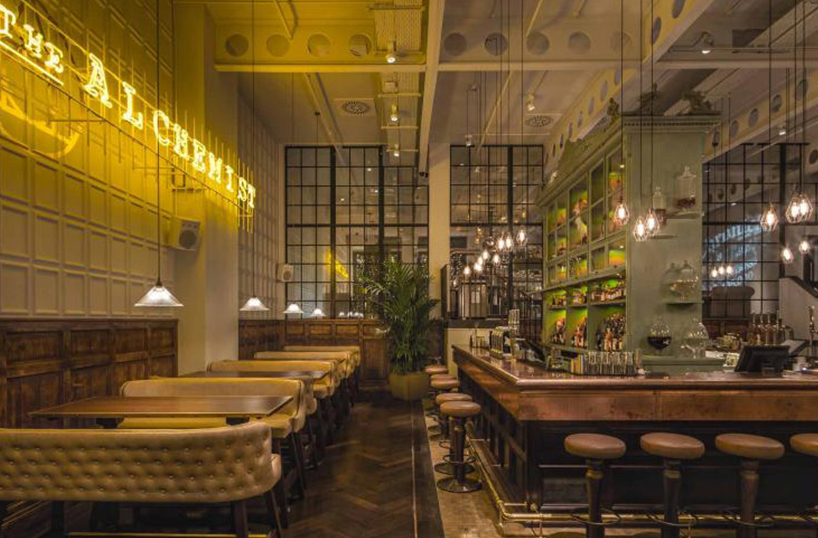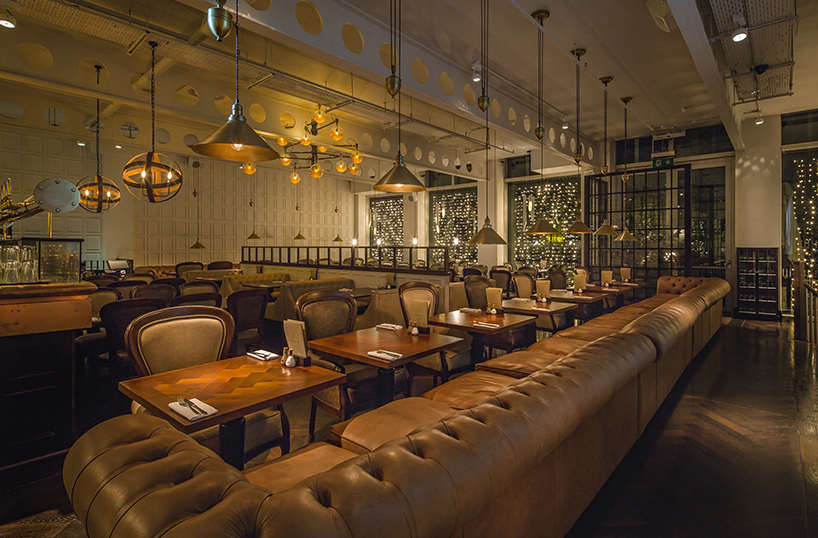 While choosing to share the choccie brownie (£5.95), we moved swiftly back onto the cocktails and left the choice in the very capable hands of our waiter and barman. After trying a bubble bath (£7.95) which literally bubbled up like a bath, and a Green Eyed Monster (£7.95), which had a gooey green eye that you pop (tastes great, believe me), we can safely say the cocktails are a hit. And if you want to learn how to make the creative concoctions, we were told you can take a masterclass with the team, find out more here.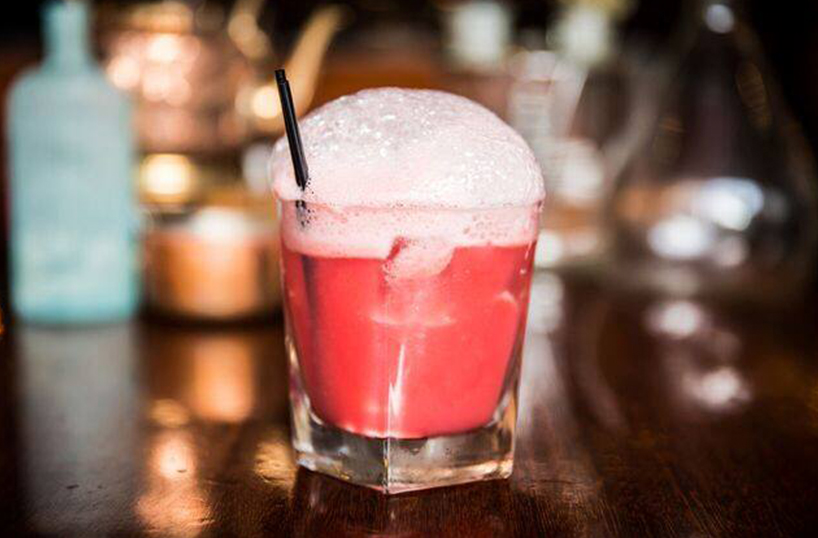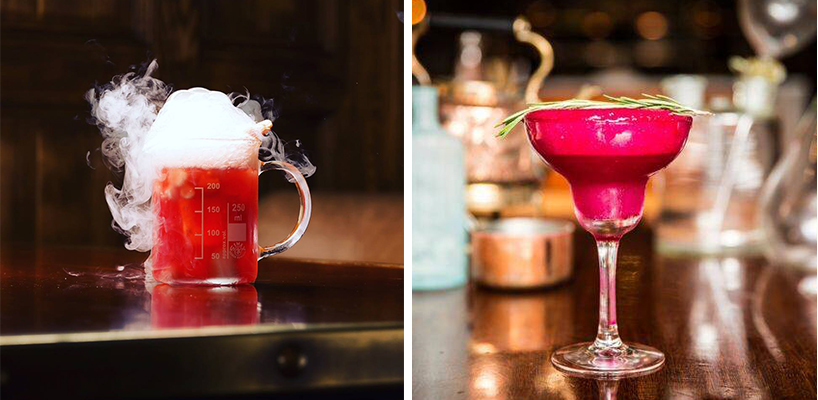 Last, but by no means least, we have to mention that the staff and service was wonderful. We were very impressed at the attention to detail, willingness to help and how chatty and lovely they all were.
Although The Alchemist is city based it doesn't come with the stuffy city vibe that many of the venues around that area have… it offers the whole package without being pretentious. It's not cheap, but it's worth it for the cocktails alone. A great spot for after work drinks, mid week date night or breakfast meetings. An all rounder that we will be going back to very soon.  
For bookings or more information visit The Alchemist website here.
Client friendly? Client-wooing
Affordability? A little treat ££
Nearest station: Liverpool Street
Dress code: Smart casual
Best for? Schmoozing and schmooching
Words by – Vanessa Toby
[Imagery courtesy of The Alchemist]