Review: The Fire Station //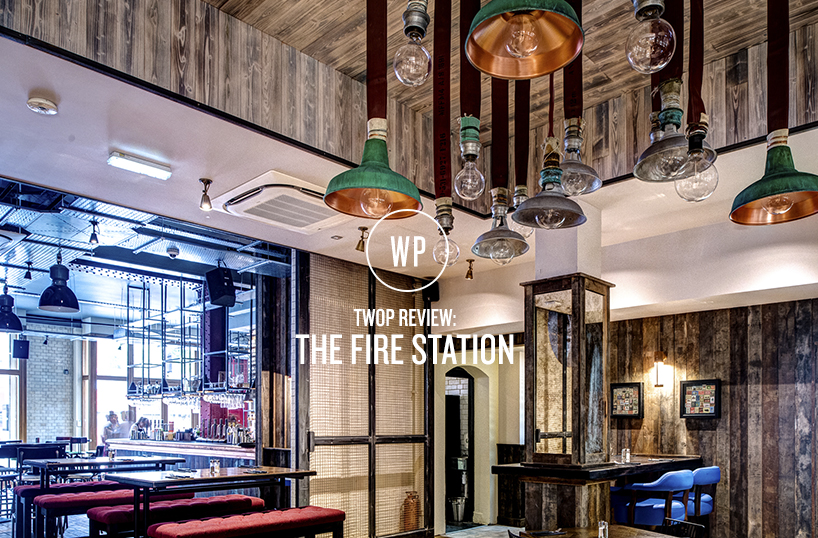 We recently went to visit the newly refurbed bar and restaurant at The Fire Station, Waterloo. Find out what we thought about the South London hangout. Firuze reviews:
The Fire Station had previously been seen as a waste of space. The large former firehouse was cavernous and empty, despite it's prime location right next to Waterloo station. But in recent months the venue has brought a new lease of life to Waterloo's dining scene. July saw the eatery reopen to the public with a brand new interior, crafted beer selection and a curated, tried and tested menu to feast on.
The new interior screams New York, with rustic industrial charm and a focus on the tiled bar with multiple taps and pumps for craft beer. All areas of the venue hold their own unique quality, which means every table has the potential to be the 'best table' in the house, with a mix and match of velvet sofas, high tables and old school chairs.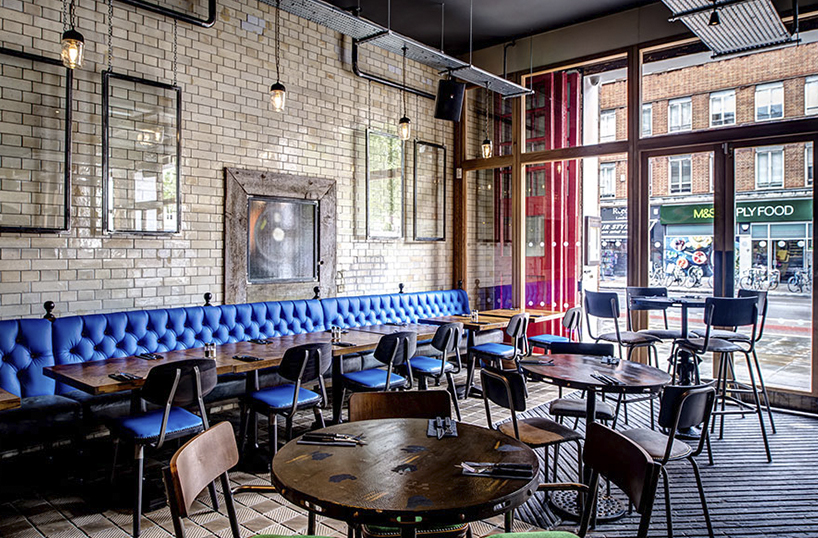 On arrival, tall Pear Fizz (£8.75) cocktails were served, which, due to a walk in the heat because of a tube strike, went down all too quickly. Next up was a Smoked Cherry Manhattan (£8.75). Not one for the faint hearted. However the gold dust of cocktails arrived as a short glass with crushed ice, a Rosemary twig and a candied strawberry. The rosemary infused Hayman's Old Tom Gin and Chartreuse cocktail was called the Pink Duchess (£8.50), and it's all I drank for the rest of the night. In fact, if it was an option it would be the only cocktail I'd ever have again for the rest of my life… it's that good to a gin fanatic.
The beer selection includes each region of the UK to make sure it covers all taste buds. There's a London legend in Sambrook's Wandle, a more hop forward effort from Hackney Brewery and established brands like Ringwood for the cask drinkers. In bottle, can and on keg there's a good mix of London brands (Beavertown, Camden) and American imports to go with the easy drinking lager lines.
We were told how the pizza and burgers had been refined until they're the best they can be, and they certainly should be proud of what they've achieved.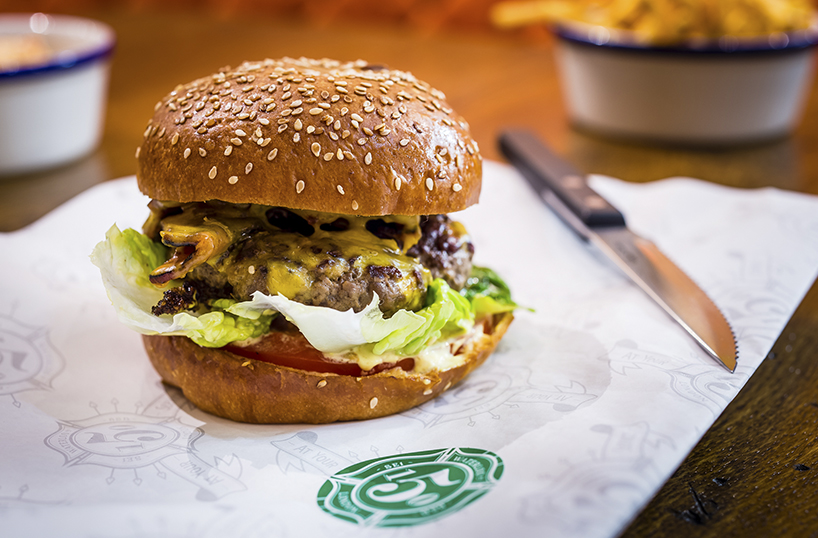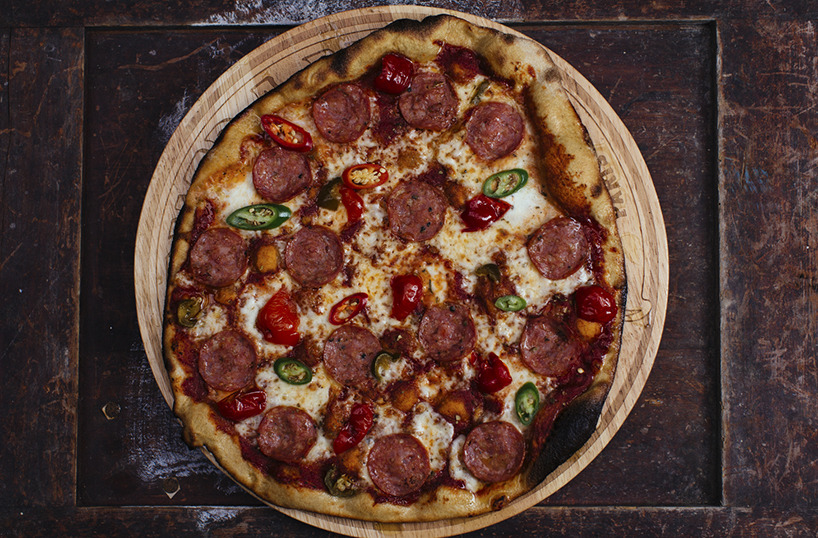 After taking a seat we were served with pizzas to share. With a new way of heating them with flames the fresh pizzas (starting from £7.95) take just 3 minutes to cook. Thin bases without an overload of toppings made these very moreish and perfect as a starter or sharer between 2-3 people.
Despite the menu of carnivorous beef patties, (again starting from £7.95) the heat put me in the mood for the Buttermilk Chicken Burger – buttermilk fried chicken with spicy coleslaw and little gem lettuce. This turned out to cause a little food envy from those with beef patties, and was a chicken burger that so far has put all others to shame. Wrapped in paper and served with more spicy slaw (£2), house fries (£2.50) and sweet potato fries (£3.50), I'm unsure as to why they gave me a knife.
While continuing to sip my Duchess the bite sized taste of what would be a large portion of the warm chocolate brownie with salted caramel sauce (£5) was divine, a great dessert for chocolate fans.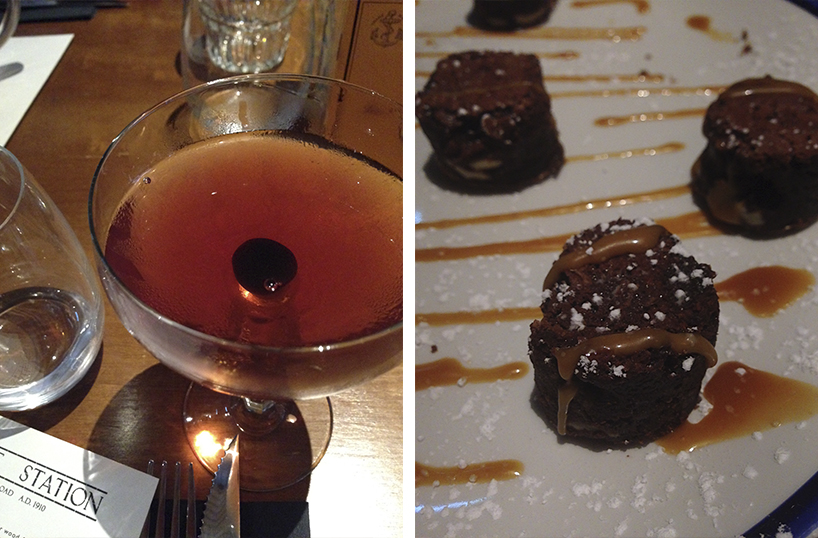 Overall I'd imagine The Fire Station to rise in popularity not only with the locals in the area but also with those about to head home for the evening and those that venture into town at the weekend. Thanks to their 50 times-over tried, tested and refined menu, I expect them to be renowned for the food and drink, not just the easy location.
For more information visit the Fire Station website here.
—
Client Friendly: Fine for wining & dining
Affordability: Budget-happy £
Nearest station: Waterloo
Dress code: Any clothes goes
Best for: A relaxed night out, Schmooching or Friendly catch ups (it's a good all rounder)
Words by – Firuze French
[Some imagery courtesy of the Fire Station]