Review: The Refinery, Regent's Place //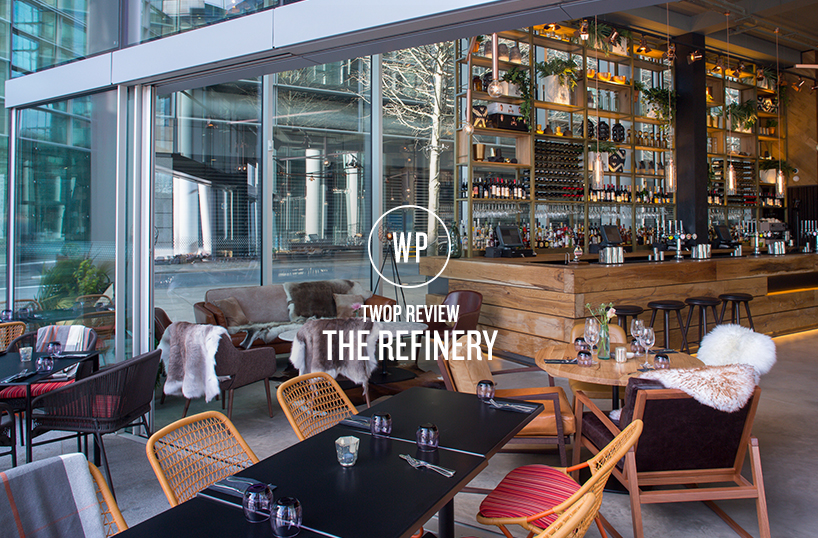 We popped over to Regent's Place to review The Refinery's Saturday night offering. Here's what we thought of the modern bar and eatery.
The acclaimed Drake & Morgan group have many ventures across London, its eighth venue being The Refinery at Regent's Place. Situated near Great Portland Street station, the restaurant is much like its bankside counterpart in Southwark. Regent's Place is a big urban space, populated with offices and cafes, fully equipped for weekday trade, but I was slightly wary of going to this area on a Saturday. Nonetheless we thought we would give it a go.
After sticking some glad rags on, Tom and I made our way to the restaurant which sits in the main square of Regent's Place. From the outside the venue looked great, warm and inviting, but my suspicions had proved right and the area it's set in is like a ghost town on a weekend. I imagine it to have a buzzy vibe during the week, but, as with many London urban workplace areas, we felt like we may be the only people around.
Walking into the restaurant we were pleasantly surprised that there were people in there – and friendly staff too! It wasn't packed, but it was much busier than I had anticipated. We were quickly shown our table and offered a drink. I opted for a Porn Star Martini and Tom got a Garden Collins (£9.95 each). Sipping on our lovely drinks I took in the surroundings while pondering the menu.
The interiors are splendid and spread over one floor with high ceilings, offering a large open space. Sheepskin rugs are draped over a mix of furniture from stylish leather seats to tartan clad armchairs – there's even the odd 1950's seat thrown in here and there creating the perfect mixed chic style. Tall bar benches split up the room whilst smaller tables scatter the outskirts, wood panelling decorates the walls and exposed lightbulbs hang overhead attached to copper poles. To the left of the room there's a large bar built from reclaimed timber and metal and along the back wall is an open kitchen where clean white tiles are complemented with brass hanging lights. It's all very modern and creates a nice atmosphere in a room surrounded by glass window panels (a great spot for people watching). Funnily enough I really enjoyed the bathroom decor where a neon light led the way upstairs to a corridor of more windows looking down to the first floor. It was decorated with dark grey walls, minimalistic typography prints and the odd chair with more cosy looking sheepskin draped over them. The ladies' toilets had wonderful patterned floor tiles, with deep sinks and copper taps – there was even a recipe for a Mojito written on the mirror. All these little details I liked very much.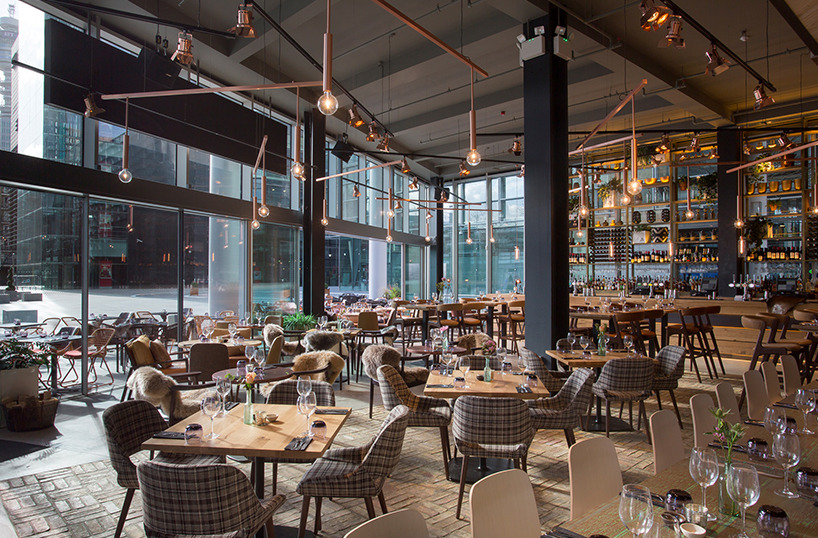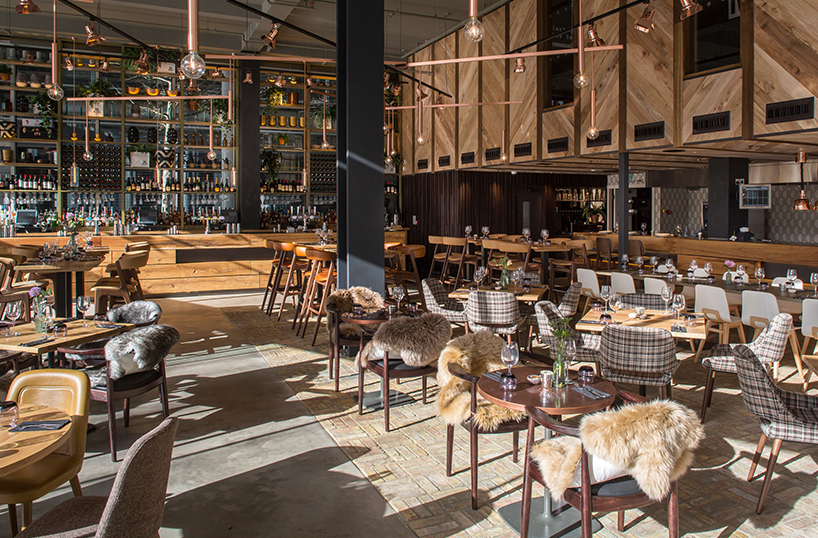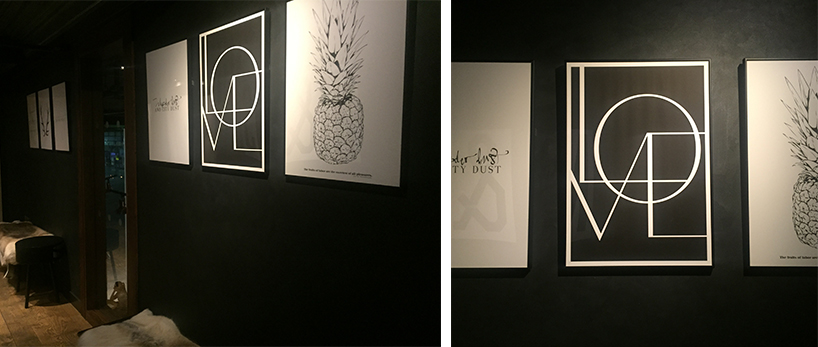 Moving on to food. The menu focuses on British gastropub classics, while throwing a few other cuisines in there. Tom was offered the 'Reef, Beef & Bubbles' deal where he got half a grilled lobster, a 6oz steak, chips & a glass of prosecco for £19.95. I, being veggie, went for the main menu and started with a vine tomatoes and mozzarella salad (£6.50) and then had a main of Thai coconut curry with basmati rice (£10.50). To be honest the food was average, Tom's lobster was slightly dry and my curry was a little bland, but the cocktails and starters and service was great.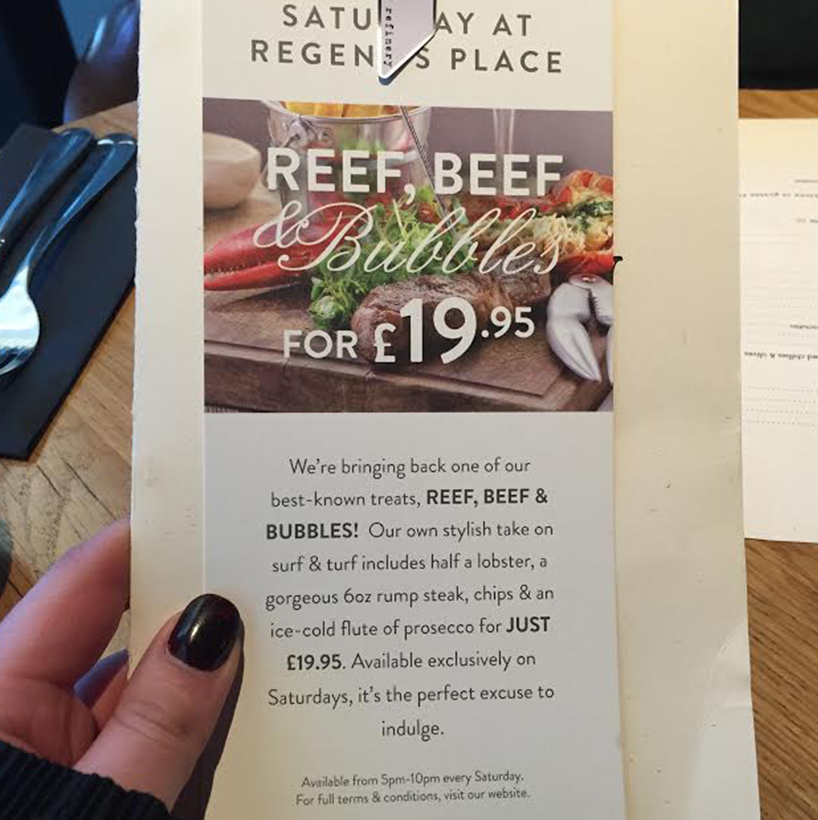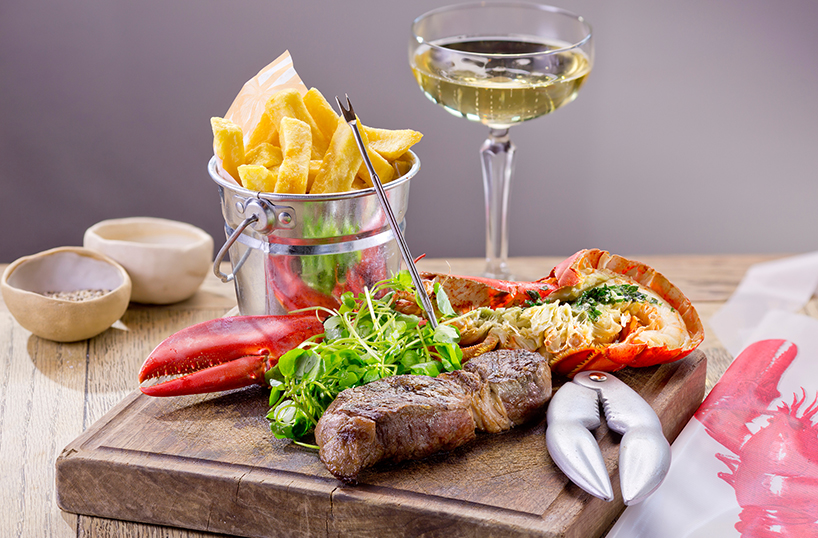 On the whole I would say this place is a weekday favourite – a perfect spot for picking up breakfast on the run, lunchtime meetings, after work drinks (especially in summer on the big terrace area) and leaving parties, but not so much for a Saturday night. It's not set in the right area and to me, Saturday night dining should be somewhere with a bit more going on. But if you work in the area it's definitely somewhere to consider during the working week.
To book and for more information visit the website here.
Client friendly? Fine for talking shop
Affordability? A little treat ££
Nearest station: Warren Street
Dress code: Any clothes goes
Best for? Lunching
Words by – Natalie Jahangiry
[Some imagery courtesy of The Refinery.Other images © To Work or Play 2016]