House Decor: Online Interior Stores //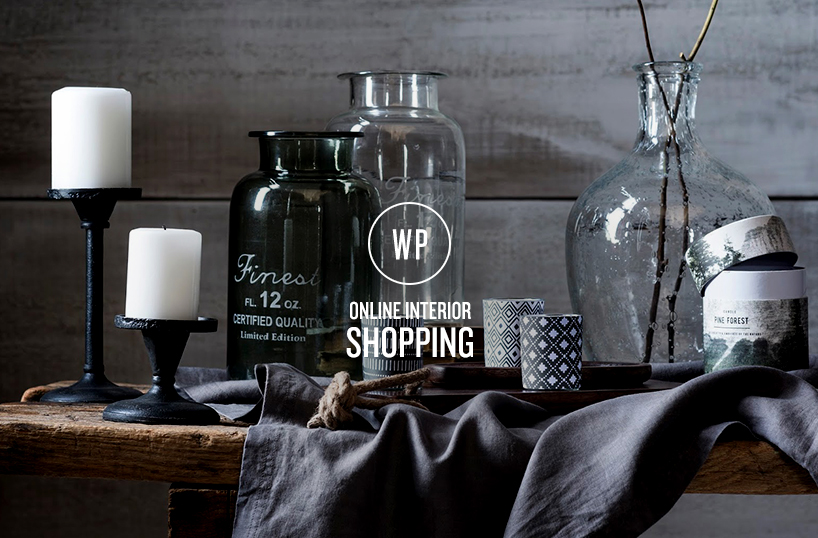 In this post Nat gives her favourite interior sites to purchase home accessories while filling your minds with priceless inspiration. So move away from your desk and get the paintbrushes ready for an interior filled revamp.
If you have read some of my previous posts, or seen my Lust Lists (view the latest here) you will be able to tell I am an avid fan of interiors and not only that I have spent the past couple of months doing up our new home. I spend countless hours on Pinterest, dreaming up plans for our house and love a good bargain hunt for home accessories. If I wasn't a graphic and web designer I would have specialised in interiors – It excites me in such a way that most of the time Tom thinks I have lost my mind as I drag him into home stores or pester him to decide which picture frame would be most fitting for the wall. To me a home should be somewhere comfortable that's filled with things that please you, provoking emotion and memories. Furthermore, being a creative I like nicely designed bits that reflect our style (fellow creative folk – I'm sure you can relate to me on this). Given that, and taking into account our busy schedules, I often turn to the interweb when purchasing home items.  
Online shops can be a fantastic resource, if you know where to find what you are looking for. So here I give you a selection of the my favourite interior websites to fuel your enthusiasm for interior design.
Swoon
swooneditions.com
Stylish furniture at affordable prices. This shop has been a key staple in our new home interior design and we have bought many a item from the online retailer. Swoon started as an answer to a common problem – "Every idea starts with a problem. Ours was that well-made furniture is too expensive. We were renovating our own homes and the prices of the designs we coveted the most were unjustifiably high. It turned out there was a simple solution. The furniture industry has overheads that pushes prices skyward – shops, warehouses and middlemen. We created Swoon Editions as an alternative." It's by no means cheap, but it is much more affordable than other retailers selling similar items. The quality is superb and the offering is vast. What's more they often have online sales and warehouse events where many items can be found at 70% off… you just need to be prepared to fight for what you want and queue to gain entry (they are very popular). Watch out on their Facebook page for more information.  
Maisons Du Monde
maisonsdumonde.com/UK/en
From furniture to home accessories, Maisons Du Monde create stylish and classy furnishings for every room in your house and most importantly cater for every style. I have used this site a lot in buying key pieces for the new house and although the company are based in France (did the name give it away!?), delivery is pretty speedy and affordable. Brilliant style and well made homeware.  
Rose and Grey
roseandgrey.co.uk
Love child of Guy and Lyndsey Goodger, Rose and Grey was born out of a previous experience working in media and a shared love of interiors inspired by various aspects of London such as Borough Market, the unique character and charm of Brick Lane and Columbia Road as well as worldwide travel. The shop, based in Manchester, showcases furniture, wallpapers, cushions, prints, mirrors and home accessories – all of which can be found on their online store also. The style of products are quite clearly influenced by minimalist colours with white, greys and natural wood being prominent in most pieces. Exposed brick, metals and a few hints of vibrant colour feature in other pieces. You will find everything from leather armchairs and salvaged vintage dishes to feminine side tables and industrial lights – they do it all. A wonderful selection, many of which are going straight onto my Lust List!
Royal Design
royaldesign.co.uk
A site full Scandi delights. Featuring brands such as Ferm Living, Le Creuset and Normann Copenhagen this store has minimalistic homeware at competitive prices. Aggregating the best of Nordic, Scandi and Danish style stores you can find kitchenware, soft furnishings, clocks, and much more. One of my favourite sites for contemporary goods.
Oliver Bonas
oliverbonas.com/homeware
Not only a clothing shop, but a cool homeware store also. You will mainly find bits and bobs on this site, but they do the occasional pieces of furniture like shelving units, drinks trolleys and accent chairs. Apart from these expect cool artwork, lots of copper (woohoo) kitchenware and some great coffee table books.
Desenio
desenio.co.uk
Talking of cool artwork, here's a site that has a whole array of prints to fill your bare walls with… they even sell frames! Everything is smart yet affordable with a mix of Danish inspired minimalist prints, typography quotes and animal photography. We got some great prints from Desenio, and I'm sure will be buying more soon.
Superfront
superfront.com/uk
Have you bought some Ikea furniture, but want to give it a personal touch? Try Superfront. The online store manufacturers door fronts, handles, legs, sides and tops that fit Ikea's most common cabinets. Choose the fronts with or without patterns, in a variety of colours, and add details such as copper, brass, marble and leather with the legs, handles and tops. By doing so you can turn a boring Pax wardrobe into a quality uniquely designed feature cabinet.   
H&M Home
hm.com
Did you know this popular high street fashion retailer has a fantastic homeware offering? It's quirky, on trend and cheap. With only a few stores featuring homeware it's often missed, but their online site has many wonderful pieces on offer to scatter your home with a stylish touch. H&M Home mainly specialise in soft furnishings such as pillowcases, bed linen, rugs, towels, curtains etc, but also have decorative items such as candles, storage boxes and kitchenware. I have always been a big fan of H&M Home and would highly recommend it for light decorative pieces to personalise your space.   
Urban Outfitters
urbanoutfitters.com
Hipsters rejoice, UO have a homeware section and it's full of cool kit to personalise your home. They specialise in audio, records and record players, but also feature furniture, rugs, stationery and photography goods. The UO Community also offers creative snaps from fellow shoppers and UO Blog has bundles of interesting articles and hours of inspiration.
Tikamoon
tikamoon.co.uk
For your industrial furniture fix, shop at Tikamoon. Specialising in wood and metal the site mainly sells large furnishings, with many pieces in Mid Century Modern and Oriental styles. It also has a brilliant industrial section where we got a few items including our coffee table, which we love. Tikamoon offer a very New York loft apartment look and feel so if that's the trend you are going for then look no further!    
————
Words by – Natalie Jahangiry
Want the latest posts, offers and exclusive tickets straight to your inbox? Subscribe to our newsletter and never miss out again.
Images © H&M