My Life in Monochrome //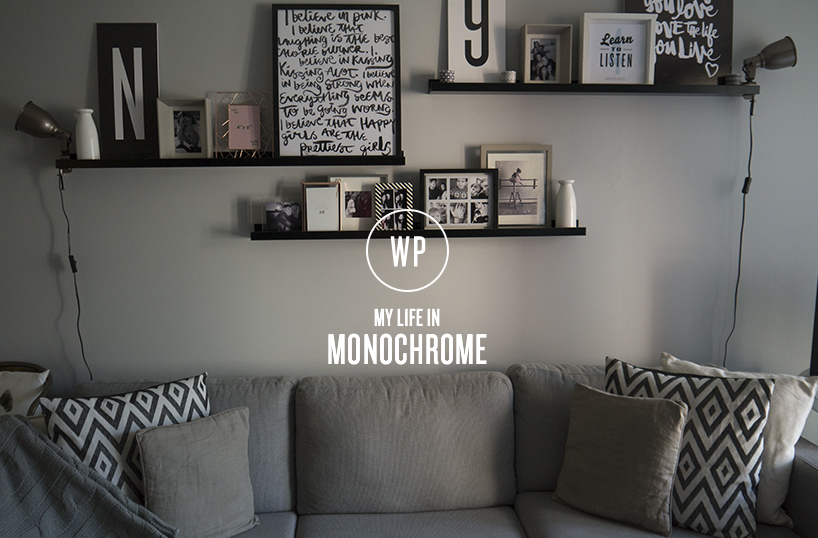 Love life in multicolour monochrome. Nat explores style in black and white. Simple.
Monochrome. I'm a sucker for it. Give me a black and white cushion or throw a chevron on a shampoo package and I'm purchasing it before I even know what it is! Fact is, no matter how many colours we throw into our lives, a classic black and white combo never ceases to please. Colour is wonderful, but a splash of monochrome here and there might actually brighten your lifestyle… ironically.
Home interiors
Pillows. Throws. Frames. Rugs. Wallpapers. Take your pic… the list goes on. When it comes to home interiors and classic styling you can't go wrong. Whether you solely stick to the theme, add hints of colour or mix and match with other palettes it works. The great thing is black and white go with everything. At the moment I am also a big fan of throwing copper accessories into a monochrome theme – it's on trend and works really well. Here's a few shots of my newly decorated sitting room: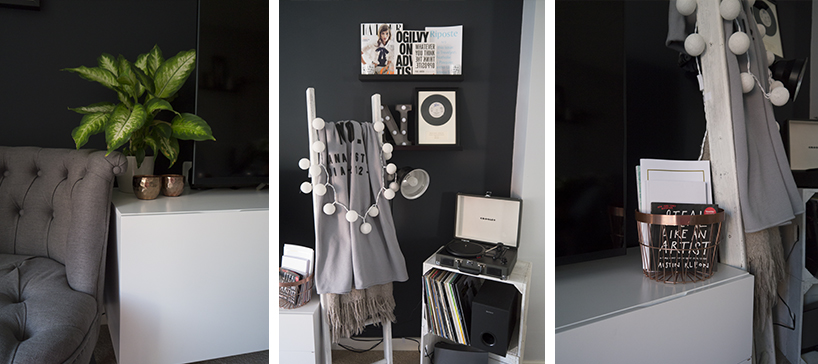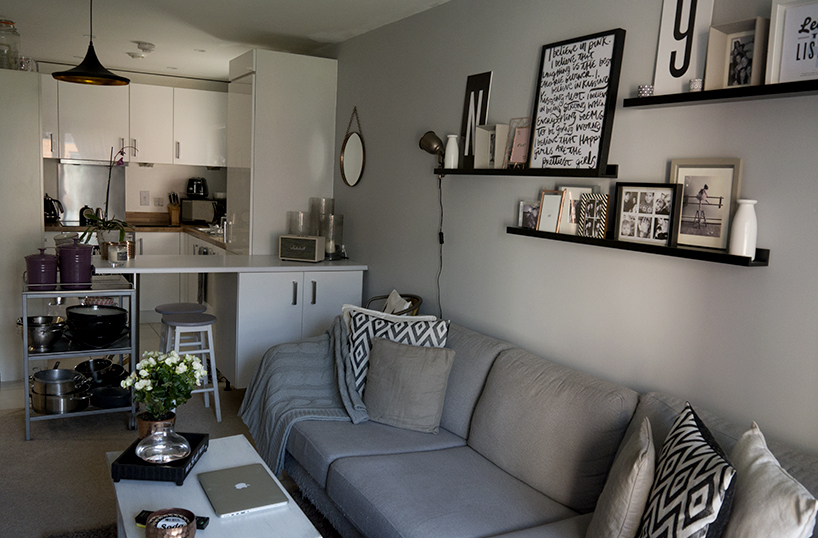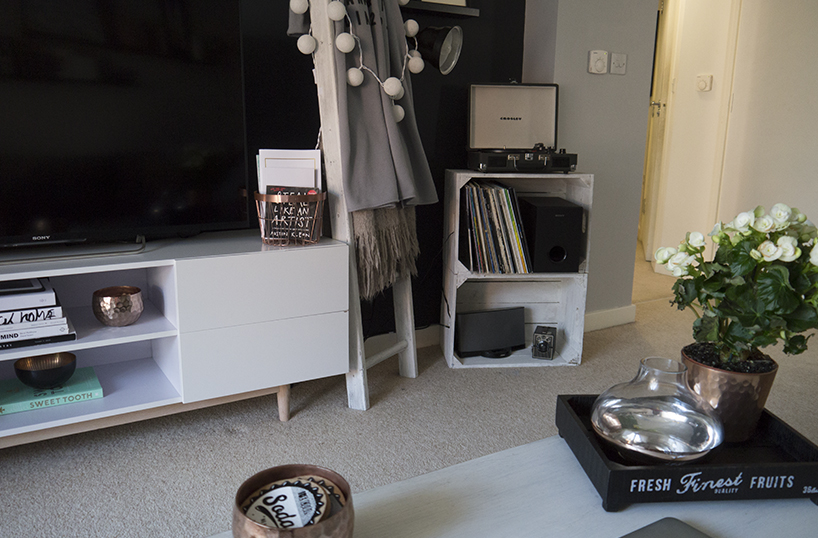 One of my favourite users to follow on Pinterest is Minimalista, who pins everything in the monochrome spectrum, in particular beautiful and stylish interiors. Have a look here: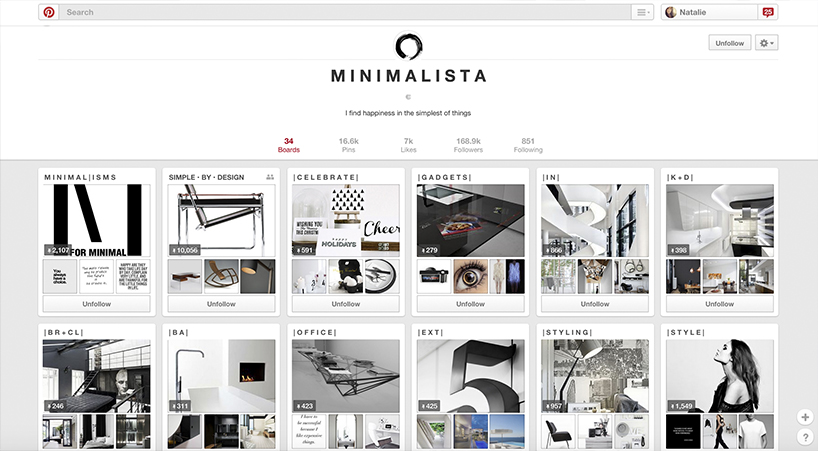 At the moment there are plenty of places to purchase monochrome patterns, here's some of the best bits on the market for affordable prices:
1) Ikea Rug | 2) Oliver Bonas Frame | 3) H&M Towels |  4) Anthropologie Zebra | 5) H&M Throw | 6) H&M Cushion Cover
As copper is bang on trend at the moment, there's also a lot of it around. Have a look at a few of my favourite buys: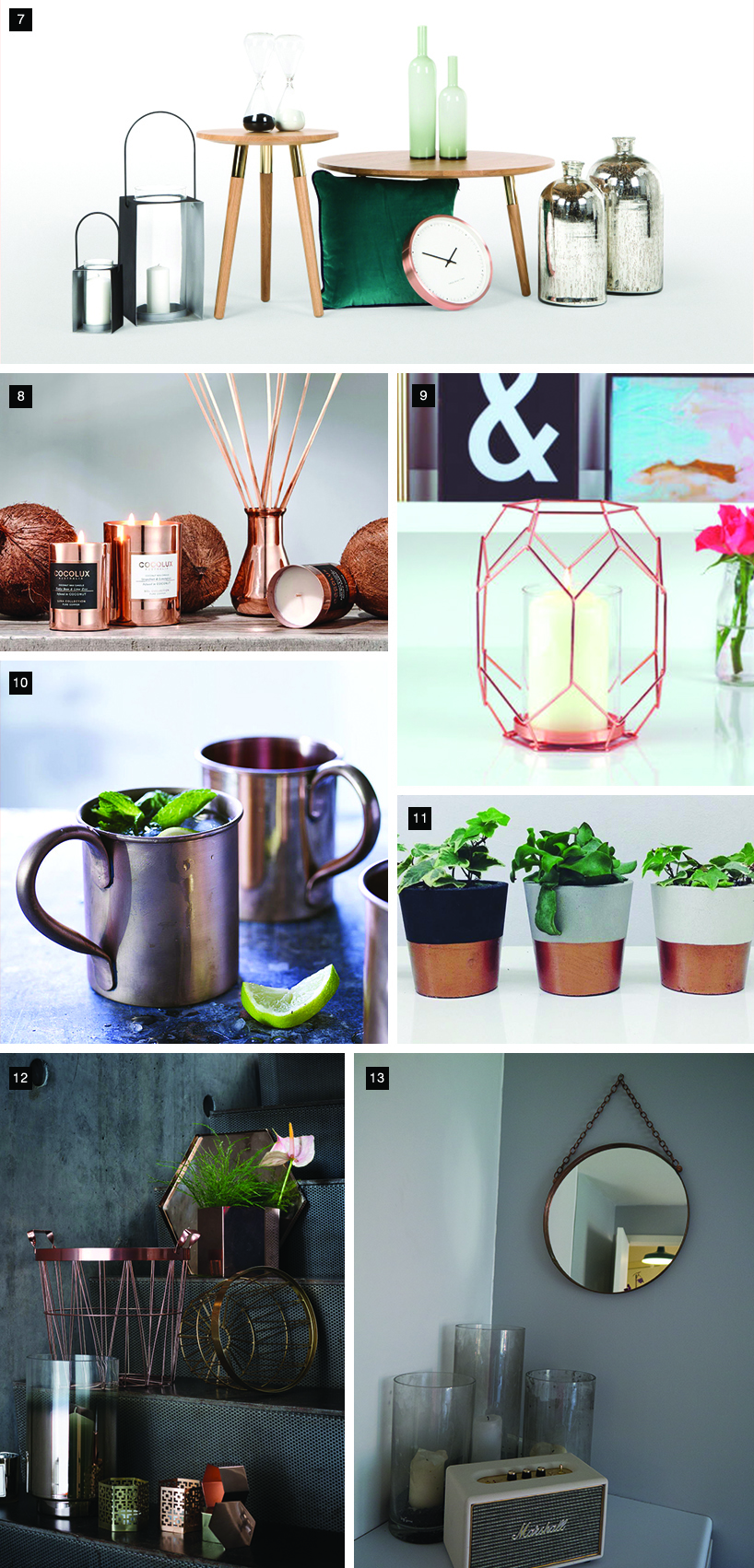 7) Made Clock | 8) Cocolux Candle | 9) NOTH Lantern | 10) NOTH Mugs | 11. NOTH Plant Pot | 12 H&M Wire Basket | 13) Oliver Bonas Round Mirror
Design
Fellow design and creative folk will understand where I'm going with this when I say that sometimes the most effective designs use a basic palette. Nothing too overbearing or garish – a simple scheme that allows the content to take priority. Using black and white with the addition of one colour is one of my favourite tricks and it seems like it's not only me who believes in this method, check out some inspiration pieces I have found in the design sector that embody the monochrome mantra: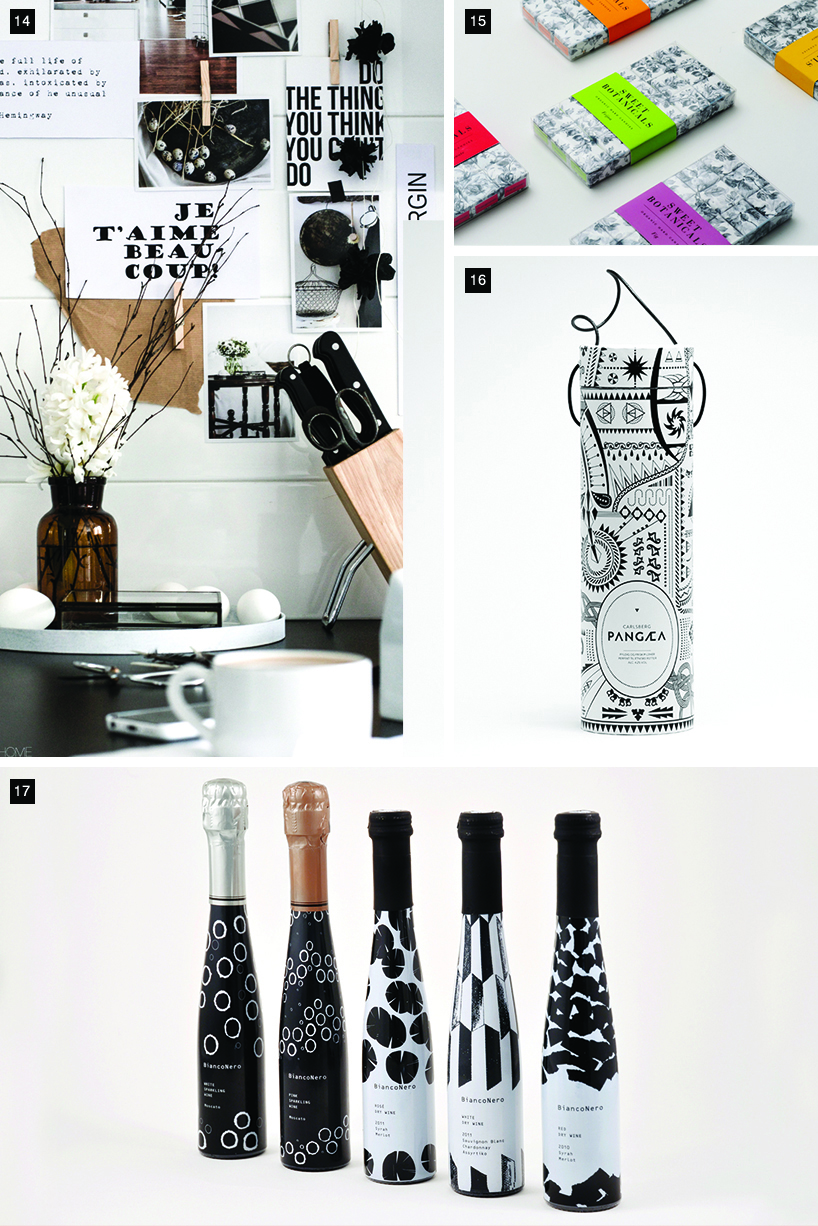 14) Agnetha Home Moodbaord  | 15) Sweet Botanicals | 16) Pangæa | 17) Bianco Nero
Fashion
I often wear black or white or both (in fact I'm wearing both while writing this post). The little black dress will never go out of fashion nor will the classic white shirt. Some may say it's boring but team a monochrome classic with a chunky necklace, colourful heels or patterned scarf and you're onto a winner.
I recently went on a shopping spree and realised everything I had bought was monochrome. This wasn't purposeful, it's simply what I was drawn in to buy: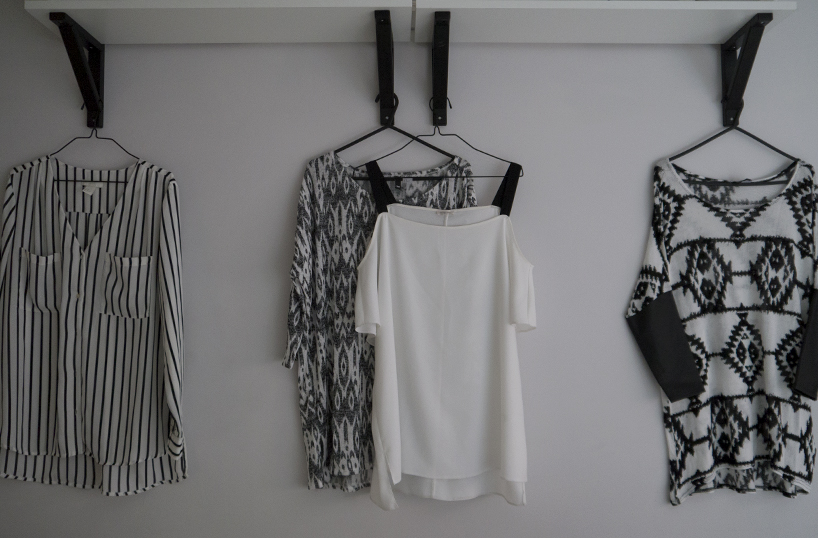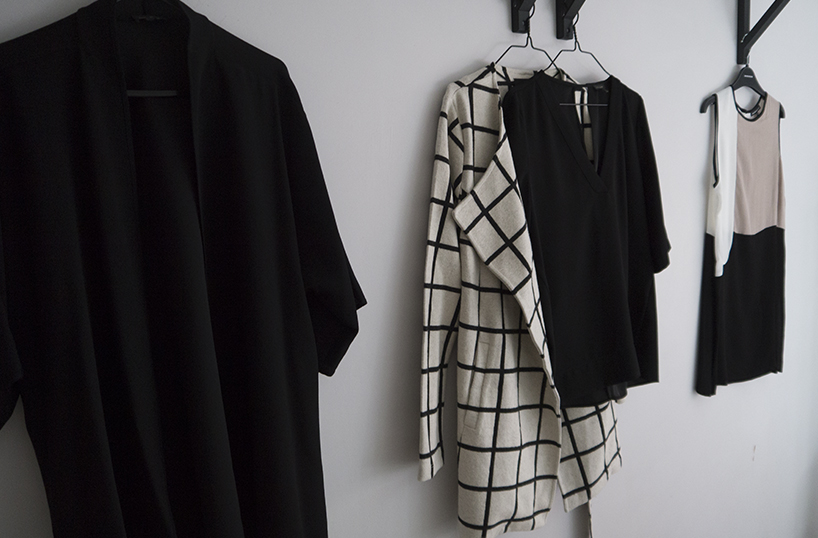 Here's some simple styles currently available on the high street that use a black and white theme: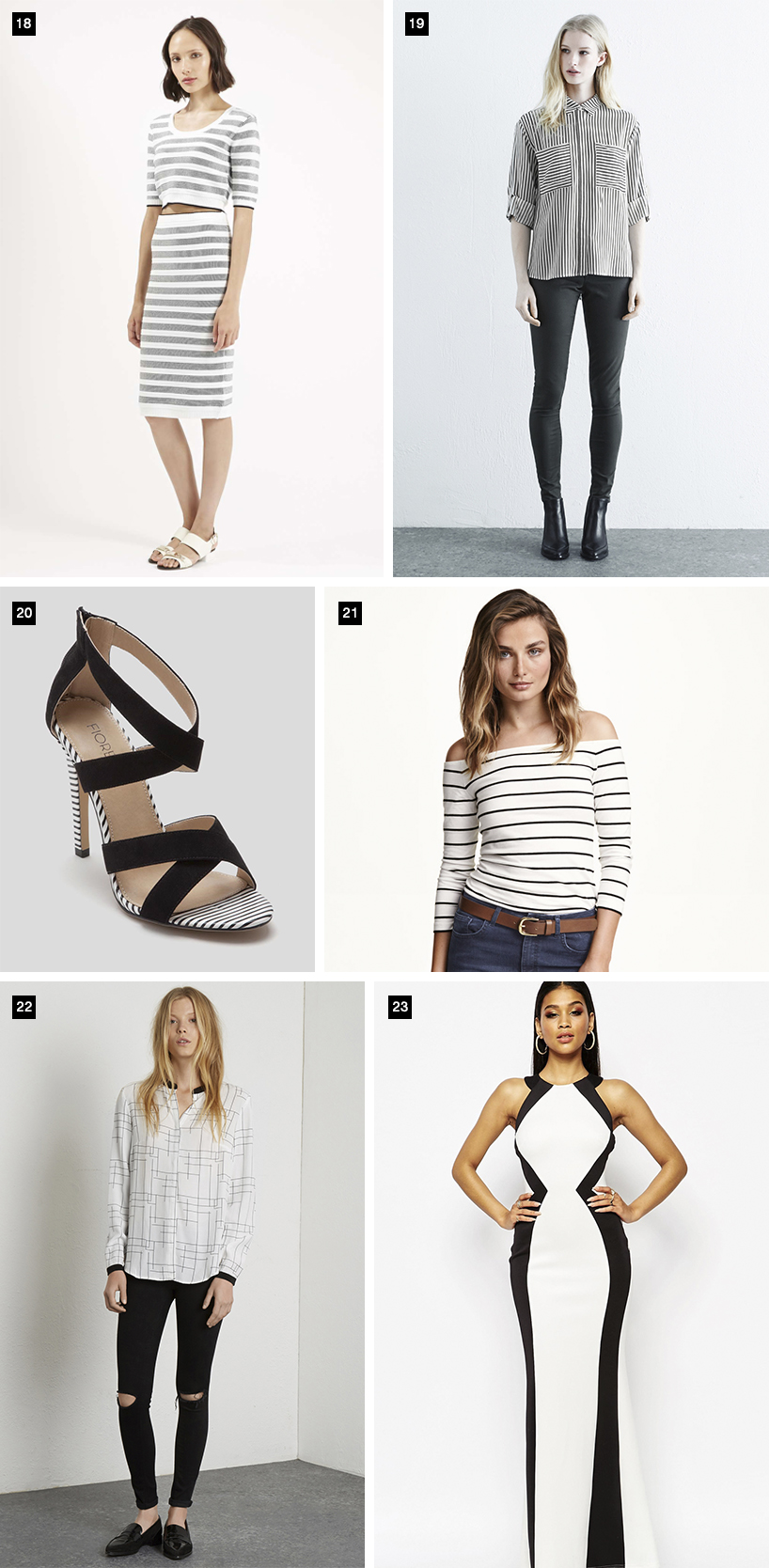 18) Topshop Skirt | 19) Warehouse Shirt | 20) Matalan Srappy Heels | 21) H&M Top | 22) Warehouse Blouse | 23) Lipsy Dress on Asos
Accessories
Yet again you can't beat monochrome accessories as they go with everything (we're onto a winner here aren't we!). Add a simple necklace, a quirky watch or cute bag to your outfit and you're set for the day's activities come work or play.
The high street has a lot to offer at the moment, here's some of the best bits: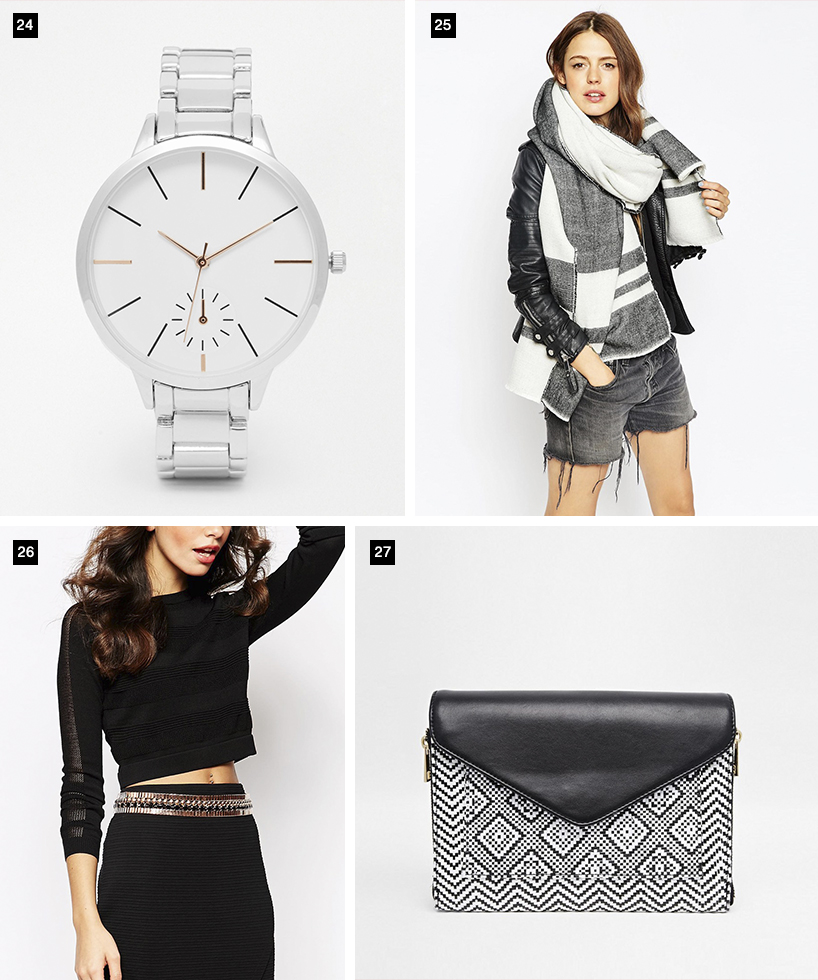 24) Asos Mixed Metal Watch | 25) Asos Oversized Scarf | 26) New Look Wide Chained Belt on Asos  | 27) Clutch bag
And finally as with interior, a mix of copper or rose gold with black and white also works with accessories: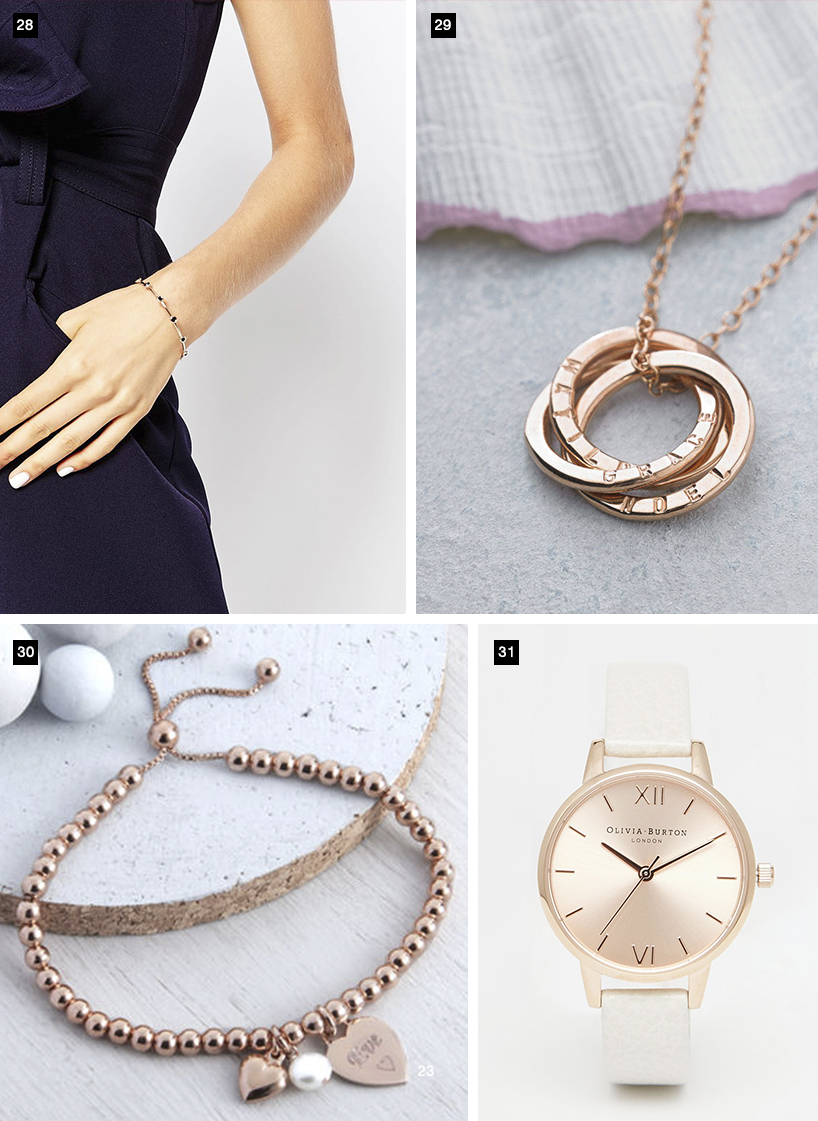 28) Ted Baker Bracelet on Asos | 29) NOTH Rose Gold Necklace | 30) NOTH Rose Gold Bracelet | 31) Olivia Burton Watch on Asos
See. Everyone needs monochrome in their lives. Happy shopping.
Words by – Natalie Jahangiry