TWOP Tips: Power Dressing //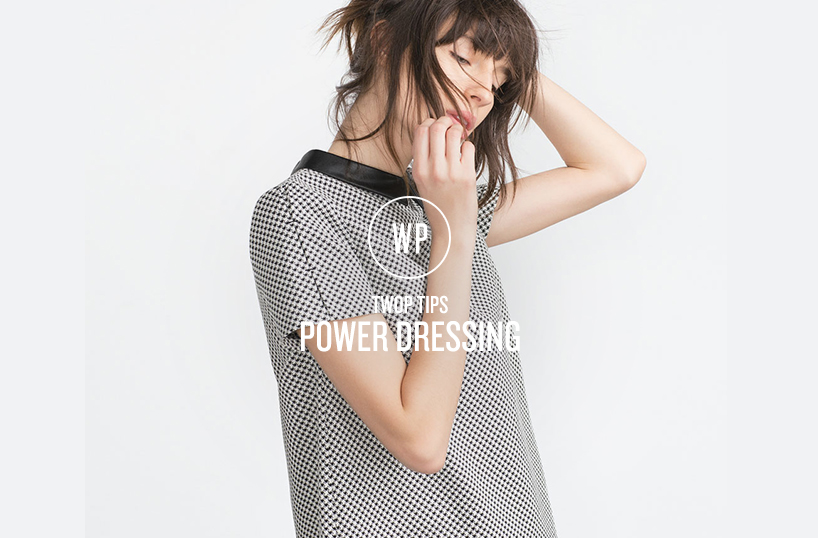 Work in ad land and find it hard to figure out what to wear? We have it covered. Vanessa gives you a guide to workwear with some easy tips for power dressing for ad life.
Working in an advertising / marketing is sometimes a little bit tricky to dress for. All my friends rant about how jealous they are that I can go to work in jeans and a jumper or wear plimsolls and hoodies (if I owned any). The truth is, I want to dress for work, but at the same time I don't want to feel out of place with the tone of the agency.
Earlier this year Firuze wrote a brilliant article on simplifying your work wardrobe, based on Matilda Kahl, the Saatchi Art Director who wore the same outfit for three years (read here). This is an extension of that particular post. Here are my top picks for stylish, yet classic workwear:

1) Asos Peg Trousers | 2) Zara Leather Look Dress | 3) Asos  Ballet Flats | 4) H&M Studded Top  | 5) Warehouse Pattern Dress | 6) Warehouse Wide Legged Trousers | 7) Asos Pencil Skirt | 8) Zara Long Shirt | 9) Zara High Heels | 10) Zara Black Bag | 11) Zara Monochrome Dress | 12) Warehouse Ankle Boots
So when it comes to workwear let's go back to Firuze's post to take some points:
> Stick to classic styles
> Don't over complicate outfits, keep thing simple
> Make sure everything fits you well; There's nothing worse than presenting to a client while tugging at your skirt or when your shoes are too high and you end up walking like John Wayne (eek)! 
Personally one of my biggest faults is trend buying – whatever the latest trend is I have to fill my wardrobe with it (I'm a shopoholic, what can I say!?). When buying from high street stores it's easy to get side tracked, but for work try and stay focused on classic cuts and classic shapes, then pair this with one key on-trend piece to bring some personality to the look.
If you bear all of this in mind when planning your week it will help to ensure you won't have a morning breakdown over clothes every day (well, most days anyway… we're not miracle workers!). It may even give you an extra 10 minutes in bed… happy days!
Words by – Vanessa Toby