City Guide: A weekend in Brighton //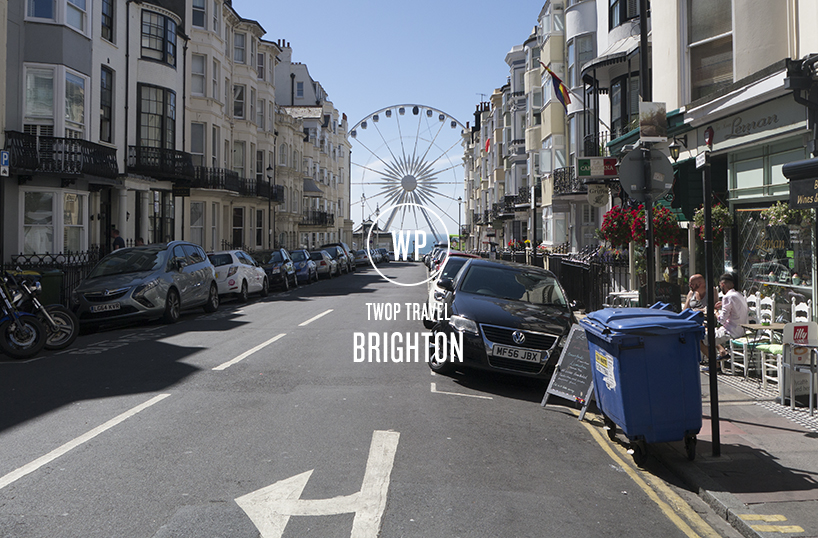 Want a spontaneous trip away? Try Brighton. Nat talks food, drink and places to rest your head in the popular seaside town:
Living in London is wonderful. It provides you with endless entertainment and activity, but sometimes you just want to escape the capital and take a breath (of cleaner air) to get away and relax. This said weekend we needed just that, so booking a very last minute trip we decided on somewhere close to home, but out of London… Brighton.
I've never really ventured to Brighton for a weekend away. I've been for the odd random road trip when cravings for fish and chips set in, but in my adult years I can't say I've stayed there to explore. I've been missing out… I can't believe I haven't realised sooner what a brilliant area it is! Yes, you have your tourist hotspot, the pier, which is like shopping on Oxford Street before Christmas, but once you step back from the beach and start to wander through cobbled streets you realise what a brilliant mix it has.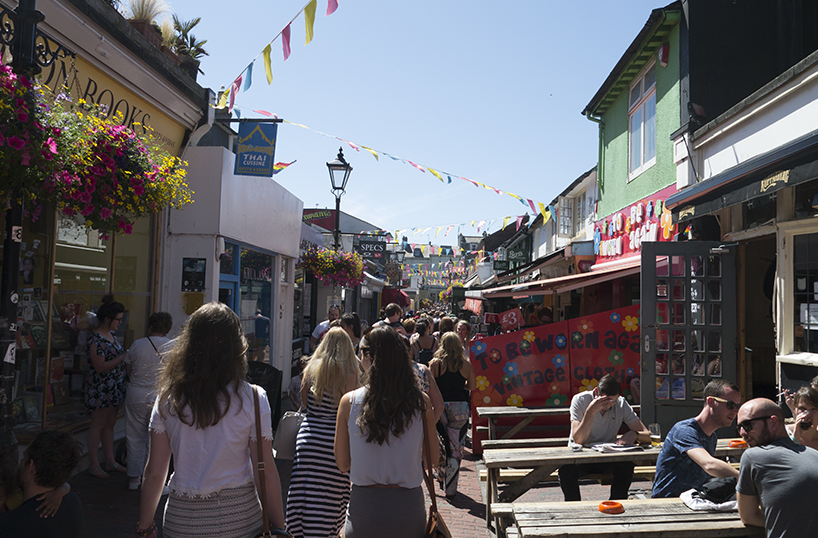 Those who known Brighton or live in the area will understand when I say the city is like an eclectic jumble of some of the great spots in London such as Camden Market, Shoreditch and even Richmond combined with cobbled town-like areas such as Cornwall or Durham. You can even throw in a nod towards New York in some respects. Another thing I hadn't realised is it's a hub for great food! After talking to The Graphic Foodie on Twitter and having a browse on her site, it became apparent that Brighton has a lot to offer a food fanatic like me. Every area we stumbled upon had numerous eateries which would appeal to every audience.
We deliberated taking the car, but a quick search online showed that the train would be best. So after paying £30 on the train for the two of us (absolute bargain) we hopped aboard for a train journey of just 45 minutes from Clapham Junction. We then walked the brisk 20 minute journey along the beachfront to our hotel in Kemptown.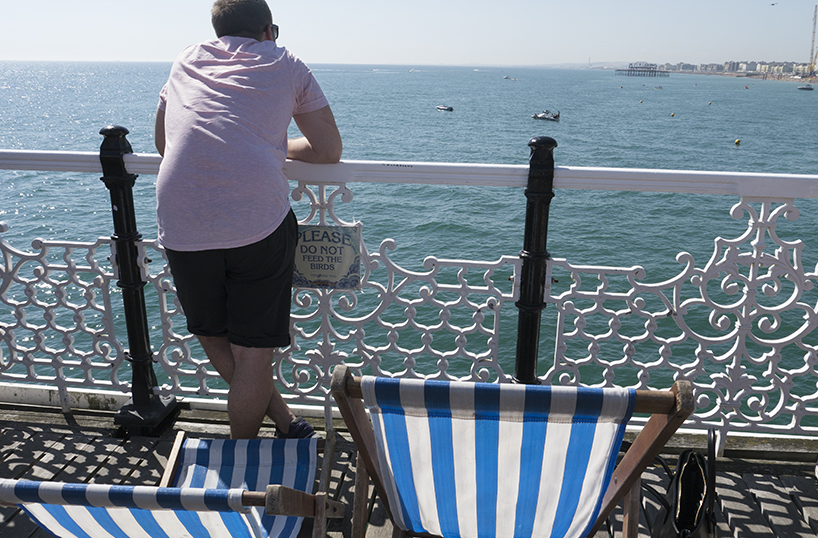 Hotel: Kemp Townhouse
Kemp Town is where the cool kids hangout. Students who rub shoulders with art dealers in tiny restaurants and bars disguised as town houses. The Primrose Hill of Brighton with beautiful shops and cafes where yummy mummies take residency with a flurry of friends. We stayed in what could've described as a small boutique hotel called Kemp Townhouse.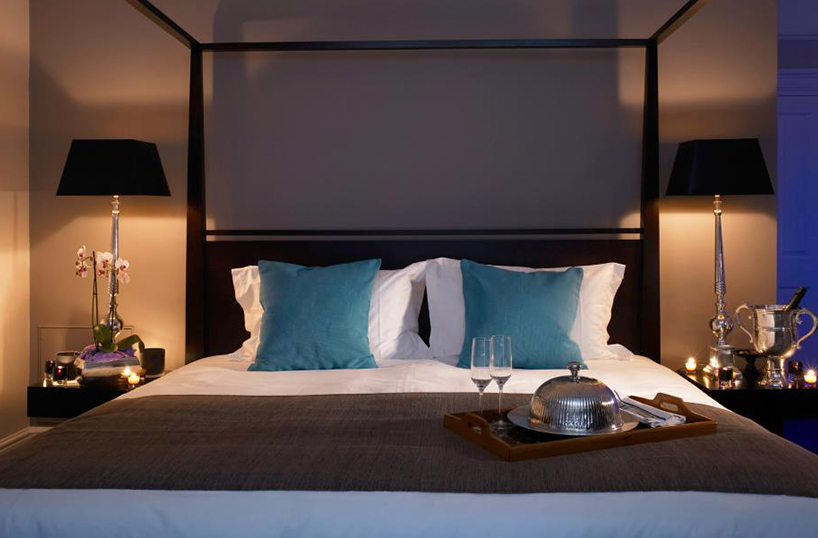 On arrival we were greeted by the welcoming smile from one of the in-house managers and although we were early we were shown to our room. True to the area the nine-bedroomed hotel was immaculate and bijou. We stayed in the "cosy" room which was tastefully decorated with a mix of modern and period decor with a small wet room and comfy double bed. The suite was quiet, despite its bustling location, affordable at £145 for the night, and well equipped. We also got a lovely breakfast served in the lounge as part of the package. The hotel is within walking distance of the sea (basically at the end of the street), has proficient in-house service and comfortable surroundings. Would definitely return in the future.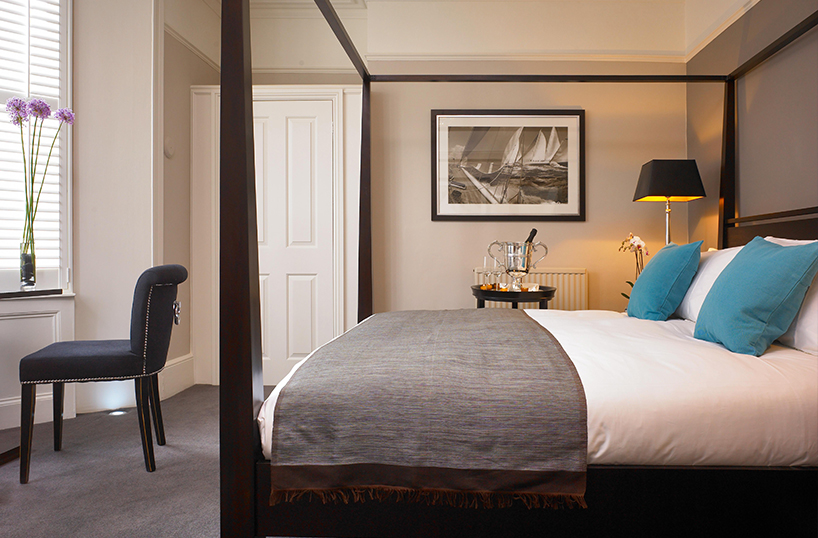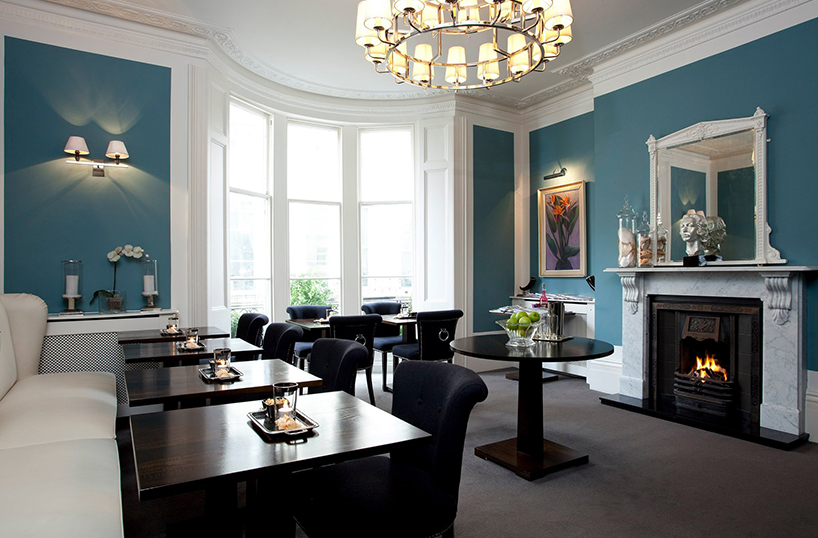 Kemp Townhouse // 21 Atlingworth Street, Brighton, E. Sussex, BN2 1PL
kemptownhouse.com
Dinner: 64 Degrees
We started dinner early as the small little restaurant I was determined to get into could only squeeze us in at 6pm. Sitting down in the kitchen was the first novelty. I say kitchen, we weren't actually in the kitchen, but all that separated us from the team of chefs was a breakfast bar style bench and their serving pass. It was clear from the offset that this venue was one for real food lovers, where, sitting in the tiny space at the centre of the action, we drooled as food was crafted and created in front of our eyes.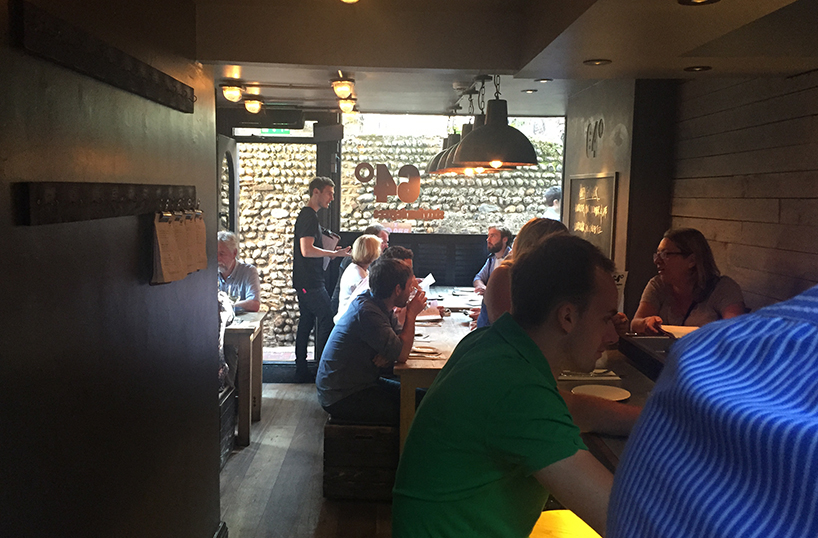 The restaurant held a mixed audience, proving that it was appealing to a wider crowd. It's sleek industrial style worked well with the metal exposures of the open kitchen and the array of technical gadgets that it held. The food itself followed a small plate tapas style of eating, similar to that of Ottolenghi's London restaurant Nopi. The menu, which was split up into four areas (meat, fish, veg and dessert), offered dishes such as Lobster, wasabi and lime (£11). Food arrives when ready, but in our case they kindly ensured that my veg dish arrived at the same time as Tom's meat / fish dish so we could eat together.
I enjoyed a tomato, bread and ricotta dish (£6.50), a Hispi, pea and raclette concoction (£7) and wild mushrooms with white wine (£8.50). Meanwhile Tom had scallops with crispy kale (£8.50), which was on the specials board, lamb shoulder, chilli and spring greens (£12) and pork belly, cherry and crackling (£10.50). At the end of the third plate I don't know if it was the combination of wine or the fact he truly was enjoying himself, but Tom felt the urge to lean over and tell the head chef that the lamb shoulder was the best he had ever tasted! We topped our meal off with some sweet delights in the form of a chocolate waffle and strawberries and cream. To accompany our meal, or mini meals as you could say, we had a bottle of red chosen from the small, but well thought out and somewhat reasonable wine list.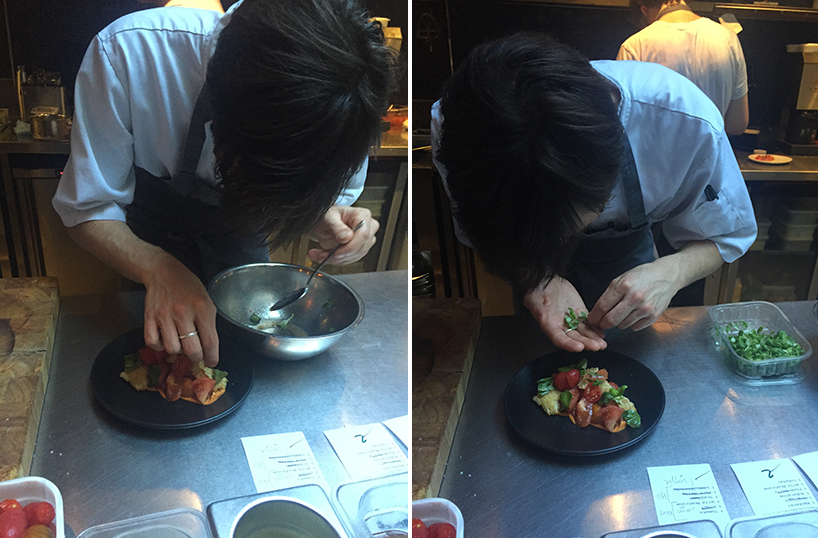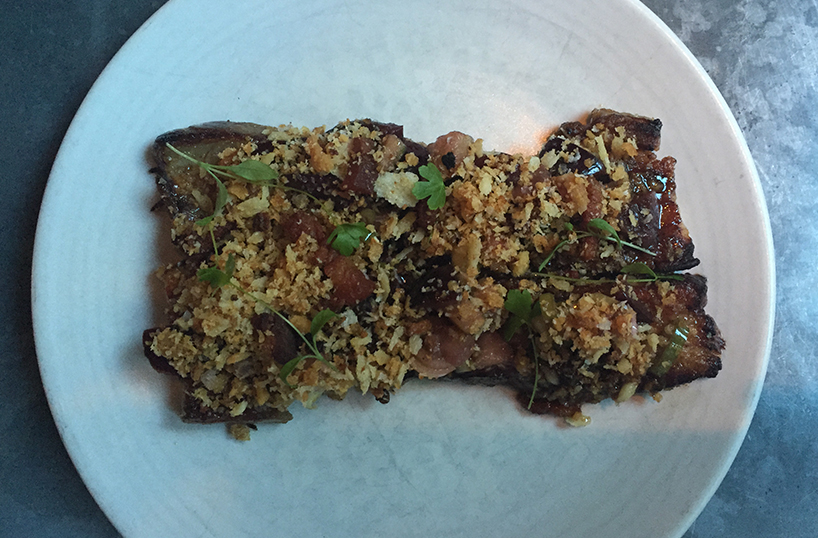 I wouldn't have initially thought this place was one that would exceed in vegetarian offerings, but it was a welcome surprise that these dishes were as thoughtful and tasty as their carnivorous counterparts (Tom assures me). The only issue I had was the heat of the venue as you are literally sat in the kitchen and it gets rather stuffy (the summer atmosphere won't have helped either) but then, if you can't take the heat, get out of the kitchen!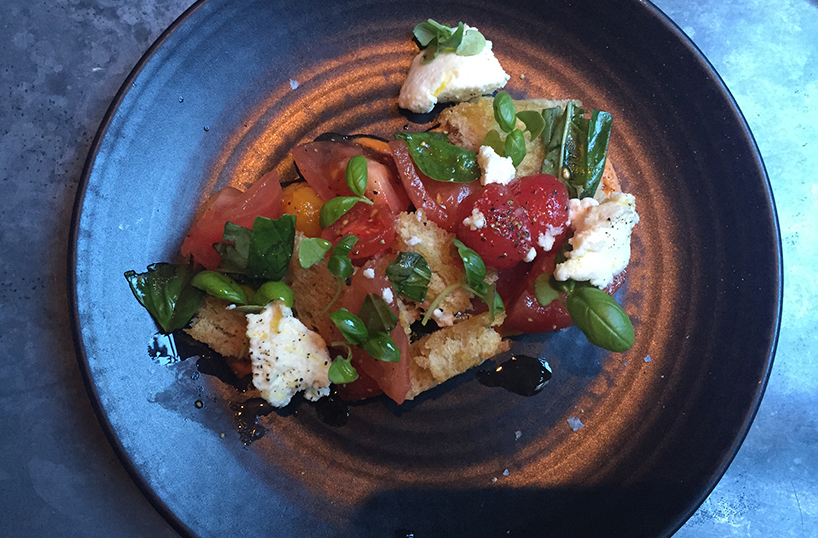 This little eatery is perfect for a romantic meal for 2 or catch ups in small groups, but anything more than 4 would be a struggle. The food and service was spot on and the fact the chefs were happy to talk through the dishes and explain the ingredients (although being very busy) topped the experience off. Price wise it's similar to London for greedier diners like us. It may be more affordable if you ordered less food, but generally I would advise three plates and a dessert… if you can handle it! Try not to over order, which is a trap we nearly fell into while sitting at the pass, with constant food envy of dishes we had missed or fond memories of dishes we had eaten. Overall an enjoyable experience.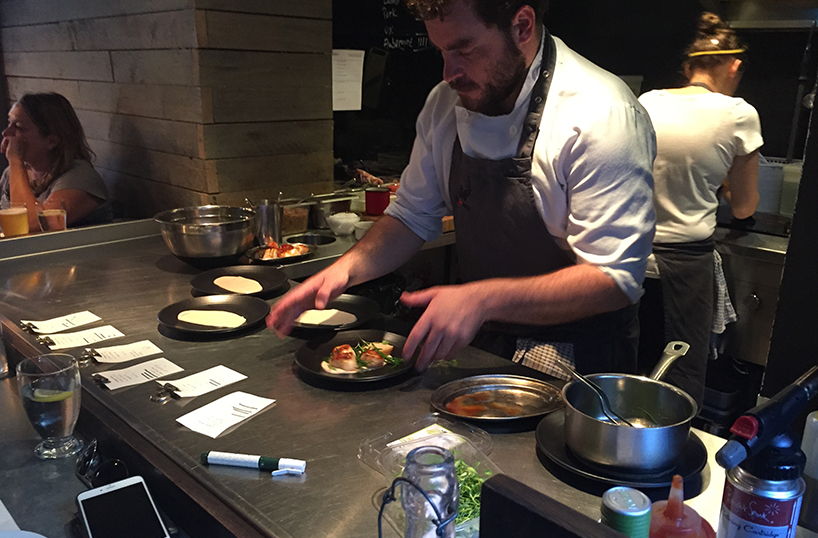 64 Degrees // 53 Meeting House Lane, Brighton, BN1 1HB
64degrees.co.uk
The Graphic Foodie also offered us some alternative restaurants for dinner. Book in advance:
Saltroom | Coalshed | Gingerman | The Chilli Pickle
Drinks
Much like food, Brighton has some great bars on offer. We tried and tested a few that were recommended as great watering holes:
Black Dove: This venue is a brilliant mix of bar and boozer. A quirky place with an impressive bar and vast beer selection, including Brooklyn Lager on tap.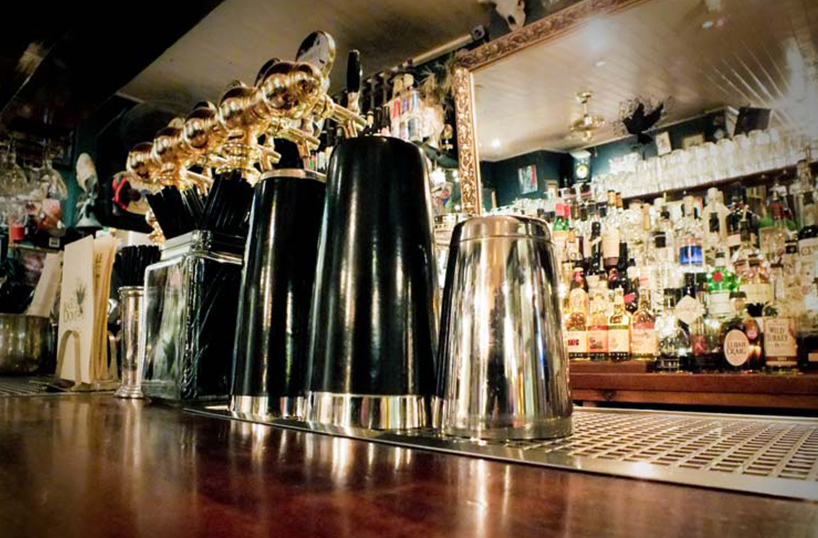 Black Dove // St James's Street, Brighton, BN2 1PA
blackdovebrighton.com
Plateau Brighton: A relaxed little wine bar with an unusual list of naturally produced wines. Also serves sharing plates and cheese if you fancy a nibble.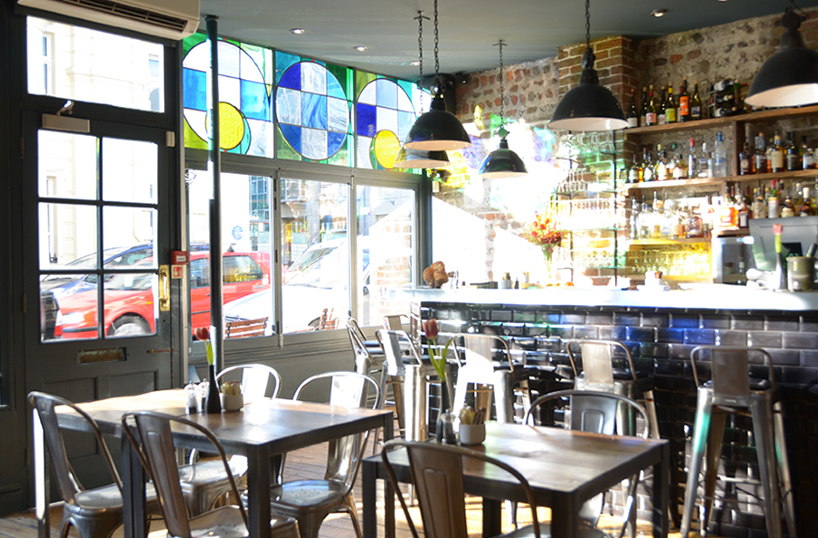 Plateau Brighton // 1 Bartholowmews – Brighton, BN1 1HG, UK
plateaubrighton.co.uk
Brighton Rocks: A great gastro pub with a great selection of cocktails, craft beers and DJs. This venue was a street away from Kemp Townhouse, where we stayed.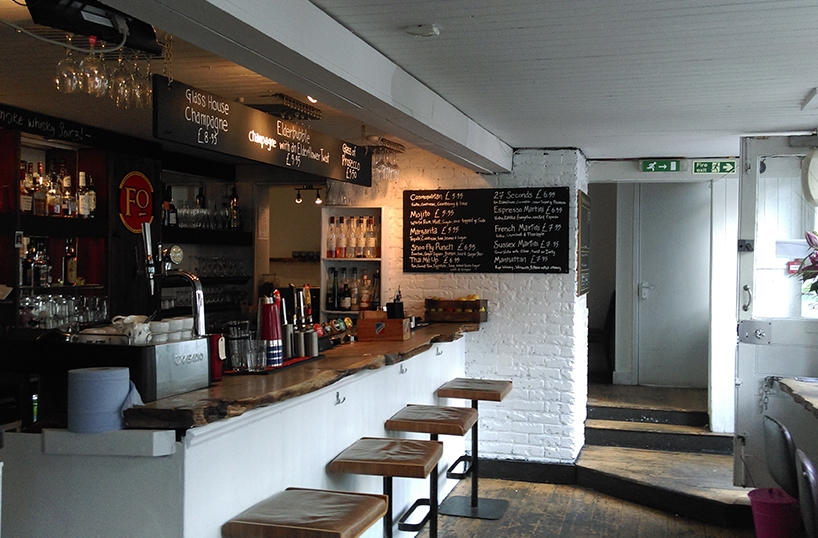 Brighton Rocks // 6 Rock Place, Brighton, BN2 1PF
brightonrocksbar.co.uk
The Cocktail Shack: If you want cocktails this is the place to be. A newly refurbed creative hotel bar with a boutique and intimate feel. Great for date nights and perfect for a stop in on a weekend getaway.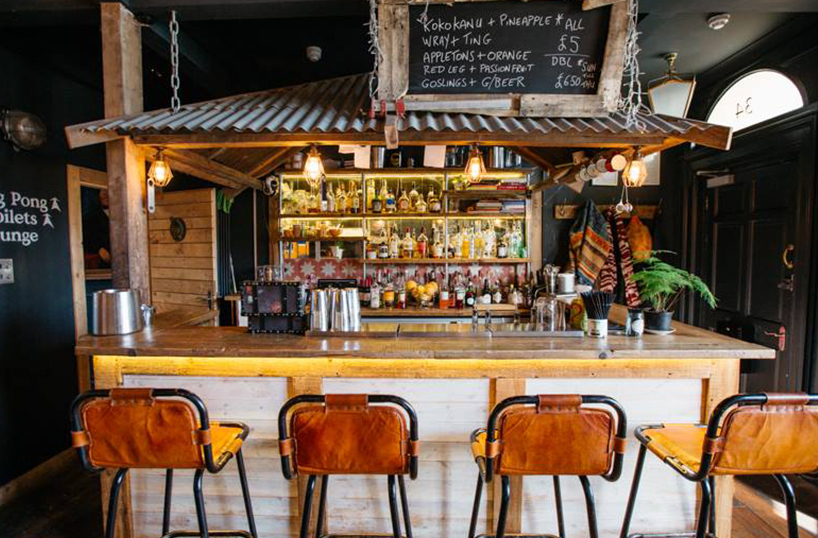 The Cocktail Shack // 34 Regency Square, Brighton, BN1 2FJ
facebook.com/brightoncocktailshack
Ten Green Bottles: A bespoke wine bar in the heart of the city. With a minimalistic interior and shelves full of wine, this venue looks like a shop with the added bonus of being a bar with a handpicked selection of tipples. A great one for a casual afternoon drink.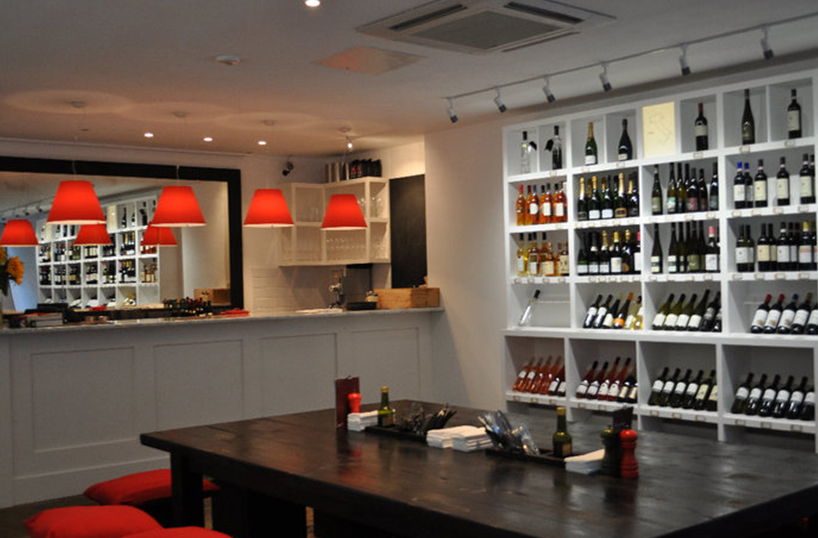 Ten Green Bottles // 9 Jubilee Street, Brighton, BN1 1GE
tengreenbottles.com
Lunch: Grow 40
After spending the morning meandering around flea markets and walking through the pretty gardens of the Pavilion we had worked up a bit of an appetite.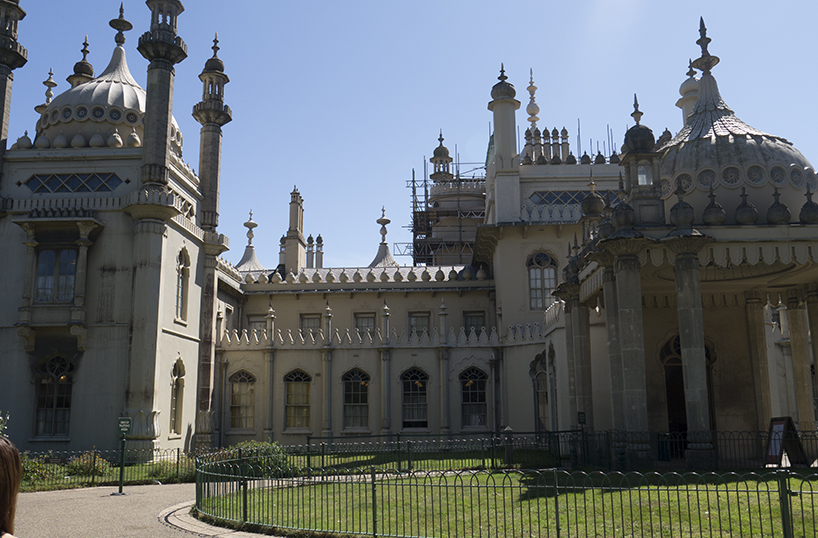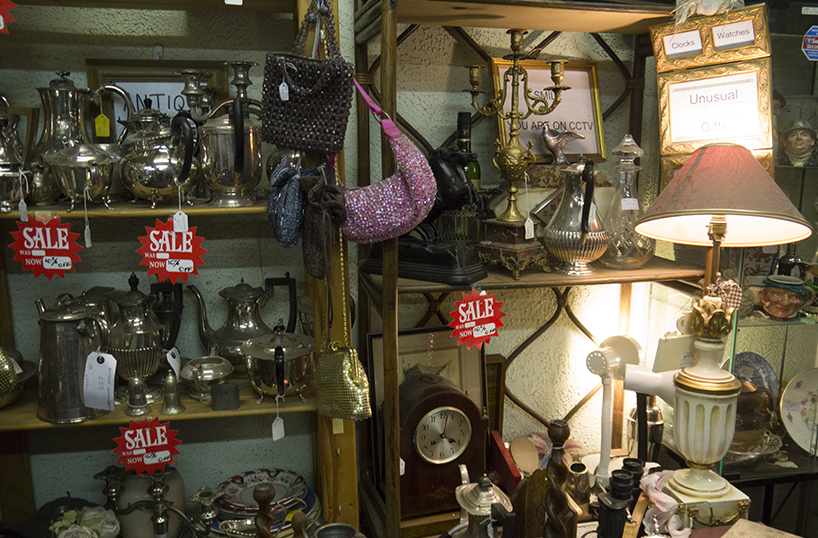 Having found a beautiful street, somewhat similar to Portobello Road, which to my delight had lots of sweet boutique interior shops, jewellery markets and a record shop, we were eager to eat amongst the action. At the end of Kensington Gardens was Grow 40.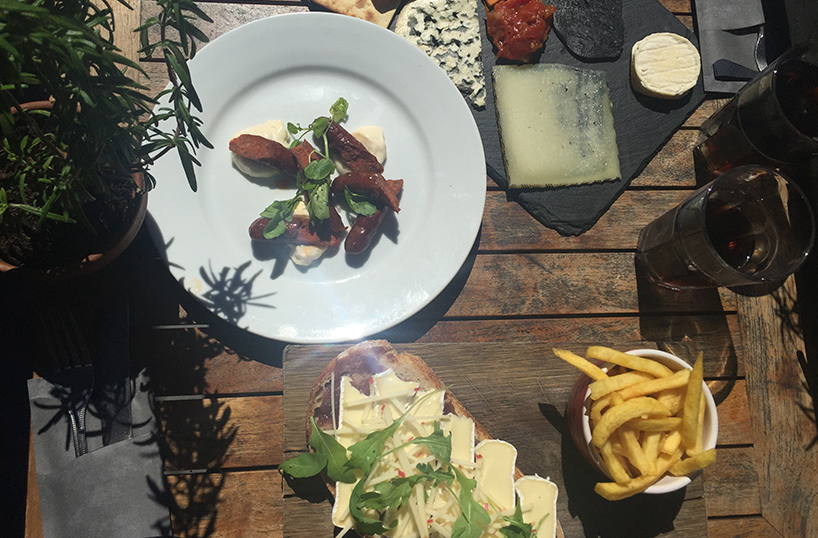 The venue is intimate and relaxed, with exposed brick and comfy seating areas upstairs (there's even a section for wine drinkers, with armchairs and cosy seating, tucked away at the back of the 1st floor). Tables outside provide a great spot for sitting in the sun to people watch, which is exactly where we found ourselves.
The small, but adequate, lunch menu offered great sharing dishes, a lot of cheese (which was no problem with us) and fish. The deal of the day was half a lobster and half a burger for £15, which sounded like a bargain, but after much debate Tom settled for a cheese board (£14.50) and merguez and aioli (£4.50) from the little pickings section. I went for an apple, brie and homemade chutney open sandwich (7.50) which was served with chips. On arrival of the food I was somewhat intrigued by a piece of black cheese sitting on the cheese board. The waiter was quick to explain it had been smoked with coal and then continued to explain the other elements that sat on the slate plate. As we wolfed down our food it would be safe to say we both liked our cheesy lunches (black cheese n'all) and the atmospheric outdoor area provided a perfect end to our little break away.
Grow 40 // 40 Kensington Gardens, Brighton BN1 4AL
grow40.com
So next time you're booking a weekend away, think a little closer to home and try Brighton.
Words by – Natalie Jahangiry
[Some imagery courtesy of  Kemp Townhouse, Black Dove, Plateau Brighton, Brighton Rocks, The Cocktail Shack & Ten Green Bottles. Other images © To Work or Play 2015 ]