Adventures in Sri Lanka: Part 2 //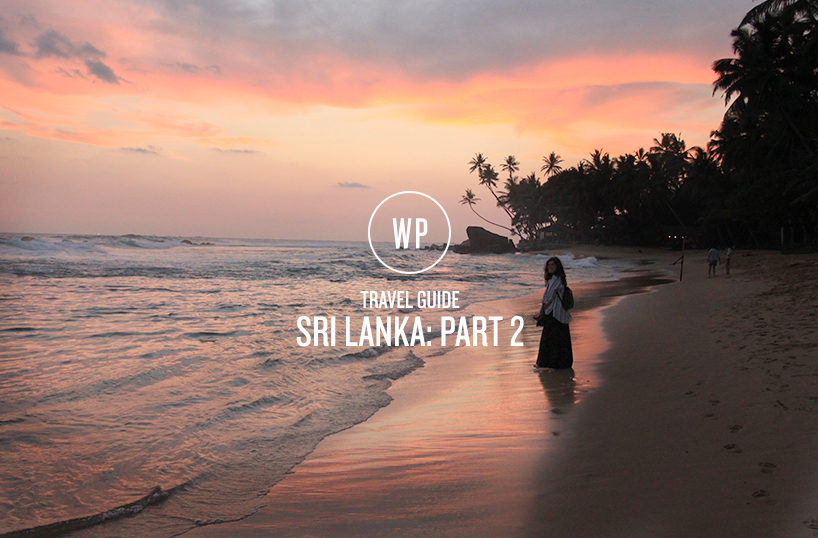 Nat travels to Sri Lanka, a country with a warm welcome, diverse culture and picturesque landscapes. Here, in the second part of the travel guide, she gives an insight into the country's heritage, tea, cuisine and where to rest your head along the golden shores.
I write this post on the plane returning from a superb holiday to Sri Lanka. It's quite hard to articulate my new found love for this country, but I'll do my best. It's almost like someone has checked off a list of all the attributes combined to create a wonderful holiday and has gone "There you go… Go play in the sand now". Stunning beaches, check. Lush mountain landscapes with beautiful tea plantations, check. Diverse and colourful culture, check. Delicious food, check. Dreamy hotels, check. Need I go on? And above all top it off with charming locals who play the perfect hosts to a wonderful experience and you pretty much have the complete package. Having never travelled to Asia prior to this trip and I'm so glad my first taste of Asian life was on this lush, picturesque island.
There's so much to tell you about I've broken my review into 2 parts; this post, part 2, has a breakdown of our actual adventure. View Part 1 here. 
Part 2 of 2: Adventures in Sri Lanka
Plan of action
So let me start by showing our journey on a map: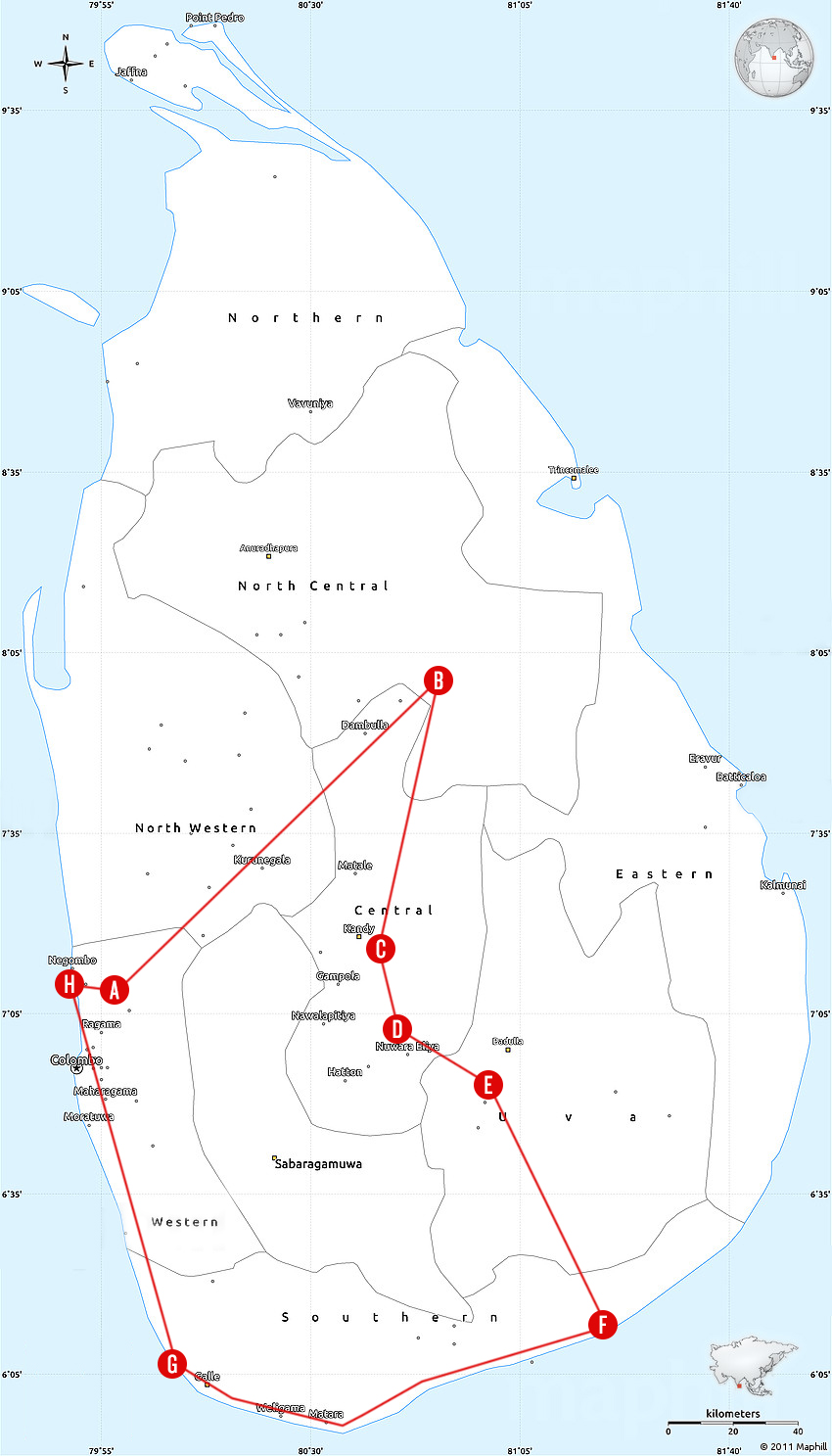 A: Colombo: Bandaranaike International Airport
B: Sigiriya
C: Kandy
D: Nuwara-Eliya
E: Ella
F: Yala
G: Galle
H: Negombo
Our itinerary
Sigiriya
The first area on our journey took us around 4 hours to get to from Colombo. Sigiriya itself is a sleepy town where guests eat in their hotel and not much happens after dark so hotel choices are vital. We booked at Sigiriya Village which was a little old and run down, but did the job. If you want something a little nicer try Cinnamon Lodge Habarana. It is possible to do this area in 1 day, but we split it over two because of flight times.
While in Sigriyia there's a bit of climbing you should do. You may or may not have heard of the historic site, known as Lion's Rock, but it's a must to at least see (if not climb) while in the area. An ancient rock fortress built by an obsessed monarch in the 5th century stands tall among a series of moats and ruins, the remnants of an ancient city which surround the famous landmark. The breathtaking feat of engineering is an extraordinary sight. For around $30 you can climb the popular rock which took us around 1hr 30 minutes to go up and come down. It's a steep journey (raised 200 meters above land) up cobbled steps and metal staircases so for anyone who's scared of heights (like I am) it's not to be taken lightly, but I can assure you the views from the top are worth it. Make sure you do this early morning or late afternoon, it's not something to tackle at the height of the heat.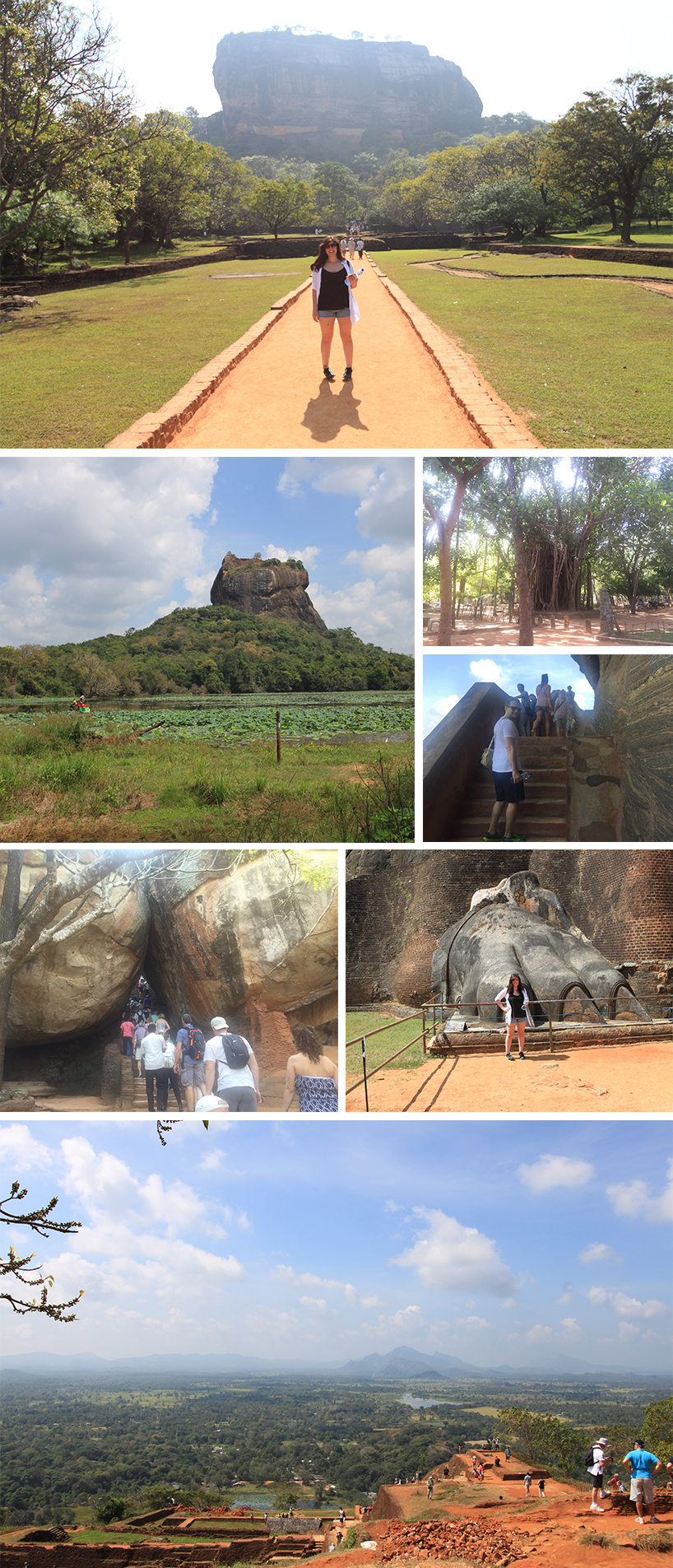 Did you know Sri Lanka is a haven for gems? While in Sigiriya Hussain arranged for us to visit a gem store with a tour that showed everything from gem mining to crafting jewellery, some of which may have made its way home with us! A truly interesting insight with a few bargains to be had along the way.
Around 25 minutes drive from Sigiriya is the World Heritage Site, the Dambulla Temples, which are the largest and best-preserved cave temple complex in Sri Lanka. The rock towers hold many Buddhist mural paintings and 157 statutes related to Gautama Buddha and his life. Although this is another steep climb up stairs it's a pretty impressive sight. Make sure you cover your legs and something to cover your shoulders, as with all temples it's a sign of respect otherwise you may not be allowed entry.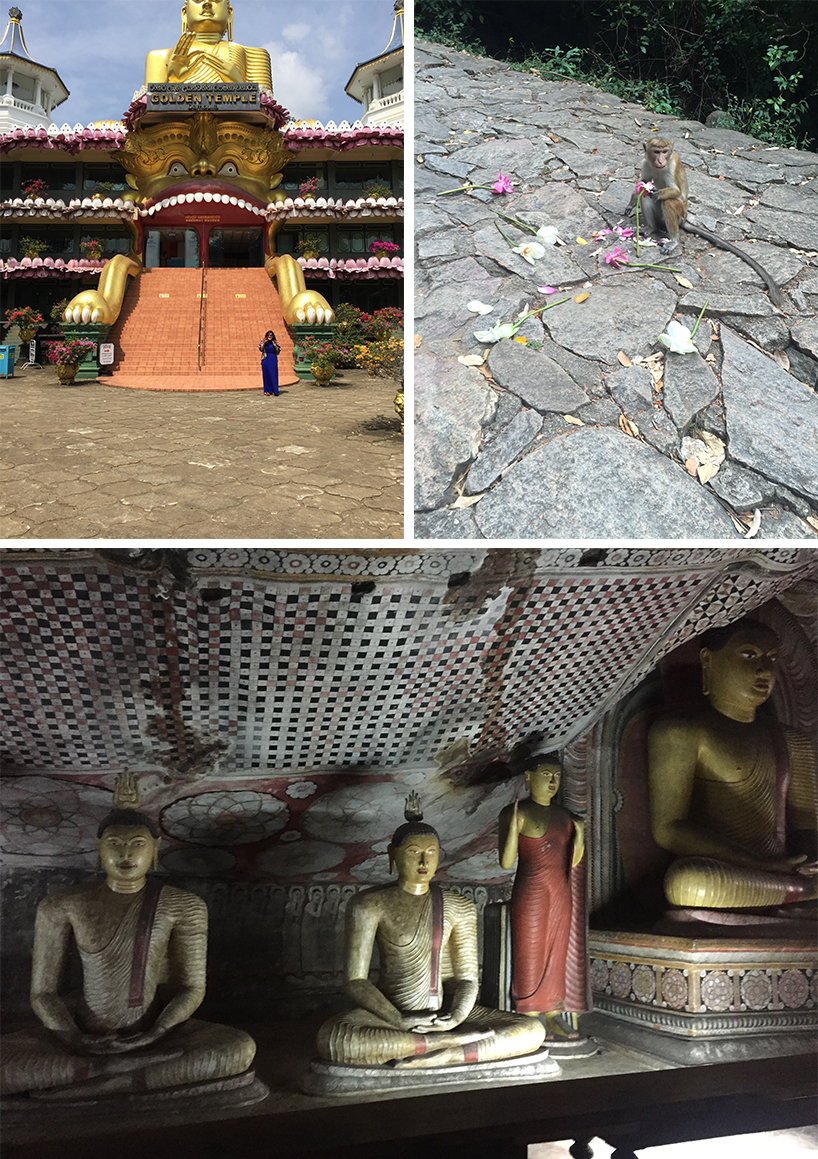 Kandy
Around 2 hours from Sigiriya is Kandy, a popular city which plays host to a vast range of activity and history. We stayed on the Mahaweli Lake, in the Mahaweli Reach Hotel. A classically beautiful hotel where flowers line the walls and willow trees hang over the immaculately manicured poolside area. Set away from the hustle and bustle of the city centre the hotel is far enough away, yet close enough to enjoy all of what Kandy has to offer. The hotel offers a buffet for breakfast, lunch and dinner, but I would suggest trying the a la carte menu which gives guests a wide choice of food from Sri Lanka, Asia and India – the Paneer Masala was especially delicious (so much so that I had it twice). The rooms themselves are massive with picturesque views, service is great and with spa facilities on site it offered pretty much everything you need to complete your stay.

As for Kandy itself, we did quite a lot. Over two days we went to see a traditional dance show which was a lot of fun and ended with fire walking and walked around the Temple of Sacred Tooth, a Buddhist temple at the heart of the city. It's located in the royal palace complex of the former Kingdom of Kandy, which houses the artefact of the famous tooth of the Buddha. Since ancient times, the artefact has played an important role in local politics because it is believed that whoever holds the relic holds the governance of the country.

One of the most exciting experiences whilst we were travelling was the Pinnawala Elephant Orphanage. Around 1 hour 30 mins drive from Kandy the orphanage plays home to a variety of elephants from around the world. I don't know what I was expecting, but I certainly didn't think we would be able to walk alongside elephants in open areas, see babies being fed and get in the river with them. I even got to wash an elephant which was incredible. For £12 entry it's a very worthwhile experience and one which I highly recommend.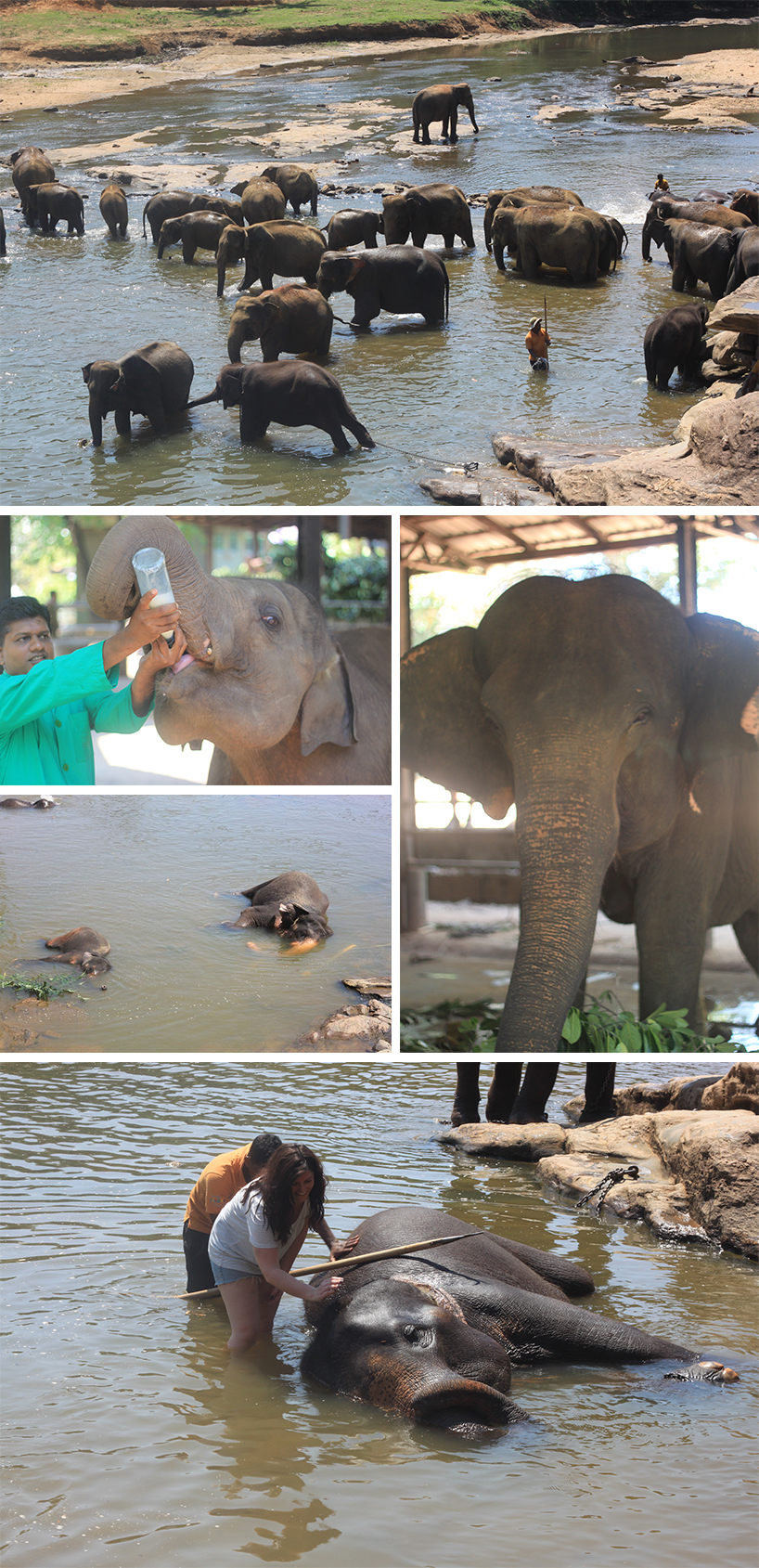 Nuwara-Eliya
Further inland in the Central Province district lies a lush area where tin factories are built into the mountains and surrounded by beautiful landscapes of spotless tea land. We stopped off at the Glenloch Tea Factory to discover the process which takes place to create tea. Sometimes we forget the processes behind the luxuries we indulge in, but going back to basics and hearing how it's actually made is fascinating. After making a few purchases and admiring the view we ventured towards Nuwara-Eliya itself, a colonial village nicknamed "Little England". The immaculate area has a gorgeous lake next to the racecourse, a park (aptly named Victoria Park), world class golf courses, a British style post office and plays host to a few gorgeous hotels, each with different characteristics. We stopped for lunch at the 150 year old Grand Hotel in their Indian restaurant – now I know it sounds crazy, an Indian restaurant in the colonial 'Little England' in Sri Lanka, but believe me it works. After a scrumptious lunch we jumped back in the car and made our way to our home for the night.

Set away from the town centre itself is a hotel that once was a working tea factory, carefully repaired and renovated to the highest standards. A hotel set in grounds surrounded by manicured gardens, home to boar and buffalo, sat on high land in a slightly cooler climate in the mountains. A hotel where tea plays the main role in the past and now present attraction of the building. This hotel being the Heritance Tea Factory.
What can I say, this hotel was simply stunning. From the offset as soon as we stepped foot onto the property to the moment we left we were excitable. This hotel is one steeped in history, which was once a working tea factory and has been restored into a popular, high quality hotel. The owners have done an incredible job of maintaining the original features of the building making it an industrial delight. Topped off with brilliant service, quaint rooms and some delicious food this experience got the overall thumbs up from us. We even wined and dined in the 1930s railway carriage (Sri Lanka's highest restaurant at 6850 ft above sea level) which was an incredible event in itself. The hotel could almost be described as a museum, but with a peaceful presence, an interesting history and incredible views over lush green organic plantations, it makes the whole stay a truly unforgettable affair. 

Ella
Although we had a driver we had been recommended a train journey from Nuwara-Eliya to Ella. For the grand total of £3, two second class tickets were purchased (TFL have a lot to learn) and we embarked a local train, cameras in hand, ready for a few great snaps. The train itself actually travels through the clouds, with whole towns overcome by white cottonwool-like skies, while tropical jungles lie beneath… a stunning display of the wonders of nature itself and a great chance to see the views from above.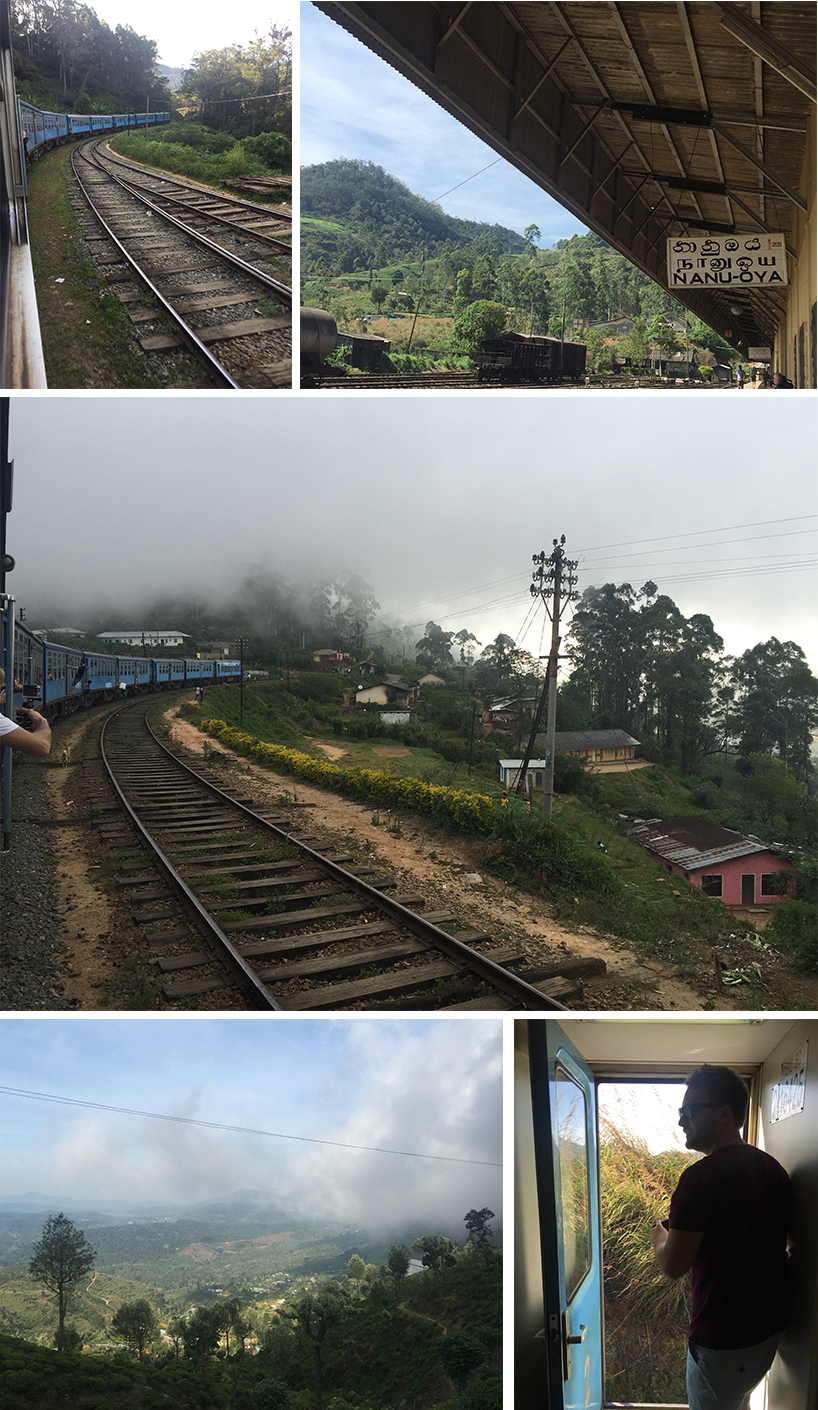 Arriving into Ella it was soon apparent that this would probably be the smallest of the towns we were to visit. The tiny spot is a backpacker-hub, set in the mountains of the southern edge of Sri Lanka's Hill Country. Surrounded by waterfalls, tea plantations and nature walks (most famously Ella Rock) this little town has a variety of activities to explore, but a sleepy town during the day comes to life at night along the main road where the local bars and restaurants come alive offering everything from Sri Lankan curry to fish and chips. One of the best meals we had on the trip was in Cafe Chill, where Tom and I both choose a traditional meal of a selection of curries with rice. The dish comes wrapped in a banana leaf which is unfolded by the waiter to reveal the mouth watering food inside. It was truly delicious and a very generous portion for £3.50!
In recent years the popularity of Ella has soared and seemingly every month yet another new guesthouse or hotel opens, and considering the small area only really offers guesthouses I did well to discover a hotel set away from the main street called Morning Dew Hotel. After taking 2.5 years to build, the hotel launched 8 months ago and forms an impressive glass edifice standing tall on the mountainside. The interiors are modern and tastefully designed. Staff were very attentive and even brought us fresh Aloe Vera when they could see we were sunburnt. Although the steep hill to get to the hotel proved hard for the car to clamber up, it was worth it for the views and tranquillity alone (also they have a Tuk Tuk for luggage, so not all bad).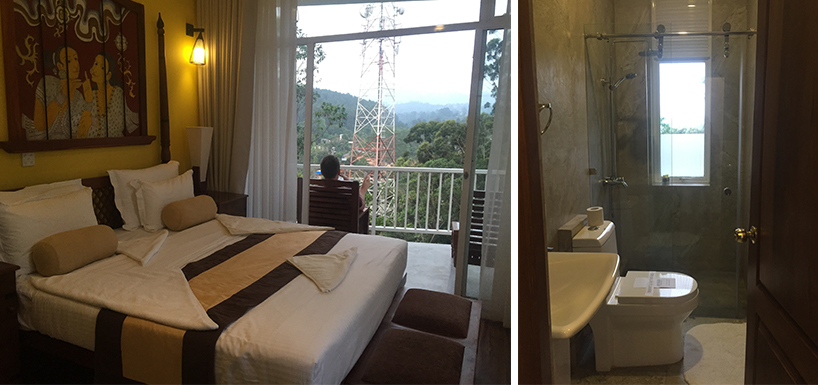 Yala
Each and every area we stayed in held different qualities and none was more different from the others than Yala. Famous for its wildlife Yala National Park is the most visited park in Sri Lanka and was designated as a wildlife sanctuary in 1990. We stayed at the Jetwing Yala which was wonderful. Not only did the hotel have animals roaming free around the grounds, but it looked like something ripped from a page in the Hawaii beach hut section of a travel magazine. As we were led through the lobby of the hotel we caught a glimpse of the breathtaking view out to sea. Passing holidayers lounging on hanging chairs, we approached a straw roofed room we knew we were in for a treat. The door to our room opened and the excitement began to build. Fitted with parquet flooring and four-poster beds the room was divine with a balcony overlooking the spotless poolside area and golden beach. When I opened the bathroom door full giddiness came into effect. The MASSIVE bathroom (I mean I've never seen anything like it) had a big shower with an open roof and a window which also looked out to the sea. It even had a fresh water shower in case normal water wasn't good enough for us. The pool area was peaceful, even though a family of wild boar roamed around our heads. The pool bar is built into the waterside allowing you to swim up to the bar and sit in the water while enjoying a tropical cocktail. On site guests can indulge in a massage, yoga table tennis or beach volleyball and the hotel houses a main dining room, second pan-Asian restaurant and Living Room bar.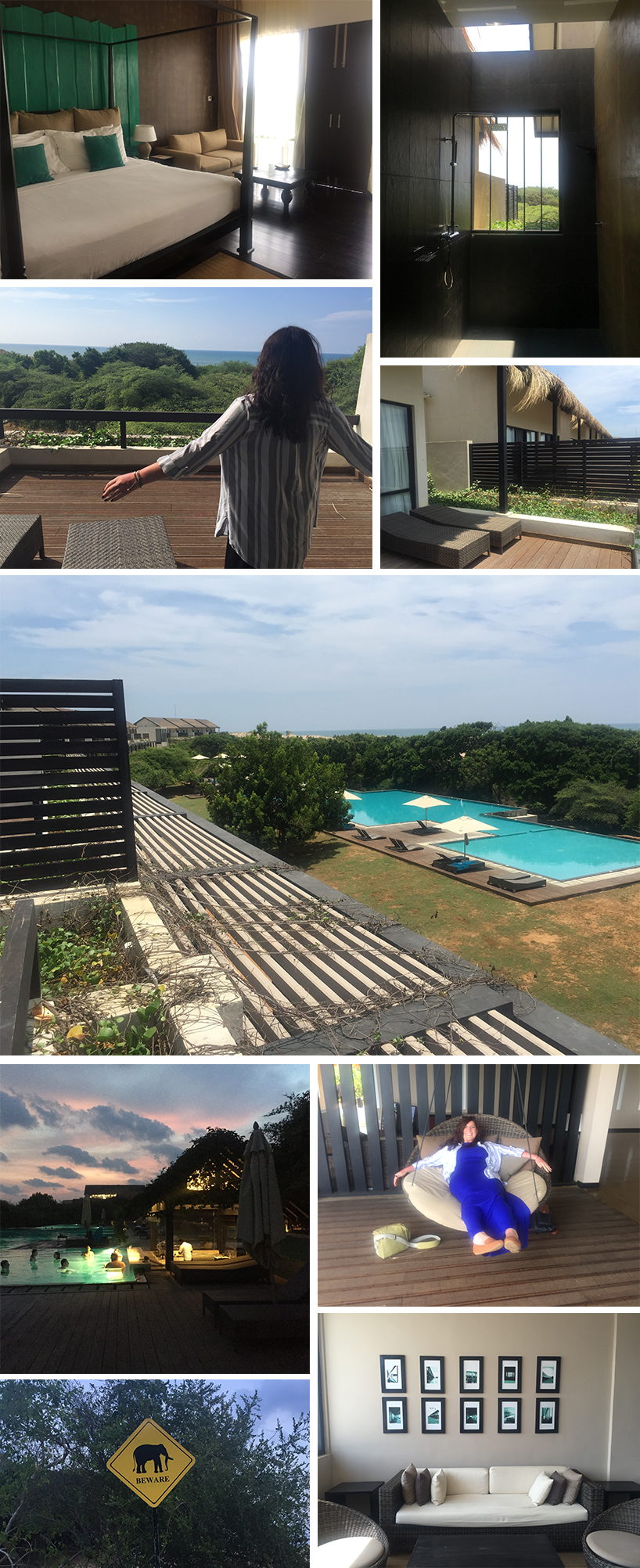 After dumping our luggage in the room we head out on safari. Hussain arranged half a day Safari trip for us for around £35 each. We were picked up in a large open sided jeep (which to our delight we had to ourselves) and taken around the Yala National Park where we saw everything from a mongoose to elephants. Bird watchers can twitch at the sight of many exotic species and while leopards and bears have been spotted unfortunately we didn't see these. Although we did see crocodiles basking in the jungle waters, a baby elephant with its mum who came right next to our jeep, and lots of stunning peacocks.

After the safari we returned to the hotel and were sat on the outdoor decking before dinner when the dogs started barking madly.  We were then told an elephant was close by and that they often come up to the decking area to say hello. This location well and truly exposes you to Sri Lankan nature in every way. A very unique and enjoyable experience… just don't go venturing down to the beach in the dark!
Galle
Admittedly we never made it into the heart of Galle itself, although we were told it is beautiful. Its once exotic heritage is now bursting with trade of spices and art, and although this is another coastal town that was devastated by the 2004 tsunami, they have done a great job in restoring the area's heritage and building it back up to what can be enjoyed today. A collection of Dutch-colonial buildings stand alongside classic architecture giving the town a great beauty, while the historic Fort area is bustling with boutique shops, cafes and hotels owned by artists, photographers and designers (a third of houses in Galle are said to be owned by foreigners). Not only a pretty face, the town is still a working community said to give it a buzzy atmosphere and exciting presence.
We stayed at a small coastal hot spot, a short Tuk Tuk drive from the centre of Galle itself at The Owl and the Pussycat, another venue that sent me giddy on arrival. The small boutique hotel offers 16 rooms and sits along the water's edge of Thalpe Beach… it was a wonderful discovery. It truly is a luxurious hideaway with large apartments decked out in stunning interiors where every fine detail has been considered and is very tasteful. Cleverly there's a hint towards owls and pussycats everywhere, while the hotel's main character and style carries a Moroccan / Oriental flare, while sticking to a Sri Lankan heritage – a mix that sounds rather eclectic, but is totally fabulous. Topped off with attentive staff, delicious food (some of the best we had) and an overall sense of sophistication the hotel is the complete package of tranquillity and relaxation. It has everything on offer, with an outside and inside dining area, bar, outdoor massage area, infinity pool, immaculate gardens and library lounge area. They even offer yoga and traditional fishing classes. Within easy reach of the beach make sure you wander along for the stunningly romantic sunset. We will definitely be back to spend more time in this area, if not this hotel itself! Full review of The Owl and the Pussycat here.

Negombo
As we had a midday flight home we decided to stay in a hotel near the airport on the last night. Although Sri Lanka's main, and only commercial, airport is Colombo, don't be fooled by thinking it's actually in Colombo – it's about an hour away from the city centre itself. Closer to the airport is a town called Negombo which is a typical airport town, there's not much to do there and it's not that pretty but is packed with hotels and is only a 15 min drive to Colombo airport itself. We stayed in another Jetwing, this time Jetwing Blue which is on the coast. It's safe to say the Jetwing chain is a brilliant and reliable hotel group to book with as the two hotels we booked with were excellent.

Overall we had a brilliant holiday, visited so many diverse areas, saw some wonderful wildlife, ate some incredible food and met so many lovely people. It really is one of the most beautiful countries I have ever been to and I will always hold fond memories of our experience there. We will see you again Sri Lanka, you haven't seen the last of us just quite yet!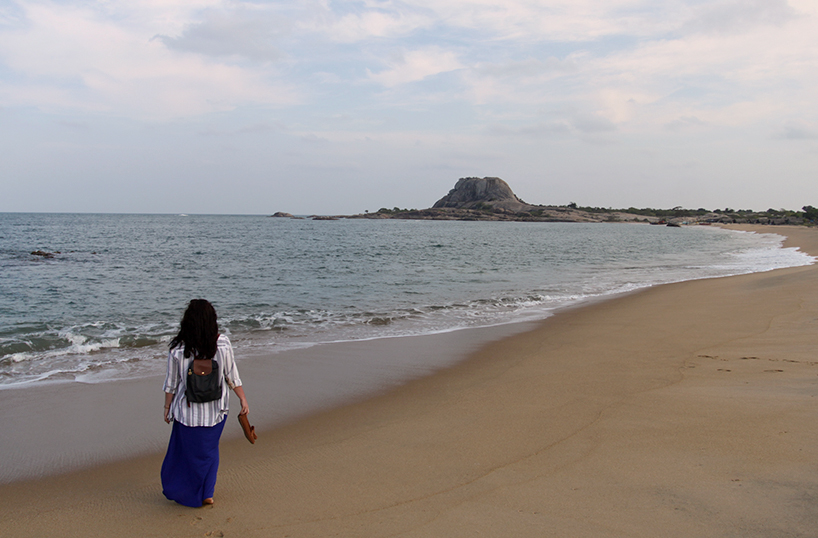 Words by – Natalie Jahangiry
Images © To Work or Play 2016