The Italian dream: Part 2 – Cinque Terre //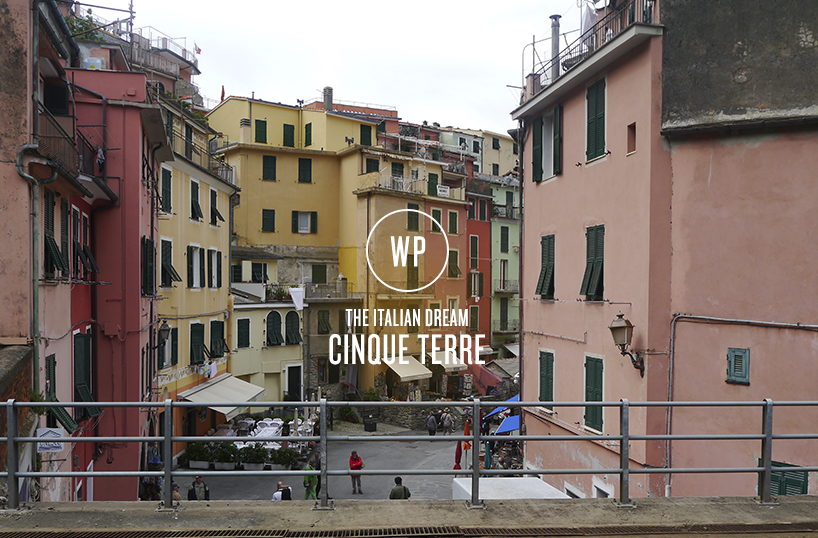 Nat talks about her travels to Cinque Terre: the best places to visit, what to see and maybe most importantly, where to eat.
I recently travelled to Italy for a week of holidaying with my boyfriend. This isn't the first time I have visited the country itself, but it is the first time we've ventured to Cinque Terre, a wonderful place steeped with history and glorious views. A place for keen hikers and couples who want to relax. I wouldn't recommend this area for the party goers who want to burn the midnight oil partying into the early hours (the town literally goes to sleep after 12). This being said, if you're looking for a chilled out break it's a wonderful refresh to hectic London life.
Cinque Terre is a beautifully picturesque area around an hour away from Pisa. The place, as a whole, is a national park and is formed of five (cinque) coastal towns, each with their own unique characteristics and set into the mountains. Over many years the locals of the area have connected the towns through a network of footpaths which have now become one of the main attractions, pulling tourists in from all over the world. While we were there we realised that this area doesn't appear to be well known by the Brits, but seems to be a massive hit with the American holiday goers and keen backpackers who have clearly done their research. On a sunny weekend you will also find many Italians flocking to the towns for a rest. During the daytime each village in the famous five is rather busy, but get past this and with the daytrippers gone, the scene is impeccable, almost reminiscent of a Hollywood film, with every romantic Italian cliche you can think of rolled into one area. A true delight.
Here's a few of my top tips: 
1. Mountain clothing is required for the trek between towns – In my recent post on Florence (read here) I talked about the fact you will need flat shoes… well here you need full on hiking kit, i.e . trainers, raincoat, backpack, shorts etc for the brave souls who want to trek through each town. You will need to be prepared to climb up wobbly cobbled staircases and hike deep into mountain landscapes to follow the walking route. I am known to exaggerate, but when I say you will be climbing in and around the mountains, I mean it. I was not so brave, but I also hadn't come with trainers so I was underprepared, resorting to using other forms of transport to get around. Although this may seem slightly daunting you will be rewarded with epic coastal views and a spectacular experience, we were told.
2. Take a boat – Because of the tiny roads and mountainside landscapes cars are few and far between. Trains are the main way to get around, but for a better view of the coastal shores take a boat. There are a few different tickets you can buy, single tickets between towns are around €4-10 and day trips around each area are about €15, but either way do at least one boat trip while town hopping, and take your camera!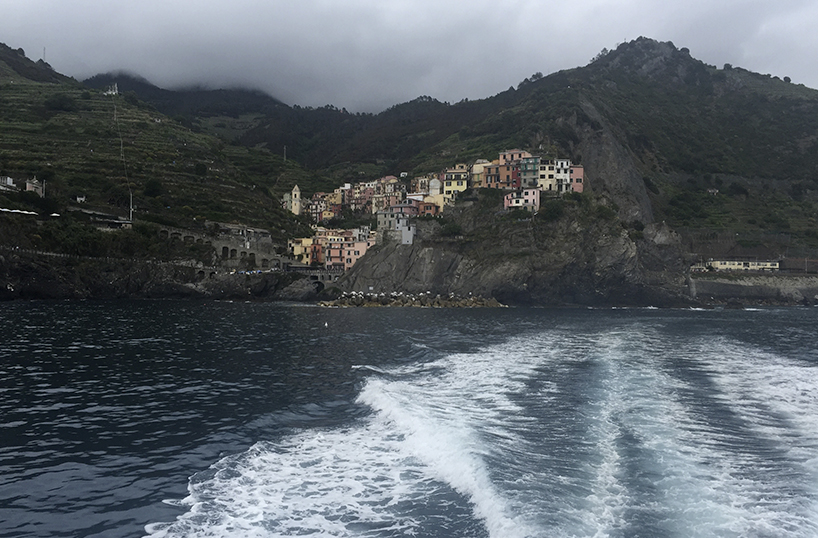 3. You only need a few days – This area can easily be done in 2 – 4 days if planned right, depending on whether you want to do the walks or travel around on trains and boats.
4. Buy a Cinque Terre card – These can be purchased at the train station and will get you train travel for a day, along with access to all the walks if you plan to do them (some you have to pay for), wifi at stations (really handy as there's no signal elsewhere) and … . These cards are around €10.
5. Pack light – No matter which area you stay in it's still going to take some muscle power to get your cases to your room. Try to pack light and only pack what you really need.
Travelling around
As I mentioned earlier, the collective group of villages that form Cinque Terre are stunning. Each one holds unique qualities with beautiful buildings created in pastel hues with Venetian shutters and Juliette balconies, sounds rather dreamy hey?! Each town is connected through walkways or by train making accessibility pretty good. To travel through each area by train costs around €2.50 for a single or around €10 for a day card. Do be wary though, trains are often hourly and very regularly late, as we discovered with Italy on a whole! So if you are catching a train to get a flight give yourself plenty of additional time. The nearest airport is Pisa (which takes about an hour) from which you can take a train to La Spazia and change to the town of choice in Cinque Terre. There are also good trains from Florence, Milan and Rome that are a bit further to travel from.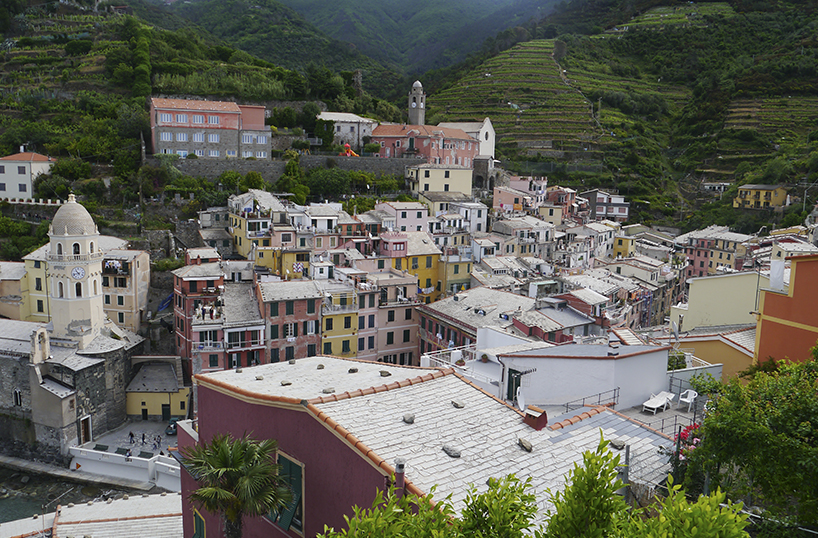 For the walkers who are prepared for the hike there are several walks to be done in what is considered to be one of the most romantic hiking regions in the world. All five towns are strung along a 10-mile stretch of hilly coastline, and none of the walks are more than a two-hour walk from the other. They say the easiest is Montorosso to Vernazza, which will give you a preview of the walks if you only want to do one, but you need a trail pass. Riomaggiore to Portovenere (a nearby town) is a free trail, but is quite a long walk to do. Montorosso to Levanto (which again is a nearby town, but isn't one of the famous five) is also free. Vernazza to Corniglia is the most picturesque hike, but also arguably the hardest, you will need a trail pass for this one also.
About the towns themselves
>> Riomaggiore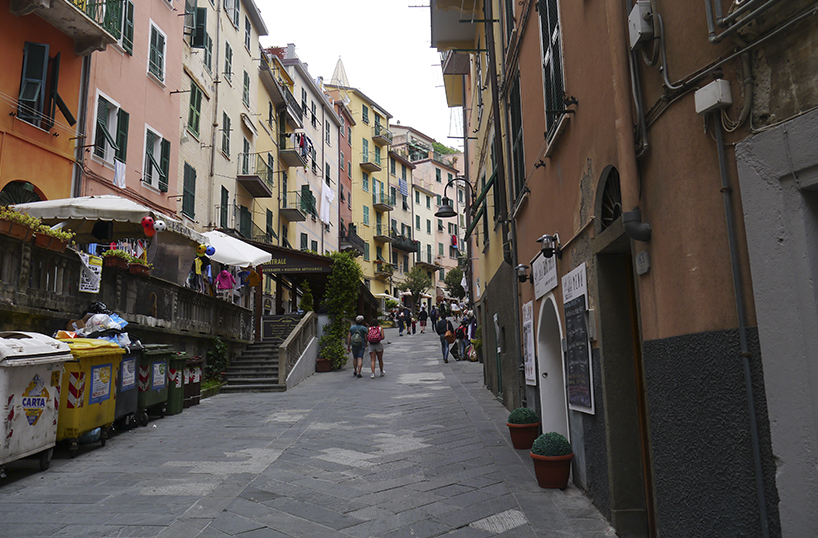 This village is the first child, with the best train connections and nearest to the city of La Spezia. A lovely area which is slightly bigger than some with a rocky beach, a castle, a small church and a pharmacy. The main street is built on a steep incline and holds many eateries, but venture down the cliff and you will discover a picturesque harbour hiding at the other side, which holds one of the village's best restaurants which is recommended below.
Dau Cila
We ate once in Riomaggiore and it was at the Michelin recommended restaurant Dau Cila which we stumbled upon while trying to locate another place we were going to eat, but turned out to have closed down. This beautiful looking venue is based at the front of the harbour and has a lovely outside area where we ate while listening to the sea, and following the adventures of a local town cat. The quirky set up saw waiters with glass bow ties take orders, ours consisting of 2 lots of bruschetta, mine being classic tomato and his being pancetta and olive oil followed by two lots of pesto tagliatelle (the fresh pesto is a must to try in this area), all of which was delicious. The inside of the restaurant looked rather lovely also, with a mix of alcoved brick walls and clean modern interiors throughout. This is a venue that would suit all times of day from alfresco lunch time dining to indoor atmospheric eating at night.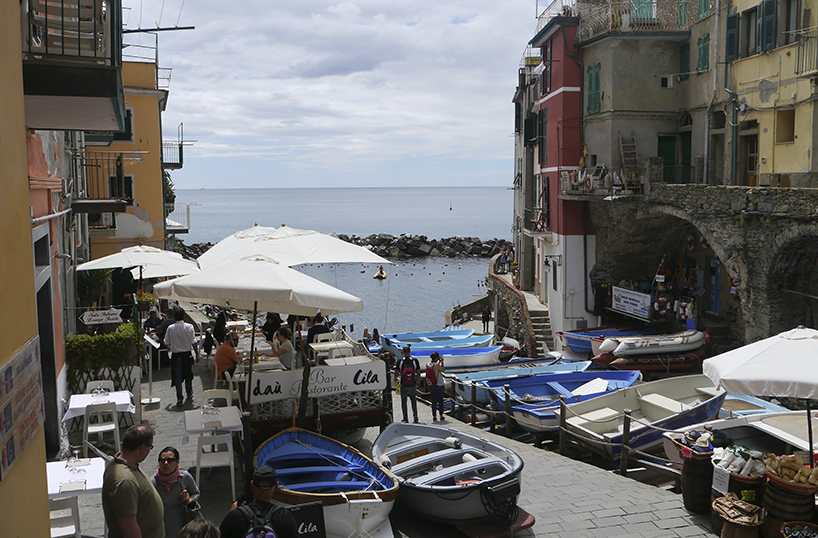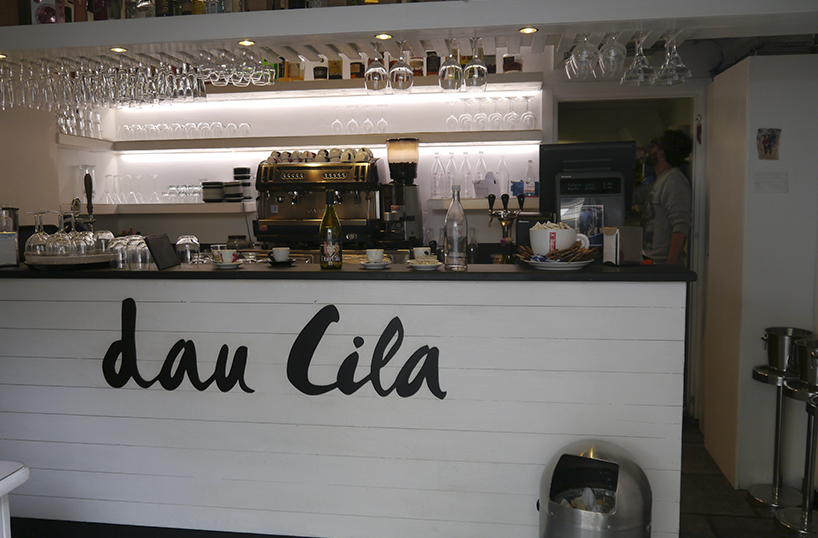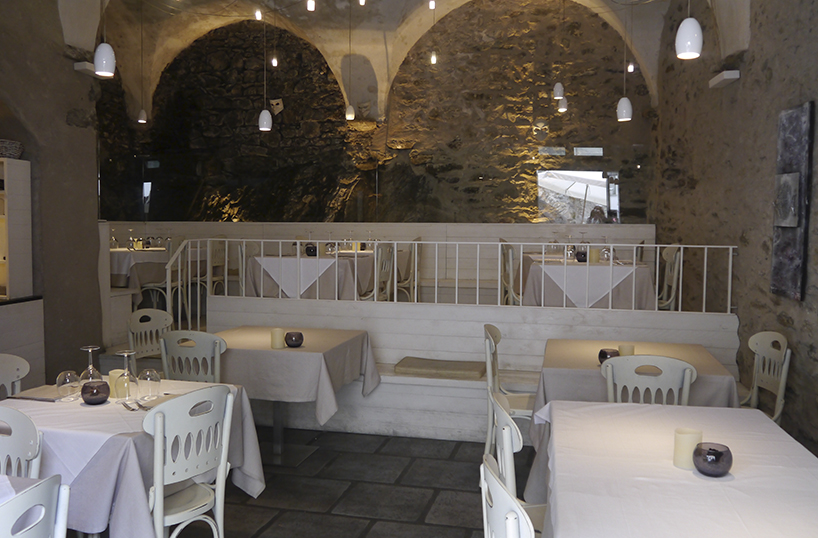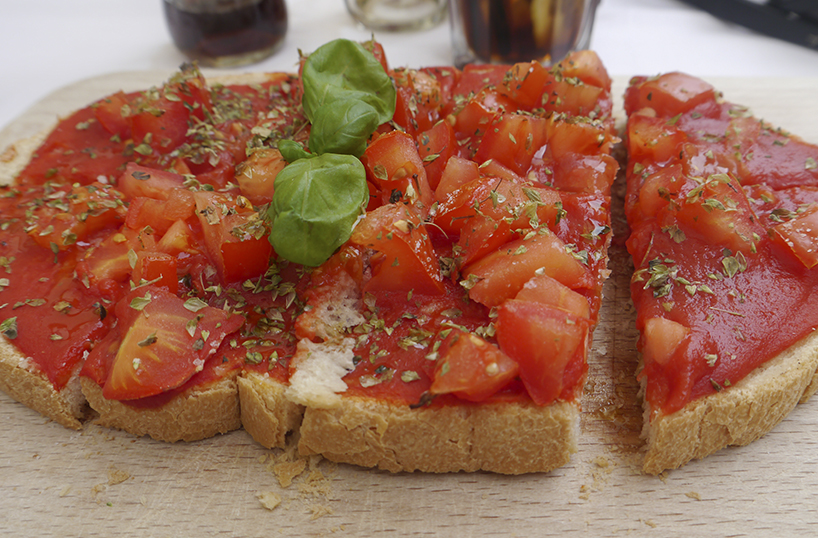 Dau Cila // Via S. Giacomo, 65 19017, Riomaggiore (SP)
ristorantedaucila.com
>> Manarola
The second town is also the baby of the family. For the foodies out there, I would say this a must to visit as we found some true gems here, some of which I recommend below. Manarola is a beauty and the higher you go the better the view you will be rewarded with. The houses are truly carved into the rocks here with many houses, shops and restaurants inset into cliffs themselves. Again, like many of the areas in Cinque Terre, the town is based around one street, with a small harbour where apparently you can swim (for you daring folk). There's a spit of land where many of the most famous photographs of Cinque Terre are taken from. At night the hillside landscape changes dramatically to reveal a staggering light display. The illuminated outdoor nativity scene is the biggest in the world and is said to have started as far back as 1961. Set in the vineyards it overlooks the coast and can be seen from miles around. Now where should you eat? Here's a few places we found:
Del Billy
To get to this trattoria you need to walk up quite a steep hill for quite a while, but you are rewarded with a fantastic view and amazing food. The restaurant itself is built into the cliffs over several different levels. At the top is an indoor eating area built in an alcove, opposite this are some narrow stairs (safety warning: don't wear heels) to take you down to next indoor eating level while passing the kitchen on the second tier, and at the bottom of the stairs is a terrace which gives phenomenal views onto the town and coastline below. The menu offers a large selection of fresh seafood with daily specials such as tuna carpaccio and lobster with fresh spaghetti. The main menu gives varieties such as hand made pasta with cuttlefish ink and seafood, octopus salad and mussels with garlic and parsley. I opted for the insalata caprese con mozzarella di bufala (fresh tomato and buffalo mozzarella salad), which may sound boring but it was probably one of the tastiest things I've had on the whole trip. Tom had the spaghetti al frutti di mare (fresh seafood with handmade spaghetti), which he said was delicious. I finished with a rather yummy panna cotta and we paid our bill (which was very reasonable), for the nicest meal we had in Cinque Terre. Highly recommended to visit no matter which village you are based in.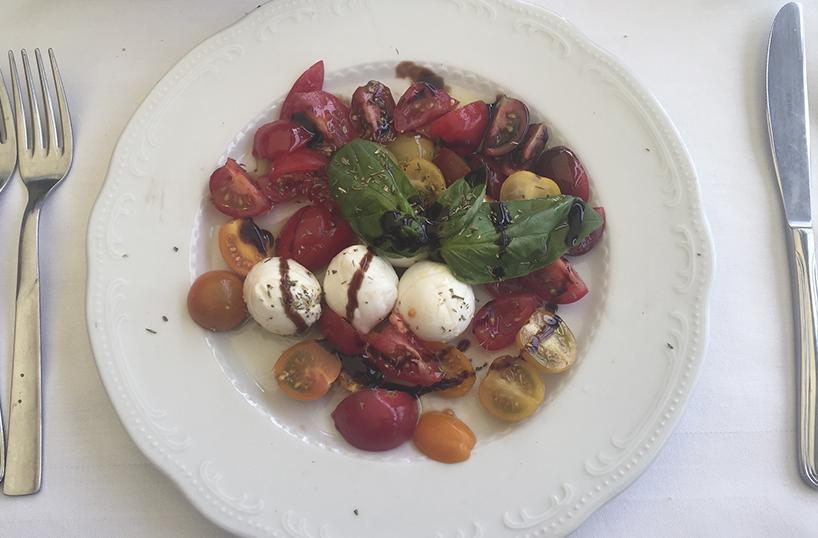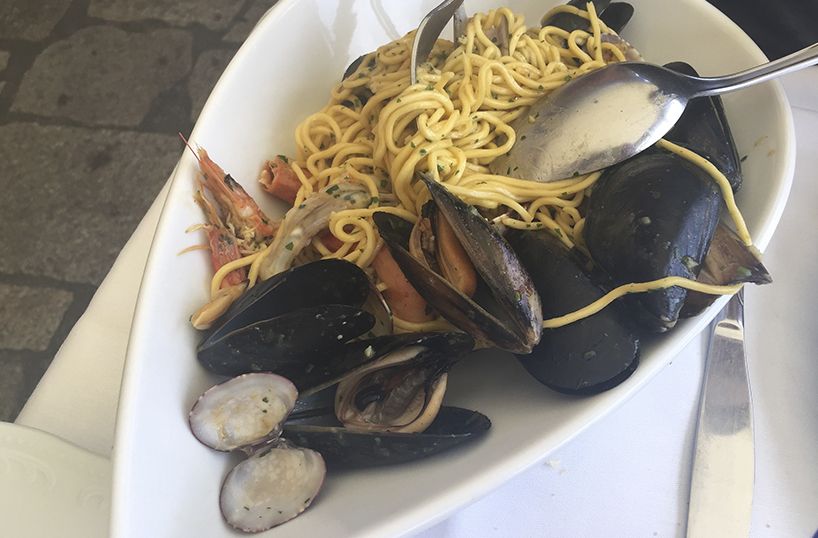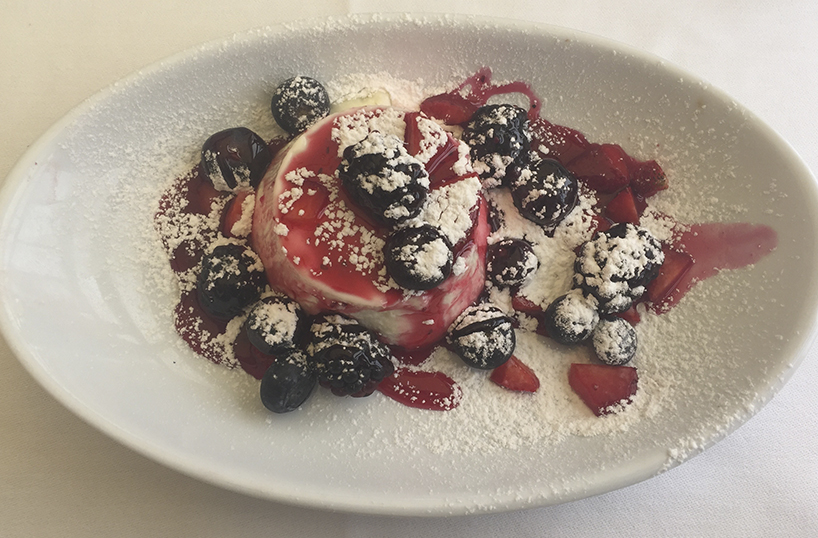 Del Billy // Via Aldo Rollandi, 122, 19017, Manarola
trattoriabilly.com/en
Marina Piccola
I can't say we ate here, but we browsed the menu and it looked pretty lovely. Set by the waterfront this eatery looked like a perfect spot to dine in the sun. The Michelin recommended restaurant serves customers a great variety of fresh food with two rooms inside the restaurant as well as a veranda with seating for a hundred alfresco diners. Offering traditional Ligurian cuisine the menu combines seafood flavours with italian traditions. There's also a nice selection of wine both locally from the hills of Cinque Terre and Italy as a whole.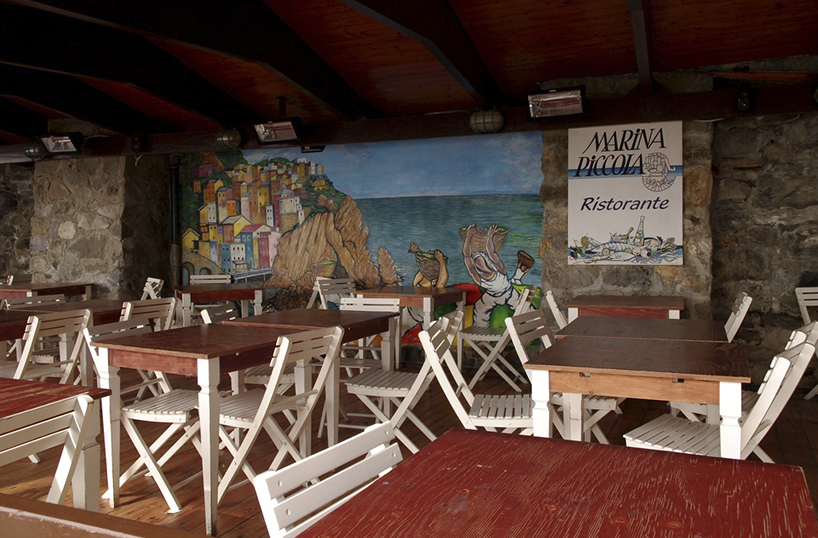 Marina Piccola // Via Lo Scalo 16, 19010, Manarola
hotelmarinapiccola.com
>> Corniglia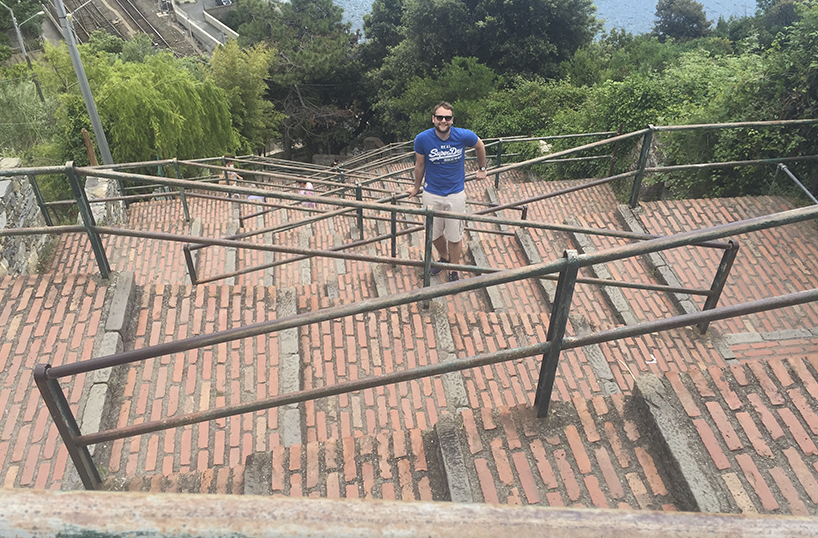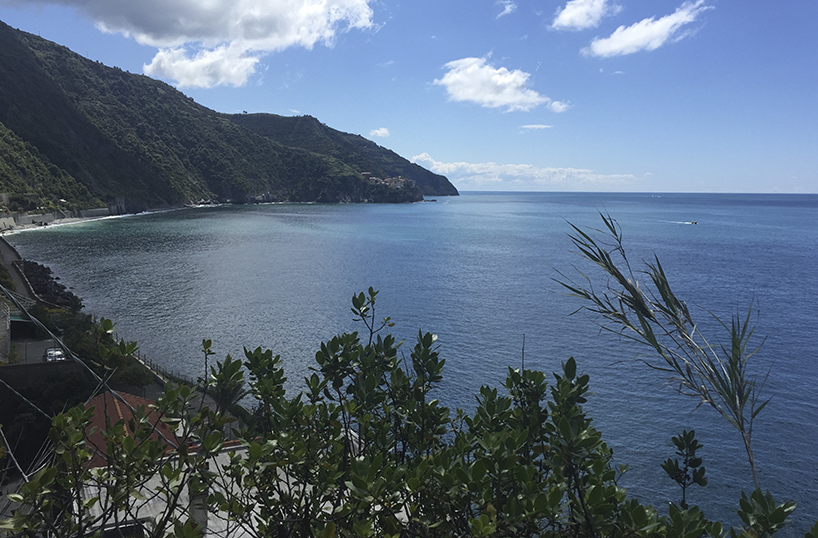 The middle child is a bit of a rebel and is more difficult to get to. Built up high above the ocean (bloody high) you will have to pull yourself up 365 steps, one for each day of the year, to reach the centre of town. Maybe not a good idea to stay here if you have lots of luggage! In saying this we did see a bus service that seemed to reach the centre of the village, which you can get from just outside the train station, but we did the stairs because we're hard core hikers… no, not really, we were huffing and puffing at the top but it's rather rewarding when you reach step 365. This town is the most peaceful of the group, full of gorgeous little shops and restaurants down alley ways covered in vibrant flowers. Definitely somewhere to stay to get away from everything and truly relax. We only ate ice cream here (yes, more ice cream!!). Here's the place to go if you want to indulge in some:
Gelateria Artigianale 
After trekking up 365 there's one thing I was craving… Ice cream. We took a pit stop at this small little gelato store while adventuring through the beautiful little streets of Corniglia. Not only did they have delicious creamy iced delights they also had a variety of refreshing ice pops. I went for the lemon ice pop, just to be different, and it was super refreshing, but super sour, luckily I like it like that! Tom had a combination of mint and strawberry ice cream which he enjoyed greatly. This shop also had basil ice cream for folk who care to be a bit more daring with their ice cream flavours.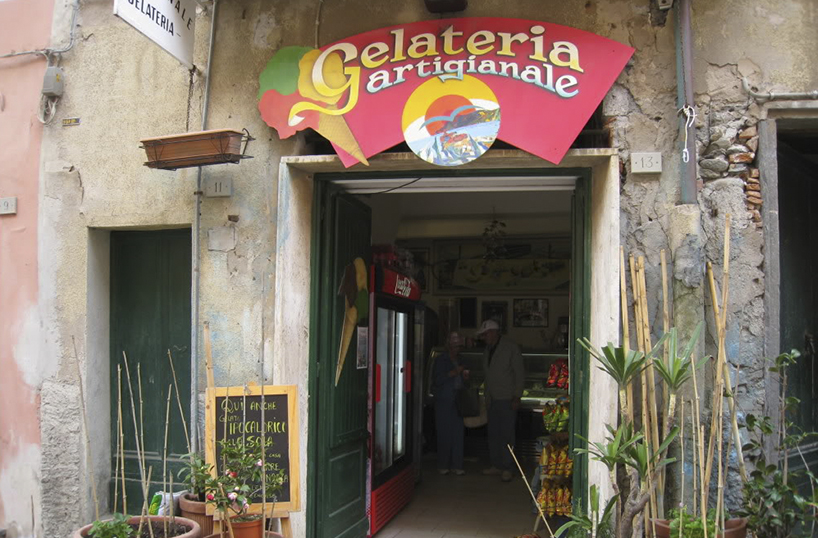 Gelateria Artigianale  // Via Fieschi 74, 19018, Corniglia
>> Vernazza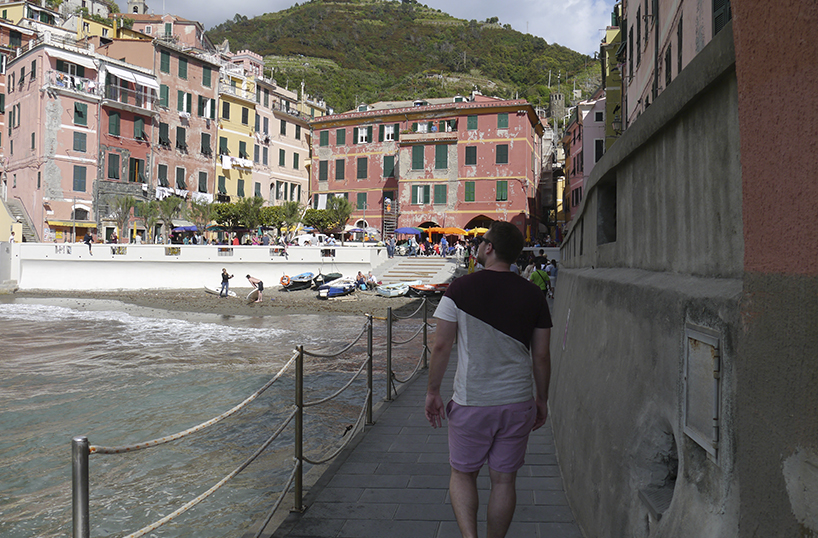 The fourth area along is Vernazza. This is the town we stayed in and stole my heart. Our home for 4 days was incredibly photogenic and is formed around a one main street, which leads to a square where the main church is built on the water. There's also a castle that looks out onto the sea and is said to have protected the village from pirates. The beautiful harbour has a waterfront piazza full of bars and restaurants, which leads to a spit, which could arguably be called a beach. It's not as vertical as others so we found it rather convenient with luggage as we didn't have to hike up too high to get to our room. Here's some foodie recommendations when eating in Vernazza:
Il Porticciolo Gelateria
As I explained in my post on Florence, you can't come to Italy without fully indulging in local gelato and this we did on a daily basis. The best ice cream from Vernazza comes from Il Porticciolo which is on the harbour itself. The local lemon ice cream (more like a sorbet) is big in Cinque Terre and is a refreshing change to the taste buds. I would recommend trying this not once, but at least twice. Tom recommends the kiwi and banana (may sound like an odd combo,it apparently works!) and also mint. Grab a few scoops and sit along the front to enjoy!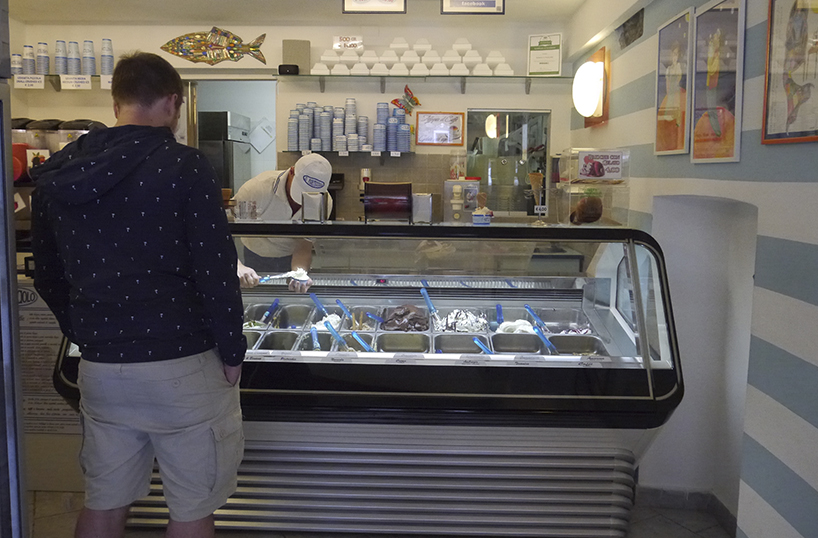 Il Porticciolo Gelateria  // Piazza Marconi 12, 19018, Vernazza
Panificio da Gino
A small little bakery serving pastries and sandwiches, perfect for breakfast or lunch on the go. The smell from the store lingers in the street and draws you into purchasing fresh focaccia or a warm croissant. Yum.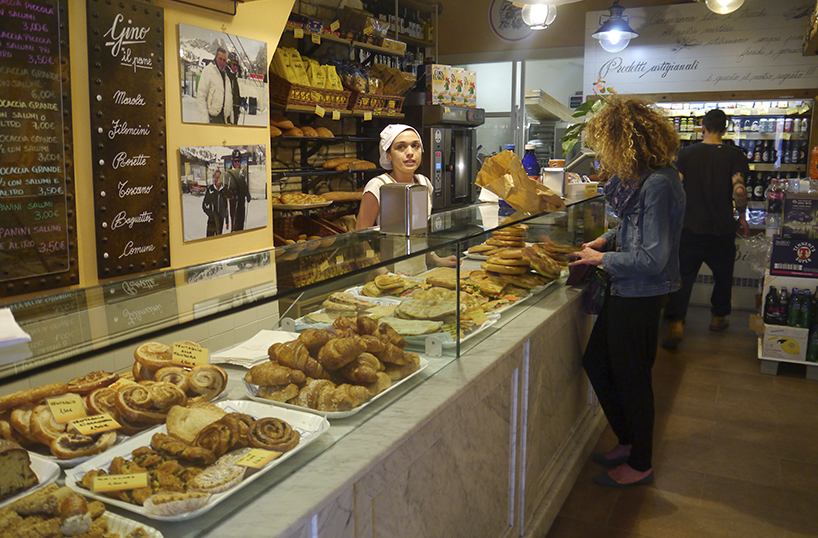 Panificio da Gino  // Via Roma 7, 19018, Vernazza
panificiovernazza.it
Gianni Franzi
This was the best place to eat in Vernazza without doubt. We liked it so much we went there for dinner one night and returned on our last day to sit in the square for alfresco dining. On the second visit we ended up sitting at the table next to the owner Gianni who was having lunch with Ruth Rogers (owner of the River Cafe) and her husband Richard Rogers (acclaimed modern architect). Apparently it's their "favourite restaurant in the world", now how can you resist? Apart from this the food is reasonable and delicious, but don't get the meat. I would say this is very much a fish restaurant with meat in there for the non fishy lovers. Pasta is on the menu too and is a must to try, especially the trofie pasta with pesto. It's also here that we discovered local house wine, branded with the restaurant's name, was only €10 a bottle (bargain right?!) and was actually rather tasty. The staff were wonderfully friendly and one in particular got a large tip from us for going above and beyond to get us an outdoor seat to enjoy our lunch time meal.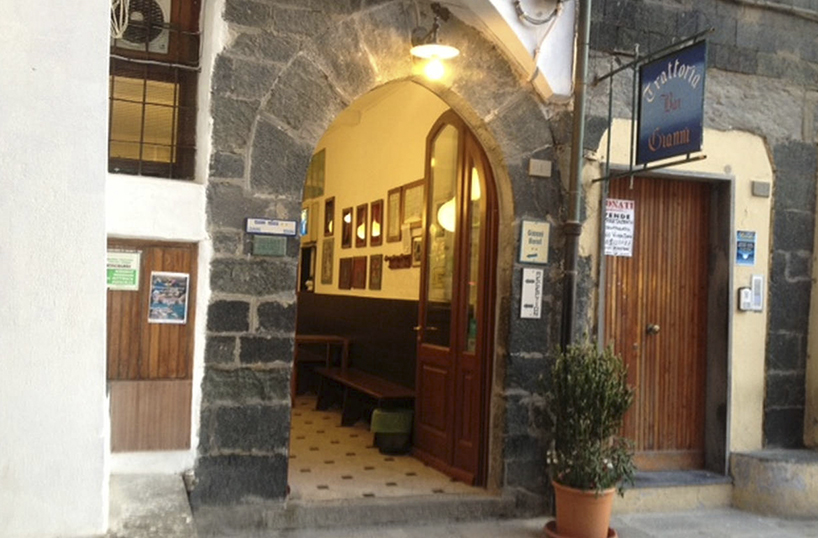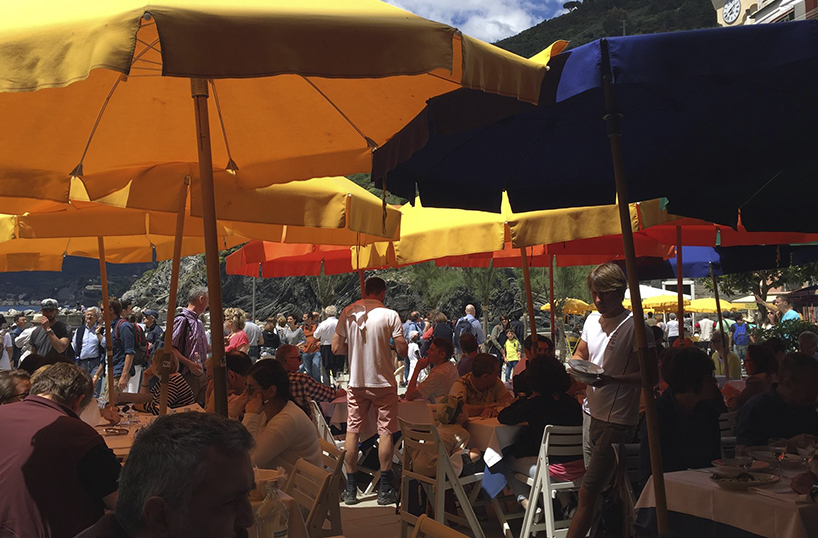 Gianni Franzi  // Piazza Marconi 1, Vernazza
giannifranzi.it
>> Montorosso
The largest village is also the flattest. The landscape isn't vertical and unlike the others there are many streets and squares made up of an old town, new town, lots of sandy beaches, a long promenade great for a relaxing stroll and several areas to swim… a great town when the sun is shining! Monterosso even has cars (oh my word)! If you want to stay or visit an area within Cinque Terre that doesn't require climbing up cobbled stairs and has more of a holiday resort feel (some of the larger hotels are based here) then this is the town for you. In saying this, it's not as pretty as other areas, so it's something to bear in mind when booking. We didn't eat in Monterosso, but as this is the biggest town there's many bars and restaurants on offer.
By the end of our stay we had explored all five towns (and a few more), taken boat trips with impressive views, drunk red wine till we got tiddly, eaten beautifully formed focaccia while meandering through crooked streets, consumed enough ice cream to fill a factory, watched the sunset while perched on piers and eaten fantastic food in tiny trattorias while reminiscing about the day's activities. A beautiful place where dolphins frolic in the turquoise ocean and locals gather grapes from hillside vineyards to quench the thirst of happy holidayers. I couldn't recommend Cinque Terre more and I will be almost certainly be returning in the future. Pure bliss.
Words by – Natalie Jahangiry