Travel Guide: Amsterdam //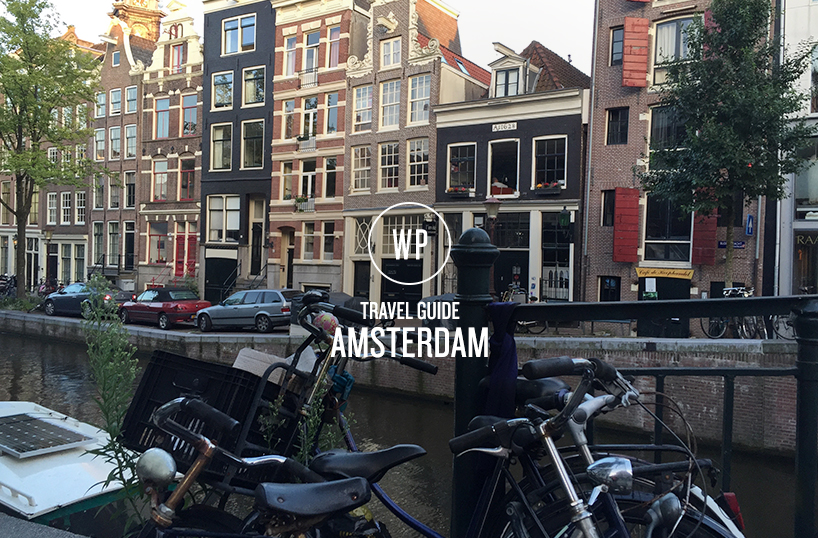 Wonky canal houses, stylish interiors, scrumptious food and friendly locals are all a hop, skip and jump away from London city life. Here Nat gives a guide to the super stylish city of Amsterdam.
Take Venice, add a few cars, wonky buildings and windmills. Scatter some tulips, mix in a trendy industrial style and add a lot of bikes. This, is Amsterdam.
Amsterdam is a beautiful area comprising monochrome houses, meandering canals and friendly folk. Having just returned from this fun filled city I thought it would only be fair disclose the details of our adventure and recommend a few activities, drinking holes, eateries and sleeping dens.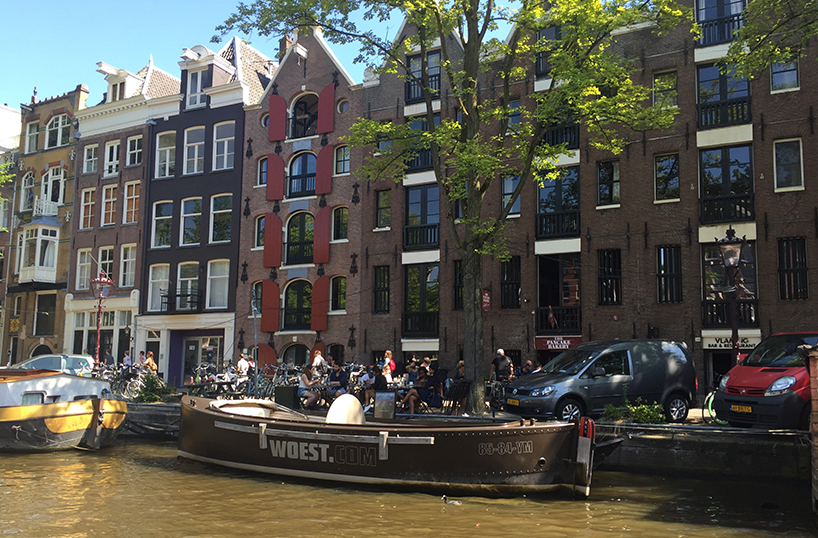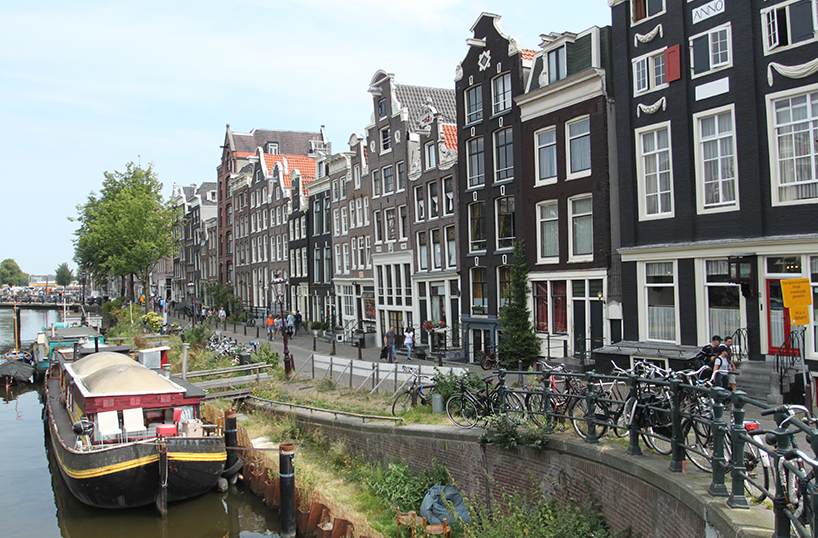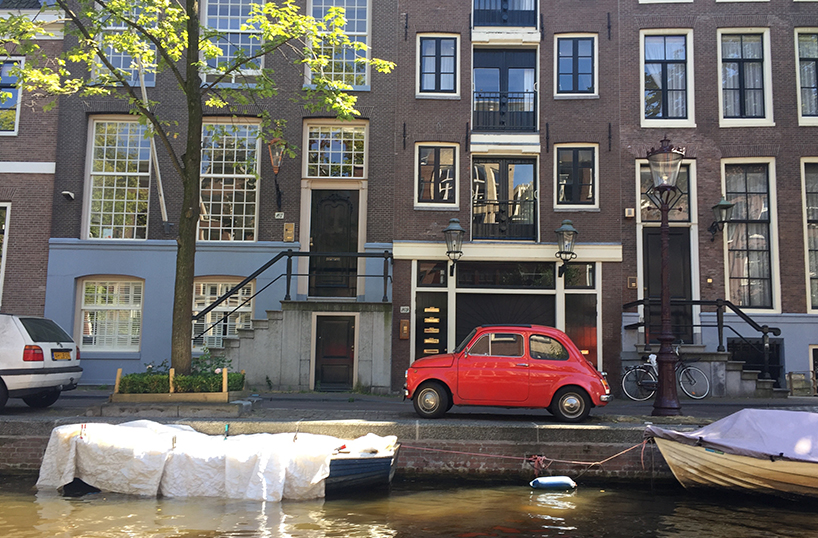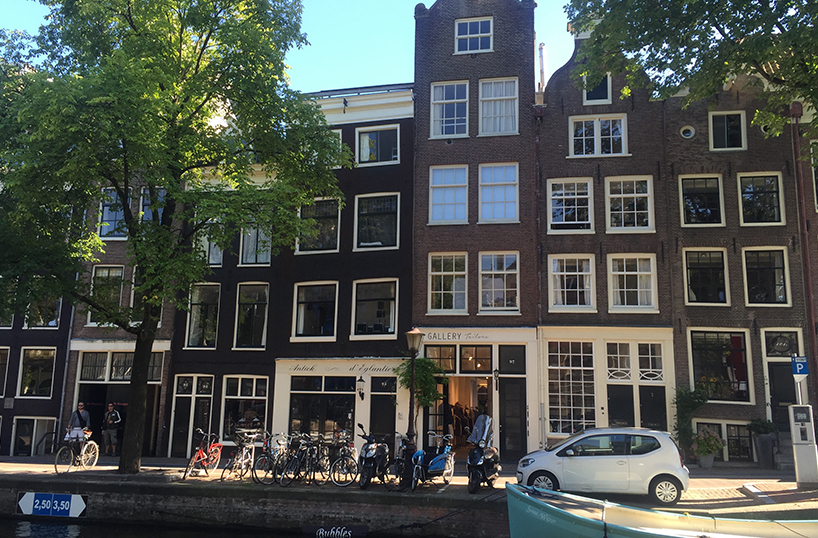 Area guide
We had been given some tips on areas, in particular where to stay. Taking up great advice we stayed in the pretty district of Jordaan. This used to be a working-class district, but years of gentrification have resulted in Jordaan possibly being the most famous area in the Netherlands – and after staying there this is no surprise! Skinny black and white houses are full of desirable restaurants, unique galleries, boutique shops, trendy bars and beautiful people. Not to mention acclaimed hotels and quaint b&b's. It's a cross between the quirkiness Shoreditch has to offer, with the stylish manner of Notting Hill. Mews style homes line the streets behind higgledy-piggledy tall buildings on the banks of canals. Beautiful arched bridges connect roads where locals can be found sitting outside their apartments with their dogs, reading papers while sipping on a large glass of wine… it's all very picturesque. Jordaan is a really safe neighbourhood, the sort of place you would like to have a city holiday home to flit in and out of to your heart's content. I paint a dreamy picture, but it is a very dreamy spot.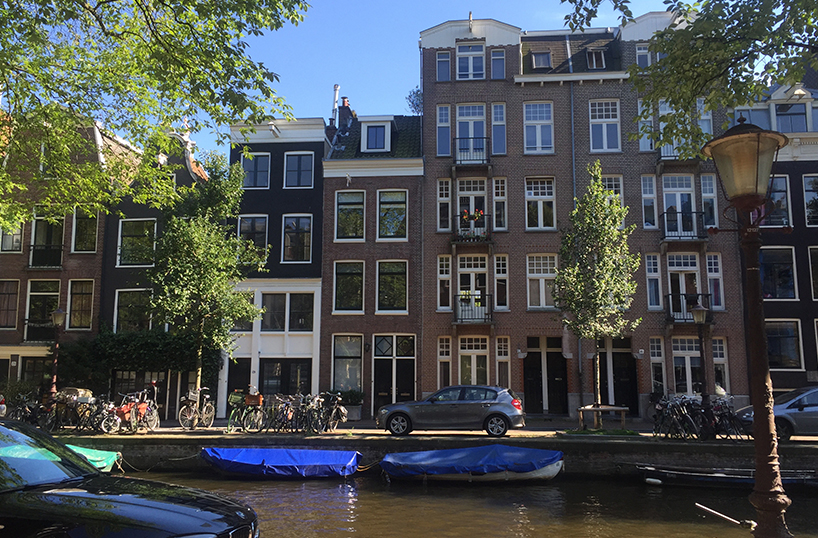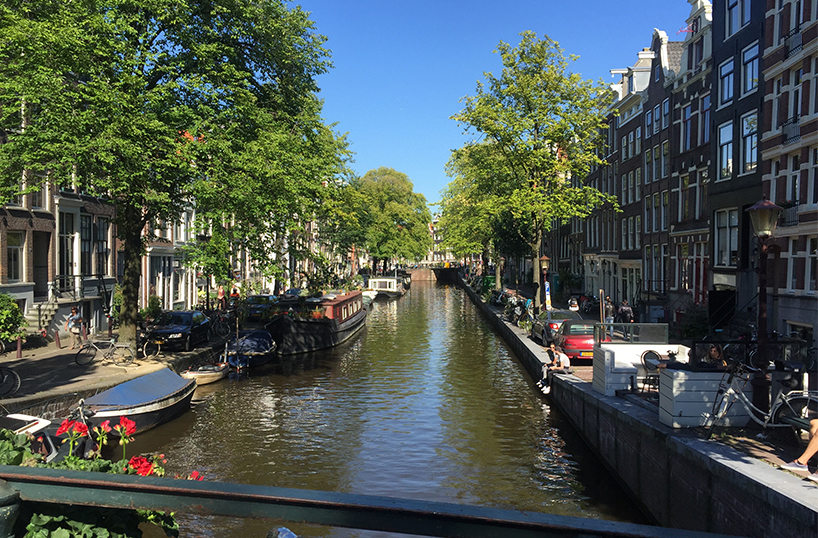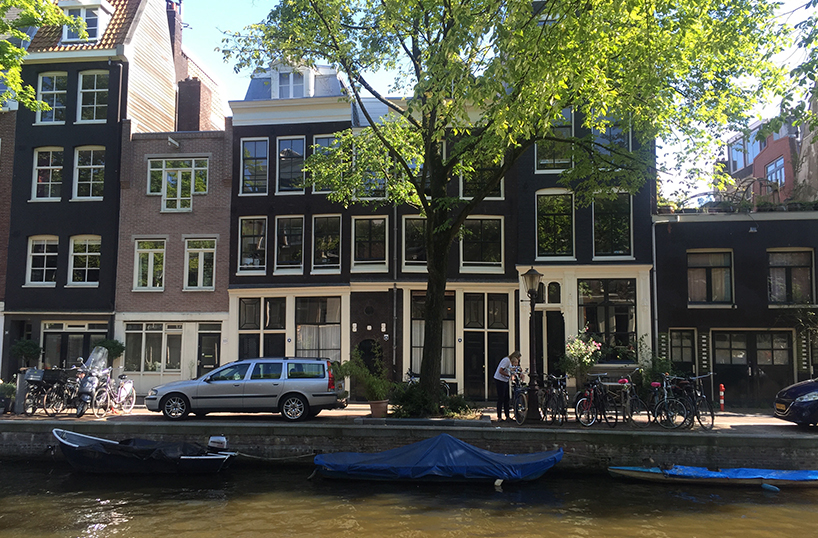 To be honest, we did walk through other areas, but spent a lot of time in Jordaan. There was that one time, the time we decided we should probably check out the red light district and instantly regretted our decision on arrival. In saying that, it is interesting, but at the same time super seedy and is where you will find the stag do's! Apart from dipping in and out (no pun intended) of this district for a quick view, you don't need to go there.  
Considering Amsterdam's relatively small size it's wonderful that each district within the city has unique qualities and different offerings. To experience a few other areas try Oud Zuid – considered to be the poshest area in the city, bordering onto the lush landscapes of Vondelpark. In contrast to Oud Zuid, De Pijp is vibrant, famously diverse, an up and coming district. Noord is a super trendy area that was once cut off from the rest of Amsterdam, but more recently has become a more accessible spot with developers and gastronomic chefs flocking to the harbour to lay their roots.
In terms of getting around the city itself isn't very big, which makes it easy to travel. We found walking was the best to experience Amsterdam's atmosphere, although hiring a bike is one of the most popular transport options to locals and tourists alike. Just be warned, cyclists can be pretty manic (we nearly got mowed down by a few!), but everywhere has dedicated cycle lanes so it's much safer than London.
If walking or biking doesn't take your fancy then there are plenty of trains (we used a train to get from the airport to the centre and it was cheap and efficient), buses and trams that run throughout the city. Like London, Amsterdam also benefits from taxis apps such as Uber, which prove super helpful when out and about on a night. If you already use the app just load it up and use it as you would at home. Simple!  
Stay
We stayed in a b&b aptly named Mr Jordaan. To say the interiors of this place appealed to Firuze and I would be an understatement. It was almost as if someone had extended our apartments and relocated them to Amsterdam to make a hotel. The location is pretty damn perfect! It sits tall on a stunning canal road with the Anne Frank museum at the end of the street. There's a social feel about this place, with a shared kitchen next to reception, where you are able to buy food to make and cook and then lounge in the dining area. It's all very hip, not to mention monochrome and copper (my fav). Although we did have a few issues to start with (rooms are small, Mark and Firuze's room was next to the lift so literally vibrated every time someone used it and we had a room near reception which was noisy), these were swiftly resolved and we were even refunded 1 nights stay for the inconvenience, which was pretty impressive and actually made us want to return to Mr Jordaan one day (maybe different rooms next time though guys)! Room prices were reasonable considering the location and staff were very attentive and helpful.

If you have a bit more cash to spend there are two additional hotels that wowed us on visiting for dinner and drinks. We found Pulitzer on the first night and got a little giddy. As Firuze and I ran around the newly renovated hotel, wishing we could have everything in it, Mark and Tom chilled in the cosy bar. Stylish is probably an understatement when describing this hotel. Let me put it this way, you walk into a reception where a grand piano hangs from the ceiling and Crittall doors guide the way to the rooms. The hotel is vast, and arranged over 25 400 year old canal houses.
As we arrived we were told the hotel had literally reopened the day before and had been under construction for 3 years. The luxurious interior, created by Creative Director Jacu Strauss (formerly senior designer at Tom Dixon's Design Research Studio with previous projects including Mondrian London and Barbecoa for Jamie Oliver), is exquisite. Every nook, every corner, every inch of the hotel screams style and luxury and in a city of monochrome there are injections of colour – albeit small but powerful. The whole place just made you feel special. Despite the fact rooms come in all sizes and shapes, Strauss has tried to give each room the individuality that it deserves. Each room within the hotel represents a theme around the idea of the former residents who may have inhabited the houses, from the Music Collector's Suite which holds a vast collection of vintage records and comes with a vintage record player cabinet, down to the reception and its pharmacy theme.  
Jansz, the main restaurant in the hotel, also plays on the theme of history while injecting a modern twist and the bar takes its identity from a gentleman's club style affair, with eccentric over the top features and a scattering of gold plated artefacts. If you do happen to go to Amsterdam, even if you don't stay there, pop in for a drink – you're in for a treat!

The second hotel I lusted after was Morgan & Mees. Considerably smaller than Pulitzer, with 9 rooms, this hotel boasts elegance in a different manner. The classically timeless Dutch interior sees a decorative style which mixes vintage and contemporary design and furnishings to create a stunningly sophisticated outcome. The rooms themselves are all individually designed, yet all provide a light and luxurious ambience with black and white fittings, rainforest showers, oak floors and terraces offering great city views. The main areas of the hotel are timelessly chic and the restaurant in particular has an abundance of class. We ate in the restaurant on our last night and it was brilliant… more of this in the 'eat' section, further down in this post.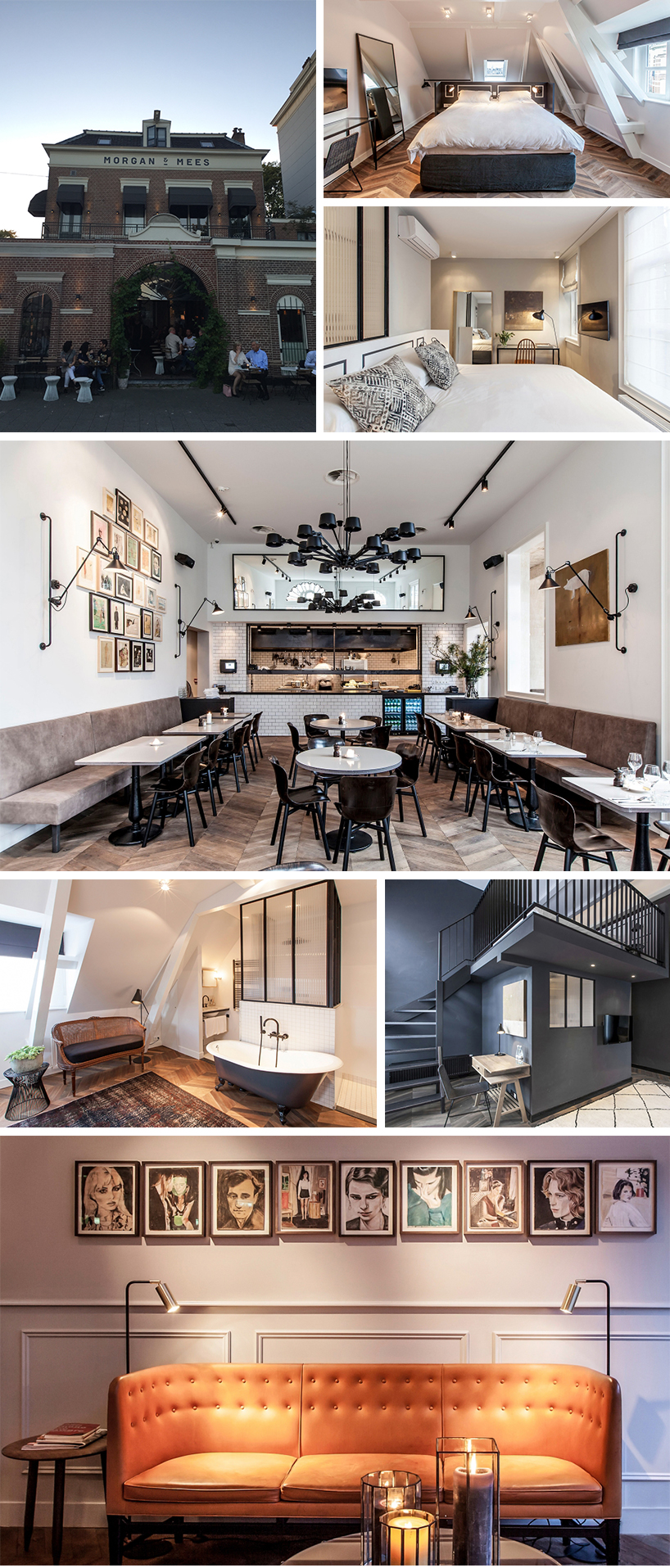 Amsterdam also has a variety of other places to stay in. AirBnb is always a good option, with many cool and trendy apartments on offer (have a look here). There's also Hoxton Hotel Amsterdam (the 3rd offering from the popular London chain), Hotel De Hallen or for groups you can renting a big apartment like Leidsesquare Luxury Apartment Suites or The Mansion.
Eat
To my surprise, unlike Copenhagen where everywhere you fall into is a gastronomic delight, Amsterdam isn't the same. That's not to say the food in Amsterdam isn't good, as it is fantastic, you just have to be a bit more savvy and plan ahead rather than stumble upon a restaurant (which is what we did the first night and it wasn't a great success to say the least). So here's some of my recommendations of great eats the city has to offer.  
Brekkie / Brunch / Lunch
I don't normally do breakfast, despite it being said to be the 'most important meal of the day' – I know tut tut. But there's something about being away that makes me hungry for it. Maybe it's the fact I actually have time to sit down and eat properly while enjoying a moment's relaxation to set me up for the day (a rare luxury when living in a busy city like London!). We started our breakfast outings by trying Omlegg, which is what it says on the tin… Omelettes. It was ok, pretty average in comparison to other food we had in the city, but great if you have a deep craving for an omelette.
Pancakes are a tradition in Amsterdam, so obviously we had to try them out. We then tried Pancakes! Amsterdam which was much more up my street. There are two Pancakes! Amsterdam in this chain, we choose to go to the one closest to our hotel at Berenstraat. As well as your traditional pancake, the cafe offers savoury choices with a selection including smoked salmon, goats cheese and parmesan salad. Of course you can get your traditional syrup, fruit and chocolate options also. Diners can choose between traditional Dutch or American style pancakes and create their own variety or choose from the options available. I went sweet Danish, Firuze had American style pancakes with maple syrup and bacon, Mark went savoury with salmon and Tom tried something even more different with a mushroom and meat concoction (the only one we weren't too sure about, the rest were yummy). We didn't get chance to go, but apparently Mook is also great for pancakes.

One day we indulged in brunch at a small cafe called Gs a really nice place (what a bloody great name). This is a super quirky eatery where tablecloths are comic books and menus are displayed on records. The cheeky cafe splits their menu into sections such as 'Foreplay' and 'Happy Endings' while providing diners with meals such as brunch dip on crack (avocado chunks, bacon bits, goat cheese baked warm in the oven served with crunchy spelt and baguette), eggs Benedict and boozy pancakes. There are also more substantial meals such as beef burgers and buffalo chicken for the hungry diner. A really nice spot to start the day in.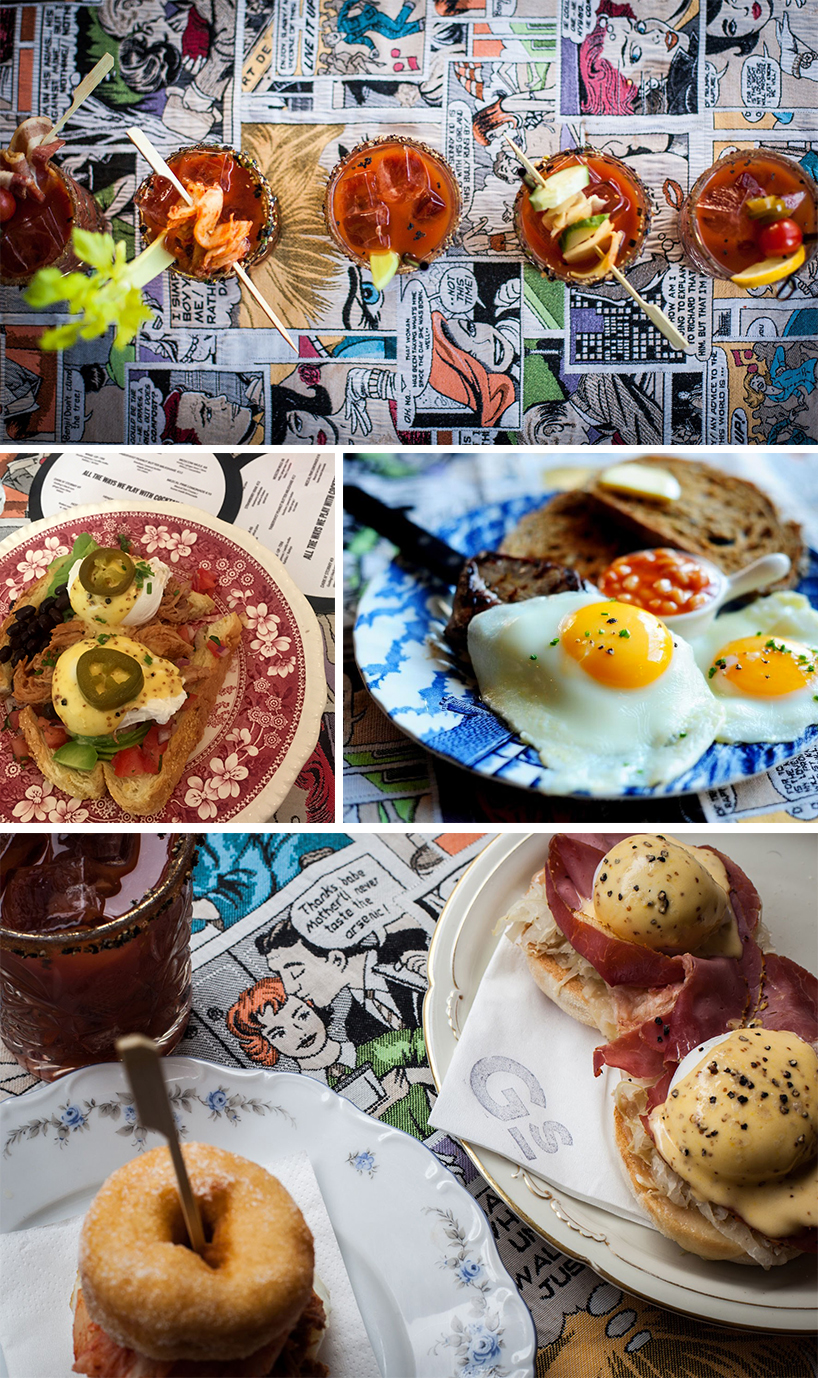 For more of a lunch style affair we headed into the Oud-West neighbourhood to visit De Foodhallen, which holds a vast array of food stands inspired by Borough Market right here in London. The indoor market doesn't really look like a an indoor market, more a classy cafe, but serves high-end street food from pop up stands surrounding a bar and eating area.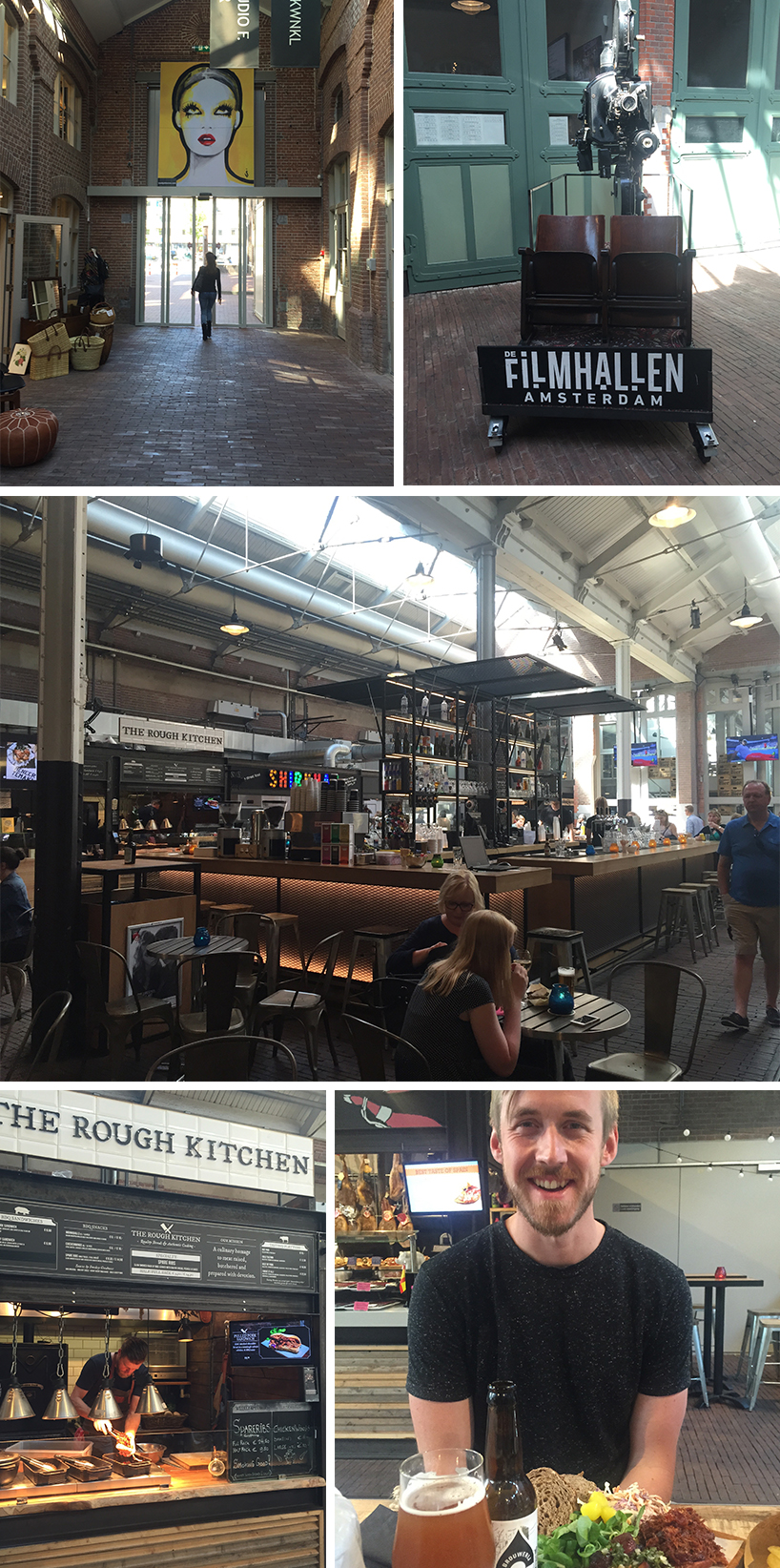 On the last day we tried Single 404, which was great for soup and sandwiches along the canals. This cafe has been described as "straightforward and simple" which is exactly what it is. Despite the fact it isn't super trendy, industrial or quirky, it is rather yummy and very affordable. The venue may be small but the menu is large so there's plenty to choose from. We opted for the soup and sandwich deal, where they even had gluten free bread for Tom – impressive.
Dinner
We had two pretty memorable dinners. The first was at Wolf Atelier. The recently remodelled restaurant is formed out of a container on stilts, which sits above the water with views out onto the harbour. Located on a former bridge near Westerdok the building is an art form in itself and the interiors are equally as stunning. Once inside we decided to sit in the corner to take full advantage of the glass windows surrounding the area – luckily we got there before sunset and had a wonderful view. Interiors are typical to Dutch style with an industrial theme, lots of plants, crisp white table settings and deep grey and black walls and furnishings. Wolf Atelier's attention to detail is incredible from sitting at the table with a welcome box to the last bite of scrumptious food, everything is thought out meticulously. Menus change seasonally and a choice of a la carte or tasting menus are on offer. We ate from the tasting menu (which they customised for my veggie, non pescatarion needs) which was €39 for 4 courses – pretty reasonable considering how great it was! The meal, created by Chef Michael (formerly of acclaimed restaurant Envy), was elegant and delicious – you can tell there's a true passion for craft and again detail, from this young chef. To top off tasty food service was top notch and drinks were also rather scrummy, completing the whole package as an enjoyable experience despite the fact there were only two tables of diners in the restaurant (us being one!) I would definitely recommend Wolf Atelier for a special night out in Amsterdam.

Second on the list of evening meals we loved was Morgan & Mees. I gushed about this hotel previously in the post and I will now continue the praise for its great restaurant. The typically industrial Dutch interiors flow from guest rooms, to the bar and out through into the dining room with spectacular spider looking lights which take centre stage in the middle of the room. Creative framed artworks fill the walls and when we visited the bi-fold doors surrounding the inside eating area had been folded back to open up the space which spilled out into a conservatory style garden, somewhat similar to London's Chiltern Firehouse. Ambience is a-plenty with a buzzing atmosphere that complements the flair of the chic hotel. The menu is excellent, mainly offering a Mediterranean cuisine – a very different style to Wolf Atelier, but equally as enjoyable and equally as tasty. Although service was a little slow and we had a little slip up with one of the dishes, it was quickly rectified and it wouldn't put us off returning to this eatery once again… this was in fact Tom's favourite meal! Again I would highly recommend trying Morgan & Mees for lunch or dinner whilst visiting Amsterdam.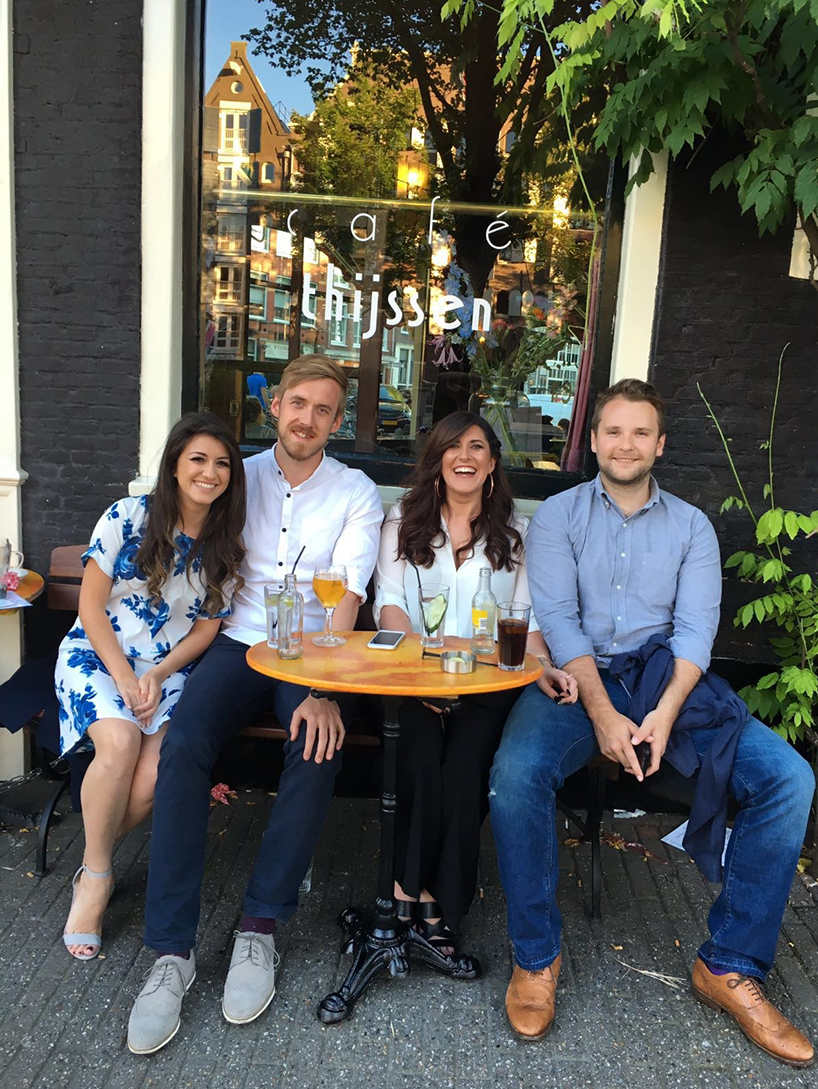 We had put together a list of other recommendations that we didn't get round to visiting, but are said to be as equally great in their own rights. For Pizza try Pizza La Perla or indulge in posh kebabs at Donnies. For something different visit De School or dine in style at Jansz in Pulitzer Hotel (mentioned in the 'stay' section earlier). For Seafood try Stork which is located in an old warehouse in the industrial area of Other Side on the northern IJ banks. We really wanted to try De Kas, a restaurant & nursery located in a set of greenhouses, but didn't get chance – when returning to Amsterdam we will be visiting here! Or if none of the above floats your boat, why not try a culinary workshop with De Culinaire Werkplaats – a novel cooking and eating experience located opposite Amsterdam's Westergasfabriek.
One thing to note: When it comes to dining out, quite a few of the smaller places ask for card only instead of cash – bizarre… I know! Normally it's the other way around, but hey ho – plastic at the ready.  
Drink
There's no shortage of great drinking hotspots in Amsterdam and they come in all shapes and sizes. The first one for your hit list is the Boozy Brunch Boat from G's Really Nice Place (mentioned above in the eating section). Admittedly we didn't get to do this as it runs on Friday – Sunday's only, but I have heard great things about this experience, and if our boat outing was anything to go by it will be a blast. For drinking on dry land expect to find your usual suspects – For a quirky Speakeasy head to Tales and Spirits (where we particularly loved the cocktails!) or Hiding in Plain Sight. Beer lovers try Bierfabriek or Bar Basquiat and for a trendy yet relaxed bar visit Bar Louie Louie.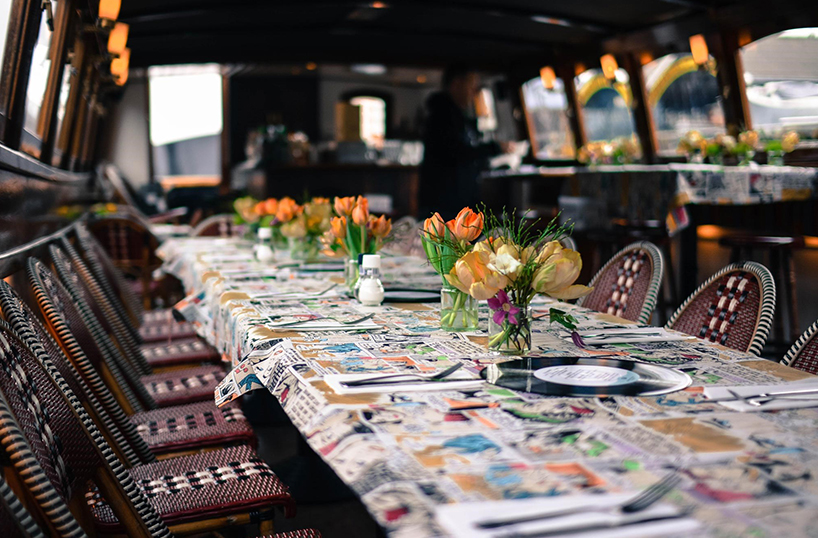 If you want a hidden gem try Door 74 – it is literally a door on a busy street and a little confusing to get into as it looks like someone's apartment door, but if you ring the buzzer you will be granted entry. We had a few drinks at this place and really enjoyed it.
If you head a bit further out of town then Noorderlicht Cafe – a quirky destination somewhat like an area in Glastonbury. This place is off the beaten track and provides a different venue for evening drinks. As an all rounder Noorderlicht Cafe also has a small, but tasty menu that even uses veg they grow in the greenhouse. A short ferry ride (which is free!) will get you to this destination.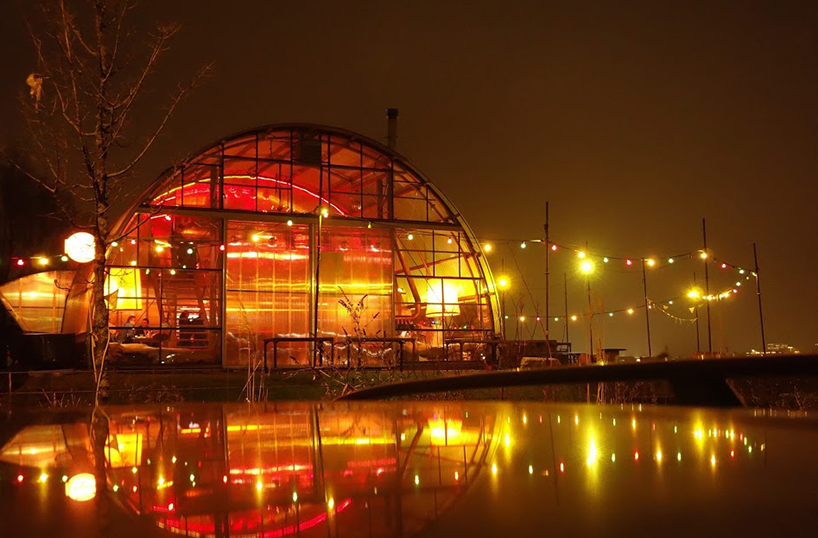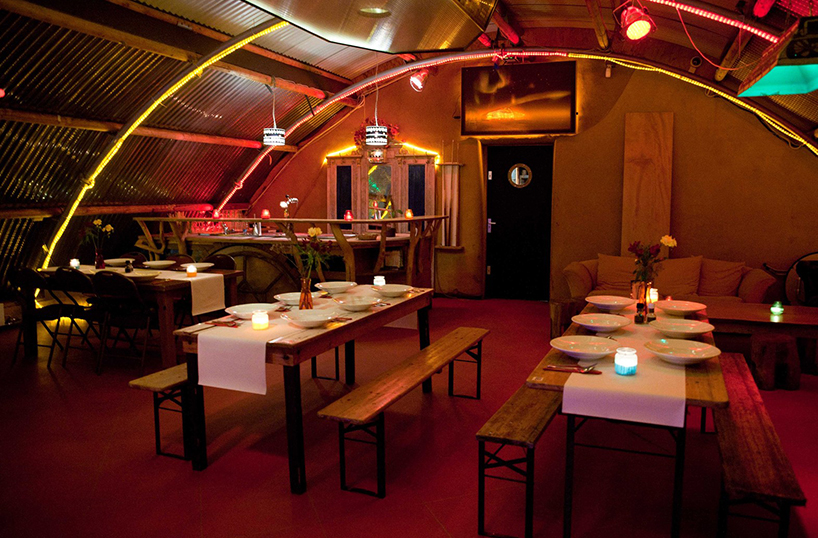 Gin drinkers can rejoice as Amsterdam has a lot on offer. We particularly liked the sound of Wynard Focknik – a distillery dating back to 1679 that specialises in traditional liqueur which is made on the premises. The old-fashioned drinking hole has a variety of flavours and something for everyone… as long as you are prepared to bow down and sip them from the bar top using no hands (that's their trademark drinking style apparently). Lots of fun and to be had in this cosy venue.  
Sightseeing
Ok so yes, the main activity in Amsterdam is to do the Anne Frank Museum, but we didn't go. Why? Well we didn't want to waste a full day waiting in a queue with thousands of tourists eager to take a 15 minute look inside the room. Yes it would have been interesting, but we weren't that desperate. Instead we actually look it easy on the sightseeing front and simply wandered around and into places instead of planning a full day of tourist activity – it was so much more enjoyable! However, what I do recommend, which is slightly touristy but bundles of fun, is a boat trip… but don't go on a tourist boat, hire your own. We hired a boat from Mokumboot which was €110 for 3 hours. Although daunting at first it was brilliant and the best way to view the city! Alternatively you can hire a pedalo, but after watching everyone struggle on them once the novelty had worn off… I was happy with our choice.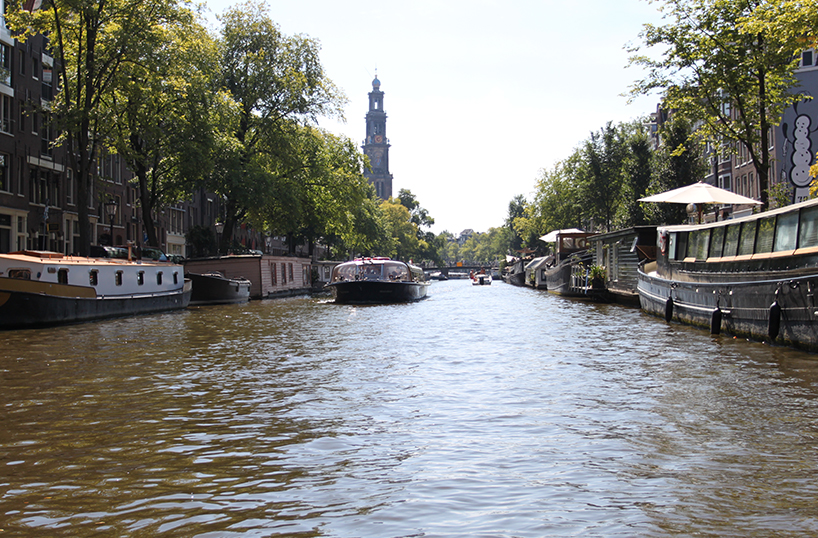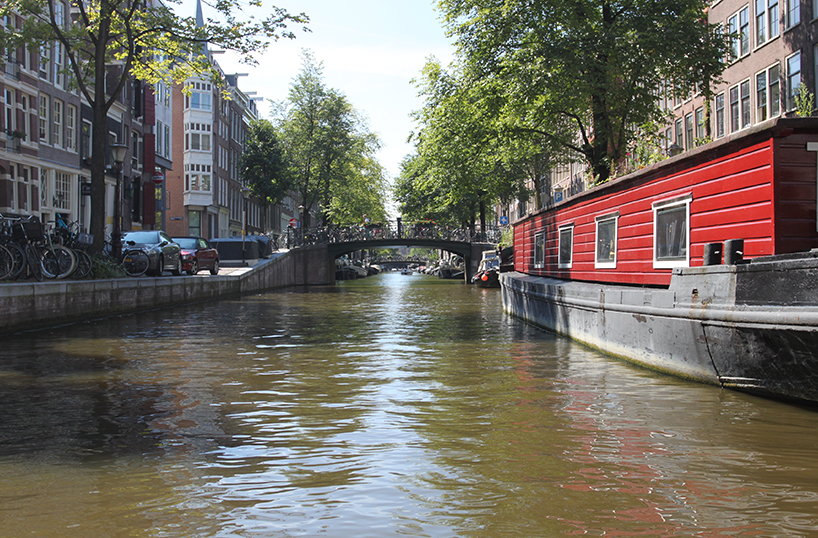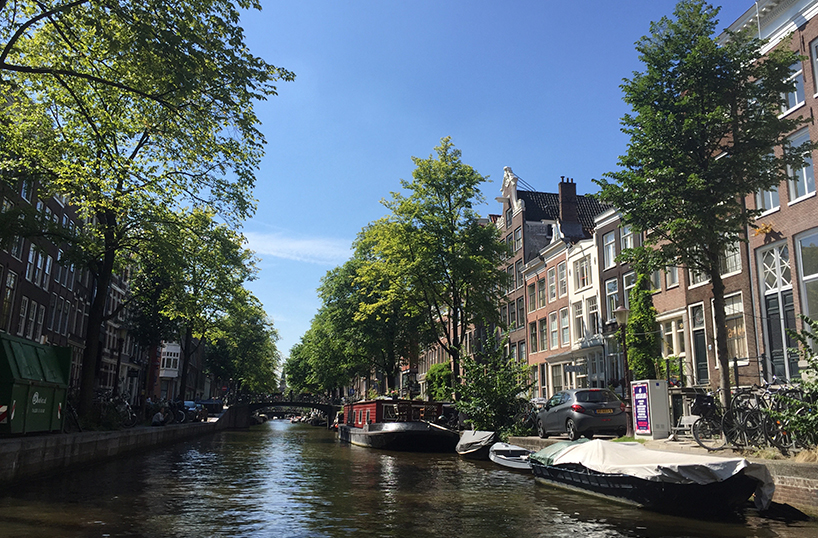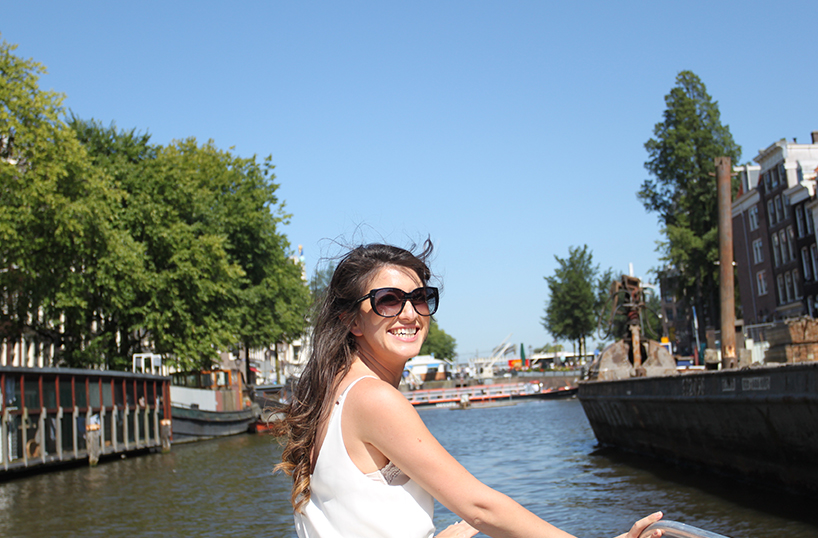 If boats aren't your thing then general musing around Amsterdam on foot will guide you around an array of historic sites – grab a tourist map (yes we all use one sometimes!) and it will show you all you need to know.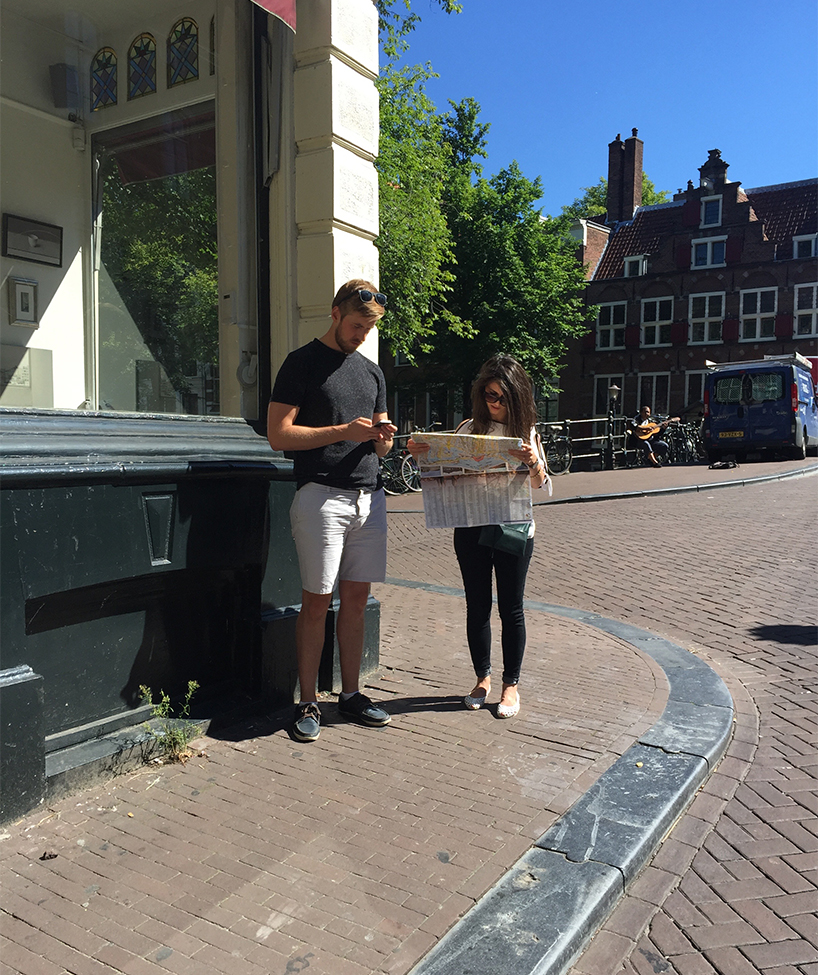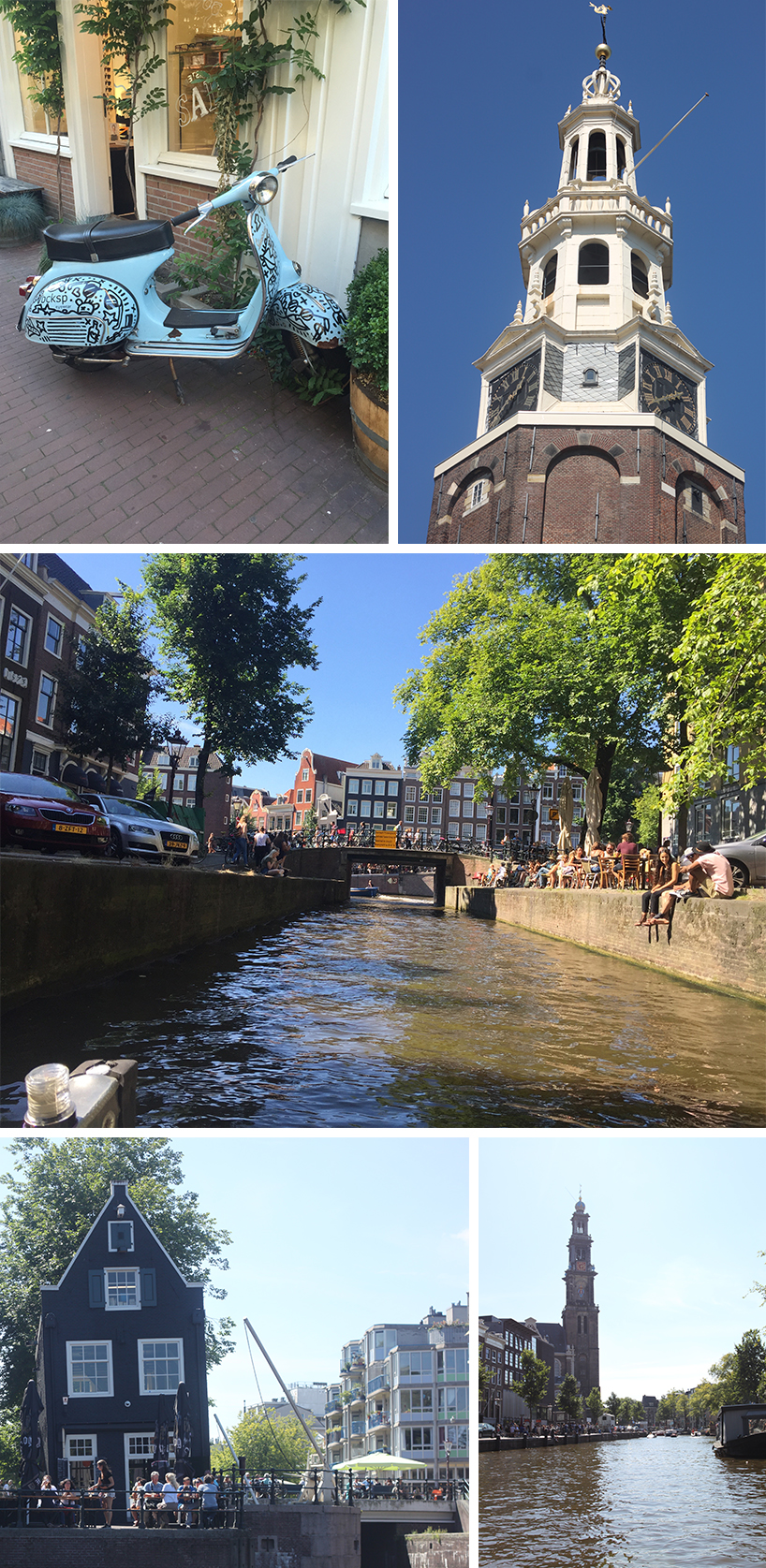 If the weather is good I would highly recommend a visit to the lush landscapes of Vondelpark and a wander around its surrounding area of Oud Zuid. This would also be a perfect spot to hire a bike without worrying about local bikers throwing your off your tracks. We did look into segway tours also, which would have been super fun, but are a little expensive. If we hadn't have done the boat trip we would have done this experience instead.  
To get into the spirit of local life, and if you happen to be visiting the city in the summer, then visit Deparade – a parade of performances across the city or Grachtenfestival Amsterdam – A series of music concerts held annually in August on and around Amsterdam's canals, it is one of the cultural highlights of the Amsterdam summer.
Cheese lovers rejoice, this city knows it's cheesy flavours – with a variety of cheese classes book a tasting at the Old Amsterdam Cheese Store or book a foodie tour with the Hungry Birds team.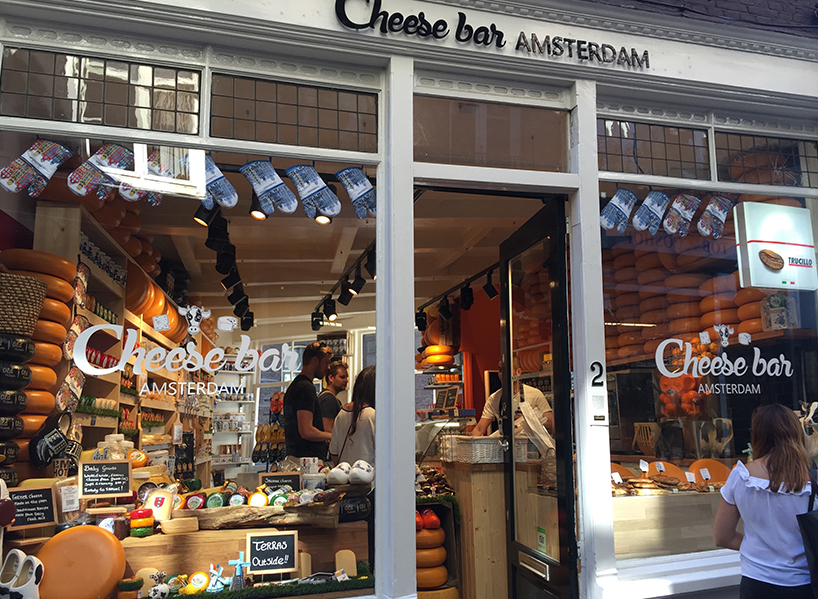 For the culture cats out there who want to museum hop then check out the Tours and Tickets website for activities and great discounts. If we did visit any of the museums it would have been the Van Gogh Museum and Rijksmuseum, but we didn't get round to it in the end. Both said to be equally as impressive yet completely unique in their own rights – and a lot quieter than the Anne Frank Museum!    
Shop
Oh my, the shops! It's safe to say I filled everyone's hand luggage with treats for… well for myself. Interior lovers can marvel in the glory of rows of shops filled with quirky items waiting to be purchased. There were a few shops in particular that I could have gone wild in – Raw Materials was one of these shops and is filled with rustic and industrial delights. I purchased a few bits from this place and was delighted to find out that they will deliver items by courier to the UK or you can buy items online with a shipping fee of around £15 (so stock up). Hethuysraat and Van Dijk & Ko also had me clutching onto my credit card, trying not to spend money. In terms of areas I found Jordann was full of quirky shops, in particular The Herenstraat and the Prinsenstraat, two small streets which are located in between Haarlemmerstraat and the Nine streets. It has a variety of homeware, florists, fashion and stationery boutiques, all unique and interesting in their own right. Safe to say I spent a lot of time in this area!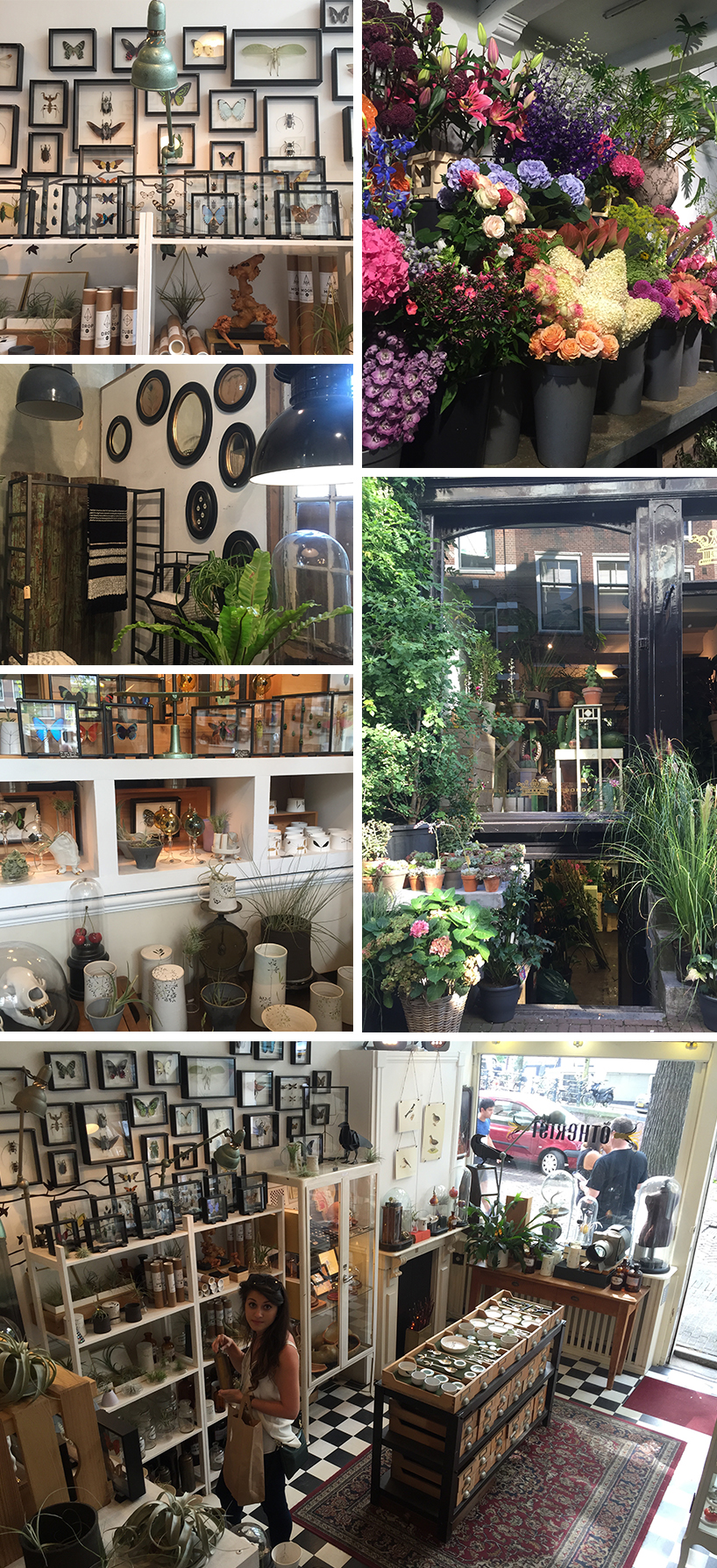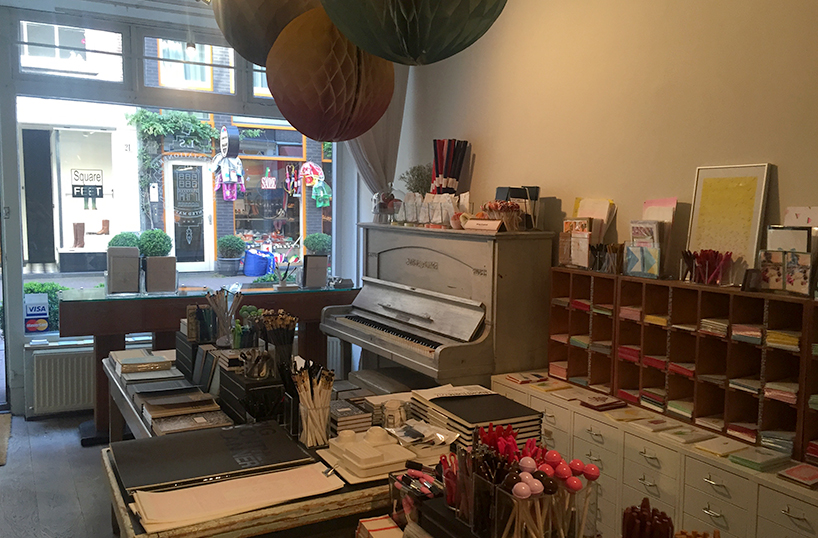 Overall we really enjoyed our trip in Amsterdam and I'm even planning another visit next year with my uni girls. It's a brilliant city with something for just about everyone. Thoroughly enjoyable and highly recommended. Happy holidays.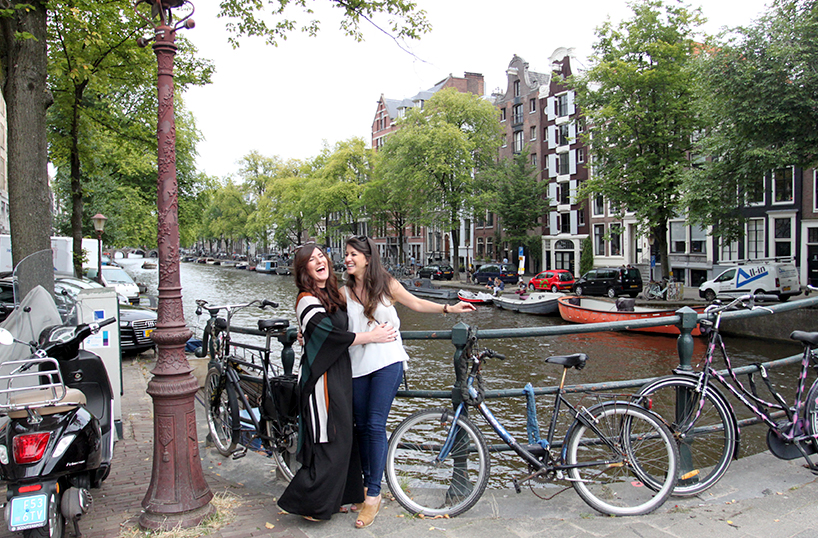 ————
Words by – Natalie Jahangiry
Images © To Work or Play 2016 / Mr Jordaan, Pulitzer, Morgan & Mees, Mook, Gs a really nice place, Wolf Atelier & Noorderlicht Cafe