Travel Guide: Cape Town //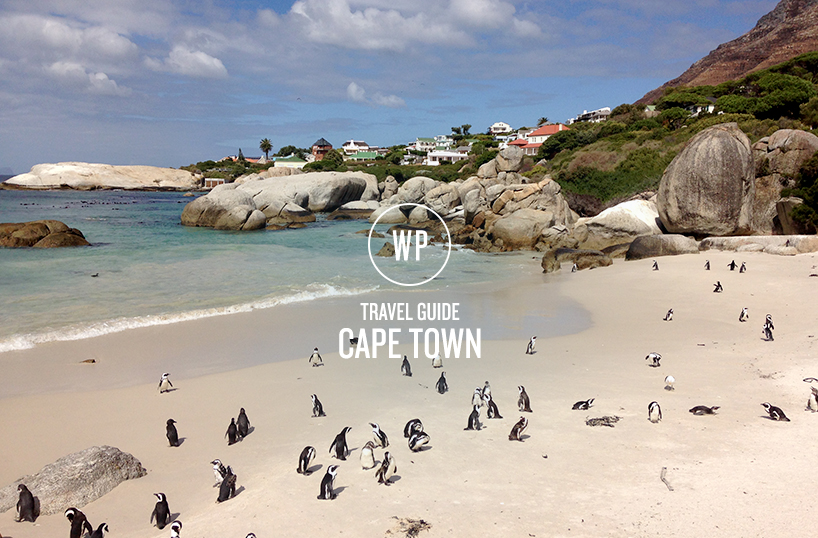 Vanessa takes us on a journey through Cape Town. In this post she outlines the highlights of her recent trip and how best to experience what Cape Town has to offer.
Whilst I've had quite a few sets of friends recently visit Cape Town and return telling me how wonderful it is – a trip of a lifetime, I didn't really know what to expect. I knew that Cape Town had a slight European vibe to offer with its summer social scene complete with a racing event fit to compete with Royal Ascot. I'd heard that Cape Town has an incredible dining scene and that as a British traveller (where the pound is so much stronger than the rand) you can experience Cape Town's luxury offerings. What I didn't know was the feeling that you can get from being here, the breathtaking scenery at every angle and the feeling of being somewhere that is in a huge transition phase. In this post I'll share with you some of the highlights of my trip:
Camps Bay
Camps Bay is the luxury residential area of the Western Cape. It's got stunning scenery, A-list residences and a row of cool restaurants and bars. Here are some of my favs:
Our accommodation was here, we stayed in the Atlantic Gold Guest House. Atlantic Gold offers luxury, self catering style accommodation with the all the best bits from staying in a hotel. Our room was cleaned daily and topped up with fresh towels and our host and hostess (Gerald and Alice) were absolutely magnificent – they gave us the warmest welcome, the best tips on what to do and see in Cape Town and are genuinely wonderful people to have a conversation with.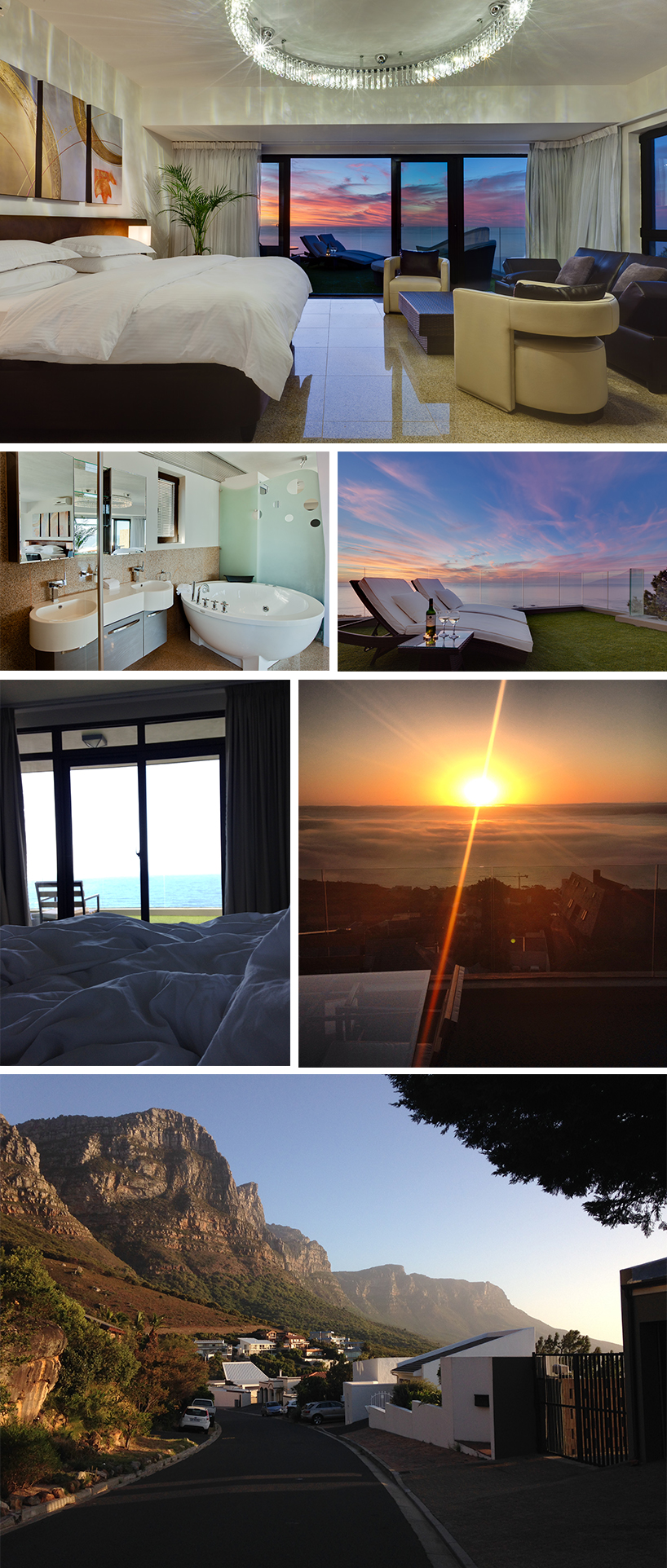 The house has around 6 suites with outside spaces so that you can take in the breathtaking scenery. It also offers an indoor pool and a gym – both of which are welcome after a full day of exploring the city.
Our suite was the perfect size for two people, we had a kitchen, large bathroom with a spa bath, huge bedroom and lounge and very large balcony. The house is set up in a way where you can come and go as you please feeling safe and secure at the top of Camp's Bay luxury residential area.
The Bay Hotel
The Bay Hotel has a gorgeous pool-side bar which is perfect for cooling off from the beach, watching the famous Cape Town sundowners or as a spot to meet friends for cocktails. Sandy B's says that it is exclusive for guests only, however if you go in there and order cocktails and nibbles straight away they will let you stay! Join bronzed beauties for a refreshing dip in the pool or sit with some of Cape Town's suntanned socialites, sipping a zesty mojito or a chilled glass of sparkling wine as you witness the sun's dying rays dipping into the ocean. It's a perfect in the day or early evening. I can highly recommend their house Sauvignon Blanc accompanied by the seafood platter for two, this is a recipe for a perfect lunch!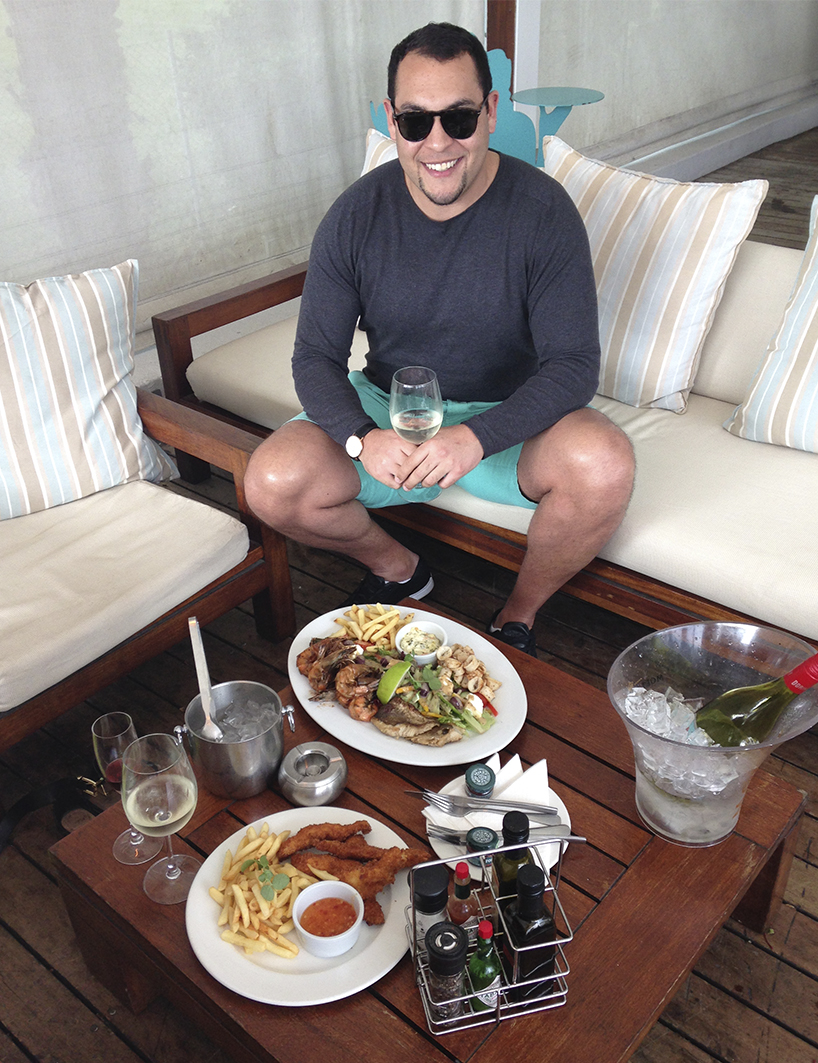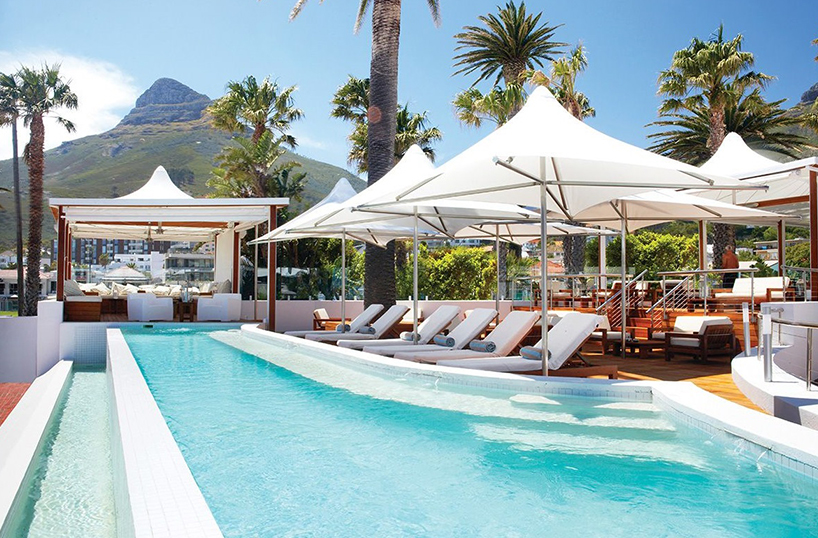 Paranga
Paranga states that it's Cape Town's coolest culinary experience and I'd say this was quite a punchy statement, but I have to agree. We don't have anywhere like Paranga in London. First of all, it's a front row seat facing the most beautiful beach setting, secondly, the menu is a perfect mix of fresh fish and perfectly cooked meat and thirdly, it attracts a real mix of people – it's not stuffy, it's not pretentious, it's not trying too hard. Dine with a mix of families, couples and groups of friends before they head out into Camp's Bay night scene.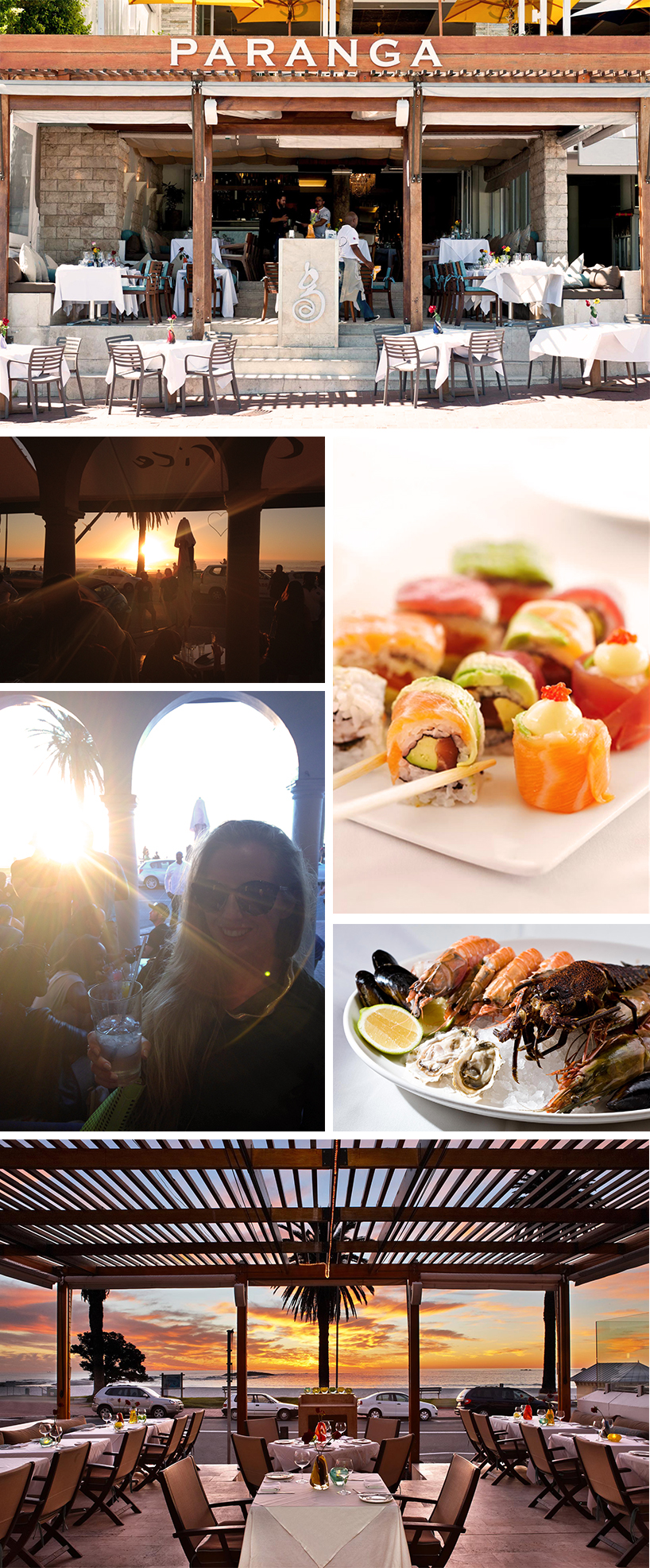 I had the prawn tempura to start followed by the tuna steak with salad. The fish was very fresh and the tempura wasn't greasy. Nick had a meaty meal of beef carpaccio, fillet steak and chips (so manly ;)) – then described it as the "best steak I've ever had!". If this isn't enough to tempt you then the cocktail list will absolutely sway you. The grapefruit gin and tonic is by far the most perfect mix of flavours – it's even served in Barcelona style fashion (i.e. it's basically a bowl of delicious booze!).
Café Caprice
Home to all the beautiful people! This is probably the coolest bar in Cape Town! Again with a front row view of the beach this is the perfect place to sip cocktails, bop to house music and watch the sun set. Cafe Caprice is packed out with socialites and offers that oh so relaxed Sunday session vibe. With a cool 2am finish (yes, on a school night!) this is definitely the place to be seen in. Now that's just the evening experience, whilst we didn't go during the day or eat there at all I am told that they offer a great breakfast, lunch and dinner menu making it the perfect place to relax and take in the beautiful surroundings.
Victoria and Alfred Waterfront
The waterfront is a modern shopping area which is built around a working port. It offers a beautiful mall, a huge range of restaurants and activities and is also where a lot of the tours start, i.e. the big red bus and Robben Island Tours.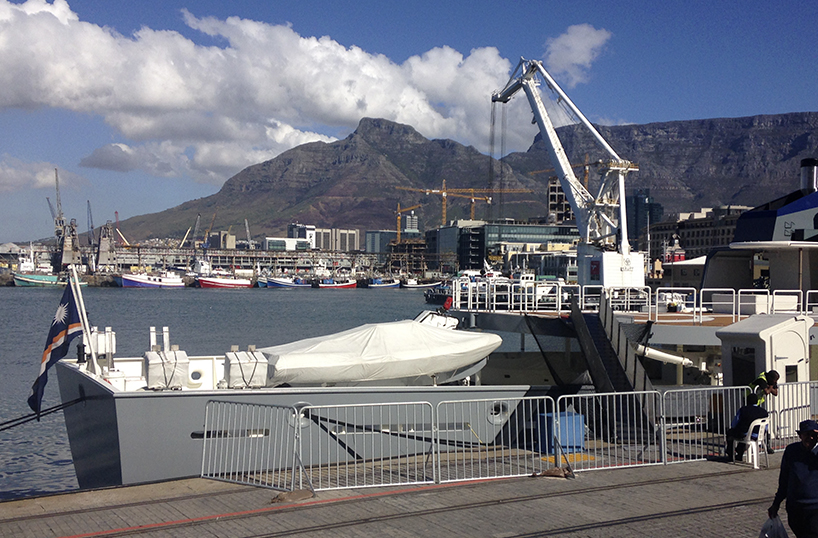 The One and Only Spa
After 16 hours of travelling you will need a little chill time and this spa is the perfect spot offering the most incredible packages. Nick and I went for the full show – it's called One&Only Spa Bliss, and for £110 per person you get 3 hours worth of treatments each, 2 hours of relaxation time, lunch, a bottle of champagne and nibbles. One&Only is famous for its luxury middle-eastern heritage and this didn't disappoint… we were treated like true royals. The treatments themselves were everything I needed before 10 full days in the sunshine – a body scrub, a full wrap, full body massage and a facial. It has to be said that this day was pretty perfect!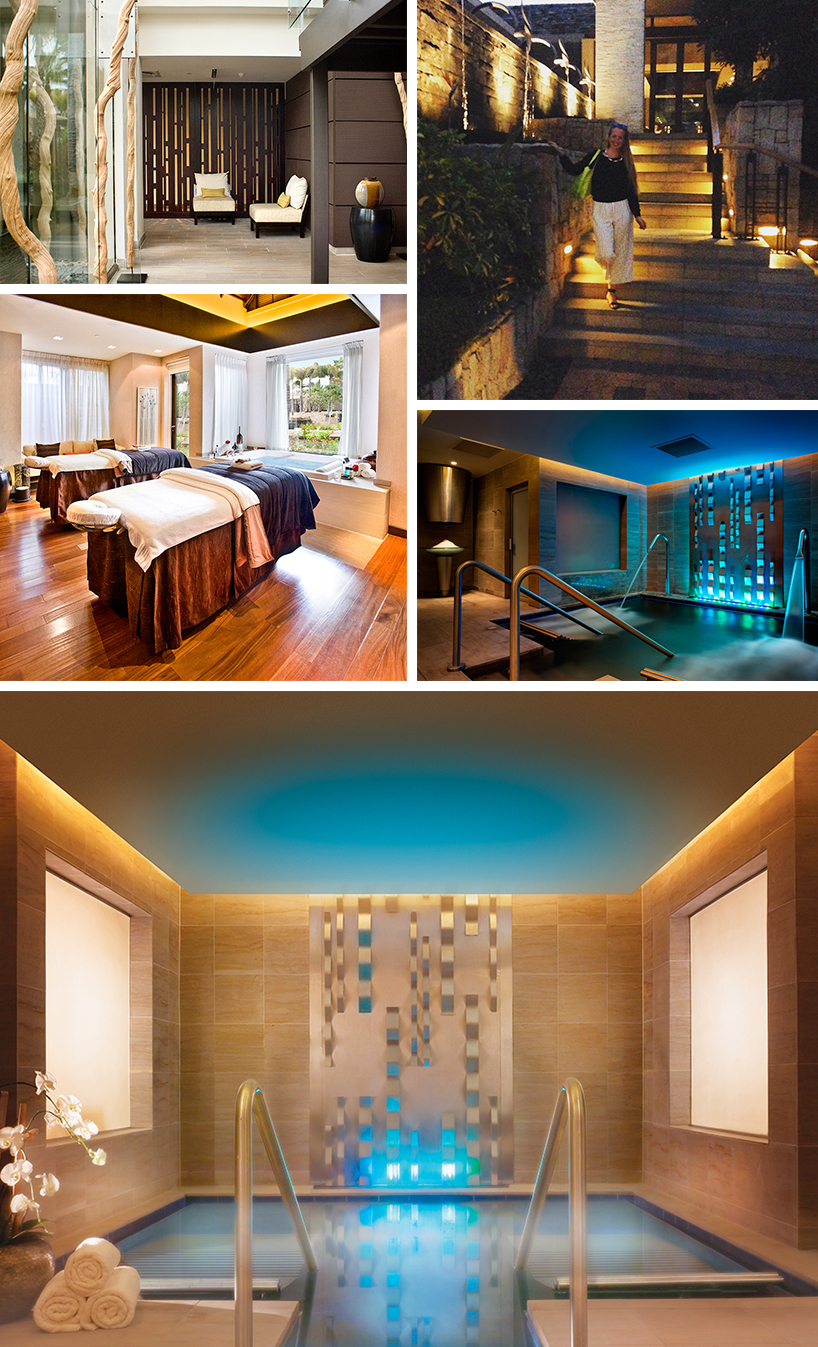 Belgua
The best way to describe Beluga in a few words is: Ultra cool, unlimited sushi, tequila. That's probably all I need to say to convince you to go right?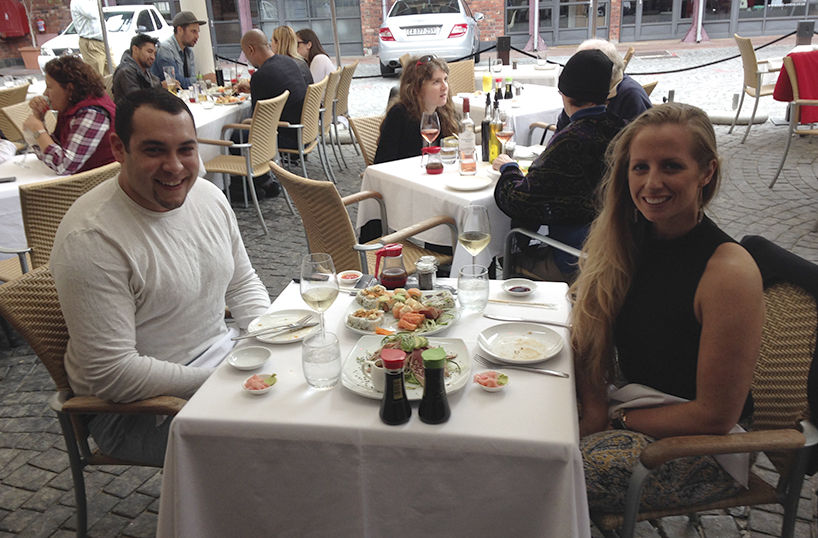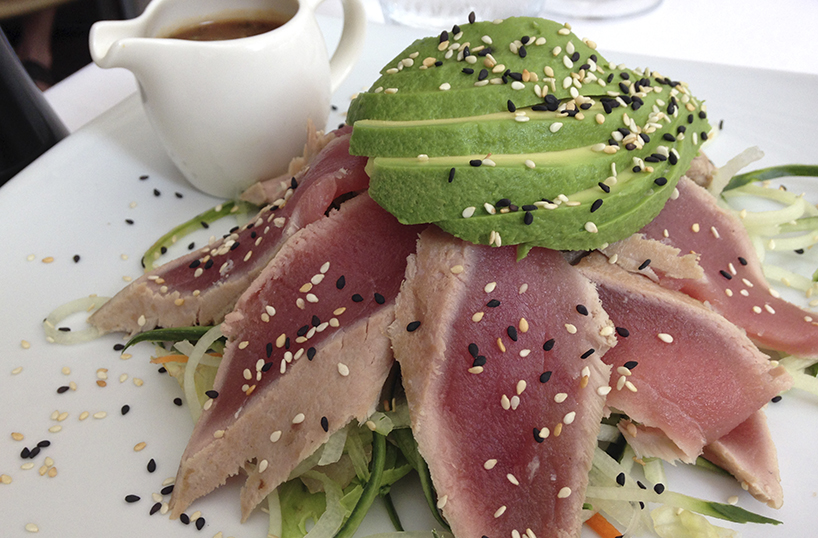 Well just to add to this, Beluga does a Sunday brunch where all sushi is half price (you are basically stealing it!). The clientele is super cool, the setting is within an old warehouse and the food is absolutely delicious! For roughly £25 per person we managed to get through 2 bottles of wine, 2 platters of sushi, a huge tuna salad and dessert…  it really is an absolute must!
Fish Market at the Clock Tower
It's pretty much all the in the name. The only thing to add is if you're going to be in Cape Town on a Monday or Thursday then get yourself down to the Fish Market from 6pm to experience half price sushi.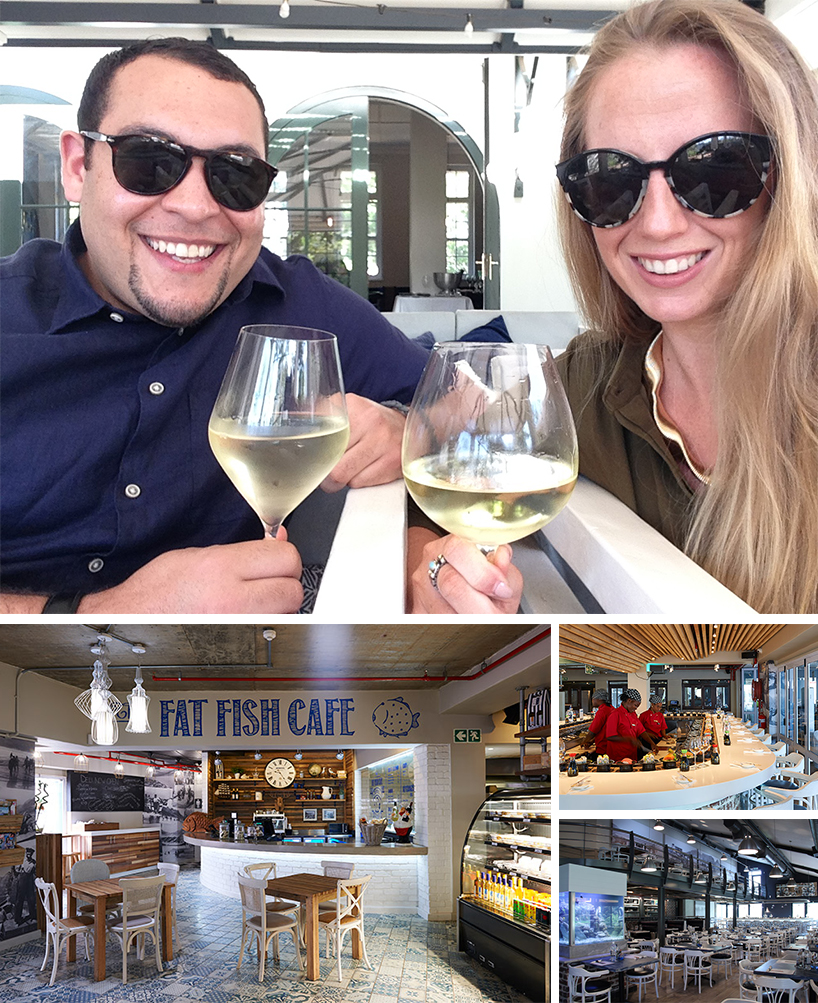 Constantia
Camps Bay and the Victoria & Alfred Waterfront are probably the nicest areas in Cape Town, but there are of course other areas to visit too. One of my absolute favourite days from our travels was a trip to Constantia Uitsig Wine Estate.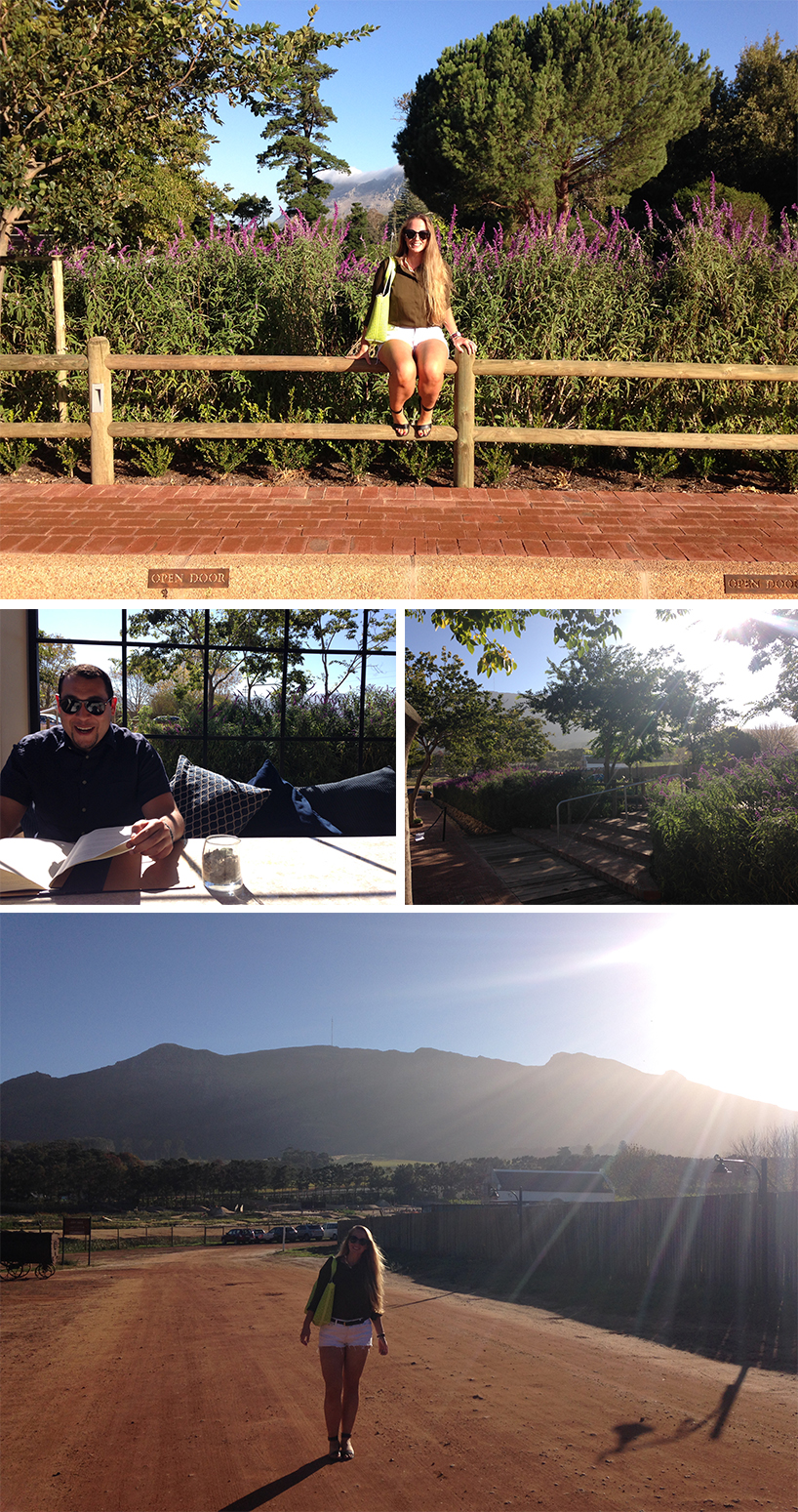 This area is the oldest wine-producing region in the Southern Hemisphere with an uninterrupted history of winemaking that spans over 300 years. Having subsequently been subdivided into smaller farms, Constantia Uitsig is now one of a select handful of wine estates that together make up the Constantia Valley Wine Route. It offers stunning views, vineyard tours, wine tasting and a restaurant called Open Door (view here), which is an absolute must for any trip to Cape Town.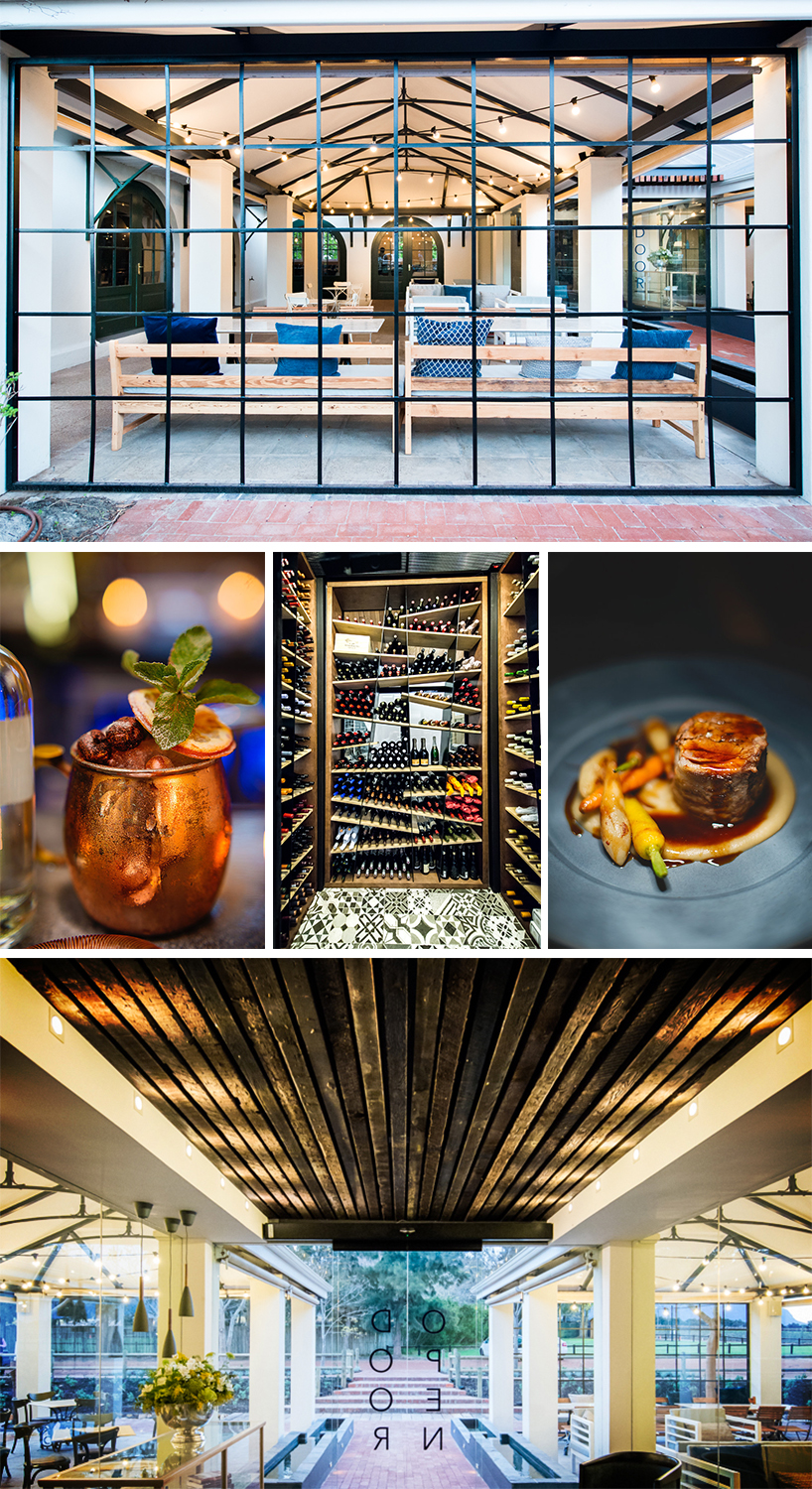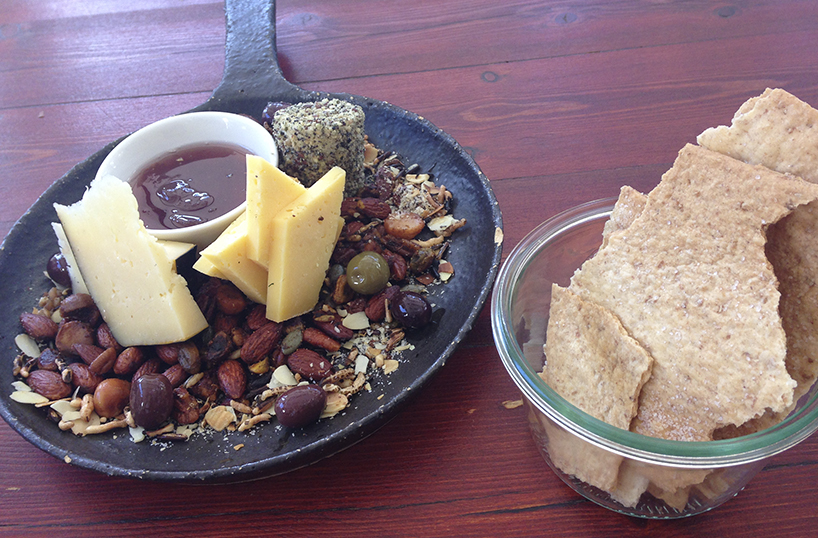 If I lived there I would spend long Sunday afternoons in Open Door, sipping wine and eating cheese whilst looking out at the mountainous view. Nick and I shared a cheese board and worked our way through bottles their Sauvignon Blanc and Rosé. Ensure that you check opening and serving times at the restaurant ahead of booking, they have a strict no food service between the hours of 3 and 5.
Boulders Beach – Penguin Colony
If like me, you love to see animals in their natural habitat rather than in a zoo, then you will love it here!
Boulders Beach is around an hour's drive away from Camps Bay and is set in the heart of South Africa's navy headquarters in a beautiful picturesque seaside town. The beach is part of a national park so a small fee is asked to enter – completely worth it.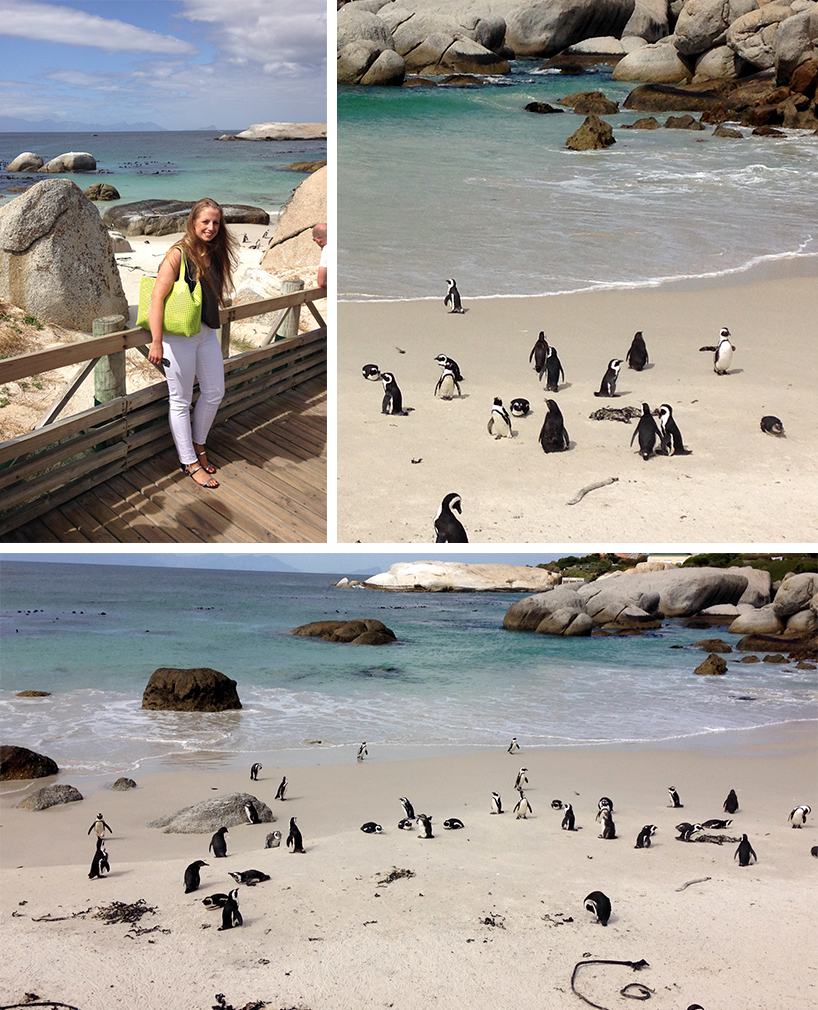 As you reach the shore you can see hundreds and hundreds of penguins just waddling around! We were lucky enough to go around the time there were lots of babies so we got so see tiny little fluffy penguins feeding from their mums and huddling together. As part of a day trip this is an absolute must!
When you've spent a good hour or so cooing at penguins and it's time to head back into the city then take the toll coastal route back via 12 apostles. The route takes you through the mountains along the coast and the view is absolutely breathtaking.
Table Mountain
One of the biggest attractions in Cape Town is the gigantic flat, table-top-like mountain (hence the name). Whilst tourists hike up the mountain on a daily basis it's not to be underestimated. The mountain does has some safe hiking routes, we took the Platteklip Route which took around 2 hours up and 1.5 hours down. It's a busy route with lots of people and clear signposts on which way to go. We went on a day where there was quite low cloud which looking back, definitely wasn't the best idea! The cloud comes so low you can hardly see a foot or so in front of you, not only that, we suffered with quite strong winds as well. I'd really recommend going on a completely clear day to experience the best views possible. There is a cable car which can be taken up and down too if you're not the hiking type! If you do decide to hike up, ensure you have enough water, jot down the emergency number and wear sensible shoes to ensure you're safe.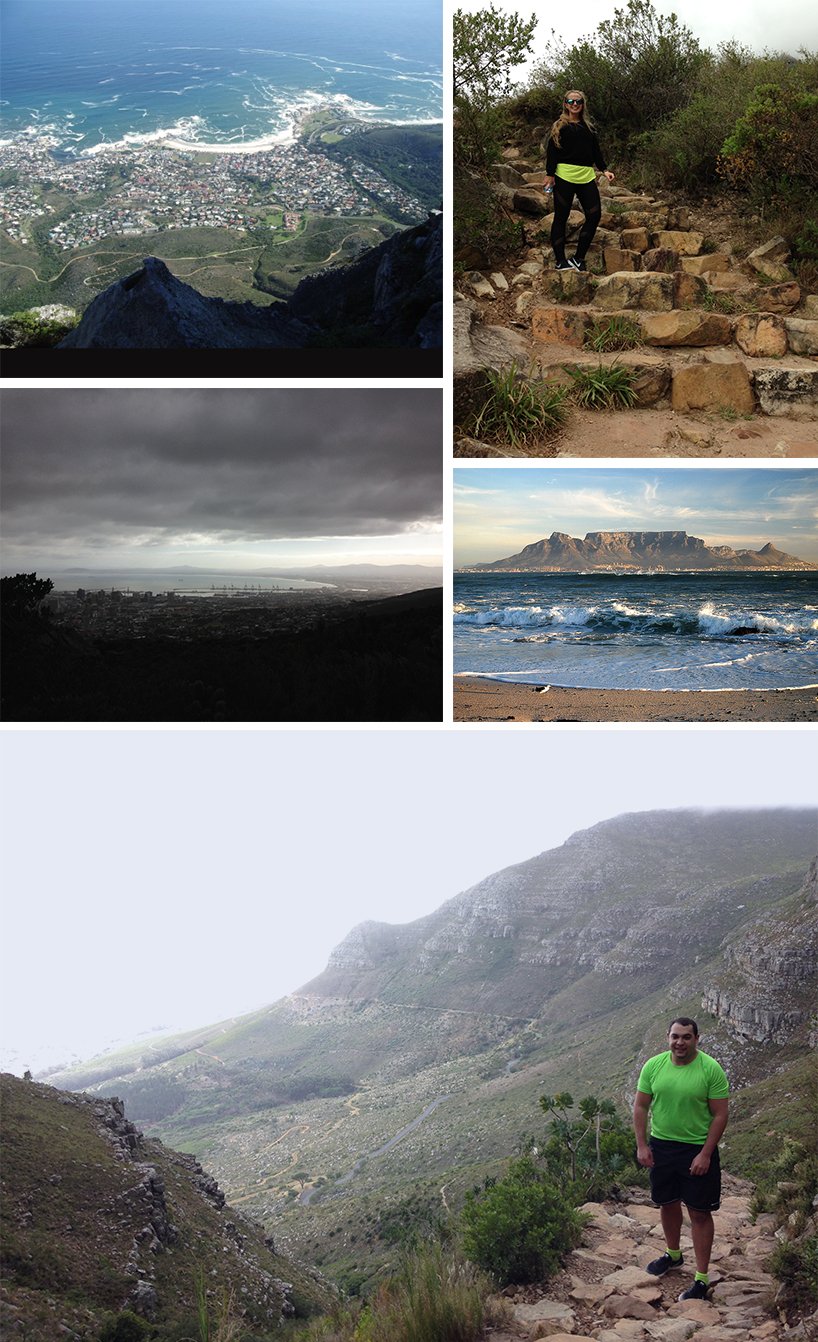 I mentioned at the start of the post that South Africa is going through a transition period. While the bleak history of the country is becoming a distant memory there are still elements of a corrupt government, violent crime and racial issues. We used Uber the entire time we were there which were absolutely great. It's probably the safest way to travel if you don't have your own car. It's best to avoid going through any areas that you don't know and steer very clear of the townships – it is no joke how dangerous they are and how big gang crime is. It has to be said that being alert to your surroundings and not putting trust into strangers is really the only way to be here. Aside from that, we did have a trip of a lifetime – Cape Town is really a very special place.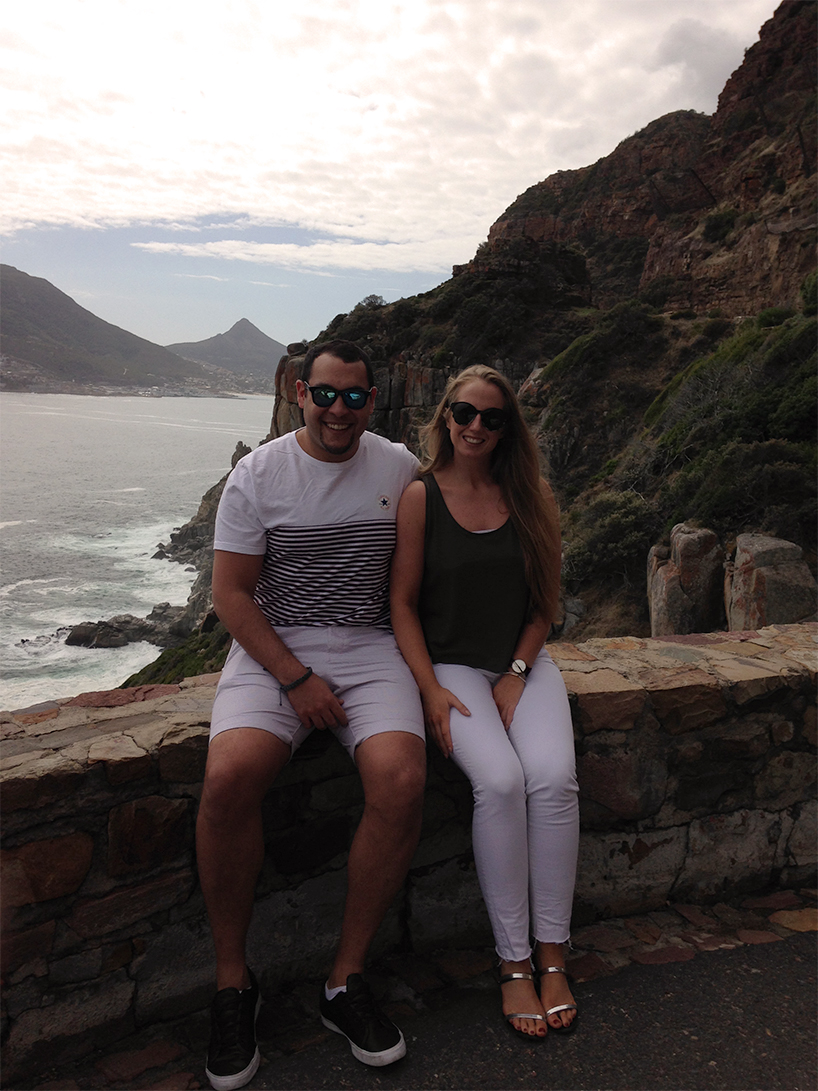 Words by – Vanessa Toby
[Some Images courtesy of Atlantic Gold Guest House, The Bay Hotel, Paranga, Café Caprice, The One and Only Spa, Belgua, Fish Market at the Clock Tower & Open Door. Some imagery © To Work or Play 2016]