A Message of Unity Through the Super Bowl 2017 Commercial Break //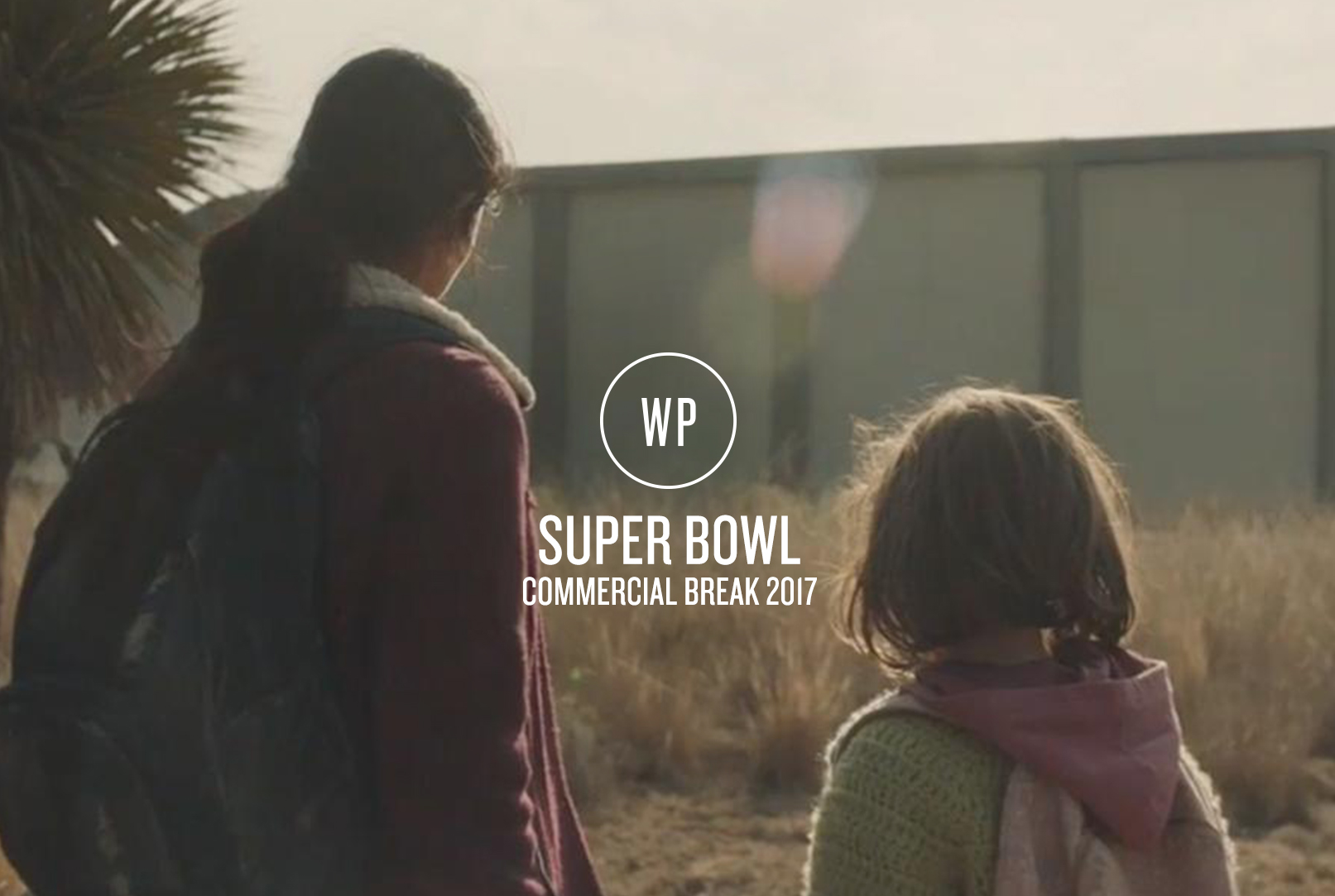 In case you didn't notice, a week on Sunday the Super Bowl took place and along with the game came the usual flurry of campaigns to occupy the ad breaks. Nat looks at a few of the ads with very clear political undertones and messages to the new president. 
"Let's build bridges, not walls." – Martin Luther King
Once a year the world waits with bated breath for the biggest sporting event in the calendar – the Super Bowl. Along with such a huge event comes an array of halftime performers and of course… an abundance of wonderful, and maybe not so wonderful, ad campaigns.
This year there seems to have been a strong and very important message directed to Donald Trump and his followers. A clear communication to the new president pointing out the fact that a lot of Americans do not believe in building a wall, discrimination, racism and dictatorship. They would rather live in an America built on unity, diversity, and acceptance. Here are a few of the ad's that shone through during the break.
84 Lumber provided us with a beautiful take on immigration with their powerful piece entitled "The Entire Journey".
84 Lumber is a small building materials supplier and owner Maggie Hardy Magerko had been called insane for buying 90 seconds or airtime during the Super Bowl. 30 seconds of airtime has previously set companies back around $5 million so we can only imagine the costs that were incurred to air this piece. But there was obviously a method to the madness when Magerko gave the ad a political theme and not just any political theme, one about immigration – a matter at the forefront of the news and at a time when the situation couldn't be more divisive.
The Spanish-speaking mother and daughter apparently travelling from Mexico to the United States is one that is heart-warming, touching and somewhat controversial. The vision of the giant wall as per Trump's campaign promises is harrowing but of great importance. The American flag pieced together by the daughter, the huge doorway, the light bellowing through to a new life, the end line "The will to succeed will always be welcome here" – all of this builds up to very romantic notion of a pro-immigration message of togetherness.
The ad, which ends showing the pair discovering a door in a giant wall, was reportedly banned from broadcast since it dared to comment on President Trump's promised border wall managed to get around this by inviting the audience to find out the end of the story by visiting the 84 Lumber website.
Of course, to any sane human this message will embrace the message, but there will be that group of angry folk who will reject the ad provoking negative connotations.
We Accept: Airbnb
Airbnb's billionaire CEO Brian Chesky has been in the news recently criticising the executive order on immigration explaining that Airbnb will offer free housing to refugees and anyone not allowed into the U.S. In a Tweet he said "Not allowing countries or refugees into America is not right, and we must stand with those who are affected". The company's decision came the day after Trump signed an executive order that temporarily bans refugees and nationals from seven Muslim-majority countries.
Putting a great emphasis on the topic, Airbnb's Super Bowl commercial carried weight with its very clear stance on the matter and overarching message of acceptance.
On the site the message is also clear "We believe in the simple idea that no matter who you are, where you're from, who you love, or who you worship, you deserve to belong. We know this is an idealistic notion that faces huge obstacles because of something that also seems simple, but isn't – that not everyone is accepted. People who've been displaced, whether because of war or conflict or other factors, are acutely vulnerable to not being accepted. They are, quite literally, in need of a place to belong, which is why we've been inspired to take action."
Airbnb united with leading worldwide companies such as Google, Facebook and Uber on immigration, all of which have strongly disagreed with the order and everything it stands for. Bravo.
Daughter: Audi
Audi has done a brilliant job of storytelling in the past and does so with their Super Bowl ad that focuses on equal rights.
Entitled "Daughter", Audi uses their Super Bowl moment to tackle the gender pay gap and advocate equal pay for women. In this beautifully crafted spot, the voice-over of a father asks what he should tell his daughter while she grows up in a society that values men higher than women.
After it's showing, a press release from Audi stated: "The company has publicly pledged to support [the] ongoing commitment to women's pay equality in the workplace and to foster a work environment that drives equality for all employees".
This is another poignant message in a time when political tensions running high. Watch your back Trump… the creative world is coming for you!
————
Words by – Natalie Jahangiry
Want the latest posts, offers and exclusive tickets straight to your inbox? Subscribe to our newsletter and never miss out again.
Images © To Work or Play 2017