Best Christmas Ads 2016 //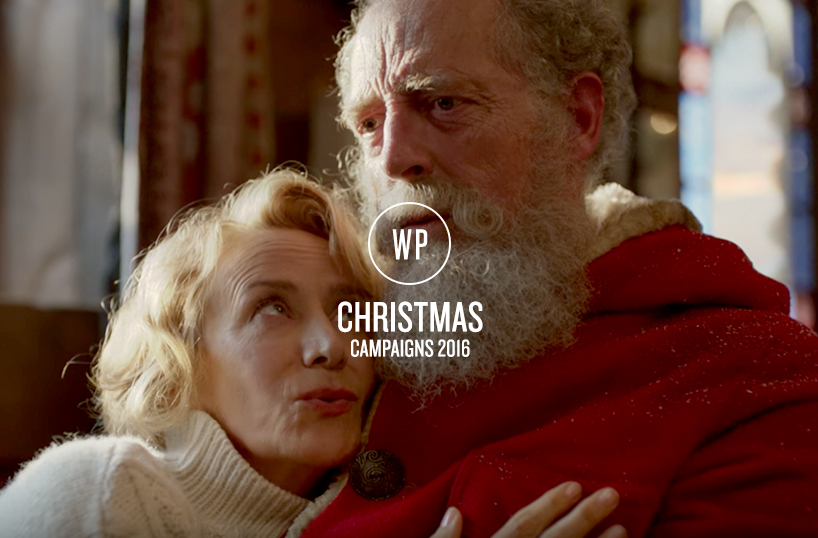 Grab the tinsel, stock up on mince pies and cosy up by the fireplace – it's the build up to Christmas. As the cold sets upon us so do the festive campaigns. Here Nat gives you her favourite ads so far.
Yes… it may only be November, but we all know advertisers love to get in there good and early. So as we put down our pumpkin lanterns, a flurry of festive frolics took over the screen, and there's some brilliant (and not so brilliant) work. Here's my top campaigns from the 2016 offering so far.
Alzheimer's Research UK – Santa Forgot
Let's start with probably the most meaningful ad of the season from Alzheimer's Research. The message is not only very important, but is also stunning creatively. Santa Forgot, narrated by Stephen Fry, imagines a world where Santa is living with the effects of dementia which starts with him becoming confused resulting in children receiving the wrong gifts, to no longer being able to visit children on Christmas Eve.
Liz Ayre, who lost her husband Mike in 2013 to Alzheimer's aged 51, and whose daughter voices Freya in the ad, said it's important to be confrontational and challenge people's misconceptions about dementia. More than 850,000 people in the UK have dementia and as of this week it is the leading cause of death nationwide. Although the cartoon, made by Aardman (of Wallace and Gromit fame) is pretty hard-hitting, it really highlights the disease that will affect most of us in one way or another over our lifetimes.  
M&S – Mrs Claus
Well, this year M&S have smashed it. The campaign has been launched with a modern twist on the much-loved character Mrs Claus and I love it! Move over Santa, there's a new icon in town.
The cast is perfect and the touching ad really tugs at the heartstrings. Brilliant work from RKCR/Y&R. A breath of fresh air and it is by far one of my fav christmas spot of 2016 so far.
H&M – Come Together
In what looks like a long lost scene from the acclaimed film Grand Budapest Hotel, H&M have created a wonderfully different blockbuster inspired Christmas spot. Recruiting Wes Anderson to direct, the festive film is about a train journey on Christmas Eve and stars oscar winning actor Adrien Brody. The four minute feature is a delight for the eyes and in true Anderson style, has a vintage-inspired set design with tracking shots and a familiar quirky soundtrack.
The footage subtly advertises H&M products, with all actors wearing the retailer's holiday collection but more importantly delivers the message of coming together at Christmas. The ad is the first to be created by Adam & Eve/DDB (who also created Christmas campaigns for John Lewis, Waitrose, Bells, Mars Temptations and Harvey Nichols – gosh they have been busy!) and is in stark contrast to H&M's 2015 campaign starring Katy Perry. As a big fan of Wes Anderson this is a wonderful surprise amongst the 2016 Christmas offering.
Burberry – The Tale of Thomas Burberry
The Tale of Thomas Burberry shows 160 years in the making of the fashion empire. The story is inspired by the pioneering discoveries of Burberry's founder, reimagining key events that have shaped Burberry's history.
The concept sways more towards a feature film trailer rather than advert, directed by Academy Award-winning filmmaker Asif Kapadia and starring many recognisable actors such as Domhnall Gleeson, Dominic West and Sienna Miller. Cleverly this particular cut is left open to allow the story to be continued beyond the festive season. Not your traditional Christmas campaign, but a good one nonetheless.
Waitrose – #HomeForChristmas
"Through dark forests, driving rain, clapping thunder and flashing lightning. Across frozen wastes, huge mountains and stormy seas he flies. And all while he is dreaming of home. Of her. But will he ever get there?".
This sweet ad takes a more narrative approach than previous years showing the real-life migration of a Scandinavian robin and the team worked with specialists in robin behaviour and anatomy to create a CG representation of the bird and to map its journey. It warms the heart while producing a lump in the back of your throat – it wins my vote in this year's battle of supermarket Christmas ads. Lovely work from Adam & Eve/DDB.
Sorry Sainsbury's, while your creative and stop motion process is highly admirable and the sentiment is right (and the fact the company are supporting families with children at Great Ormond Street) I just don't see it competing with Mog last year or 2014's WW1 campaign. John Lewis, although your ad made me chuckle, it's not up there in my top 3 and again doesn't compare with previous years. There's always next year guys!
Original article updated  28th November 2016.
————
Words by – Natalie Jahangiry
Want the latest posts, offers and exclusive tickets straight to your inbox? Subscribe to our newsletter and never miss out again.
Images © Youtube