Maltesers Paralympics //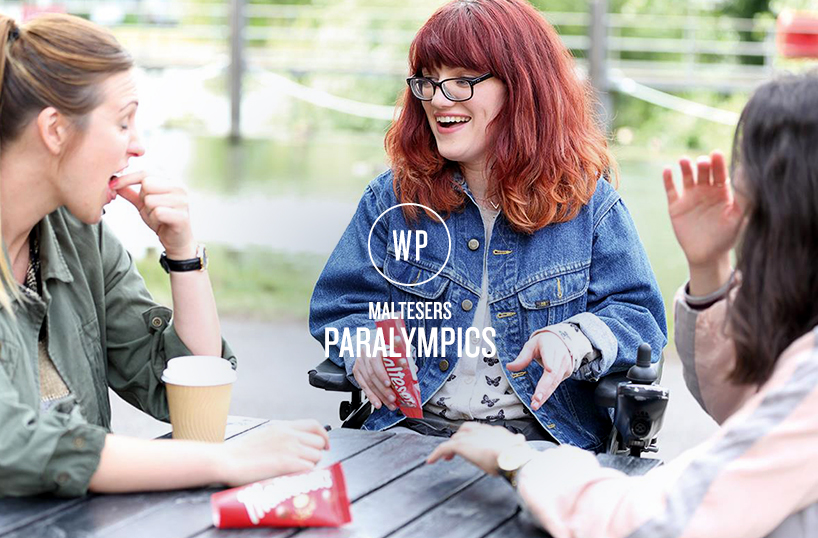 As the Paralympics launch in Rio, we take a look at the Malteaser campaign that's stealing the spotlight.
After winning Channel 4's £1m Superhumans wanted competition, Mars UK took centre stage during the 2016 Rio Paralympics opening ceremony to broadcast their "Look on the light side" ads for chocolate brand Maltesers. The aim of the campaign is to celebrate the lighter side of everyday life, with each story inspired by real-life stories from three disabled people.
In one ad in the series, a woman with cerebral palsy sits with her friends and discusses an embarrassing situation with her boyfriend. Another spot shows two deaf ladies talk about a dog eating a hearing aid and the last shows a woman in a wheelchair sharing her story of running over a bride's foot on her wedding day – eek!
AMV BBDO, the ad agency behind the idea, beat the likes of Lucky Generals (for Amazon),Adam & Eve/DDB (for H&M) and Ogilvy & Mather (for Dove) to win the competition, which saw over 100 entries submitted to Channel 4.
Jonathan Allan, the sales director at Channel 4, said "We hope that Mars Chocolate UK and AMV's bold ambition for these cheeky ads using Maltesers signature format which TV viewers already love, will create a legacy for our Superhumans Wanted initiative, and alongside our latest Paralympics ad and encourage more brands and agencies to approach and cast their campaigns in new ways to make richly diverse ads the norm rather than the exception."
————
Words by – Natalie Jahangiry
Images © Youtube