No Size Fits All //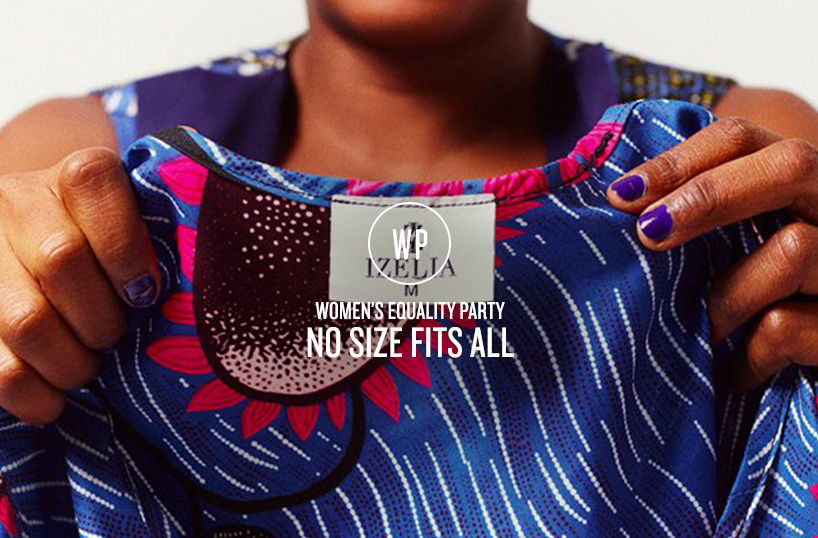 While everyone is talking about H&M's new Autumn campaign, there's another campaign striking up opinion in the fashion retail world. Here Nat discusses the reason ladies nationwide are sharing their clothing labels for #NoSizeFitsAll.   
H&M are one of the country's, if not world's, leading high street affordable fashion brands and with that comes a responsibility to promote healthy body sizes and natural women. This September the acclaimed brand released a powerful ad featuring a host of "bad-ass" women, in all shapes and sizes, wearing the new line and accompanied by a modern version of "She's a lady" by duo Lion Babe.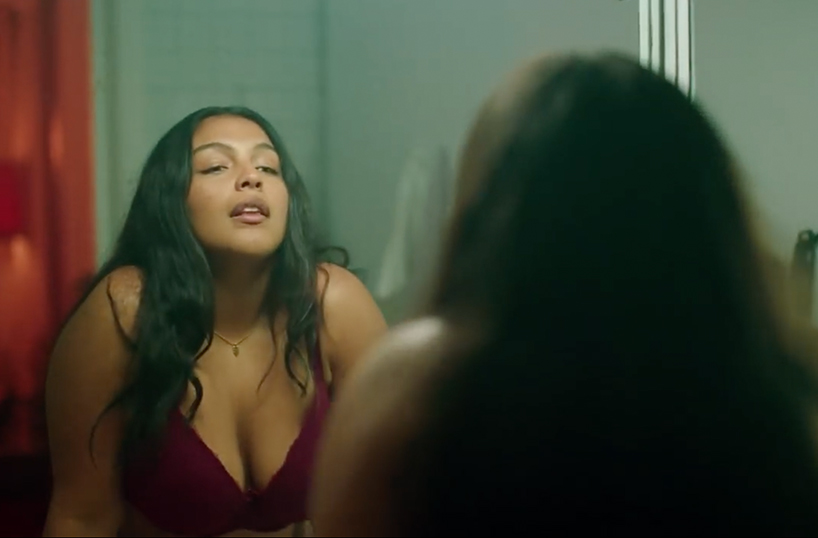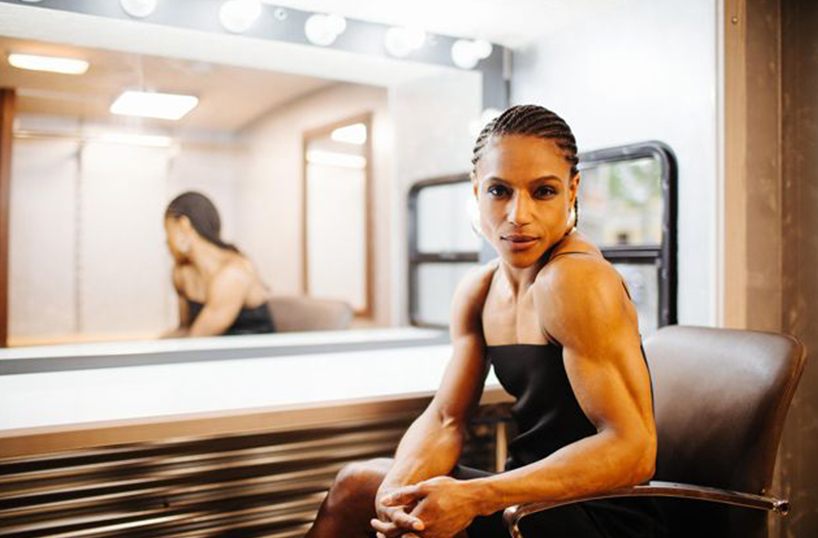 Hanging on a similar thread as This Girl Can and Always #LikeAGirl the ad is indeed empowering and inspiring while challenging what the definition of a lady is by asking the audience to share what being #Ladylike means to them. But is the high street retailer contradicting what's actually happening in stores across the country?
While everyone marvels at H&M's powerful message, there's another message being portrayed, by everyday women who are challenging H&M, and many more retailers, about their perception of women, clothing sizes and body image.
It started a few months ago when Ruth Clemens highlighted an industry fashion problem that went viral. Slamming H&M, Ruth explained on Facebook that the company are selling "unrealistically small" clothing after trying on a pair of jeans in her local store. The post racked up more than 66,000 likes and sparked outrage among shoppers. In her post Ruth mentioned that while she is normally a size 14 she tried on a pair of trousers in her size which did not fit in any way, shape or form. She explained that she is not overweight and although being 5′ 11" her body is pretty average shape-wise. While airing her views she asked the vital question "Am I too fat for your everyday range? Should I just accept that accessible and affordable high street and on-trend fashion isn't for people like me?". She concluded: "You might recognise the top I'm wearing – it's one of yours and it's a size medium. Sort it out would you. #whatdoesplussizeevenmean #bodypositive #fashionforall".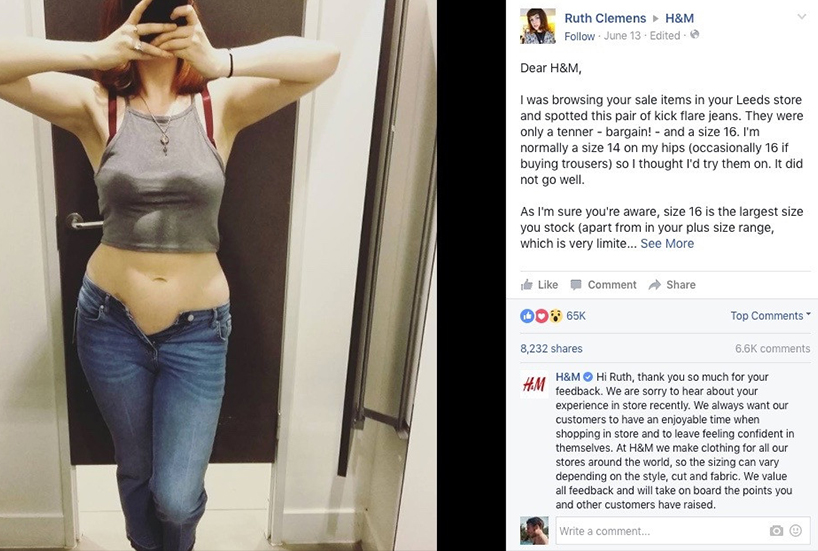 Commenting on the post one user wrote: "Unbelievable!!! It comes as no shock that many people including children/teens have low self esteem when it comes to their body. Will H&M sort this out?? I highly doubt it, and that is the upsetting thing!!! Fantastic that you have posted this." – More than 2,000 people liked this.
I have to say I feel Ruth's pain. When out shopping I find that my usual size will dramatically fluctuate depending on the retailer I visit. H&M in particular is one of the main culprits and while I love their clothing I find it hard, especially with trousers, to fit into the size I believe I am, which therefore leaves me with a disheartened feeling when I should feel a sense of excitement when treating myself to new clothes. Is this really how you want to make women feel #Ladylike H&M?
H&M's online guide advises that a medium is equivalent to a UK size 14-16 for a waist that measures 29 inches, while a large is linked to a waist measuring 32 inches and above and is apparently suitable for sizes 18-20. Meanwhile other retailers all seem to have their own sizing charts. In comparison Topshop claim a waist of 28 inches is a size 10, while a waist of 32 is a size 14 and 34 inches a size 16.
Fast forward a few months and it's Fashion Week in London and this time the Women's Equality Party have decided to shed more light on the matter launching their #NoSizeFitsAll initiative. The campaign expands the views of Ruth Clemens and many others by challenging the fashion industry's approach to body image and the impact this has on professional models and more widely on all women and girls.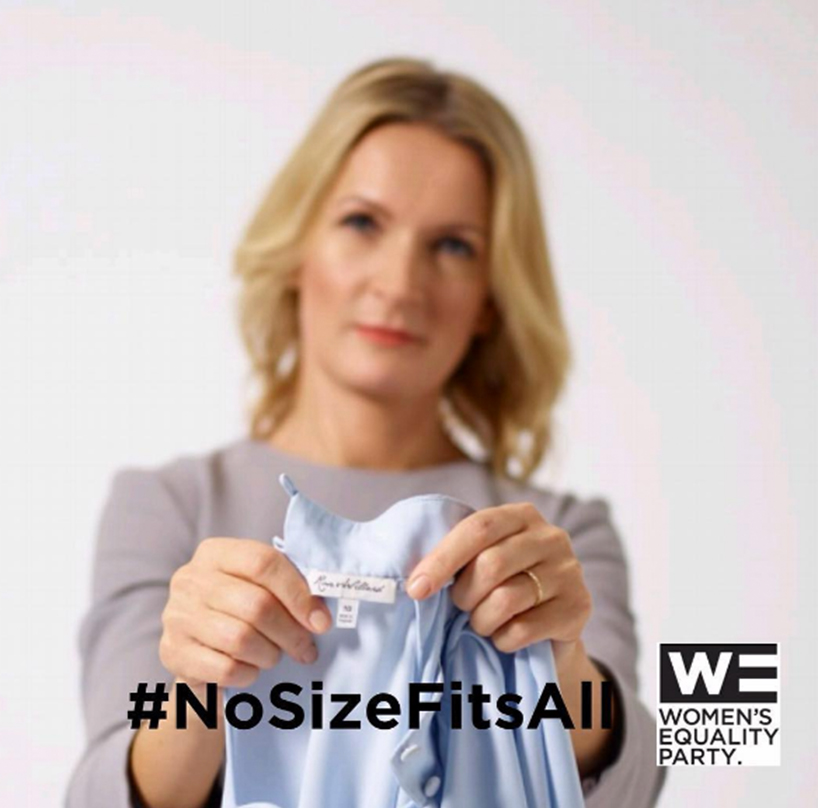 As Fashion Week progressed it became more and more apparent that it's not just H&M that are to blame for this clothing size crisis. Over the course of Fashion Week the #NoSizeFitsAll saw women on social media sharing their dress sizes to fight the feeling of guilt and shame, while highlighting the fact that women's dress sizes can range rather dramatically depending on store and clothing type. Especially as not only do women come in all shapes and sizes, but we have to accommodate all shapes and sizes from high street retailers when buying clothes to fit our frame. @emma_nibbs shared a picture on Instagram explaining "All 4 garments fit comfortably. 10-12 in @marksandspencer #skinnyjeans L or XL in @nikewomen #activewear". Meanwhile @jencorcoran_pa says "I'm a size 10, 12 & 14. What size are you? #NoSizeFitsAll".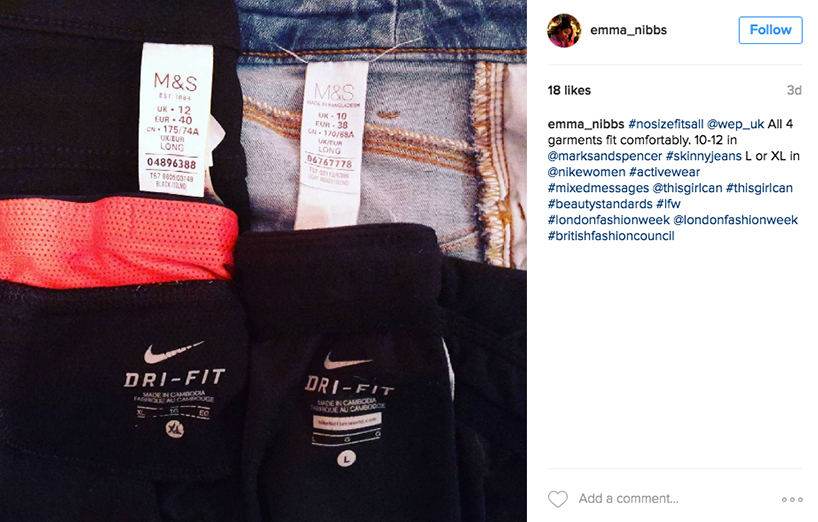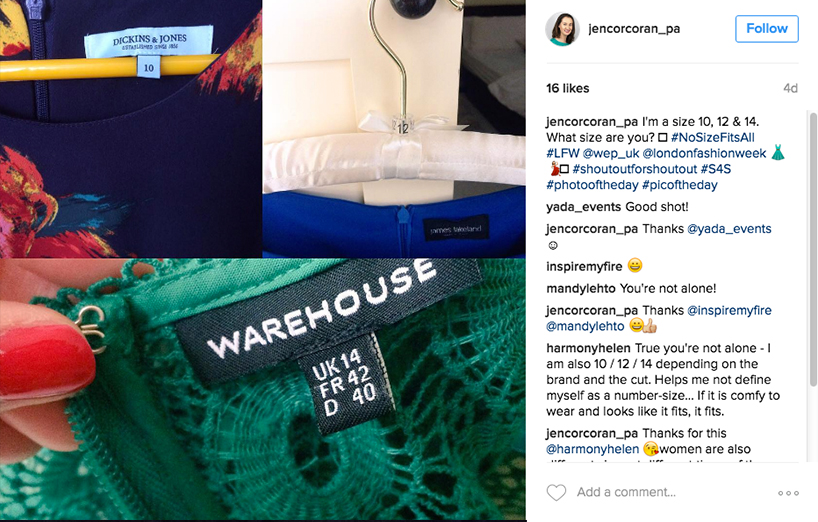 News of the campaign even spread onto the catwalk with British models Rosie Nelson and Jada Sezer joining the Women's Equality Party (WEP) in promoting the campaign.
WEP and #NoSizeFitsAll campaign leader, Sophie Walker, told The Guardian that she hopes their efforts will offer an alternative to the "tiny, tiny little clothes" idolized by designers."The previous work that's been done to contest this has been a very gentle," she said. "We're at the point where we've got to say, enough: this has got to stop."
In summary, it's all well and good creating campaigns that aim to showcase a diverse size and range of women, but essentially brands need to reassess the way they size clothes, taking into consideration the real body shapes of women worldwide. So while I applaud H&M for an empowering campaign, for the sanity and health of real women they and like minded high street retailers may want to recognise #NoSizeFitsAll and address it sooner, rather than later.    
————
Words by – Natalie Jahangiry
Want the latest posts, offers and exclusive tickets straight to your inbox? Subscribe to our newsletter and never miss out again.
Images © WEP, Youtube, Ruth Clemens, @emma_nibbs, & @jencorcoran_pa