The Monthly Roundup – August 2015 //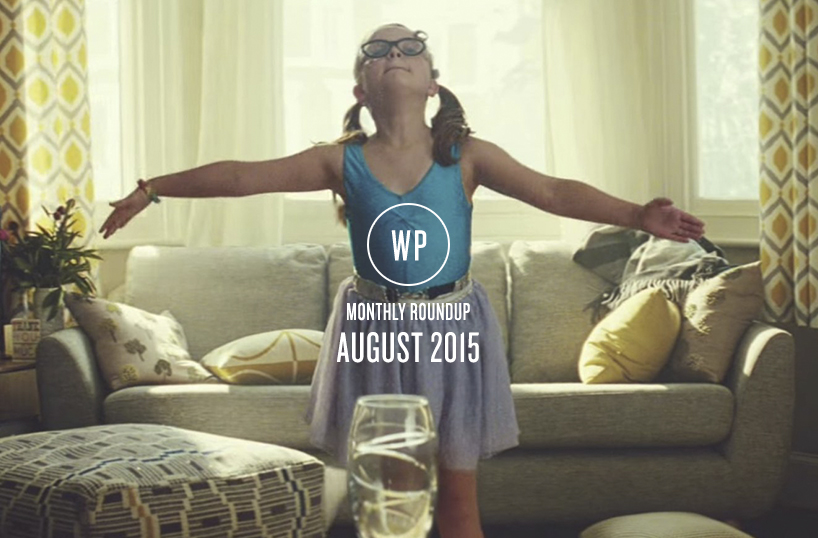 Bringing you our selection of the biggest and baddest adland breaking news from the past month.
Because… it's been a wet month and you need an uplift.
This month at a glance:
We reminisce about being young again with John Lewis, lady folk unite to show what engineers look like, Children's Healthcare of Atlanta Strong4Life rewind the future and we get the tissues ready for British Heart Foundation's latest spot. We also talk about popular tennis stars taking to the streets of New York, Bic offending women worldwide with the release of their latest social post, ASOS' new podcasts, Lucozade asking us to 'find our flow' and how you deserve better with Lenor. Finally, we discuss Orangina going all French and Banksy's new 'theme park' Dismaland.
A pint sized star is born
You know when you see an ad and you just know who the brand is before it's revealed? Well this is that type of ad. adam&eveDDB and John Lewis have worked tirelessly over the years to create a style and TOV that's recognisable and their hard work continues to pay off, especially with the release of their latest campaign for home insurance. The spot shows a passionate young ballerina dance around her home to create her own show, which in-turn puts the family's possessions in jeopardy. She throws herself around the house in a comical, but reckless manner, moving to the sound of Elton John's "Tiny Dancer". Her serious facial expression portrays her dedication to her act in the somewhat 70's style ad, which cleverly makes it feel timeless. The piece ends with the tagline "If it matters to you, it matters to us".
"The advert is heartwarming and features an iconic song, but most importantly it reminds viewers that John Lewis Home Insurance can offer peace of mind, allowing them to enjoy family life," says Margaret Burke, head of marketing for financial services at John Lewis. "Knowing that they have protection in place, they can simply let life happen. Our campaign encapsulates this perfectly."
"Every little girl has been that little girl, and every little boy has done something similar…" Rick Brim ECD at adam&eveDDB adds. "You would be hard pushed to find someone who can't relate to this scene" and we agree! We've definitely been there and done just this in our sitting rooms, wrapping ourselves around mum's curtains while dancing on the coffee table. Another wonderful effort which makes us reminisce about being young again.
This is what an engineer looks like
Isis Wenger is a full-stack engineer working in tech for company OneLogin. For anyone who needs to look this up (us included), it means she works with front end technologies, such as this lovely page that you're viewing now, and back end technologies, such as all the coding in the background that makes it all work beautifully. It's a strong set of skills to have and is certainly going to be transferable for the rest of her career. However, while you'd normally believe her gender in the tech industry is the issue, it's actually her appearance that has caused more controversy.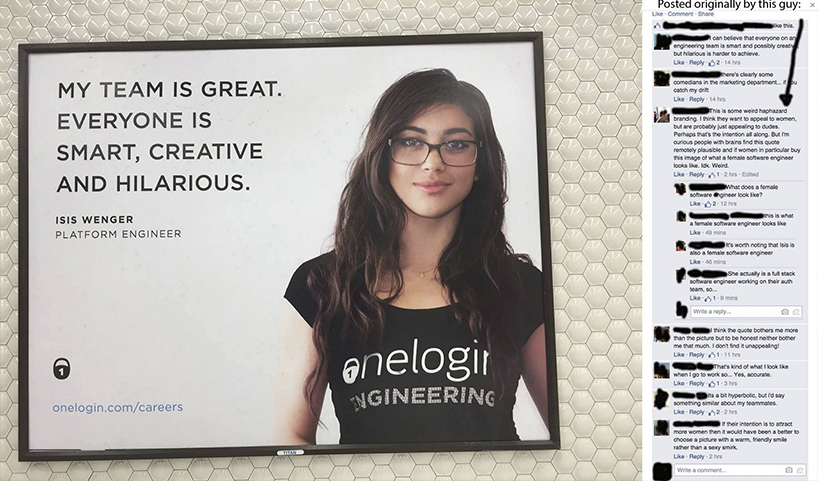 This month, Wenger featured in a Facebook ad for OneLogin which provoked some to ask whether she was an accurate portrayal of a 'female engineer'. The ad even went as far as to question whether women would "buy this image of what a software engineer looks like." Shocking isn't it?
Women in the industry decided to fight back and unite in support of Wenger starting a hashtag trend on Twitter; #ILookLikeAnEngineer, crushing stereotypes of the appearance of engineers worldwide. Wenger stated in her original article that "this industry's culture fosters an unconscious lack of sensitivity towards those who do not fit a certain mould." It seems to us that once gender equality is established, there may be some other issues for women in tech. Watch out for our post on women in the tech industry, where we'll be asking you, yes you, your thoughts on the matter.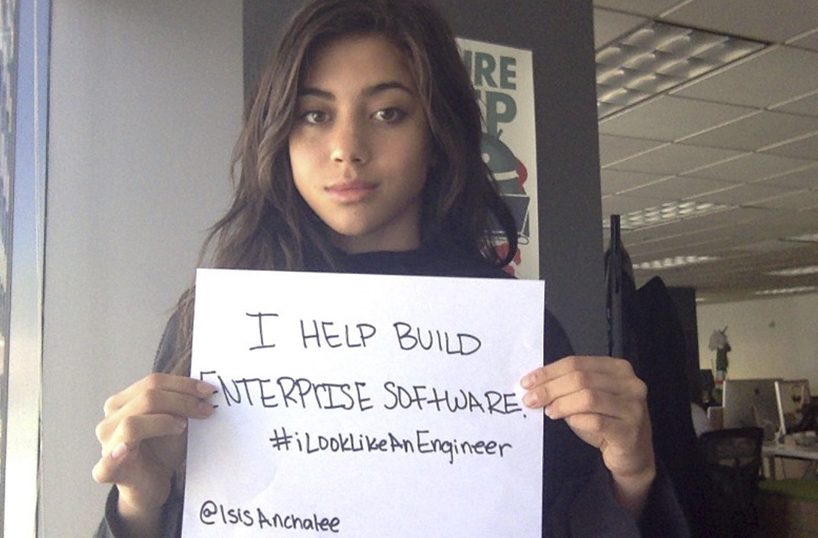 Heart disease is heartless
We're not sure the world is ready for DLKW Lowe's new series for British Heart Foundation. The first release is a TV advert called Heartless, which features a young boy in a classroom talking to his dad, who is in fact, a ghost. The boy is then taken out of the classroom by the headteacher to meet his mum where he is told his dad has died of heart disease – the line is "heart disease is heartless".
If this isn't enough sadness to cope with, the charity is also planning on releasing an online film called 'Amazing Dog' where viewers watch through a camera lens as an owner films her dog doing tricks before the camera suddenly drops to the ground and the owner dies.
An online execution will show a couple celebrating their anniversary via Skype. The woman suffers a heart attack dropping to the floor leaving her partner concerned on the screen.
Perhaps the most harrowing will be the mobile activation, which brings the reality of a heart attack's impact down to earth with the 'Heart Attack Simulator'. Users are asked to hold their mobile phone against their heart to understand what a heart attack feels like. However, as they brace for a simulation of an actual heart attack, instead their phone rings and an audio message describes the real pain of a heart attack is getting a call like this to say a loved one has died. Tissues at the ready! 
Go with the flow
The new campaign from Lucozade shows a change in direction for the energy drinks brand taking everyday events from boring to smooth. The advert seeks to get the Great British public thinking about the drink past it's popular use for hangovers (we've all been there) or sickness and encourages viewers to 'find their flow'. The narrative reads "it's about knowing that no matter what the day throws at you, you simply take it in your stride."
Creators Grey London explained "you can have good days when you feel on form, then you can have bad days when you don't, the difference is energy. And that's what 'Find Your Flow' is all about. It's about having the energy to get on with your everyday."
Watch out for the guy falling off the treadmill as he's checking out the lady walking past… very funny! In addition to the TV ads, Londoners can find the empowering OOH messages spread across the city. 
ASOS podcasts
Since Serial, it's been hard to find a podcast worthy of our ears, but ASOS has become the first retailer to launch a weekly podcast that focuses on women in business.
Partnering with Swedish podcasting platform Acast to produce and edit the show, ASOS's My Big Idea series of 13 episodes will feature guests such as Irene Agbontaen, founder of Taller Than Your Average, and Lisa and Tida Finch, founders of jewellery label Finchittida. All guests share their success stories and the lessons they learned along the way.
ASOS podcasts have landed! In ep one, we chat with @irenettya about her awesome biz @ttyaldn: http://t.co/c1W3Zv5nJw pic.twitter.com/LAZc4zm8Fm

— ASOS (@ASOS) May 27, 2015
Lucinda Greasley, managing editor at ASOS, said: "by producing and publishing a regular podcast we have discovered another way to reach and engage our 20-something audience. We have taken an original idea from the ASOS magazine, and re-imagined it for this new format." The podcast, which will feature ads and highlight brands stocked by ASOS, is available on iTunes and Acast's website.
You deserve a little Lenor
For you all fashionistas out there, Grey Düsseldorf has spoken to us, they've taken a clever and witty twist and made fabric softener sexy by celebrating clothes. There are four ads in total, covering skirts, trousers, shirts and scarves with each ad using a varied montage of vintage clips, stills and cartoons. The copy is witty and each ad tells a beautiful story – at times they even tug on the old emotional heart strings. Watch a few below:
Bic offend women worldwide
Oh dear. This month the famous pen manufacturer released their 'Look like a girl … think like a man' campaign causing outrage on South Africa's national women's day. Bic South Africa posted the below ad on its Facebook page showing a smiling woman in a suit with arms folded, which reads: "Look like a girl, act like a lady, think like a man, work like a boss #HappyWomensDay." Wow.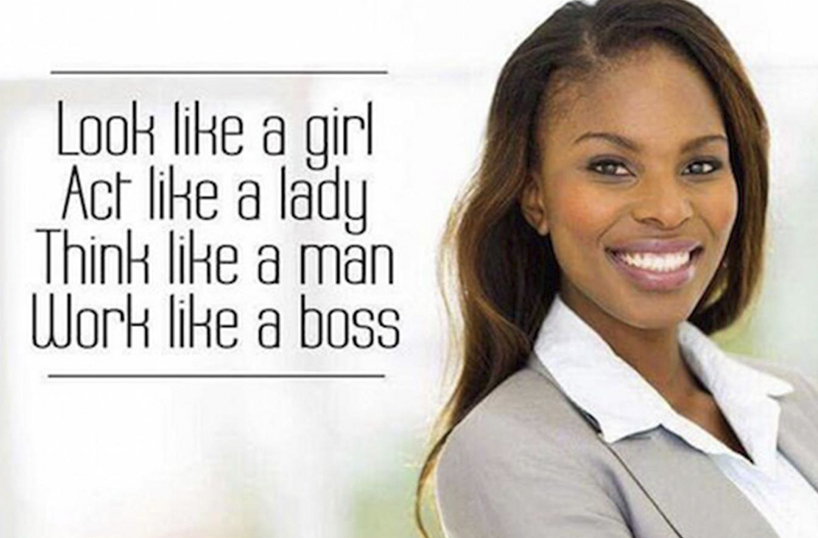 The social post was deleted as users expressed disgust, and we don't blame them! "Why am I expected to look like a child? Why am I expected to see the world through a masculine lens? Why am I expected to 'think like a man' but not expected to 'act like a man' on my so-called manly thoughts?" one Facebook user expressed. "What fresh hell is this" wrote a Twitter follower. Social users were also quick to point out it wasn't the first time the pen company have been accused of 'sexism'. Its pink "for her" pens in 2012 "designed to fit comfortably in a woman's hand" were ridiculed by many including US comedian Ellen Degeneres.
After initially apologising by declaring the quote was taken from a "women in business" blog, and were meant "in the most empowering way possible and in no way derogatory towards women". Umm. This wasn't even close to an adequate response and after eventually removing the post, Bic replaced it with an apology reading "Let's start out by saying we're incredibly sorry for offending everybody – that was never our intention, but we completely understand where we've gone wrong. This post should never have gone out. The feedback you have given us will help us ensure that something like this will never happen again, and we appreciate that".
Tennis stars stop traffic in NYC
To celebrate the upcoming US Open in New York, tennis stars such as Serena Williams, Roger Federer, Maria Sharapova, Rafael Nadal and Andre Agassi were among other past and present players to take to the streets of Greenwich Village to participate in Nike's 'NYC Street Tennis' event commemorating the 20th anniversary of street tennis. The stars also posed around a yellow taxi to recreate Nike's classic 90s commercial (view the original here).
Tweeting a picture of the star-studded cast, Sharapova said: "Lets be honest, only Nike can make this happen…" – it's true!
Lets be honest, only @Nike can make this happen… pic.twitter.com/bNkQHXnSXY

— Maria Sharapova (@MariaSharapova) August 25, 2015
Rewind the Future
Originally launched in 2012, this advert resurfaced this month and caused a heated debate as it went viral. The Children's Healthcare of Atlanta Strong4Life is uncomfortable to watch, brutally honest video with a few too many familiar scenes, has both been applauded and seen as an unnecessary blame for parents.
The anti-obesity campaign video features a 300-pound man having a heart attack in the ER with doctors asking "how the hell does that happen?". As his life of overeating flashes before his eyes, we see a lifetime of bad choices by 'Jim', and an underlying origin of his mother feeding him chips as a baby. The powerful life-or-death message is presented with some support from the 2012 website, but will it be powerful enough to change the minds of adults? No one appreciates a screaming child, so whether you're the mother feeding your baby chips, or you're a patron in a restaurant while a child that wants chips and is being forced to eat a salad, we all have to learn to not give in to temptation.
Shake it 
This month Orangina ask us to shake up our lives in a new brand campaign inspired by its French heritage. The ad, which could happily fit in with Chambord's look and feel, aims to reposition the brand as a premium adult soft drink. We're not sure this spot is going to do this, but it does take us back to family summer's in France sipping Orangina by the sea as kids. Although this may not be a groundbreaking turnaround for the brand, it will always be a lovely reminder of summer holiday's, so we're grateful to Grey London for bringing Orangina back onto our screens. Have a look for yourself here:
And finally… Welcome to Dismaland
This month Banksy unleashed Dismaland Bemusement Park and the world went wild.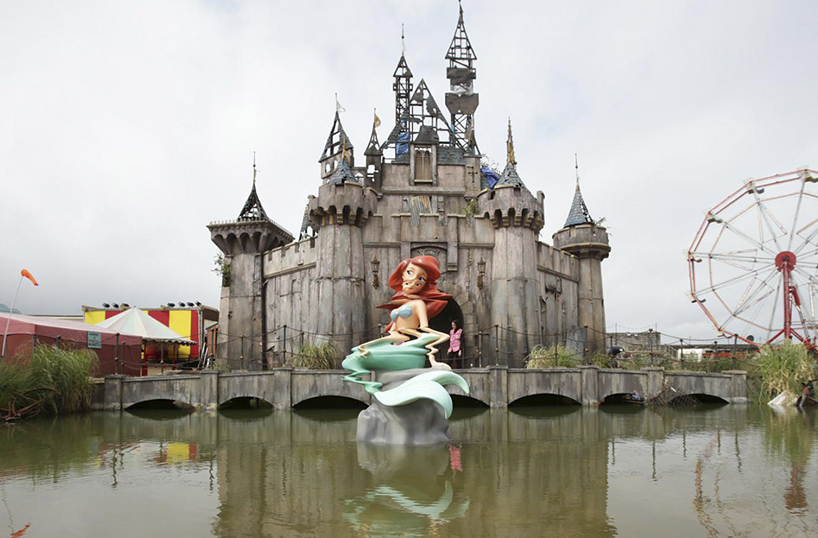 The British street artist once again surprised the world with his unusual and creepy work which pushes the boundaries. Banksy choose to make a public show of his new work on a construction site instead of showcasing it in a gallery or museum. He also called upon fellow artists to contribute to the project. In a rare interview with The Guardian, Banksy explains "in essence it's a festival of art, amusements and entry-level anarchism. A place where you can get your counterculture easily available over the counter. A theme park for the disenfranchised, with franchises available. I guess you'd say its a theme park whose big theme is – theme parks should have bigger themes." and goes on to say "if you're the kind of person who feels jaded by the over-corporate blandness that passes for family light entertainment, then this is the bespoke leisure opportunity that will connect with your core brand dynamic. It doesn't so much ask the question, "What is the point in art now?" as ask, "What is the point in asking, 'What is the point in art now?'"
The 'theme park' is open for five weeks, closing on September 27th. Visit the website here for more information. Have look at the official trailer below:
Goodbye August, let's hope September is a sunnier affair.
If you think we've missed anything world-changing that should be covered, let us know and we'll put it in the next round-up! Email: hello@toworkorplay.com
[Images courtesy of Youtube, Coffeelicious & Facebook]