The Monthly Roundup – January 2016 //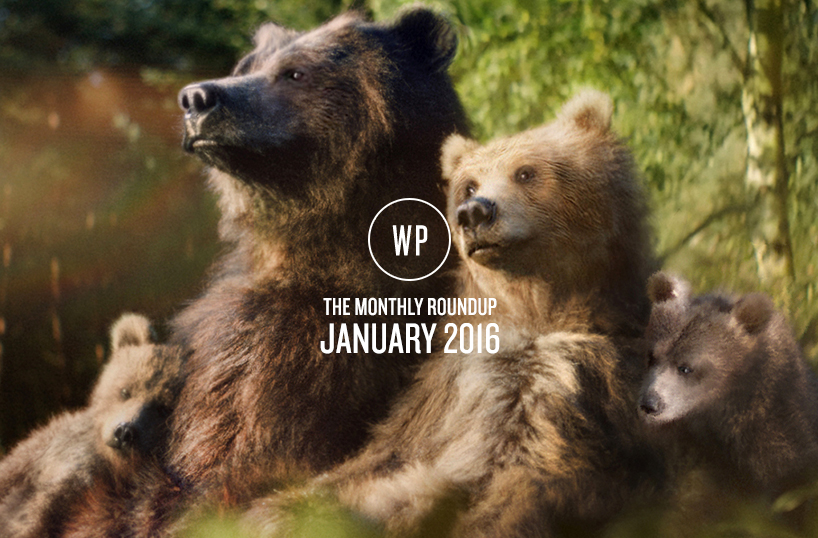 Bringing you our selection of the biggest and baddest adland breaking news from the past month.
Because… It's a new year!
This month at a glance:
With the arrival of 2016 came a burst of inspiration from the ad world. In the January roundup we look at McDonald's eggs ad, Popchips cheeky new creative, Aldi's January challenge and the latest life saving spot from St John's Ambulances. We also look at Ant and Dec creating mischief in the latest Suzuki ad, Asda's January good stuff series, Land Rovers multimillion pound instagram campaign and the Army reveal a campaign entitled 'Don't become a better you'. We take a look back at December's best bits from Centre Parcs, Sky and Thomas Cook and pay our respects to David Bowie, Alan Rickman and Terry Wogan.   
It's a new year and as we were busy being merry, socialising and eating mince pies in Dec (who wasn't), so this roundup will be a double whammy as we cover ads from late Dec and the whole of Jan. With everything from bears to free range eggs, nursery rhymes to dancing kids and fitness to crisps, we have it covered. Welcome to 2016.
TWOP news
First and foremost, we would like to tell you our news (as we're feeling a bit smug)… we won an award! On Jan 27th we chucked on some heels and headed over to Soho for the Bloggers Lounge Awards 2015, where we were awarded Blogger of the Year in the 'Unique' category. We are so pleased and would like to thank all of you lovely people who voted for us. We also met some wonderful fellow blogger winners and would like to give a big shout out to Afia and Jay, Alice May Purkiss and Louise Gabrielle Interiors in particular. Great sites full of inspiration over very different topics. Congrats all round.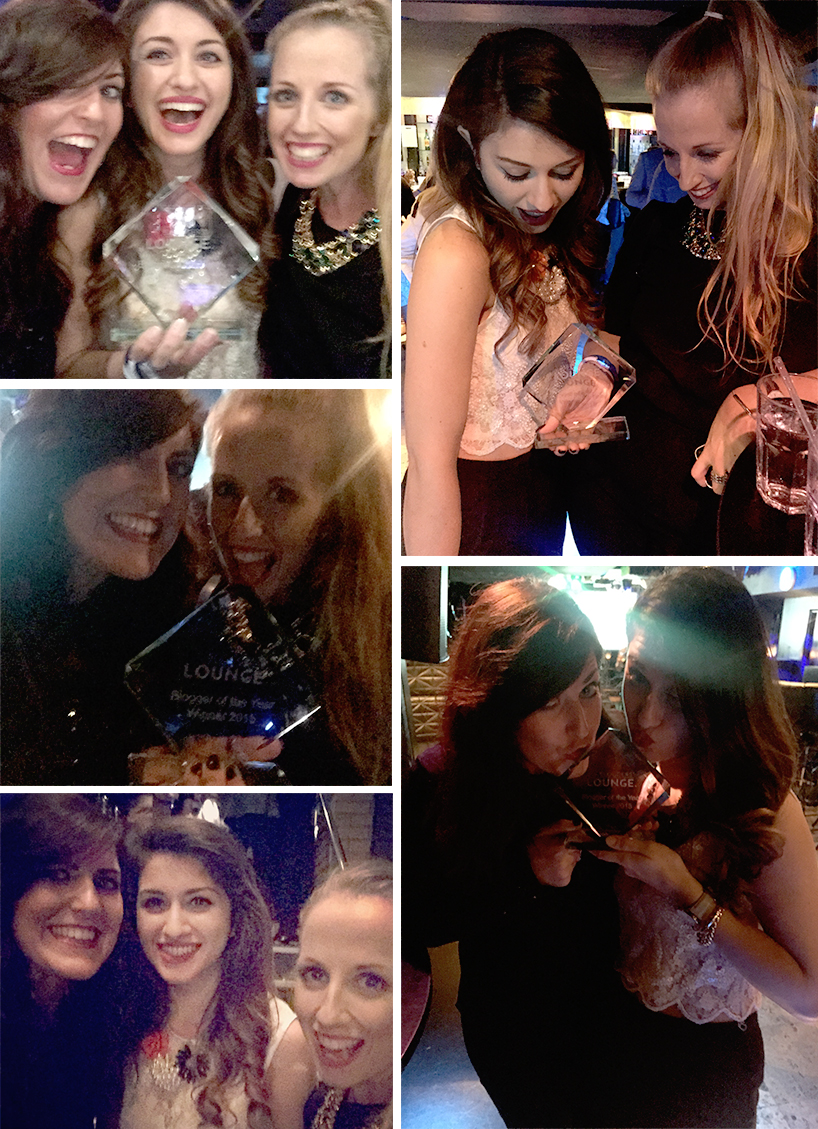 Centre Parcs bring families back together
Late in December, a few bears popped onto our screens. These bears, along with a carefully crafted story, showed the everyday life of a family of Urban Bears dealing with the realities of modern life. The ad came in the middle of the festive period, but was a welcome break from the dozens of Christmas ad's that flooded media around that time.
The first part of the ad shows the family distanced from each other due to modern distractions such as work or technology. Papa bear is seen eating his meal for one while the kids play on their relevant devices. Mama bear comes home late and puts the children to bed and Papa is seen squeezing onto busy public transport. All scenes reminiscent of the struggle of modern life on families. The second part of the spot is slightly more upbeat and sees the family bundle into the car to embark on a holiday where they connect with the natural environment and get back to what really matters – having some quality time together.
Brothers and Sisters, the ad firm behind the ad, explain "Modern life pulls families apart and in our new TV advert you can see how Center Parcs brings them back together again." A heartwarming example of a great concept being played out through a family of loveable characters. We like this a lot!
What's in your eggs?
The latest spot in the 'Good to Know' series shows McDonalds myth busting on the topic of eggs. While earlier ad's focused on beef, chicken and potatoes, this ad is centered around the breakfast favourite, opening with "Have you ever wondered how they make the eggs for the Sausage and Egg McMuffin?" and goes on to explain "We often get asked the question, are the eggs in our McDonald's McMuffins real eggs? Meet Phoebe, she works in one of our kitchens on the egg station, freshly cracking eggs for the McDonald's McMuffins. She knows the truth. As do Choops and Chloe, two chickens from a free-range egg farm where we source some of our eggs. That's Good to Know". Take a look at the ad here:
Created by London agency Leo Burnett, the quirky style of the ad comes over somewhat Willy Wonka in style with a lively voiceover and colourful scenes which ultimately explain that McDonald's use fresh free-range eggs in every McMuffin sold. The campaign, which is supported with social and print content, leads the viewers to the"Good to Know" website (view here) where they can learn more about the ingredients in McDonald's offerings.
#RIP David Bowie
Sadly, at the beginning of Jan, iconic musician David Bowie passed away after a 18 month battle with cancer. In light of the tragic death, the world came together to create touching tributes to the truly inspirational artist. Here's a few features that we particularly loved:
The Fashion Evolution of David Bowie:
Bowie, style and Brixton:
johnandpearl.co.uk/bowie-style-and-brixton
Five ways David Bowie taught me to be creative:
wearevista.co.uk/blog

A Thomas Cook dancing adventure
Thomas Cook have done a brilliant job of reminding us what holidays are all about. Letting go, being the person you want to be and treating yourself. We love this little boys enthusiasm and style. The whole ad make us reminisce about being young on family holidays, being the first down to the pool and definitely the first in it whilst not having a care in the world. Thank you Thomas Cook… bring on our next trip! Have a look at the ad here:
You went to the gym… to enquire
In today's market, the rise of healthy snacks together with clever advertising are proving to be a combination that's working rather bloody well. Earlier in Jan we covered PROPERCORN's clever use of OOH in our Q&A with the company (view here) and we have seen some of the same cheeky tactics being employed this month by American crisps brand Popchips. This range of delicious, umm popped chips (says what it does on the tin) use half the fat as regular crisps (or chips as they call them in the States) and promote this factor with the strapline 'Just be a bit good'.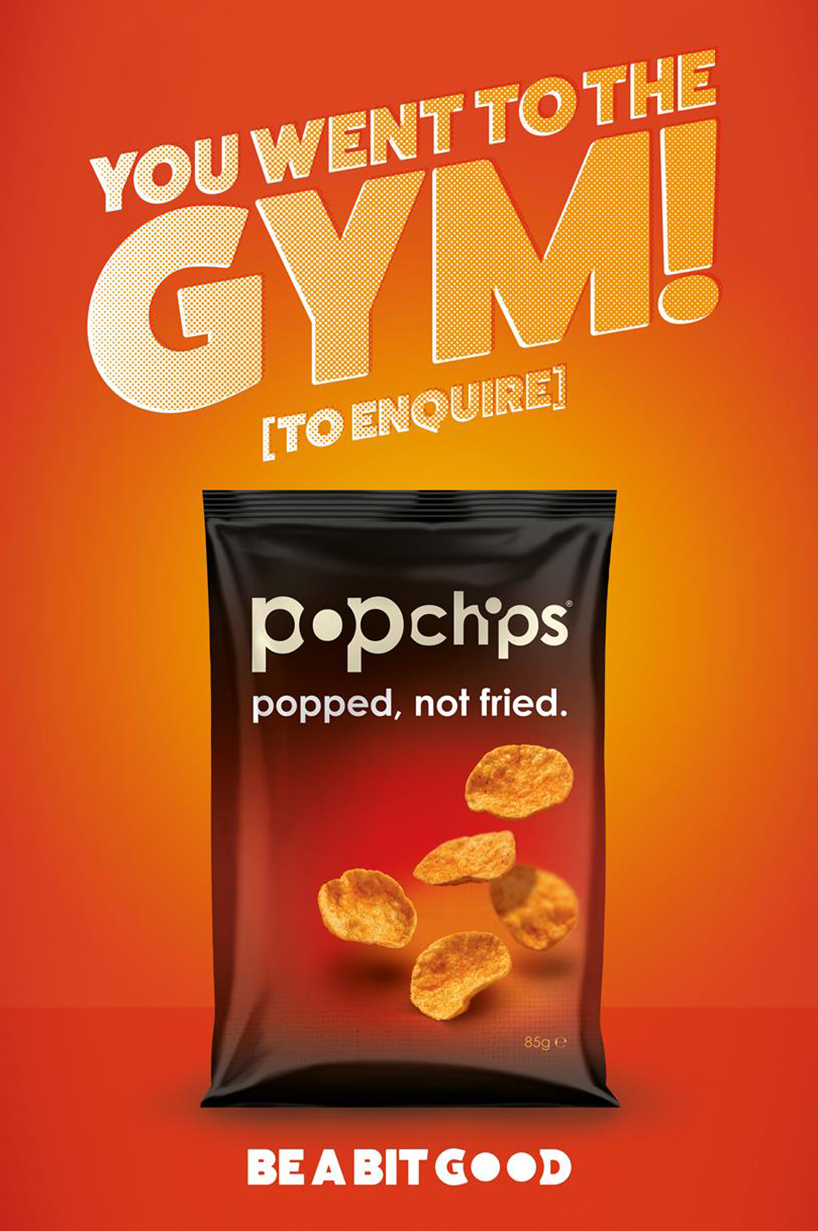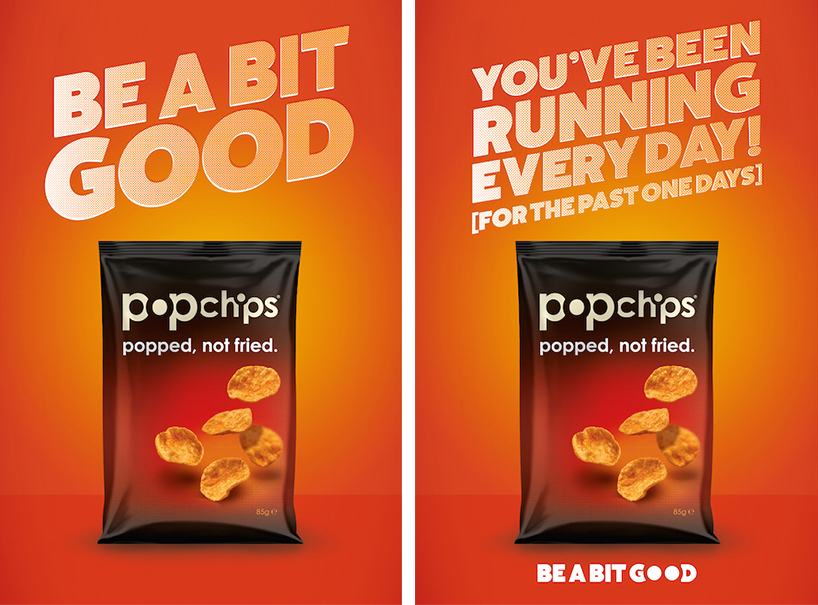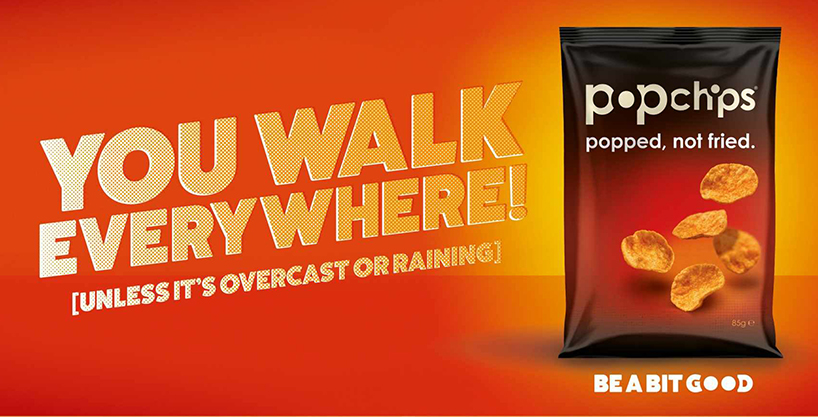 In January, while all other brands were encouraging keeping fit and going to the gym, Popchips' UK campaign showed a sense of humour by poking fun at stereotypical seasonal advertising and instead gave us a series of quirky and vibrant ad's using the line "be a bit good". In a move away from their celebrity endorsed material, the refreshed brand campaign targets health conscious snackers with a clean and vibrant campaign.
This is the first campaign from Lucky Generals since they won the account last July consisting of a series of print ads with lines such as 'You went to the gym (to enquire)' and 'You've been running everyday! (for the past one days)' and are supported by OOH, press, POS and digital work.
Get in shape with the January Challenge
In contrast to the Popchips campaign above, The January Challenge from Aldi offers a helping hand with ambitions of starting 2016 a little bit trimmer with slightly fatter wallets. The campaign, created by McCann Manchester, officially sponsors Team GB and stars gold-medal-winning boxer Nicola Adams. What better way to motivate shoppers to get into shape whilst saving their pennies. Watch the ad here:
Nursery Rhyme saving lives
St Johns Ambulance is saving lives via marketing once again. BBH and comedians Adam Buxton and Tim Key are behind the new campaign, in which a committee of characters from children's nursery rhymes struggle to come up with a rhyme that will help people remember what to do in a CPR emergency involving infants. It's a warm hearted, smart and literally life saving ad that was pushed to an online audience before airing on TV mid Jan. Have a look at the clever ad here:
Saturday Night pranks with Ant & Dec
The latest spot from Suzuki shows loveable Geordies Ant & Dec lending their comedic talents to the car manufacturers latest campaign in celebration of their latest sponsorship deal for ITV's Saturday Night Takeaway. The idea, based around a feature seen on the show, sees the duo creating mischief and taking control of the sales demo by talking into the ear of the salesman on site. A perfect prank and very fitting concept as sponsorship for the popular programme. Watch the cheeky spot here:
Sneezing panda
In their latest campaign, Sky have joined forces with Twentieth Century Fox and Dreamworks to create a spot for Sky Broadband featuring the animated stars from the popular Kung Fu Panda films.
The ad launched on Christmas day and references the famous YouTube video with the sneezing panda (see here) while portraying life inside Panda Village. The focus of the piece (apart from being on the adorable pandas) is on how unreliable internet can disrupt everyone's "feng shui" especially when trying to upload videos to Noodle View (Panda YouTube equivalent). The spot, created by WCRS, aims to drive the Sky Broadband Big Sale while promoting Kung Fu Panda 3, which will debut in the UK in March.  
Wrong puddle
And this… well this just made us laugh! In its first ad series of the year, lead with the strapline 'January needs more good stuff', we see a child jumping in the wrong puddle, a man accidentally pop open the airbag in his car, a man waiting for a train that has been cancelled and a woman with her baby get soaked by a van passing by. The tongue-in-cheek campaign, created by VCCP, is brilliantly apt to tackle the January blues while providing us with a giggle all round. Watch a few of the ads here:
#Hibernot
Land Rover and M&C Saatchi teach us to leave the warmth of our apartments this winter in their latest multi-million pound campaign. The creative cost the car company around £2 million which saw images dispersed over Instagram and released to match the real-time daylight hours left on the corresponding film. It's a great reminder and we think it's bloody smart! Check out one of the films below:
Don't become a better you
This data inspired campaign entitled 'Don't Become a Better You' isn't something you'd expect to see from the Army. The ads, by Karmarama, feature messages such as 'Don't join the Army' and 'Don't become a better you'. The creative was inspired by a survey of 16 to 24-year-olds that revealed their open-minded tendencies and desires to do something that matters in life. The print campaign is a bold move to recruit more soldiers, challenge stereotypes and broaden its appeal to generation Z by showing them how they can grow and become better versions of themselves with an Army career.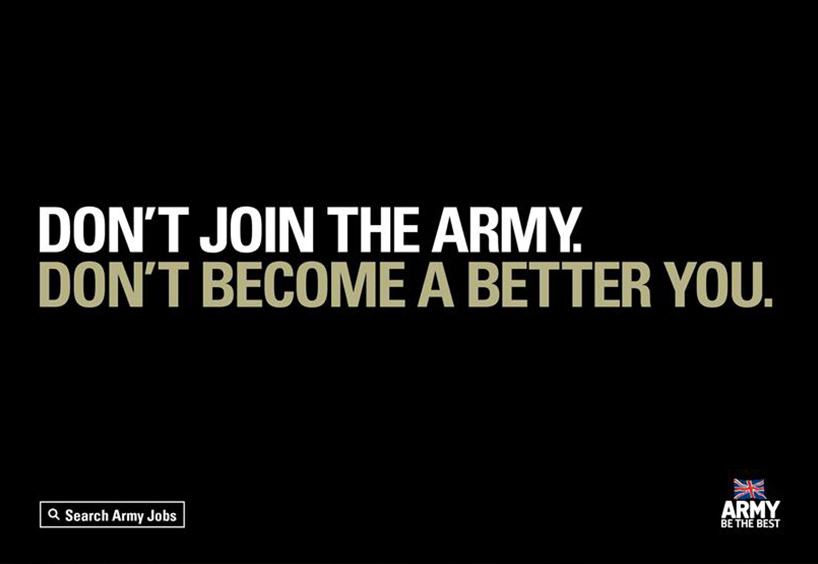 Final tributes to Alan Rickman and Terry Wogan
And finally, another few announcements we were sad to hear about in January were the deaths of acclaimed actor Alan Rickman and much loved veteran broadcaster Terry Wogan.
Alan Rickman was a fantastic actor and great influence within his field. To pay respect and to honor his last wishes, we want to share with you the last video he featured in and urged everyone to watch. It's for a great cause so share and watch here:
Sir Terry Wogan was a broadcasting superstar, most well known for Children in Need, Eurovision and BBC Radio. Here's the BBC's tribute to the legendary man:
bbc.co.uk/news
And lastly The Daily Telegraph's tribute was created by cartoonist Bob. A simple picture of Pudsey with his familiar spotted bandage removed from his head and replaced with a black band.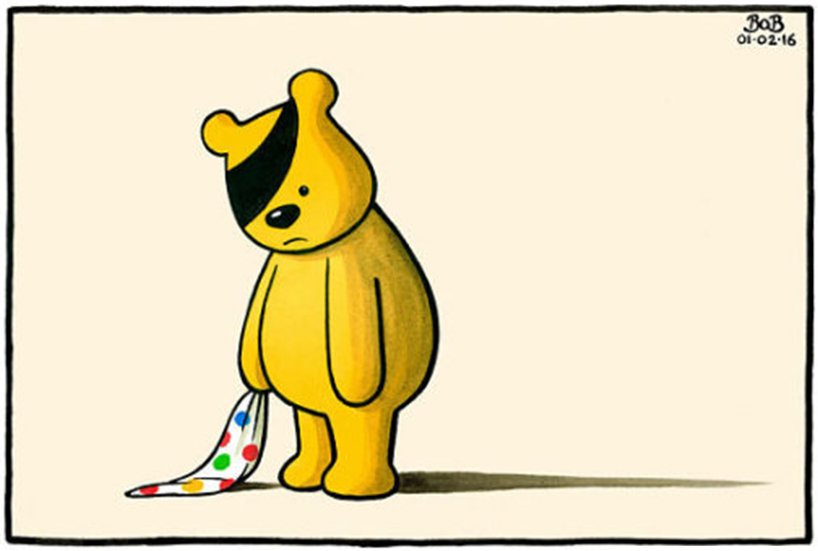 Rest in peace you talented folk. We will always remember you fondly.
If you think we've missed anything world-changing that should be covered, let us know and we'll put it in the next round-up! Email: hello@toworkorplay.com
[Image courtesy of YouTube, Lucky Generals, Karmarama on Twitter & The Daily Telegraph]