The Monthly Roundup – June 2016 //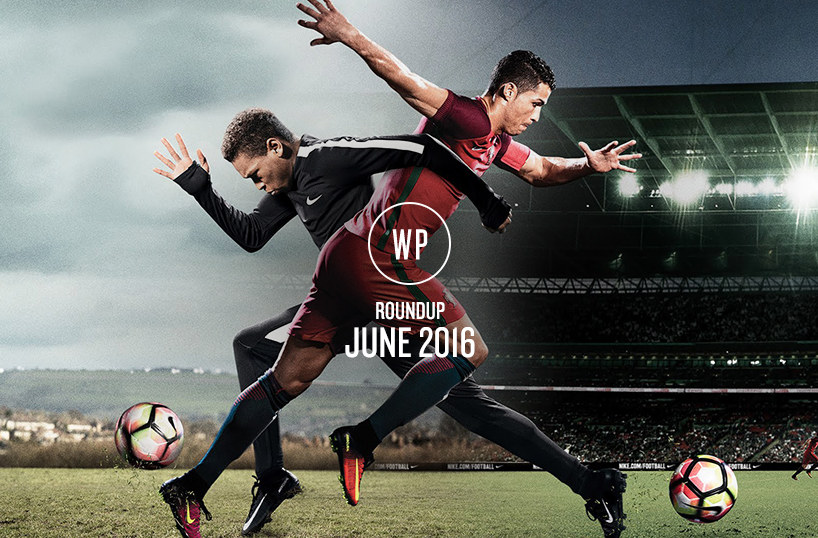 Bringing you our selection of the biggest and baddest adland breaking news from the past month.
Because… we want to cheer you up after Brexit.
June at a glance:
We look back on June's news with a brilliant spot for Euro 2016 from Nike, a new take on a taboo topic from Bodyform, digital artists making masterpieces with Adobe and the latest installment from the #LikeaGirl campaign. We also touch on Brexit blues and news from Cannes Lions.
Ronaldo has a freak accident
In this brilliant short film, Nike's latest spot saw Cristiano Ronaldo swap lives with a kid in a Freaky Friday inspired campaign to promote Euro 2016. "The Switch," by Wieden + Kennedy, stays true to Nike's style of advertising, using a familiar mix of flashy moves and humour to bring the story to life.
The story aims to remind the audience how Ronaldo became the world's best by being the hardest-working man in football. But, what if this brilliance had to start all over again? The spot is accompanied by the #SparkBrilliance hashtag and took five days to film with the brand saying it was the most extensive shoot 31-year-old Ronaldo has ever done for any company.
Nike's ads are always greatly anticipated around major football events and this doesn't fail to please. Great work.

What's a little blood?
At the beginning of June, Bodyform tackled a taboo subject in a new ad with the fitting title of "Blood". The brand, who sell pads, approached the topic in a rather unexpected way, showing an army of strong women being pushed to their limits through various activities such as boxing, swimming, ballet and football and not being afraid of a little blood.
The spot, created by AMV BBDO, is accompanied by the line "No blood should hold us back" with the brand explaining "Don't let your period hold you back no matter who you are. Periods shouldn't stop us from keeping fit". It's a refreshing take and a different angle for ads that normally appear in this sector – please do more blue liquid!
Make a masterpiece
Last month we showed you Getty piecing stock images together to make famous faces. This month, Adobe have released a video along the same theme showing artists recreating great lost works entirely with Adobe's stock images.
This campaign, created by Goodby Silverstein & Partners, pairs a famous painting with a Digital Artist to recreate the original masterpiece using digital enhancements and Adobe stock images. In the following video Ankur Patar, who was found on Behance, re-creates Rembrandt's stolen masterpiece The Storm on the Sea of Galilee entirely out of Adobe Stock without ever leaving Photoshop. Pretty impressive stuff! To see the rest of the series visit the website here.
Always #LikeaGirl
Always released their new #LikeaGirl campaign this week showing further inspiring clips of young women participating in sports often seen as "manly". The brand want to keep girls playing because sports are critical in building confidence.
A recent NHCS study found that women aged 18 to 24 are twice as likely to be confident if they play sports regularly than those who do not play at all! And even so, society is not tackling the silent issue of girls dropping out of sports. Always wants to change that! It's a brilliant message to the younger generation of ladies. We love these campaigns and urge our readers to participate further by uploading a picture, shooting a video or tweet using #LikeAGirl to show the world how you keep playing #LikeAGirl.
Brexit blues – Ok so we don't really want to dwell on this (we say while crying into our lunch), but there were a few campaigns surrounding the chaos that stood out:
Paddy Power – Dear Roy
In this weird time for the UK there needs to be some humour. When we heard that Paddy Power had released a new print ad around the touchy subject of Brexit and the Euro's we kinda already knew it would put that cheeky smile back on our faces. June saw this brilliant Paddy Power ad, which features an image of Brexit campaign spearhead Boris Johnson congratulating Roy Hodgson for leading England out of the Euros – ouch. The ad ran in press just hours before England were kicked out of Euro 2016 to Iceland.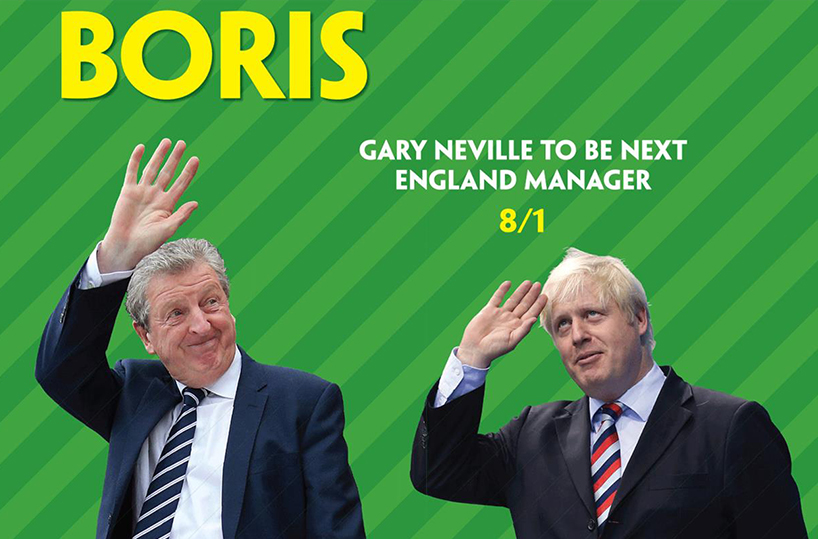 Don't fuck with my future
On a drive to get a younger audience to vote in the EU referendum, a series of online films were released urging people to use their vote wisely.
The campaign highlights the short amount of time required to vote compared to the long-term impact it will have on our futures. Created by Adam & Eve/DDB, the series of films features an array of acclaimed stars such as Keira Knightley, Jessie Ware, Lily Cole and Big Narstie.

Romanians adopt Remainders
This was a rather nice idea in a pretty dark time – Created by Romanian independent agency GMP/Webstyler, the matchmaking service was launched for the Gandul newspaper. The site RomaniansAdoptRemanians.eu calls on Romanians to adopt "Remanians" by signing up with a Facebook account. The adopted Brit would then be given a Romanian identity. The purpose of the campaign is to support those who wanted the UK to remain in the EU by offering moral support from fellow Europeans.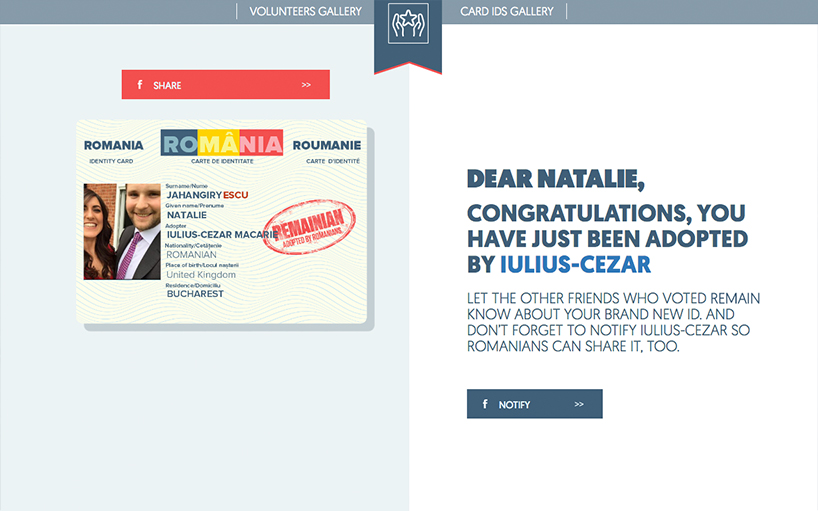 Big winners in Cannes
And finally… we can't forget about Cannes Lions! One of our favourite campaigns that won big this year came from Ingo Stockholm who won the Direct Lions Grand Prix for their brilliant tourism campaign 'Call a Swede'. The Swedish Number +46 771 793 336 connected callers with random Swedes who signed up to be ambassadors but had received no training at all – pretty incredible hey?! With no training or instructions about what to say or not say for that matter, the ambassadors received calls from integrated folk all over the world in an aim to promote tourism in Sweden. The natural and unfiltered nature of the idea was very brave but turned out to be a hugely successful result.
Direct jury president Mark Tutssel, global chief creative officer of Leo Burnett told journalists at the event that The Swedish Number was the essence of brilliant Direct work. "In a world where we text, we tweet, we snap and we have a million options at our fingertips, it's easy to mistake technology for human connection," he said. "At the end of the day, we're people talking to people. And it's really refreshing to see an idea and a campaign that unites 9.5 million brand ambassadors with the world through the most direct form of communication—which is speaking, talking. In this case, a one-to-one phone call. It's direct at its core. It's an incredibly brave idea that generated immediate response. And it's a campaign for tourism that transcends tourism to become a celebration of national pride and a potent, powerful celebration of a country's 250-year commitment to freedom of speech."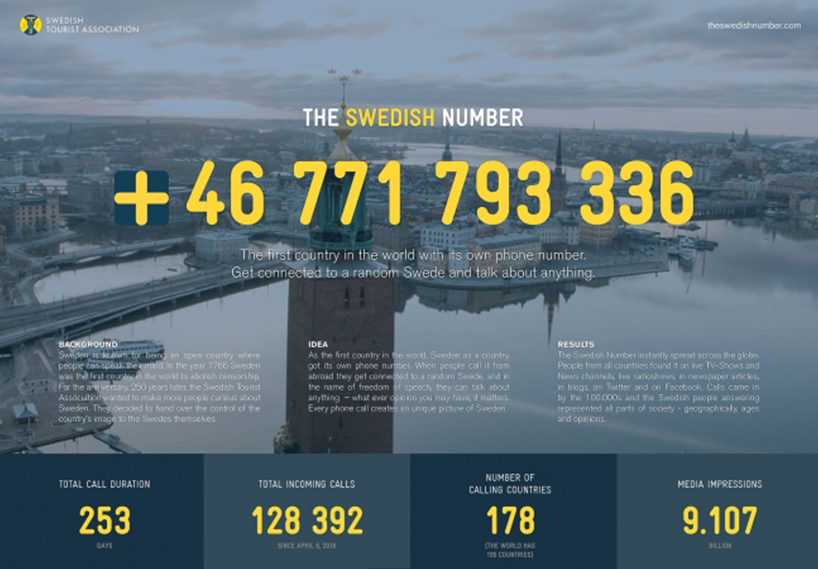 The number is now closed, but you can visit the site for some of the stats here.
A few other campaigns that stood out from the winners were Shoplifters for Harvey Nichols, Justino for Spanish Lottery (which we wrote about in the roundup back in November) and Rule Yourself Michael Phelps for Under Armour.
A controversial idea that caught our eye surrounding Cannes Lions was a campaign from BBH that focused on the fact that a single Cannes Lion award could feed 33 starving children instead of boosting egos, which is definitely something that should be considered in the future events. Read more about it here.
For more on Cannes, here's a great roundup of the winners over on AdWeek (read here).
If you think we've missed anything world-changing that should be covered, let us know and we'll put it in the next round-up! Email: hello@toworkorplay.com
[Image courtesy of YouTube,RomaniansAdoptRemanians.eu, Paddy Power & The Swedish Number]