The monthly roundup – May 2015 //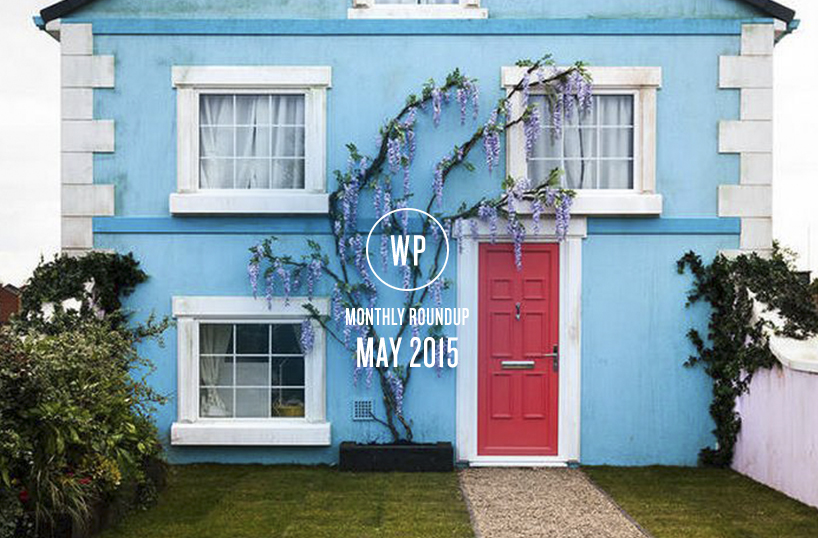 Because… you deserve the best
The month at a glance:
This months roundup is jam packed with brilliant creative. We talk about Airbnb floating a house down the Thames, IKEA delivering more beautiful work in bed, Idris selling us treats from Sky, Vodafone bringing back the dancing schoolboys, what exactly is in your McDonald's burger and KitKat and YouTube pairing up to take a break. We also talk through a funny spot from Samsung in the states on mum's texting, why we should think about sharing online, the release of abused emojis to help children, dogs who need homes from Battersea, nice guys turning nasty on Tinder, drag queens advertising Magnums and finally we finish with Pimms O'clock.
A floating house on the Thames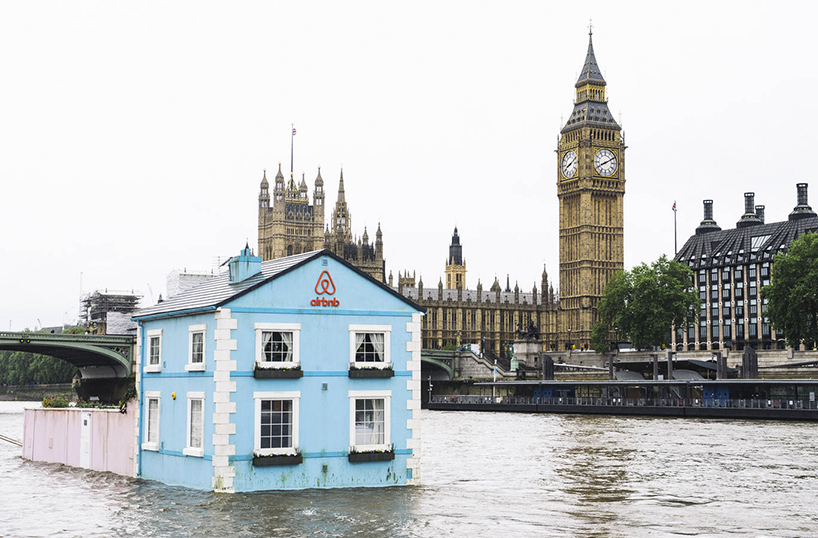 Not happy with just creating standard ads, the creative masterminds at TBWA have mustered up another spectacular stunt for Airbnb this month in the form of a floating house on the Thames,with the aim to promote its lettings website to homeowners in London. The charming brightly coloured house was described as "Primrose Hill meets Pixar" and came fully equipped with two pastel coloured bedrooms, a sunny yellow coloured kitchen, a working bathroom, a sitting room kitted out in mid-century furniture, grassy green gardens (with an apple tree of course!) and a dog house. The spectacle cruised along the river until the 22nd hosting events in Chelsea, Westminster, Canary Wharf and finally Putney. There was also a competition for one lucky winner to stay in the house on the Friday night where guests would receive spa treatments and have dinner cooked for them by Lima chef Robert Ortiz. Great work Airbnb, keep it up the great stunts! Have a nosey into the house on Airbnb's listing here.
No bed like home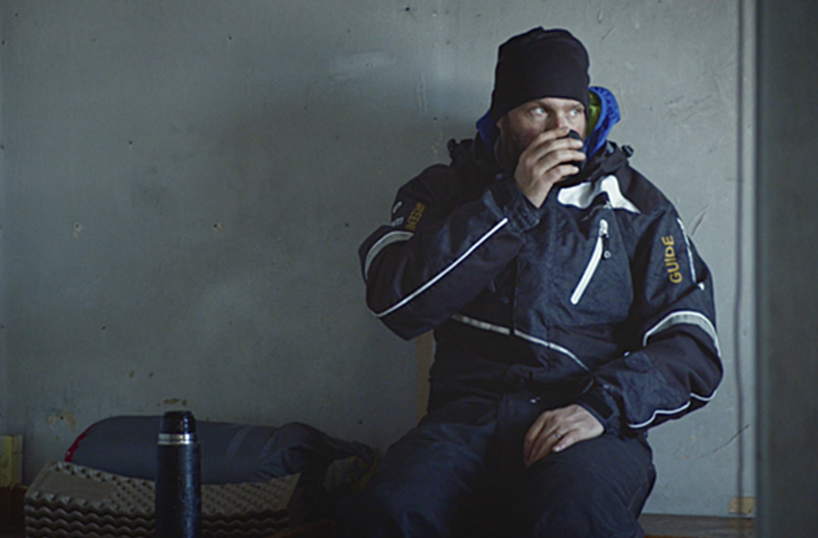 IKEA never fail in bringing us a string of glorious ads and the latest from the "There's no bed like home" campaign is no different. The furniture store released a beautiful four minute online film, created by Mother London, which follows the expedition of medic Dr Rob Conway as he travels around frozen tundra. The film, narrated by his partner, ends with Conway climbing into bed at home which is described as an ode to creature comforts. Beautiful work yet again. View the film here. The company not only released this stunning film but also created a breakfast-in-bed cafe in Shoreditch as part of a PR stunt to further promote the "bed" campaign. Have a look at breakfast in bed promotional video here.
Treat yourself with Idris Elba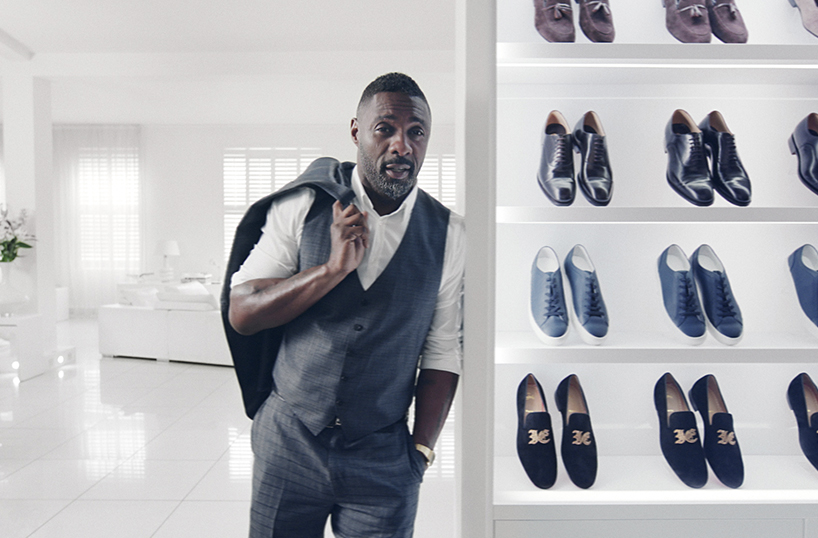 Sky's latest spot sees the rather dapper actor Idris Elba highlighting the availability of new blockbuster movies for the Sky Store. The ad, created by Brother and Sisters, shows Elba explaining that the new service allows us to "treat ourselves" with the flexibility over several devices by physically taking his TV off the wall; reducing it to the size of a tablet and watching a film on the move. He then folds it into a DVD shape and explains the additional benefits to subscribers. Quite frankly, Idris Elba could sell us soil and we would buy it. Watch the spot here.
Lets Go! Spotify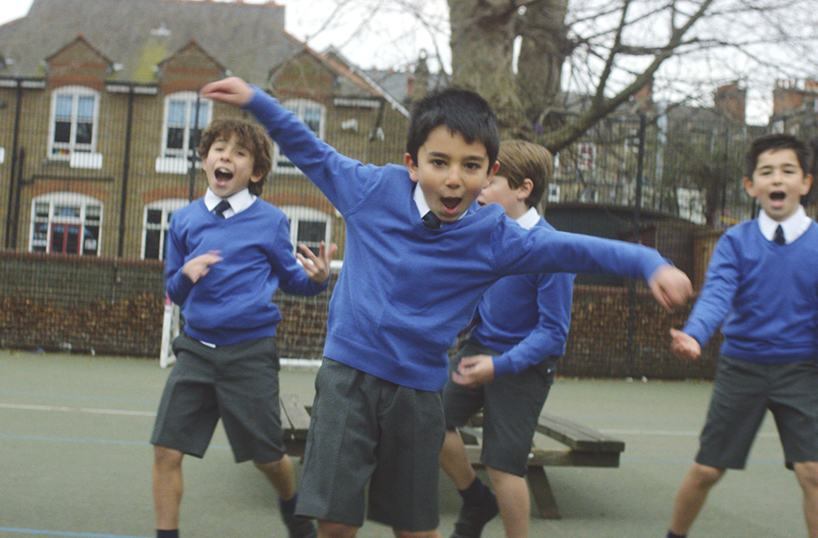 Grey London have brought back the five breakdancing school boys from the first ad to another spot in promotion for Vodafone's Spotify Premium service. The proposition suggests that Vodafone 4G allows you to live life more boldly by showing the kids creating some super impressive dance moves in the playground (which apparently they choreographed themselves, good on you boys!). We don't need to explain much more about this ad, only that it's rather funny and sweet at the same time. Have a look for yourself here.
Think before you share online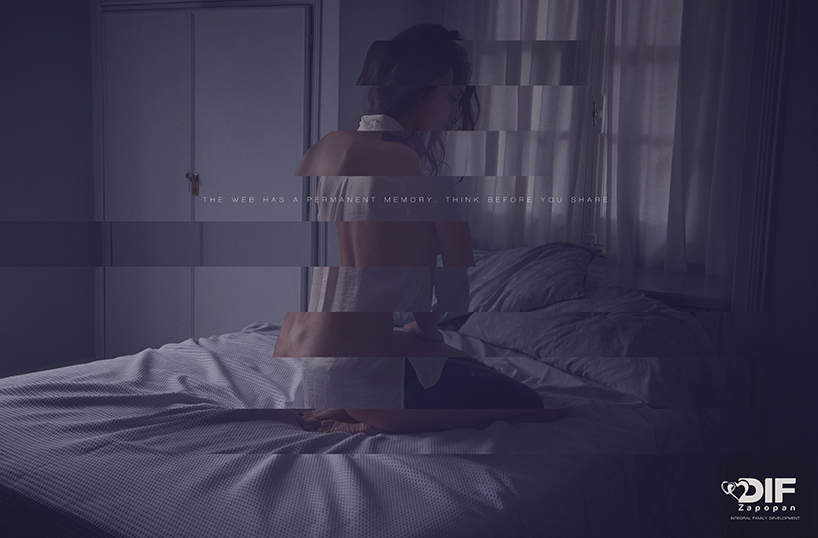 This series of thought provoking ads remind us of the dangers of social while encouraging users to think before sharing. Created by Publicis Mexico City and backed by the non-profit organisation DIF Zapopan, the print features individuals with a varied amount of clothing on with the strapline "The web has a permanent memory. Think before you share." Have a look at the ads below: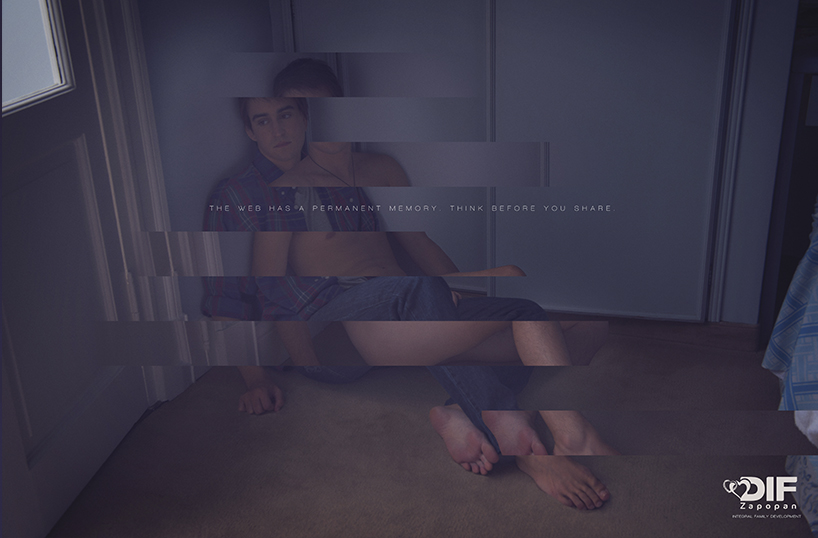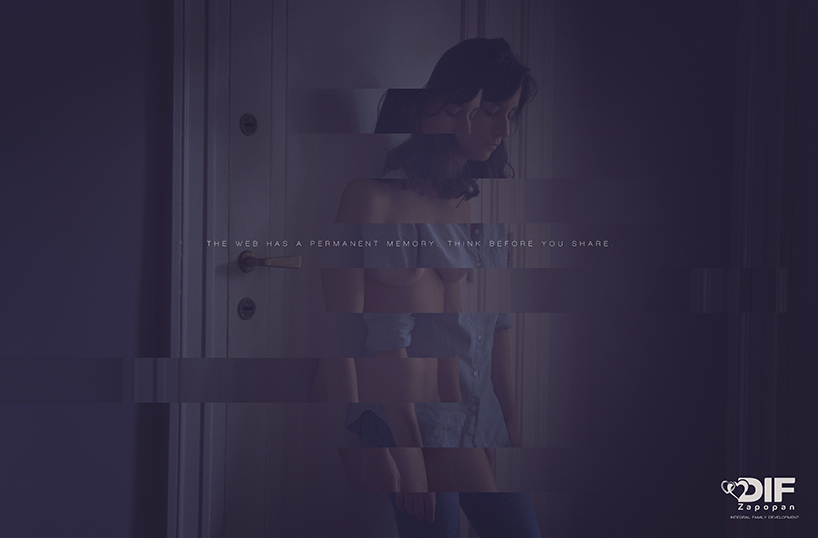 This dog maybe looking for you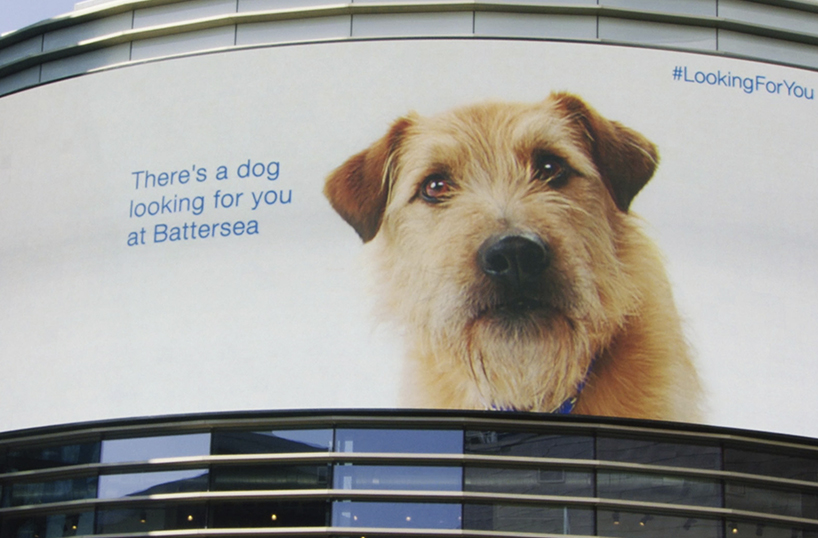 We love animals (there's no hiding the fact Nat is a crazy cat lady), so when we see a campaign for pet adoption, we jump at them. This one in particular is great and has a unique use of customer engagement from Battersea Dogs & Cats home and agency OgilvyOne. With a vibe similar to to the BA #LookUp campaign, we see a rather cute pup follow shoppers through electronic billboards in Stratford's Westfield shopping centre. Named #LookingForYou (nawww), the ad's full effects are achieved by incorporating a chip into leaflets handed out to the public by Battersea volunteers. This in-turn activates the billboard hound, which follows the people throughout the shopping centre from one board to the next. This is a really clever attempt to promote pet adoption and we hope some little doggies got snapped up from Battersea in response. Check out the video here and the dedicated 'Looking for you' site here.
Nice guys turn nasty through Tinder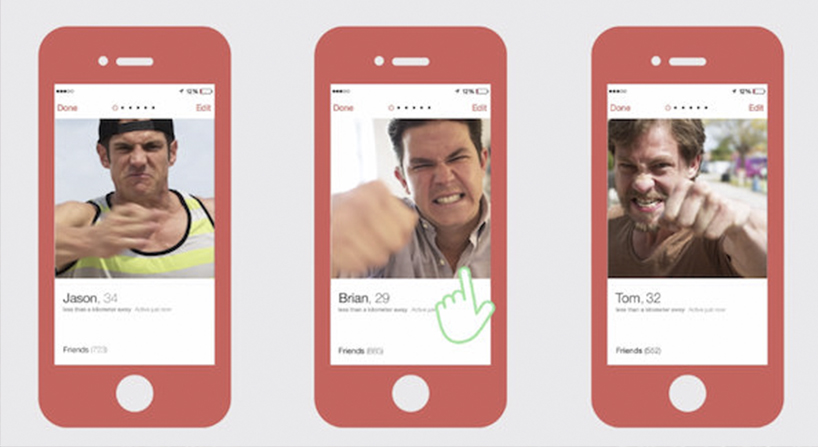 Over the past few months, we've seen a few different companies take to Tinder as a campaign tool, but this recent one from Women In Distress got our attention. Pairing up with ad agency Bravo / Y&R, they produced a PSA about domestic violence, creating fake profiles and uploading them onto the popular dating platform itself. As users swiped through the 3 fake profiles, the men went from nice to nasty, with the last frame showing the candidate throwing a punch. The campaign, named "Tinder Beater", aims to convey that "even the most promising relationship can get ugly in an instant" and they urge women to "get help immediately at the first sign of violence". There are a few things that hit us about the men in the campaign (they look a bit comical), but the core of the idea is a good one and hopefully it will get users thinking.
Have a break…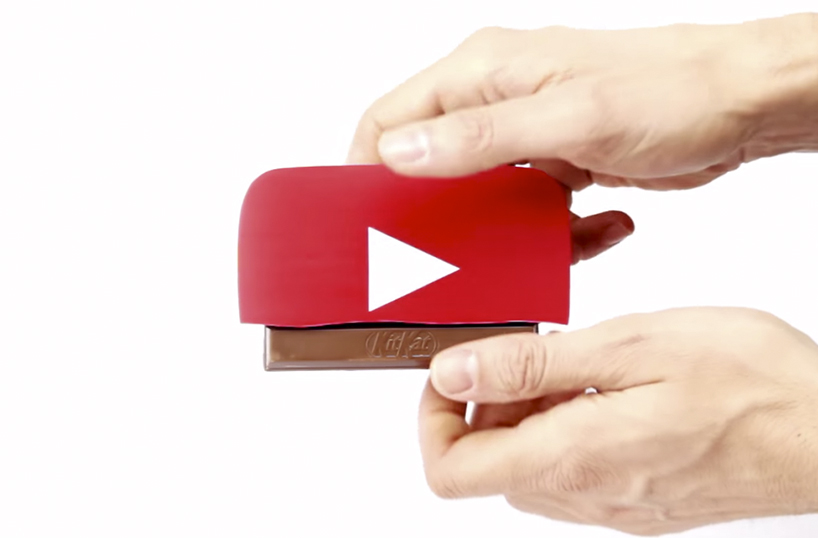 This month Nestle and Google partnered with KitKat and YouTube to create 'YouTube My Break'. We are massive chocolate fans and love the odd YouTube ad so although this seems like a strange partnership, it's rather sweet (not just in taste) which embraces KitKat's proposition of 'Celebrate the Breakers'. We particularly like the part of the campaign which uses the Google voice-search function where users can say the strapline, and in return are greeted with an ad for KitKat and previews for the four top trending YouTube videos for that moment. We don't think it's genius nor groundbreaking tech, but it's a nice touch! Check out the ad here.
The Cow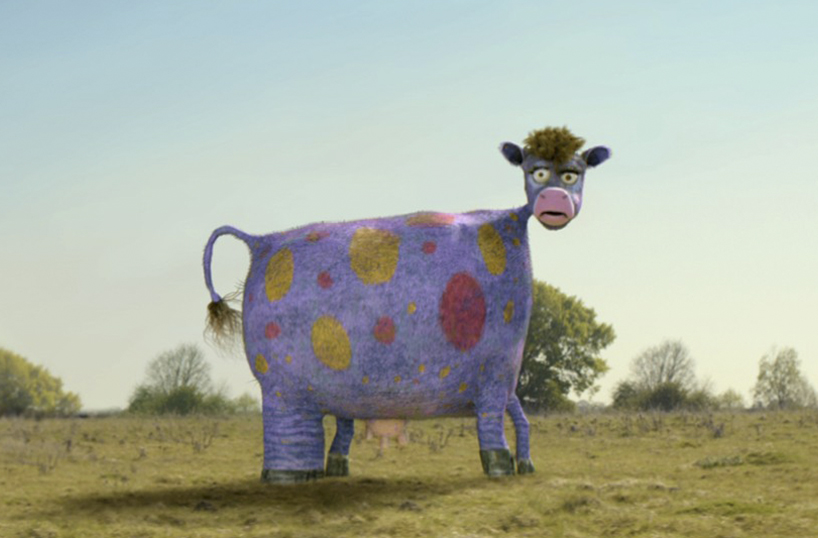 This one minute spot follows the story of a mum and daughter concerned about the purity of the McDonald's ingredients. The beautifully crafted ad, created by Leo Burnett, addresses an issue of trust from McDonald's customers specifically 'Just what is in a McDonald's beefburger?'. A nice education spot strung together through a great piece of storytelling and clever direction. Have a look at the ad here.
Is your mum as bad at texting as ours?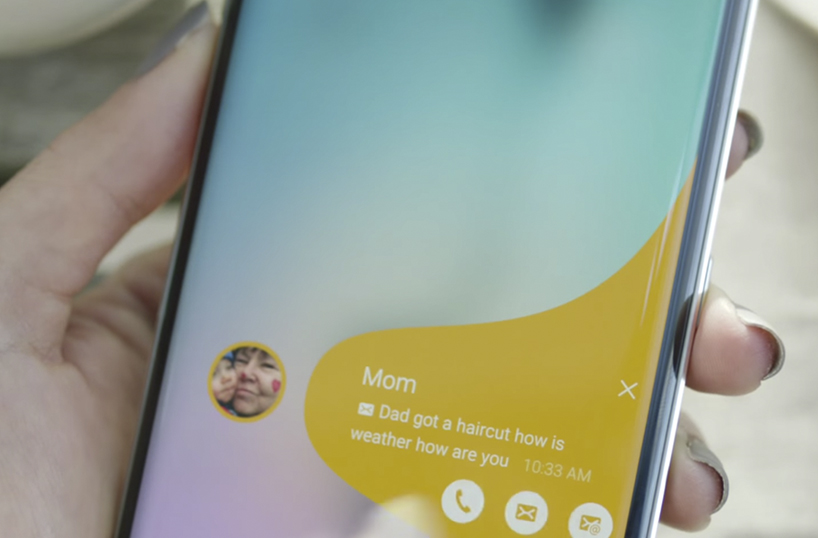 We all know that receiving a text from your mother is like decrypting code, so this month it was great to see this funny take on mom's texting skills in this Mother's Day ad from the Samsung in the states. The ad, from R/GA, looks at how your mum probably uses texting, or perhaps misuses it, but while poking fun (without being too nasty), the feature reminds viewers to call your mum. The spot itself is pretty funny and is a fresh take on traditional soppy Mother's day advertising. Check out the ad here.
Abused Emojis to help children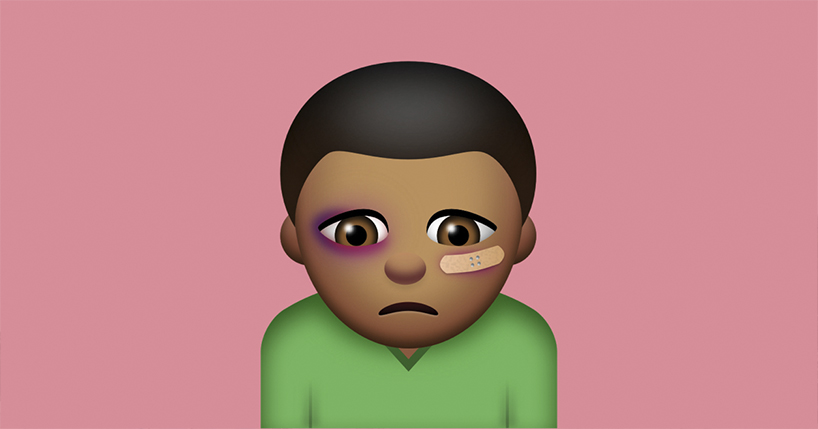 A series of 'Abused Emojis' have been released in the aim to help children tell someone if they're being hurt. The project from a Swedish children's helpline, was released in the hope that young victims of violence will communicate their situation when words fail to explain what is happening to them. The emojis can be downloaded from the app store for free and with a supporting video which shows various children explaining how they use their phones and how it's important to tell someone if you are upset or being abused. Have a look at the ad here.
Queens for chocolate
Be true to your pleasure. Magnum believes that everyone should indulge in their personal pleasure and be true to spontaneity and the joy of letting go. This bold spot, created by LOLA, features famous drag queens embracing who they are by indulging in activities that give them pleasure. "Everything we do at Magnum is about inspiring, enabling and daring people to take that moment of pleasure for themselves. It doesn't matter who you are, or what you take pleasure in; this film has been created to inspire you to seize it," says Sophie Galvani, Global Brand Vice President of Magnum. A great take on the #BeTrueToYourPleasure on going campaign. View the ad here.
And finally it's Pimms O'clock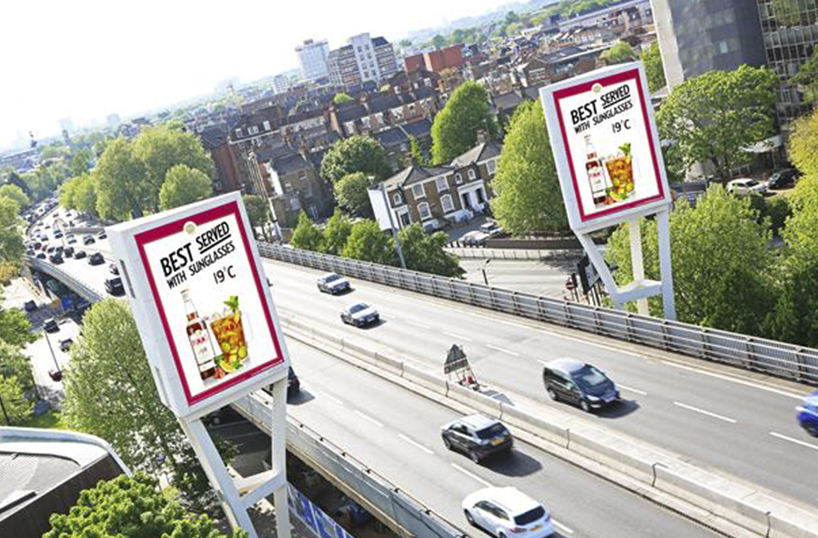 Diageo has launched a digital campaign for its Pimm's brand which activates once the weather reaches 21 degrees. Carat and Posterscope planned and placed the ad which will run on Thursday and Fridays in London and Birmingham between 12pm and 4pm. Probably the best digital media placement we've seen in a while and another example of creative, tech and media all coming together – genius!
With this in mind, it's Pimms O'clock! See you next month. Laters.
If you think we've missed anything world-changing that should be covered, let us know and we'll put it in the next round-up! Email: hello@toworkorplay.com
[Images courtesy of Vimeo, Adeevee, Airbnb, Youtube, App store & Campaign Live]