The Monthly Roundup – May 2016 //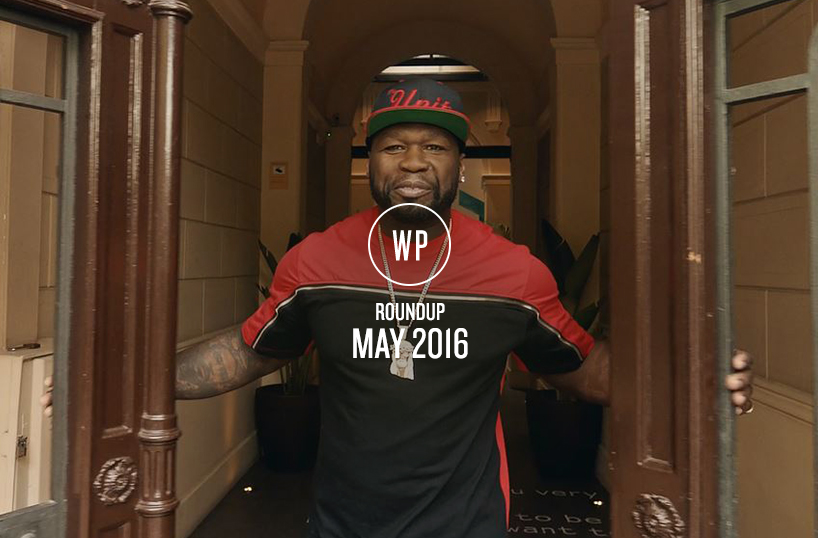 Bringing you our selection of the biggest and baddest adland breaking news from the past month.
Because… we want to brighten your day.
May at a glance:
In May's roundup we sneak a glimpse of Fiddys new crib, Instagram has a facelift and Pinterest releases their first ever contextual as series. Save the Children create the second part to the PSA ad about the Syrian crisis, Getty use stock images to create famous faces and we talk about a cat tube takeover.
In Da Hostel with 50 Cent
One of the most amusing ads in May came from the unlikely candidate Hostelworld and their new creative where 50 Cent takes you 'In Da Hostel' for a MTV Cribs style tour.
Hostels are a great option for young travelers on a budget, but in a bid to change the perception of a hostel and widen the customer base, the company have created this spot to show the cool side to affordable accommodation.
In light of his bankruptcy problems, 50 cent takes centre stage to present the tour in the clever parody ad, showing the rapper has found a way to live a luxurious life without spending too much dollar. The three minute spot, created by Lucky Generals, shows Fiddy touring a Barcelona hostel, pointing out key features with shared accommodation booths, the lobby, social areas and private rooms. It's a pretty brilliant idea and we love it! Great work.  
Instagram facelift
It seems like May's biggest news may have been the rebrand of popular photo sharing app Instagram. The world went wild at the thought of change and with the rebrand their was obviously a mixed reaction to the new, definitely more colourful, look and feel, but we kinda like it (now it's grown on us).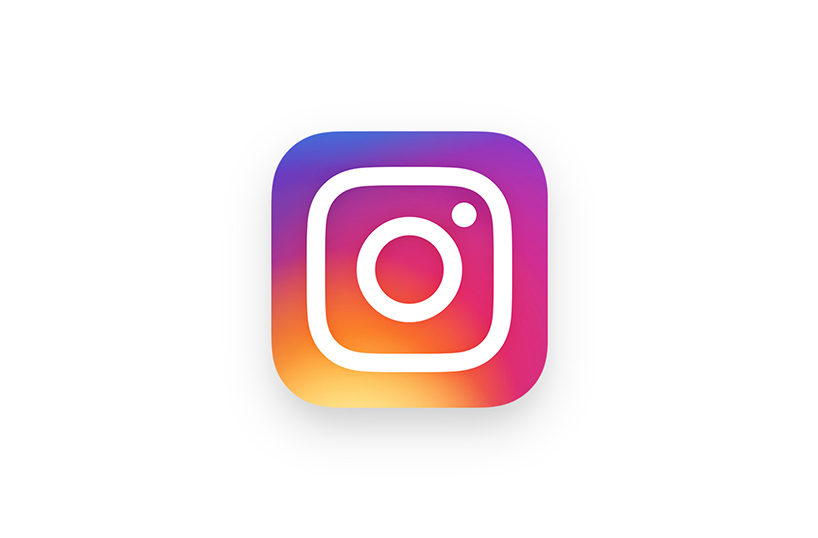 The rebrand shows a flatter, simplistic skeuomorphic camera icon replacing the original retro camera lens with a sunset hue gradient used as a backdrop to the whiteout logo. The interface has had a spruce up also with less colour, white replacing grey and a warming pink replacing blue for notifications. Accompanying the Instagram logo itself, is a family of logos for Layout, Hyperlapse, and Boomerang, which all embody the same look and feel but flip the colour scheme to create a more minimalistic effect, with Instagram as the standout icon. The rebrand was launched with a video here:
Tell us what you think of the rebrand over on Twitter.
How to use Pinterest
In its first ever ad series, popular social platform Pinterest is showing users how to use the app with a series of contextual ads developed in collaboration with Channel 4. The first ad was broadcast during new cooking show, "Eating Well with Hemsley + Hemsley", taking a concept from the show "one pot meals" and demonstrating how the phrase could be displayed through inspiration and ideas on Pinterest itself. The range of ads, created by Stinkdigital, will continue to air on targeted Channel 4 programmes centered around British culture over the next seven months.
Brutal ad shows British Girl as refugee
In a follow up to the successful 2014 PSAs ad about the Syrian crisis, Save the Children have released a sequel which follows the same child as she flees a war zone and becomes a refugee.
The original ad was praised for showing a brutal but realistic outlook on the Syrian crisis, imagining what London would look like if it were in the same situation as Syria. With 53 million views and rising, the concept was built on the popular one-second-a-day video idea and showed an ordinary British girl's world crumble over a year as the country is thrown into war. Structured in a similar manner the sequel aims to follow in its footsteps, filming 11-year old Lily as she flees the UK as a refugee.
The new ad, created by Don't Panic London, was inspired by real stories of child refugees that Save the Children has helped in Europe and the Middle East really bringing the situation to life. "This video captures the terrible experiences of thousands of children every day, many undertaking horrific journeys that no one should ever have to endure. We wanted to bring home the reality of what it's like for those children, to capture the public's attention," said Carolyn Miles, president and CEO of Save the Children. If this ad doesn't make you wake up and take more notice of the harrowing events that are taking place at the moment we don't know what will!
One person's waste is another's treasure
May saw Action on Addiction joining forces with London ad agency Leo Burnett to create a campaign to help addicts get a fresh start with free clothes from dry cleaners. A case study tells us 15% of dry cleaning is never claimed or forgotten about. Playing on this, the Dry/Clean Initiative was born – a program to help recovering addicts dress for job interviews, using clothing that was never picked up from the dry cleaners.
In a short video to head up the campaign, we meet Debbie, who started her road to addiction at an early age to deal with an unstable home life. "The drink and the drugs had always come first, and that made it impossible to find work. It took me years to even realise that I was an addict," she says. Today she is dry and clean with help from the initiative. "I just need someone to give me a chance," Debbie explains. We really like this campaign for many reasons – it transforms unwanted items into opportunity while giving people who have had a rough time a chance for a better future. It also shows that advertising can be used for good, not just to sell products.
Stock images make famous faces
Getty Images have released a new ad which rather amazingly creates 4 famous faces using stock images only.
In the latest fun campaign from Brazilian agency AlmapBBDO, named "Endless Possibilities", the company assemble four famous faces using parts of other people's faces which have been sourced solely from Getty's creative stock-art database. We particularly love Prince Charles, which is just bloody brilliant (*says in posh voice*)! We can imagine this process was massively painstaking but it was worth it as the end product is really effective. "We are very pleased to once again partner with AlmapBBDO to create an innovative and unique campaign that clearly and cleverly demonstrates Getty Images' role in the creative industry as the gold-standard visual-content source for any marketer, advertiser or publisher," says Susan Smith-Ellis, chief marketing officer at Getty Images. Bravo guys!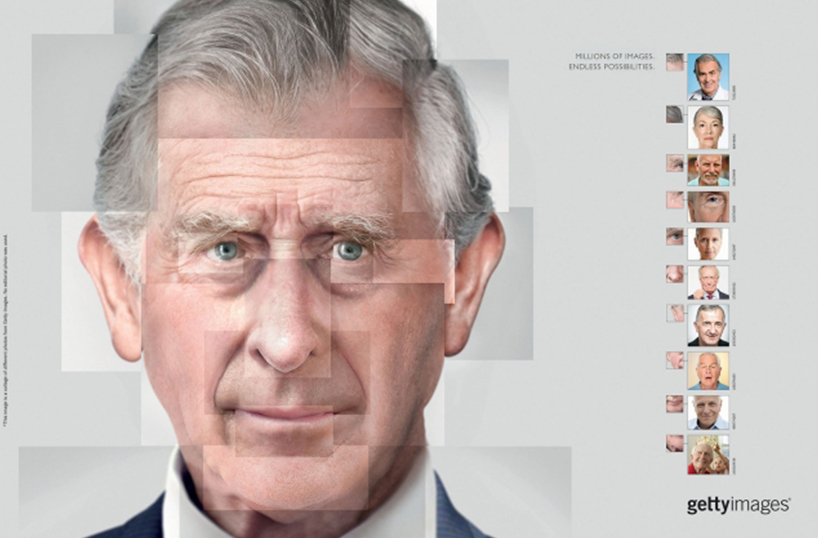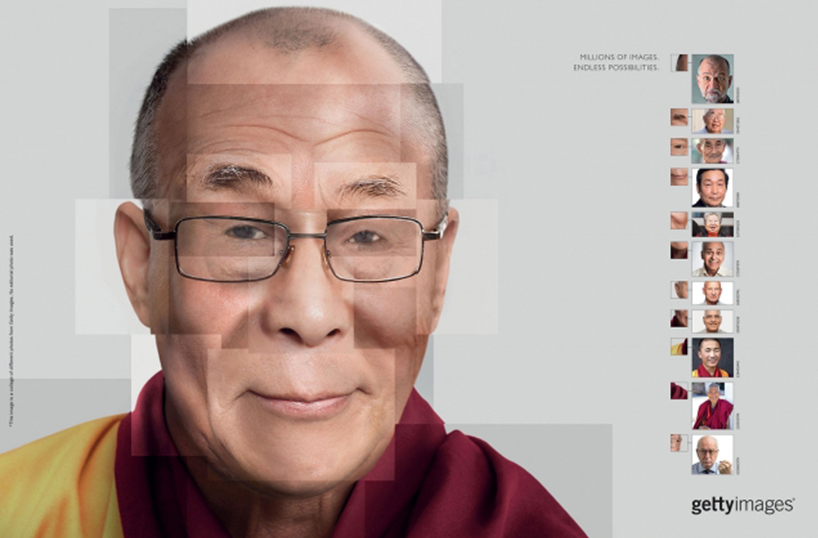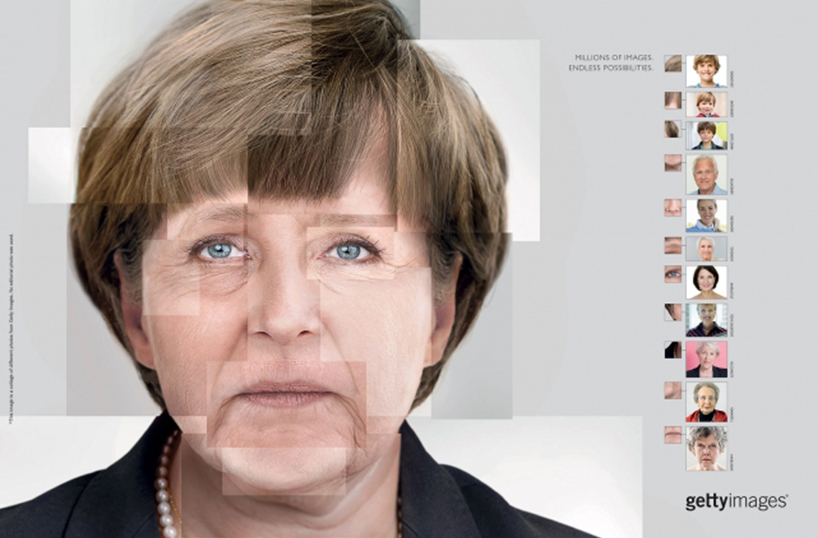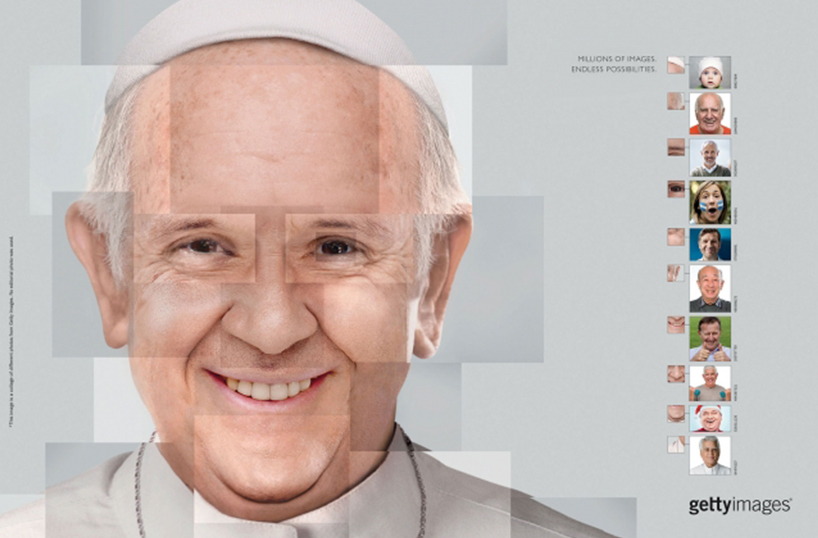 And finally, cats on the tube
Who would love to see posters of cats covering all the adverts in tube stations? We would! Thanks to The Citizens Advertising Takeover Service (aka CATS – we like what you've done there guys) this looks set to happen after a Kickstarter campaign launched by the company reached it's target of £23,000 (there's a lot of cat lovers out there) allowing them to buy enough space to transform a whole platform, and a few smaller stations, into a 'roaring festival of cats'. Why? Well because they hate adverts but adore cats… fair enough.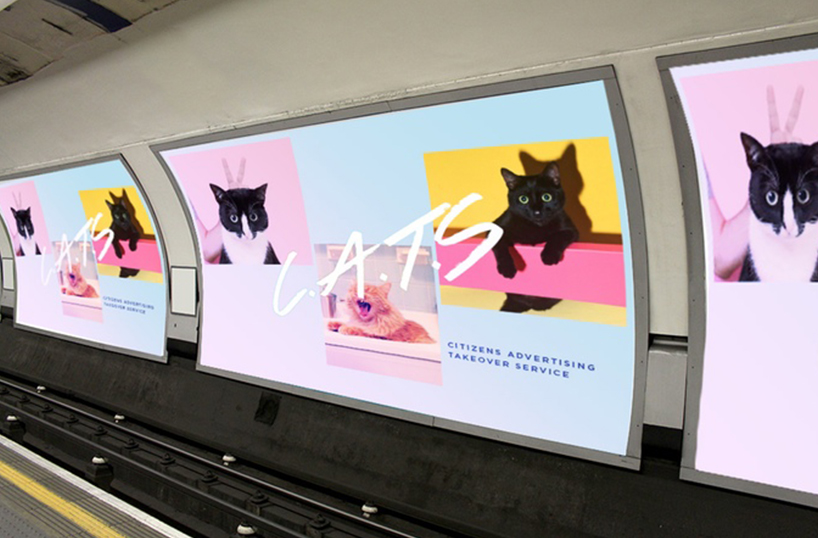 What's more, they have teamed up with Battersea Dogs & Cats home AND Cats Protection, so the final posters will feature real stray cats that need homes which is brilliant. Read more about the campaign on the dedicated Kickstarter page here.
Happy bank holiday!
If you think we've missed anything world-changing that should be covered, let us know and we'll put it in the next round-up! Email: hello@toworkorplay.com