The Monthly Roundup – October 2015 //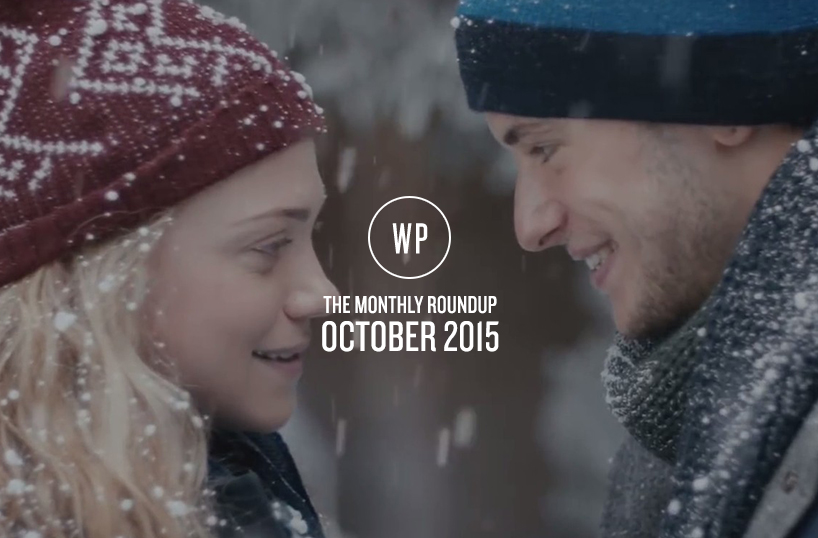 Bringing you our selection of the biggest and baddest adland breaking news from the past month.
Because… October's not just about tricks and treats!
This month at a glance:
October gave us a variety of brilliant ads, an array of stunts, Bond and Back to the Future day. Here we take a look a true love through the eyes of Extra Gum, more Lotto vanity projects, Barbie dolls empowering little ladies worldwide and a makeup ad with a twist from Japanese brand Shiseido. We also look at Smart Car's new ad, Uber's ride in a time machine and a series of wonderful ad's to celebrate Daniel Craig in white swimming trunks the release of the latest Bond film – Spectre.
A true millennial love story
This month the world went wild for Extra Gum's latest creative and we can understand why. 'The Story of Sarah & Juan' hit our social feeds early in October with a nod towards Romeo and Juliet and a subtle amount of smoosh to create a perfect modern love story to capture the world's hearts.
The spot follows the story of two childhood sweethearts and the progression of their relationship through the years. Set to the soundtrack of a cover of 'Can't Help Falling in Love', we see the couple tested as they graduate and move away to university but the final scene shows Juan and Sarah reunite in a private gallery where a series of doodled Extra wrappers decorate the walls with the last being a picture of a proposal. Aww. We must admit, it is a little slushy but it warms our heart perfectly and is somewhat reminiscent of a John Lewis Christmas spot (not long now). Who thought an ad for gum could be so romantic? 
This is the first ad from the company in two years, and follows a similar theme to the massively successful spot 'Origami', which saw chewing gum wrappers being transformed into touching keepsakes from a father to his daughter. Watch the spot above and tell us what you think.
Dolls empower girls
Barbie, the popular childs doll, are looking to empower girls in their latest ad, the first since appointing BBDO earlier in the year. The spot, entitled 'Imagine the Possibilities', uses hidden camera footage to capture people's genuine reactions as a few little ladies act out the situations and jobs roles they imagine while playing with their Barbies at home. It was created by the San Francisco and New York branches of BBDO and is a stroke of genius. Moreover, this is a great step in a new direction for the brand. Watch below:
Celeb vanity projects continue
Lotto continue to please with their series of tongue-in-cheek vanity ads. The latest two spots feature host Noel Edmonds and actor / former footballer Vinnie Jones following in the footsteps of Piers Morgan, Katie Price and Laurence Llewelyn Bowen, who we featured in July's roundup (view here). The new #PleaseNotThem ads, created by Abbott Mead Vickers, show the two celebs playing up to their egos in a comical manner.
The new #PleaseNotThem ads, created by Abbott Mead Vickers, show the two celebs playing up to their egos in a comical manner. Edmonds explains that his work on Noel's House Party entitles him to gain legal copyright over all house parties across the nation while Jones reveals his plans to launch an "Agro-Tron", which is an energy-producing machine that runs on rage and people's screams. Follow the series by visiting the dedicated page here, or view the ads below:
21.09.2015 Back to the Future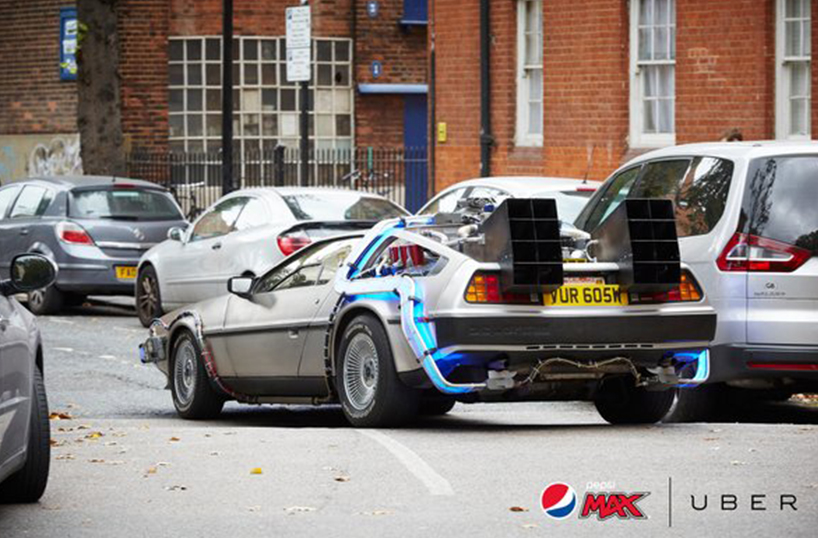 On 21st October 2015, soft drinks brand Pepsi Max partnered with taxi service Uber to take part in 'Back to the Future Day' which marked the day when Marty McFly arrived in the future in the classic films. The campaign, created by AMV BBDO, is the latest stunt in a series of initiatives from Uber and allowed dedicated fans the chance to travel in style in a DeLorean. Uber's senior marketing manager, Sarah Brightwell, said it was "thrilled to be marking Future Day with Pepsi Max by bringing fans an iconic ride at the touch of a button; a nod to a cult 80's film using today's brands and tomorrow's technology". Did you catch a ride? Tell us about it on over on Twitter.
The power of makeup
The latest spot from Japanese makeup company Shiseido has one hell of a twist, which is refreshing within a market saturated in similar advertising techniques.
The footage entitled 'High School Girl?' opens with a professor opening the door to her classroom. The camera pans out slowly around the faces of the school girls around the room which seems pretty normal enough. But wait a little while and the true nature of the ad is revealed, in a stop-motion manner, taking us backwards to reveal the tagline "Anyone can be cute". We don't want to give away too much, so have a look for yourselves in the video above.
Spectre season
There's nothing more appealing to an agency than to get a brief from a brand asking you to work on a campaign which piggybacks something cool that's happening. We think James Bond is pretty cool so here are our top ads that have leveraged the promotional opportunity perfectly:
KitKat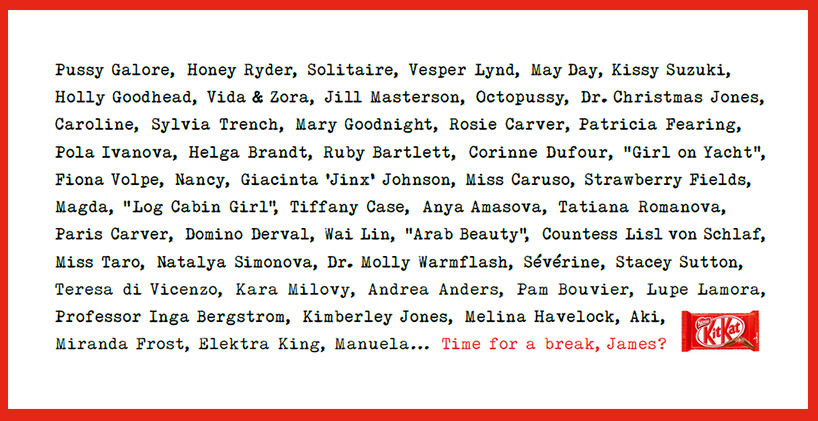 JWT have done a great job for KitKat with the poster they created promoting Spectre. The poster lists all of the main Bond girls from the movie franchise's 53-year history before asking: "Time for a break, James?" The ad plays on the Nestlé brand's long-standing motto, "Have a break, have a Kit Kat." It will appear on a 48-sheet poster site in Camden, London, and on a digital projector on the platform at Oxford Circus Tube station, next to a poster promoting Spectre.
Sony
Miss Moneypenny herself appears in this clever ad from adam&eveDDB. The spot shows her performing all sorts of energetic action-packed footage, in fact, it's almost a mini movie. We love the Bond realness… if that's even a word?! Watch the ad below:
Heineken
The ad, called "The Chase," will run in versions that last 30, 60 and 90 seconds. The spot, by Wieden & Kennedy Amsterdam, shows a high-speed boat chase starring Daniel Craig as the dashing hero we know and love as James Bond and actress Zara Prassinot, an unfortunate bystander brought into fray. There are other subtle easter eggs throughout the ad for Bond aficionado's such the appearance of Nick Nack, a villain from "The Man with the Golden Gun", but in this instance taking time off to attend a wedding party. This is apparently the only advert featuring Bond himself in promotion of Spectre. Check it out here:
And finally, here's an ad to make you laugh…
This is probably not even that funny, but Vanessa just can't help but watch it at least 4 times a day to make her laugh. The ad is true reflection that sometimes keeping it simple is all it takes. See if you find it as funny as Vanessa does here:
We hope you ate, drank and were scary on Sunday.
If you think we've missed anything world-changing that should be covered, let us know and we'll put it in the next round-up! Email: hello@toworkorplay.com
[Images courtesy of YouTube, Uber UK Twitter & KitKat]