The Monthly Roundup – September 2015 //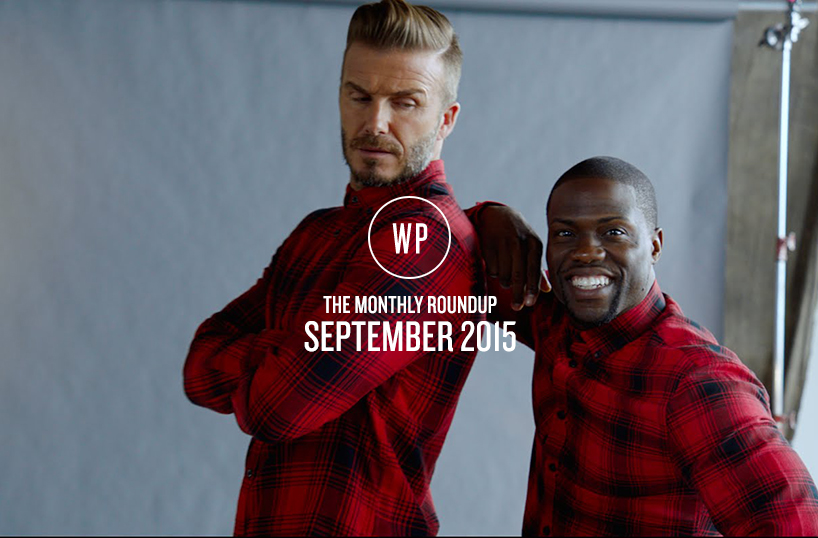 Bringing you our selection of the biggest and baddest adland breaking news from the past month.
Because… it's not just about rugby this month (well it is a little).
This month at a glance:
This month we start with a humorous spot starring David Beckham… enough said (we are red blooded women after all). We also look at IKEA advertising a nudist colony in order to sell tables, Hiroshima creating a Map for Cats, Trainline rebranding to reveal 'Train Man' and Doritos giving us a prime example of how to deal with internet trolls. We look at KFC in a different light for LFW, Hyundai hack Instagram, Uber Giving donate to Save The Children in the wake of the refugee crisis and ASOS' bring out a new blog. We finish by discussing all the great ad's from this year's rugby action.
Becks vs Kevin Hart
If you're having a bad day, we recommend watching this from H&M… 7 minutes of uninterrupted David Beckham. What more could you need? Oh ok, we will chuck in some comedy for good measure. Kevin Hart is also featured. All round awesomeness! The creative team behind this idea, we take our hats off to you. Check it out here:
Get nude to sell tables
Believe it or not, 79% of important decisions are made around a table. Taking this on board, Paris ad agency Buzzman have created a series of ads based around the IKEA table, but they are rather strange. The unusual concept features surreal situations which involved a nudist colony, a sinister summer camp and a vampire. Confused? We were. Each of the mysterious clips end with an event that sees people sitting around an IKEA table. Have a look for yourself below:
A lesson in trolling to all the haters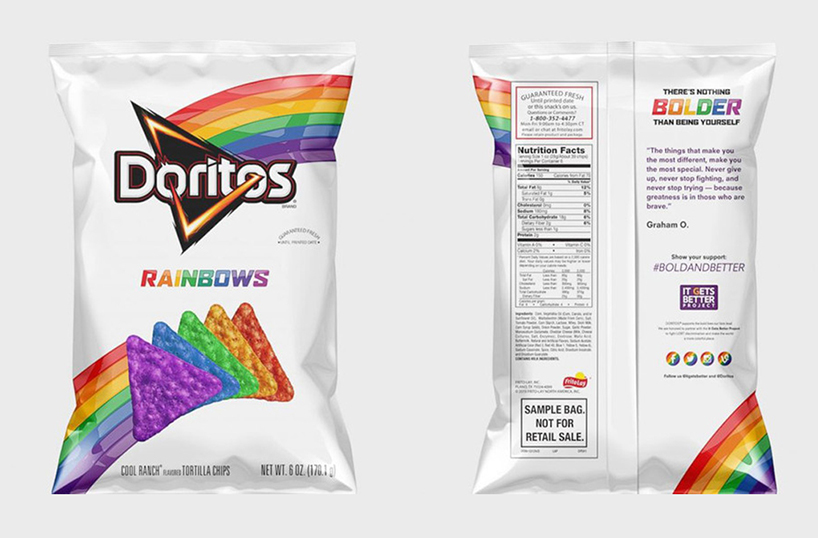 Doritos have been setting a prime example this month on how to deal with Internet trolls (no not the green haired toys). After the launch of their rainbow flavoured crisps, in support to LGBT teens, some social users decided to state their offence with the campaign. Despite the fact the campaign is to raise funds and awareness for a good cause, the usual miseries decided to state their dismay, but Doritos were having none of it. So they hired Mike Melgaard; an Internet whizz kid who is basically a troll, but the good kind. The kind who puts people in their place, after winding them up, and sets the record straight. Here's the results (we particularly like the "What would Jesus do? Jesus would eat Doritos statement):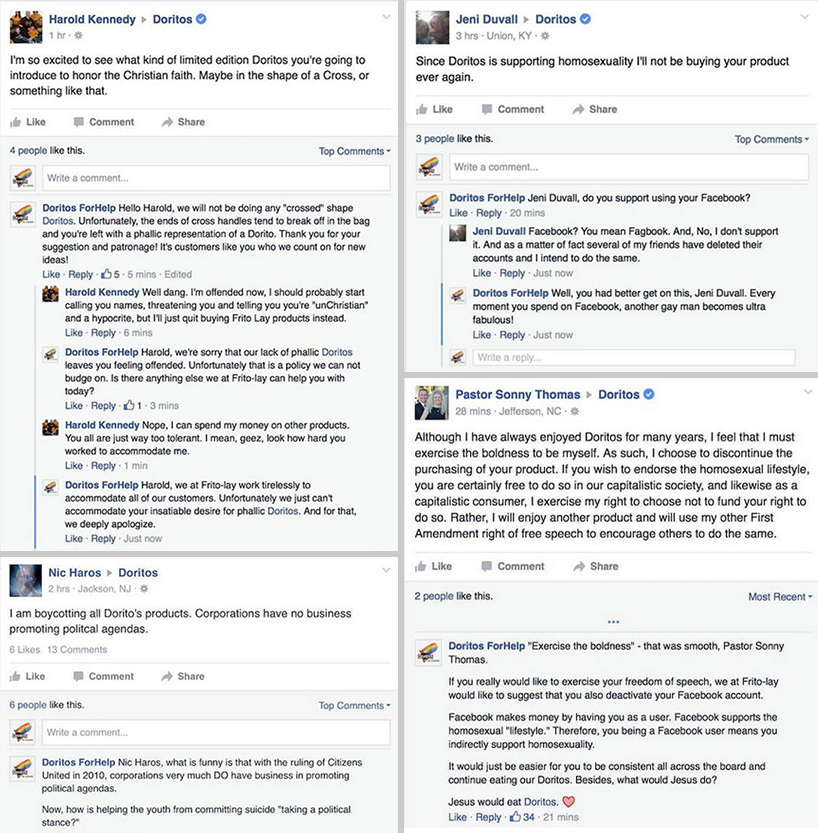 Where do cats go all day? What does it look like to roam the streets? Well, Hiroshima prefecture's tourism board created Map for Cats, and it gives you a Google street view (a little lower to the ground) of the places cats would go in Onomichi, showing you the houses of some special felines along the way. Brilliant! Take a look here.
After winning a competitive pitch in June, Anomaly London won Trainline's creative account and have propelled their client into modern design. Giving the company a 'facelift', the new minty fresh branding sees the company losing 'the' and '.com' and simplifying their brand name to trainline. The new contemporary look is bold, smart and sleek, aiming to put the user in control. Read more about the rebrand here.
Coinciding with their new look and feel the company also released a light-hearted spot, which introduces 'Train Man' who is the man who knows the tricks and cheats to stay ahead of the crowds and pay less than other passengers as he uses Trainline. "There is a man I often see on my village platform. I've never spoken to him, but I respect his work. His poise, his calm, and his knowledge of PRECISELY where the doors stop. There are many others like him. Men, women and families that have mastered the fine art of train travel. We're going to meet them all and we're going to learn from them, for they are Train." Oli Beale, Creative Director, Anomaly London. Check out the new ad below:
Taxi company Uber have revived their Uber Giving service, this time for Save the Children in the wake of the refugee crisis appeal. This month, during an allotted time, you could order an Uber to collect your unwanted items for free to donate to Save the Children. This isn't the first charity event by Uber and it certainly won't be the last. Just another reason why we think they're great. Read more on the company's newsroom here.
This month car manufacturer Hyundai decided to use Instagram to create a quiz. The elaborate idea used 18 separate Instagram accounts and almost 400 images to allow SUV buyers to decide whether the Santa Fe, Santa Fe Sport or Tucson was the right car for them. The quiz comes after a string of cool activity on Instagram from fellow car automakers such as Y&R's fictional stories for Land Rover. We are loving the innovative use of the app guys! The quiz is still available on @Hyundai_Quiz_Start now.
ASOS Likes is a brand new news stream that helps you look hot, be smart and have fun. From fashion and beauty news to internet LOLs and trending stories the blog has it all. The feedback buttons are a little unclear, but it's yet another way they are grabbing the attention of their twentysomething audience. Check it out for yourself here.

Chicken and fashion
What do fashion and chicken have in common? London Fashion Week apparently. As part of KFC's #PackMoreIntoLunch campaign, designer Katie Eary produced a fashion line in an hour for this months LFW. In the latest push in it's new lunch menu Ricebox campaign, KFC have been challenging creative types to produce a piece of work within an hour aiming to promote the brand to a wider audience. In the new ad we see Eary, renowned for her design work with celeb folk such as Kanye, create a whole catwalk line, consisting of 13 separate looks, in just one house instead of spending months crafting the range. Check out the ad here:
Simultaneously, the campaign also sees a creative concept from four bloggers who are set the challenge of designing their own Ricebox sleeve in an hour with final designs being used across KFC outlets around London. The campaign as a whole has been run across a range of social channels with different aims for each project tasked. Earlier in the year Wretch 32, Chip and Kano created a music video in their lunch hour as part of their #PackMoreIntoLunch contribution. We are intrigued to see what will be next. Watch this space.
And lastly let's focus again on thighs and shorts. Here's some of the best ads created for the Rugby World Cup.
Beats and Rugby
The latest series of Beats by Dre ads, entitled 'The Game Starts Here', have been created by R/GA London for the English, French and New Zealand markets. For London the star of the show is Chris Robshaw, New Zealand is Richie McCaw and France is Wesley Fofana. The ad's see each player taking us through their mental routine to prepare for the rugby, be it a press conference or the start of the game itself. Another great campaign from the tech company. Check it out below:
Never Alone with Guinness
This month has also seen the launch of Guinness' new Rugby campaign. The ad tells the uplifting real life stories of Welsh legend, Gareth Thomas, and former South African winger, Ashwin Willemse, and how their teammates were there for them when they needed them most.
The two short documentary ads were created by advertising agency Abbott Mead Vickers BBDO, in collaboration with internationally renowned Australian director, John Hillcoat, whose credits include "The Road" and "Lawless". They shine a light on the lives of Thomas and Willemse as they recount their battles to overcome the most difficult periods in their lives. The campaign provides a personal insight into the challenges they faced and how they overcame them with the support of their teammates. Have a look at the documentaries here:
We call it Rugby
England Rugby have launched a new campaign to back the Rugby World Cup, which look to piggy-back on the buzz around the tournament and entice 16-24 year olds to take part in the game. The spot, released on 25 September, aims to bring new people into the sport by plugging the "leakage" experienced when people leave school or university and fail to re-join a rugby club. A series of documentaries show people from all different kinds of backgrounds play the sport giving the impression England Rugby are finally looking to shed itself of its private school persona. Have a look at the spot below:
And lastly… Bleed for England
Following trend, NHSBT have launched a 'Give Blood' campaign featuring former England rugby players, released on the same day as the start of the 2015 Rugby World Cup.
The campaign began with a TV spot which first aired on 18th September showing a dead rose being revived by drops of blood as the voice-over (Sir John Hurt) talks about how only 3 per cent of the UK population are willing to support the country by bleeding for England. The supporting press and poster campaign features members of England's 2003 World Cup-winning squad, including Jonny Wilkinson and Martin Johnson. Read more about the campaign on the dedicated website here.
That's all for September folks. Enjoy the rest of the rugby!
If you think we've missed anything world-changing that should be covered, let us know and we'll put it in the next round-up! Email: hello@toworkorplay.com
[Images courtesy of YouTube, Facebook, Hiroshima, Instagram]