Young Gold Teeth Talks 2016 //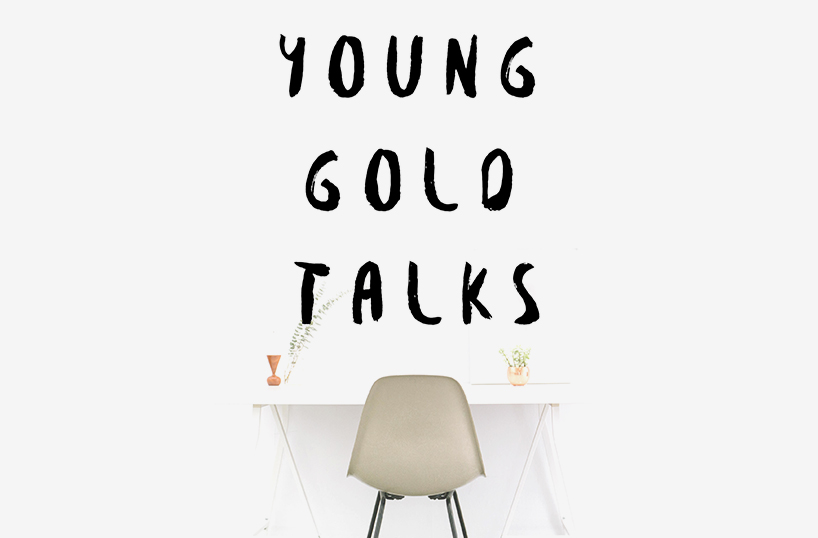 YOUNG GOLD TEETH, the blog that celebrates creative lifestyles, is taking things offline for one day in November to unite creative minds and inspire the next generation of professional doers, makers, designers, artists and entrepreneurs. Here we give you an insight into the exciting event.
YGT, created and run by London-based writer Emily Beeson, typically publishes unique stories, reviews and interviews that cover all aspects of the creative industries, from events and tools, to indie businesses, places to visit, and ethical brands to follow.
Join the blog's readers, community and many special guests and speakers for an inclusive day-long festival of talks and ideas-sharing at Google Campus, Shoreditch, on Saturday 12th November. YOUNG GOLD TALKS kicks off at 12 noon and will feature a full programme of presentations followed by Q&A's with a host of speakers including gallery owners, magazine editors, small businesses, successful artists and designers, bloggers and more.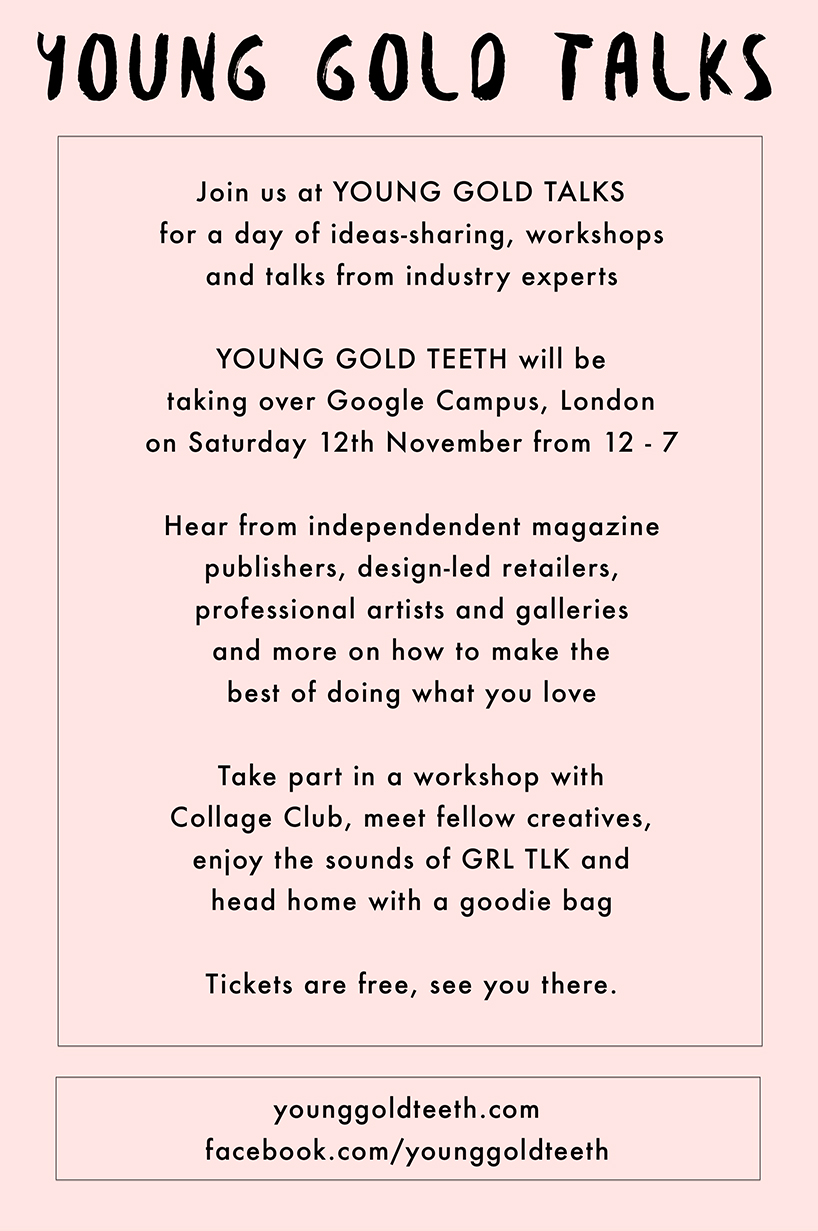 The whole day will provide valuable insights into the creative industries, offering unique advice and information on anything from pitching to a gallery or store to running a flourishing independent business and using social media and community to boost a young brand. Attendees will hear from a range of creatives and London-based ventures about their identity, successes and advice.
"With so much to read and take in on the internet, so many tips, how to's and snippets of advice on how to be the very best version of yourself, how to succeed as a female entrepreneur and how to channel your creativity, digesting such a scramble of information and applying it can be an exhausting challenge" says Emily. "The sense of community and mentorship that can be found online is great, especially when it comes to social media, but hearing from fellow creatives, professionals and experts in person and having the opportunity to ask questions face-to-face can be a far more rewarding, personal and uplifting experience. That's why for one day, the blog will be landing in a physical space and giving people the chance to connect at YOUNG GOLD TALKS."
Free, inclusive and open to all, expect tasty refreshments, including vegan and gluten-free options, music from ultra-talented DJ duo GRL TLK and goodie bags packed with treats from colourful and creative indie businesses. Plus, attend a very special workshop with Collage Club and network with some of the creative scene's most unique and inspiring minds.
Learn how to make the best of doing what you love and join in for the day at YOUNG GOLD TALKS. Register for your free ticket and join the Facebook event for line-up announcements.
This event is currently sold out, but fear not – as a TWOP reader we can let you into a secret… a mini flash sale for free tickets will take place on Saturday 5th November at 12 noon. Keep your eyes peeled and apply on Saturday by clicking here – good luck!
————

Words by Emily Beeson. Visit Emily's blog here to view more of her work. Alternatively ask her questions on Twitter here.
Want the latest posts, offers and exclusive tickets straight to your inbox? Subscribe to our newsletter and never miss out again.
Images © Young Gold Teeth