5 of the Best Women's 2015 TED Talks //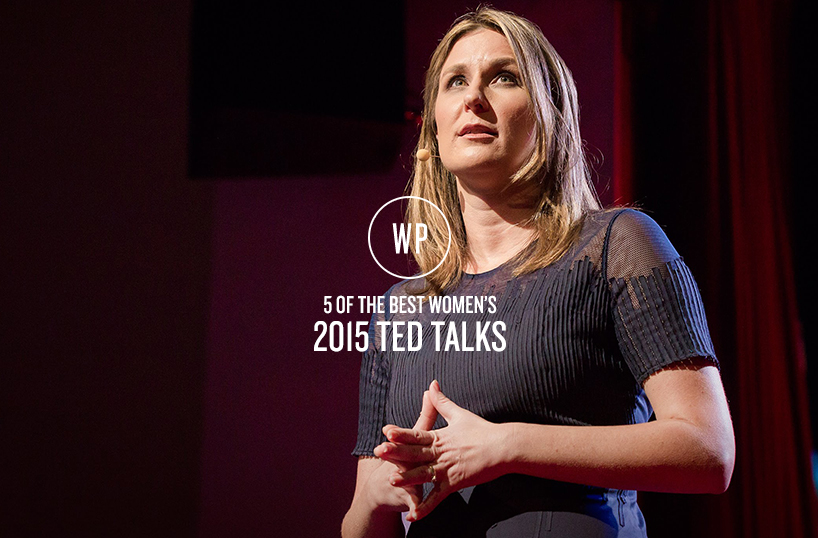 In our latest series we will be bringing you 5 of the best … from one particular topic. In this post Firuze gives you 5 of the best TED talks from the encouraging ladies in the current 2015 lineup.
TED talks can be literally life changing, and these five women from the 2015 series each have something special that is transferable to everyone's everyday life, no matter the topic. Take a look and see if you agree.
Margaret Heffernan: Why it's time to forget the pecking order at work
Organizations are often run according to "the superchicken model," where the value is placed on star employees who outperform others. And yet, this isn't what drives the most high-achieving teams. Business leader Margaret Heffernan observes that it is social cohesion — built every coffee break, every time one team member asks another for help — that leads over time to great results. It's a radical rethink of what drives us to do our best work, and what it means to be a leader. Because as Heffernan points out: "Companies don't have ideas. Only people do."
Why we picked it: Social Capital – Margaret gives us tips on how to encourage collaboration in your company and build value over time.
Rana el Kaliouby: This app knows how you feel — from the look on your face
Our emotions influence every aspect of our lives — how we learn, how we communicate, how we make decisions. Yet they're absent from our digital lives; the devices and apps we interact with have no way of knowing how we feel. Scientist Rana el Kaliouby aims to change that. She demos a powerful new technology that reads your facial expressions and matches them to corresponding emotions. This "emotion engine" has big implications, she says, and could change not just how we interact with machines — but with each other.
Why we picked it: There is some great data on emotions that have driven this talk and which has influenced work to help with autism and which considers the possibilities of facial tracking in the future.
Roxane Gay: Confessions of a bad feminist
When writer Roxane Gay dubbed herself a "bad feminist," she was making a joke, acknowledging that she couldn't possibly live up to the demands for perfection of the feminist movement. But when Gay thought about it some more, she realized that this was a deeply complex situation. That, in fact, the word "feminist" has become an accusation. That feminism has become "an f word, and not a nice word." That this is itself a problem. In a thoughtful and provocative talk, she asks us to embrace all flavours of feminism — and make the small choices that, en masse, might lead to actual change.
Why we picked it: Feminism is a word that is being thrown around more and more with such a broad spectrum of meaning. We felt empowered by watching just a single woman's account of the word and how it can lead to actual change.
Linda Cliatt-Wayman: How to fix a broken school? Lead fearlessly, love hard
On Linda Cliatt-Wayman's first day as principal at a failing high school in North Philadelphia, she was determined to lay down the law. But she soon realized the job was more complex than she thought. With palpable passion, she shares the three principles that helped her turn around three schools labelled "low-performing and persistently dangerous." Her fearless determination to lead — and to love the students, no matter what — is a model for leaders in all fields.
Why we picked it: Linda is a passionate speaker with a love for students that is pushed further than talk and is solidified in action.
Aspen Baker: A better way to talk about abortion
Abortion is extremely common. In America, for example, one in three women will have an abortion in their lifetime, yet the strong emotions sparked by the topic — and the highly politicised rhetoric around it — leave little room for thoughtful, open debate. In this personal, thoughtful talk, Aspen Baker makes the case for being neither "pro-life" nor "pro-choice" but rather "pro-voice" — and for the roles that listening and storytelling can play when it comes to discussing difficult topics.
Why we picked it: There are many issues in the world today, and many of them cause conflict. This conflict is actually a blockade for choice as there's no room to have or hear a voice. And so Pro-Voice was born.
Finally, for further reading read these amazing quotes for the TED Women of 2015 here.
Words by – Firuze French
[Imagery courtesy of TED]