Life in the freelance lane //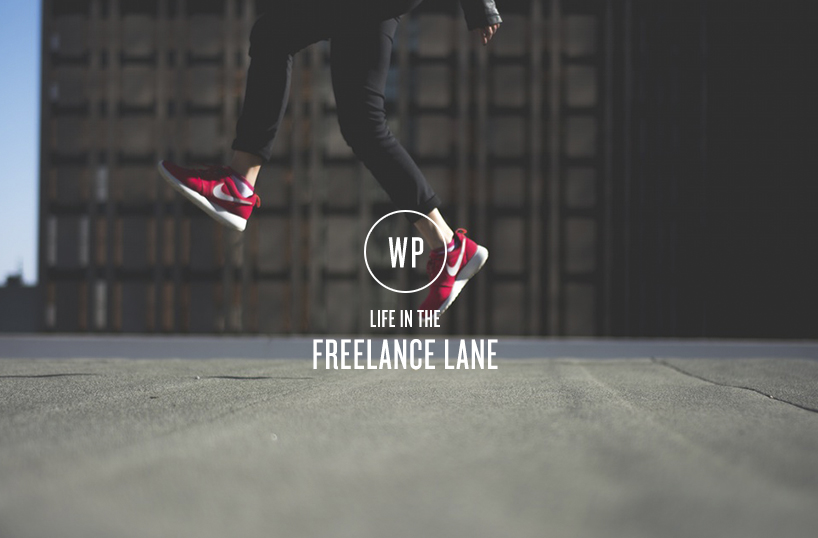 Freelance creative is booming at the moment. Nat delves deeper into her world as a freelance designer.
Back in October 2013 I wrote a Survival Guide for freelance designers based on past experience in the role (view here). Since then I have taken the plunge back into the freelance world at a more senior level and I have never looked back. A few of my friends have recently asked for advice on the freelance industry as it stands at the moment, and off the back of that I give you a more detailed breakdown when it comes to breaking into the market.
1) Are you right for the job?
It takes a certain character to be a freelancer. You need to have a social personality while maintaining an ability to pick up a brand quickly and in a seamless manner. To be right for this role you may want to consider the following questions:
>> Are you at the right level?
Are you at a stage in your career where you would feel comfortable leading your own work? If you need to be guided through a process or are at a junior level I wouldn't really recommend freelance at this stage.
>> Do you have all your ducks in a row?
Is your portfolio, Behance and Linkedin page up to date?
>> Are you sociable?
Do you have the ability to make new contacts, socialise and constantly stay in touch with industry folk?
>> Can you fit into situations easily?
Are you a confident person that will be able to fit into teams easily with the ability to talk to pretty much anyone?
If you can answer "yes" to these then you are ready.
2) Thinking of taking the plunge
If you're considering leaving your job, but you don't know where you want to go or what you want to do and are up for taking a bit of a risk then you may have been thinking of freelance. Here's a few pro's and con's before you take the next step:
>> Work
Pro: You will work for a vast number of clients over a whole range of exciting jobs.
Con: Sometimes you get the jobs no one wants to do.
>> Time
Pro: Your time is your time. If you want to take 6 months of the year off you can. If you want to have 10 holidays a year you can. Christmas is no problem, have it off.
Con: When you take time off you are obviously taking this out of your own money pot as no one will pay you holiday / sickness pay. So something to bear in mind.
>> Money
Pro: We all like to say it's not that important, but ultimately it is a rather important factor. As a freelancer you will generally get more money as standard.
Con: You won't be PAYE  anymore, so this means you need to sort this out yourself or hire someone to sort your finances for you.
>> Bookings
Pro: You get to experience a whole variety of companies. Big to small, advertising to branding, mega clients to boutique companies. The list is endless and if you move around enough you will never be bored.
Con: Most jobs won't just fall into your lap so you need to be proactive, constantly talking to contacts and recruiters to ensure you are working when you want to be.
3) Where to start
So, you are in the process of quitting the security of your permanent role. Now what do you do?
>> Make sure your book / CV is up to date:
This is key and probably the first thing you should do! You won't get anywhere if you haven't got a folio / CV that's up to date and shows exactly what you have been doing for the past couple of years.
>> Sort your finances:
A few people have asked me whether it's better to be Umbrella or Limited Company. Personally I would say register yourself as a Limited Company as generally recruiters and large organisations take to this better and in some cases will only hire you if you are a Limited Company. It also gives you better financial advantages in the long run.
As I mentioned earlier you will need to sort your finances. You are responsible when HMRC come knocking for pennies (and pounds, lots of them if you are doing well!) There are many ways to do this, but personally I have found that paying a monthly fee and having a dedicated accountant who is there to answer your questions at all times (doesn't matter how stupid they are), is the best way to keep track of your earnings. My accountant does everything and set up everything for me initially. I have software that he has given me called Freeagent, which allows me to raise invoices, see how much I owe the taxman, see how much I owe in VAT, keep track of who owes me what and also scan receipts for expenses.
>> Make contacts:
Start talking to and meeting recruiters. Once you have established yourself as a freelancer you may not need as much help from recruiters as you do at the beginning, but at the end of the day they are a great source and have a bottomless pit of contacts in the industry. What's more, the larger organisations and good recruiters often pay you directly, so you won't need to deal with chasing agencies for money when it comes to paying your invoices. Hurrah (this is a massive weight off your shoulders, believe me).
Also start making your own contacts. Look up people on Linkedin, talk to folk you have worked with in the past and reach out to agencies you would like to work with. Often companies have a list of freelancers that they will call on initially when work is needed.
Throughout your freelance career, it is important that you maintain contact with all of the above, constantly talking to people to find out what's out there and what's coming up. I speak to recruiters at least twice a week and try to stay on top of talking to personal contacts all the time. At first take the jobs that come up and once you have made a name for yourself in some companies and with recruiters then you can be more picky.
In all it's about who you know and maintaining a professional front constantly.
4) Work out your rates
I always advise friends who are thinking of freelancing to do this before starting. I worked out how much my day rate should be from advice from friends and recruiters. You don't want to mark yourself too high that you place yourself out the market, but at the same time don't underestimate your time and skills.
Work out your day rate, your overtime rate (I always ensure I will get overtime past 7pm or on weekends as otherwise companies may take the mick. Also you will work on pitches so this is vital) and also how much you will charge for short term contracts vs long term contracts. Generally I charge a higher rate for short contracts vs a discounted rate for a longer contract as you are securing a longer term of work.
Lastly work out how many weeks / days a month you need to work to cover your outgoings, spending money and cover your tax. By doing this it eases the pressure you feel when the fear kicks in. The fear being a fear of not being booked for the whole month every month. Initially it's a little scary, but you learn to live with it once you know what you actually need to work to get by (and it will be less than you think). Everything after that is a bonus!
———————————————————————————
I asked a few of my freelance friends the following questions, here's what they said:
>> What's the best part of freelance life?
James: Freedom of time to manage and service your own clients.
Anna: The freedom and independence. I don't think I'll ever get bored of being my own boss. Moving around different agencies means you meet new people and work on new clients all the time. Some are good, some aren't so good! but it's all a constant variety and learning process. Plus the opportunity to work for your own individual clients rather than a big agency is amazing. That and the sneaky weeks off whenever you fancy it make it the only way to go for me at the moment.
>> What's the hardest thing about being a freelancer
James: The fear of not getting work.
Anna: The risk of not getting booked can sometimes get a bit stressful. You get weeks where it all goes a bit quiet and you have to dig around a bit for a booking – probably taking one somewhere you'd rather not be working -but it's all part of the game. But from experience, something always, always turns up. I also, at times, miss the community aspect of working in a big, lively agency. My last agency had an amazing internal culture and felt like a creative meeting of minds every day. Not having the nurturing and praise of a CD or DD is also something I miss from this community aspect.
>> Do you ever wish you were perm?
James: No. The time was perfect to go freelance.
Anna: Not for a minute. Going freelance came at exactly the right time for me in my career and my personal life. I'd been permanent in the same agency for 7 years and having been a Senior Designer there for a year or so I was beginning to feel stagnant and resentful of being tied down to one place. I'd spent most of my 20's at this agency and had had a brilliant experience but it just felt time for something different. On a personal level I felt like it was time I did something for me – to pour my efforts into my own career, not just into the survival of the agency I worked for. I love my job and always want the best for it. Going freelance just felt totally like the right thing to do at that point.
>> What's the best bit of advice you can give someone looking to move into freelance?
James: Get your business all set up, potential clients sounded out, recruiters all in the loop and have a stash of cash ready, all before you make the jump.
Anna: A friend of mine who's been well known and liked in the freelance industry for years told me to remember 3 things when I became a freelancer
1. Be good, be on time and be nice to people. It's pretty  simple really. I see fellow freelancers in agencies breaking these rules and it becomes pretty obvious pretty quickly to your employer that you're not behaving yourself.
2. Freelancing depends a lot on word of mouth. If you're good, people tell each other and word of your reputation will spread, leading to more bookings. If you're not, it can be hard to repair the damage.
3. Be connected. If you're preparing to go freelance or even just thinking about it – make a big old list of every single contact you can think of that you might be able to tap up for work. Get their details – Linkedin is great for this – and stay in contact. The majority of my bookings so far have been made through old colleagues and friends in the industry.
Overall I love the freelance life, and there's not many people I have met that doesn't. In saying this you need to take it into great consideration and like I mentioned before it's not right for everyone. I hope this article has helped with advice on some of the questions you have been asking yourself along with a bit of advice from people who have taken the leap. If you feel like there's something that's not been covered that you would like more advice on feel free to contact me on hello@toworkorplay.com.
Words by – Natalie Jahangiry