Industry Profile: David Pugh-Jones //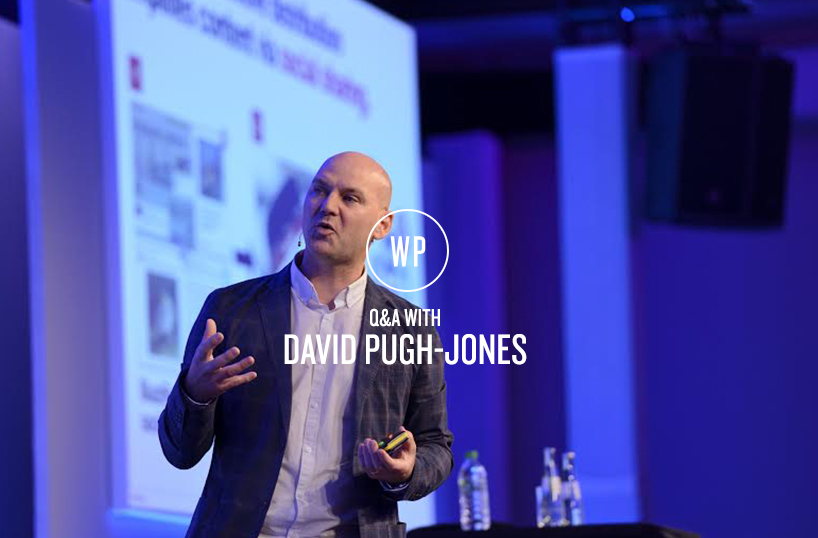 We spoke to David Pugh-Jones about life in the industry, what advice he would give to newbie graduates and what a typical day at BuzzFeed office looks like.
David Pugh-Jones is a well acclaimed figurehead within the industry who is currently manning the team over at BuzzFeed as European Brand Strategy Director. Previous to this David had been at Microsoft for 8 years as lead in the Multinational Advertising and Creative Solutions Team as part of the Advertising and Online division of the company. An all round multi talented leader with award winning ideas.
Firstly, let's break the ice… tell us something about you:
I may be recognised for my hairless pate, but it wasn't always like that. In my younger vanity years (not sure I've actually stopped to be honest!) I borrowed my sister's styling mousse ensuring the blonde flowing locks I once owned were perfectly in tact. Unfortunately it turned out to be Immac hair removal cream…the rest is history!
What/Who inspires and motivates you?
I love to see how innovative technology can make a real difference to our lives and lifestyles. That's not technology for technology's sake but rather when it becomes a real utility for us to use that improves how we approach something in a meaningful way. What is really easy to forget is that human endeavour stills plays a significant part in what we create and will continue to so – well at least whilst I'm still alive. That is the beauty of blending art and science. Both complement each other.
How did you start out in the industry?
A friend of mine and I started at the same time in a local print shop that was working with brands on corporate merchandise and sponsorship over 20 years ago. I hated some of the mundane tasks but dropped enough hints with management at where my talents lied and slowly transitioned into the colour lab dept, as I wanted to understand why and what colours made up a brand. I really wanted to understand the science behind what made something unique. To be honest it was an element of right place, right time and I still firmly believe that you will naturally sway towards something that can use your talents. Even if you don't know, at first, that they exist! It was a step in the right direction. I knew advertising and branding were my forte so from then onwards my career path became even more natural.
Who gave you your first break?
Hilariously, it was my wife – not at that time obviously! She interviewed me for a role in publishing focused around design, page make up and original content creation for advertisers. Music Week was one of the first publications I took on ensuring it got to press on time, alongside the less glamourous Pig Farmers Weekly – let's not go there though shall we…
The advertising industry is tough. What issues have you come up against in your career and how have you overcome them?
It is. People especially, internal organisation politics can be challenging – they can drain your creative juices instantly. You need to be able to react and respond differently to multiple challenges that are put in your way. My advice is to take stock before you pile in two footed. Do your research, find out what makes people tick and respond in a fashion that is true to yourself and right for the environment and situation. People gravitate to people who are honest, true, friendly, inspiring, driven, unflappable, passionate, respected and eager to learn. Never stop asking questions – it's what will make you in the long run. Making mistakes is a good thing – being able to learn from them will enhance your expertise and skillsets alongside showcasing a willingness to adapt, evolve and grow as an individual in a tough marketplace.
We love a good idea. What's your favourite ever campaign, one that has really stood out to you from the rest?
Without going into too much detail one of my favourites from my team was to film a series of events with innovative fisheye cameras located in the most obscure places (we even hung one round the neck of a security guards dog!), recording the GPS trackable images and data then creating time-lapse content with backing music from the performing artists. We then hid all the content within a giant digital deep zoom mosaic image made up of 15,000 photos and let users go explore. The results were mesmerising and the experience was so different to anything else I had seen before.
There are way too many brilliant campaigns that have been created over the past 20 years but the Old Spice campaign 'The man your man could smell like' was clever and original. It's also memorable. Trying remembering the last ad campaign you worked on and ask yourself if a) would you share it? and b) will you remember it in 5 years' time? Exactly! So now try working with these on your next brief.
You're now at BuzzFeed London. Give us an insight into what your average day looks like:
Up at the crack of dawn – I'm a morning person so if you don't like mornings avoid me. Straight in the gym, 3 days a week, to counteract the London food and drinking culture. First thing is made up of a combination of; syncing with the team on client, agency and brand engagement plans for the day then it's checking and following up on emails, external meetings, attending or speaking at industry events, creative brainstorms, strategy and planning for new business, pitch meetings and the constant liaising with my network of industry and client contacts. No one day is the same, but some of the mechanics and process behind how you get through them are. Plan ahead and you won't waste valuable time to get shit done.
When you are looking to hire talent what catches your eye?
Honesty, Integrity, Endeavour, Passion, Fun, Common Sense, Spirit, Diversity, Adaptability are just a few of the characteristics I look for in people.
Last year we did an article on 21 things we wished we had known at 21 (see here). If you could have a conversation with your 21-year-old self, what would you say?
Grow some balls and be more confident. Not cocky, but confident. If you don't ask you don't get and someone gets ahead of you in the queue. Ask more questions!
What's the best bit of advice someone has ever given you?
I was once asked this before and was fortunate enough to have Tristan Eaton, the street artist, painter, illustrator and toy designer create an original piece of work off the back of it. So will say the same, 'Don't suffer fools gladly', it may not be original, but my father in law didn't and too badly from it. There have been many times where I wasted my time with fools in the early days of my career. They are like a poison if you allow them to befriend you. Avoid at all costs. They'll bring you down.
And what's the best bit of advice you would give a youngster starting in the industry now?
Be confident in your own ability. What are you excellent at? How can you be better at it? How can you showcase your talent in a way that is different? What is your unique selling point? What do you want to achieve/be and what do you need to do to get it? Never give up. Inspire people to be inspired by you.
Oh and have lots of fun on the way – It costs nothing to smile.
Finally… What guidance would you give people looking to follow a similar career path as yourself?
It's impossible to follow mine – half the technology is now defunct! Be yourself and be true to it. Don't try and be something you are not. Constantly challenge yourself and those around you to be great. Use Your talent network – friends, tutors, family, employees and employers to advise and consult on your options and choices whilst you navigate career paths. Think of it this way when you start out in your career, the likeliness is that in 5 years time that job title or role you have now may not exist. So learn to adapt and evolve. Don't worry about change, embrace it! Have fun.
With thanks to David.