5 of the Best Online Gift Stores //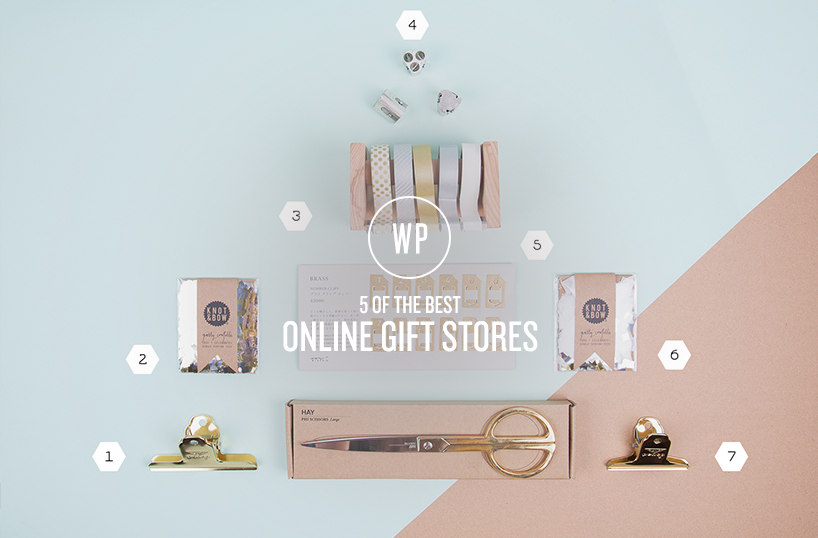 You need to find the perfect gift, but it's hard juggling work with social gatherings… where do you find time to shop? Don't worry, we have compiled a list of top creative gift stores so you can shop from the comfort of your desk… panic over. That's what lunch breaks are for anyway right?!
Having time to pop to the high street and go shopping can sometimes prove hard when leading a very busy lifestyle. Panic may set it as your partners birthday is on the approach or Mother's Day creeps upon us, but don't worry, we have your back. Here's Nat's 5 favourite creative online stores to treat the loved ones in your life from the convenience of your desk. Follow the sites below to kick start your shopping spree, hoorah!
Not on the High Street
notonthehighstreet.com/christmas
You may or may not have heard of Not on the High Street, but if you haven't your life is about to be made a whole lot easier. Welcome to gifting heaven for all sectors – new babies, birthdays, wedding planning, new home, Mother's Day… the list goes on! Created from a kitchen table in 2006 by award-winning entrepreneurs Holly Tucker and Sophie Cornish with the main aim to hunt out the most original items from the best creative small businesses, and bring them together in one place, making it easy for people to browse and buy.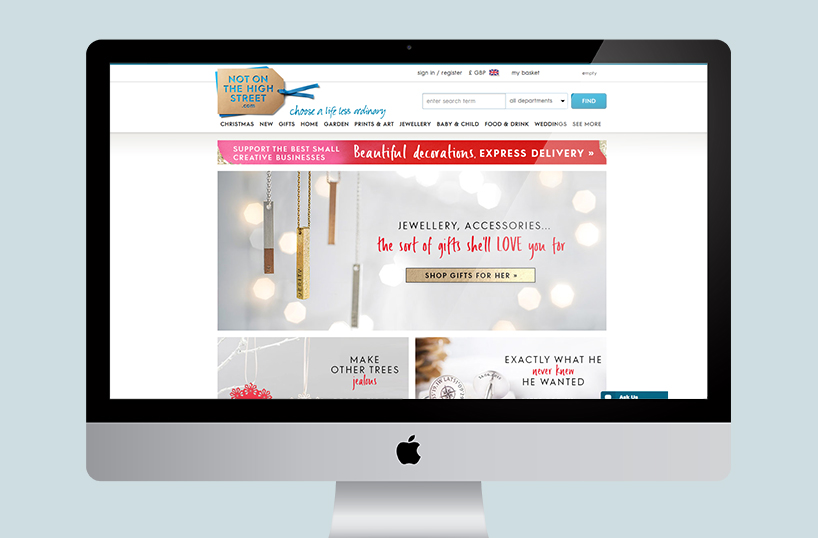 Along with the other gazillion occasions where you may need to buy a loved one a gift, they have Christmas… A whole LOAD of Christmas, and a massive variety of gifts for everyone from your dad to your dog. And on top of that they have a whole range of customisable gifts to sprinkle a touch of individuality onto the wonderful selection of gifts on offer. Check out the Christmas store here. Not only do they have you covered for Christmas gifts, but also table decorations and entertaining. The nice folk over there have even created a separate section for table dressing… thanks guys! Have a look here.
Also try Gift Finder, the online stores app which allows you to drill down into products according to your budget, who the gift is for, style and personality. Download here.
Trouva
trouva.com
"A breath of fresh air in this world of identikit high streets and mass produced, trend-led 'stuff'; Trouva works with a handpicked selection of the most inspired independent shops out there, to bring you a shoppable collection of beautiful, unusual products that stand out from the crowd."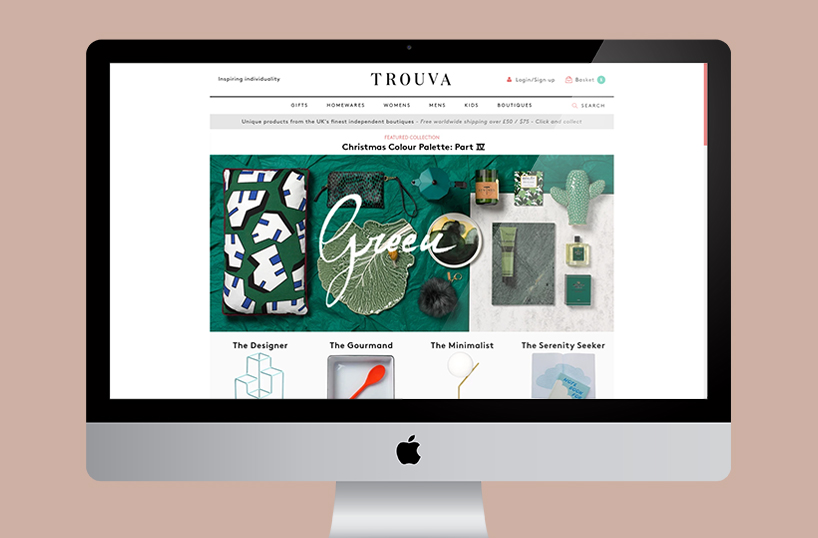 Trouvaille, aka 'a lucky find', was originally known as online marketplace StreetHub, bringing together over 350 stores from areas such as London and Brighton to put the joy of discovery back into shopping. Built as an expression and celebration of individuality the young and passionate team behind the site use technology and inventory data to show shoppers what is available in nearby boutiques while being able to purchase these goods from the Trouva site itself. Founded by Maxim Berglund, Mandeep Singh and Alex Loizou, with backing from SecretEscapes investor Octopus Ventures, the site aims to showcase independant stores providing an "antidote to chain-dominated, identikit high streets and busy, hard to navigate websites". The details are in the products with handpicked unique gifts, homeware, fashion and beauty, found only in independent stores nationwide. A lovely crafted selection of products are on offer making it hard not buy a gift from you to yourself while you are browsing.
Ohh Deer
ohhdeer.com/gifts
If it's craft, stationery and homeware you are looking for then this site is the place to be. The company itself is a collective of worldwide young, talented illustrator folk, founded by Jamie Mitchell in 2011.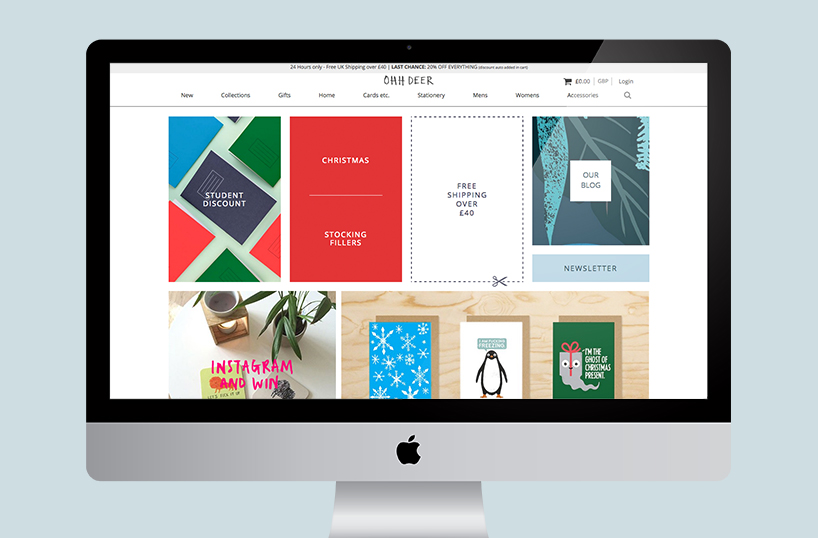 It sells a whole range of quirky bits and bobs from creative graphical tees, greetings cards, homeware and artwork, showcasing collections from panda prints to typographic quotes, many adding humour to eye catching patterns and graphical character designs. I have purchased many items from this site, and even received a great panda pillow gift, which takes pride of place in my sitting room. Gemma Correll is often featured on the site (read our Q&A with Gemma here) whose work is a personal fav of mine also… so no bias!
Papersmiths
papersmiths.co.uk
On a recent trip to Bristol I stumbled across this shop and if it wasn't for Tom nudging me to leave and get lunch I would have spent all day there! Founded by Sidonie, a fellow design-obsessed fanatic and co-founder of design studio Something Good.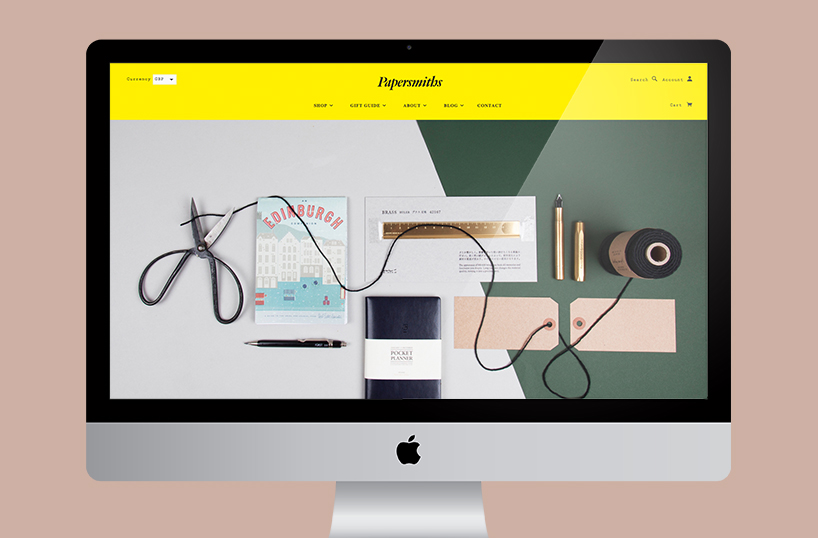 The wonderful craft store is an add-on to the design studio itself and specialises in design-led stationery and paper goods from desk accessories like fabulous fountain pens (I know as Tom bought me a beautiful one) to scissors, homewares and prints. They spend hours hand picking items from a range of their favourite designers across the world. Additionally there's an extensive range of design, interior travel and food books and specialist greetings cards. Although there's only one store in the country they have a great online offering which allows you to browse and purchase gifts for your creative loved ones (or maybe just for yourself…).
Howkapow
howkapow.com
Howkapow is a colourful online shop stocking home and kitchenware, ceramics, lamps and lights, prints and posters, accessories, kids stuff, jewellery and unique gifts from independent designers and illustrators.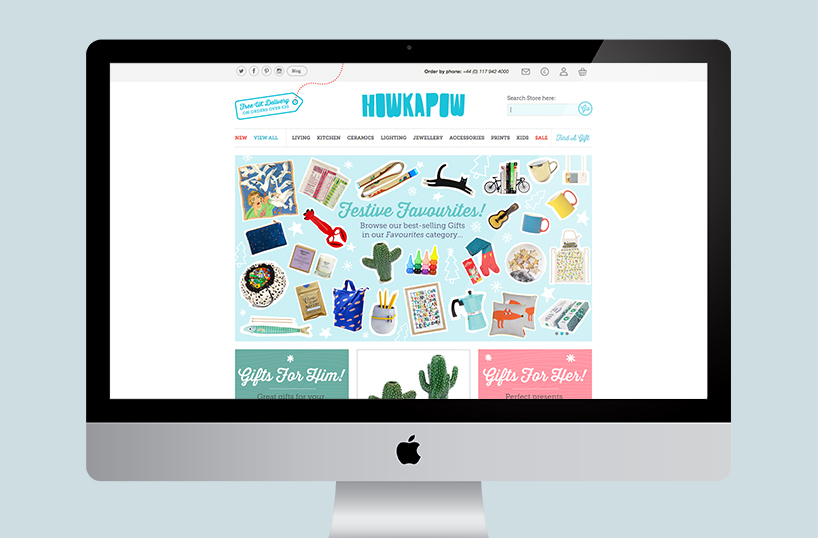 The site offers unusual gifts at affordable prices, from fun innovative and independent creative talent. Founded in December 2010 by husband-and-wife team Rog and Cat How, who as well as owning the shop write for The Guardian and Computer Arts having previously lectured at Chelsea College of Art & Design and judged London's Top Drawer design show. The all round creative eggs now concentrate on selling quality products with a stand-out style.
Now go have a G&T. You can thank me later.
Words by – Natalie Jahangiry 
[Imagery courtesy of Papersmiths, Notonthehighstreet, Trouva, Ohh Deer & Howkapow]