Brand Review: And Here We Are //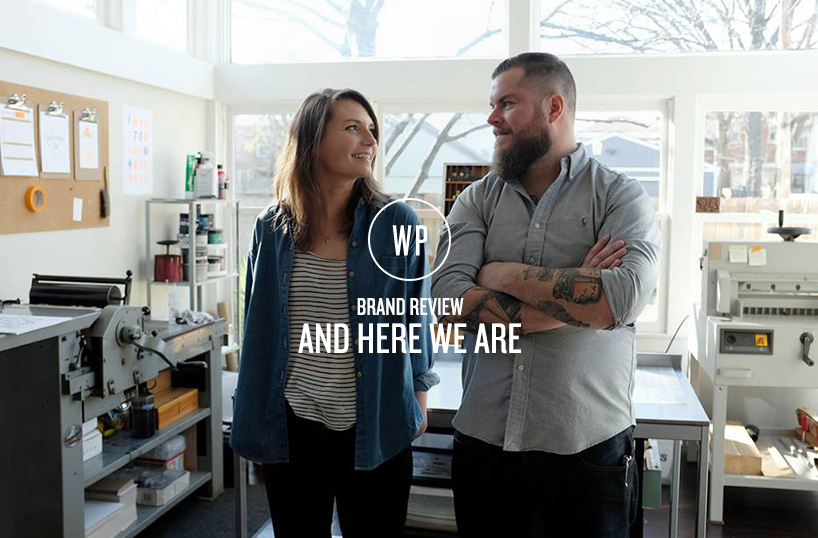 At TWOP we have a collective love for design, be it print, digital or interiors, we share a passion for making things pretty. A company who also share this passion are And Here We Are. We quiz them on working as a couple, taking design back to basics and studio life here…
Design means a different thing to different people. It comes in many forms and incorporates many different skills. A designer can create anything from the iPhone you are carrying, the poster you just walked past or the website you are currently on (great choice by the way!), to the chair you are sat on and the clothes you are wearing. Whether it's online or print, to be a great designer in today's market you need to widen your skill base and understand several different mediums, integration is the key. Two designers who embody this are  husband and wife duo,Meghan and John, who form the company And Here We Are. They offer a wide range of services from traditional letterpress printing, foil stamping and hand crafted typography to website builds, user testing and app development. Every piece of work is crafted in their home studio in Columbus.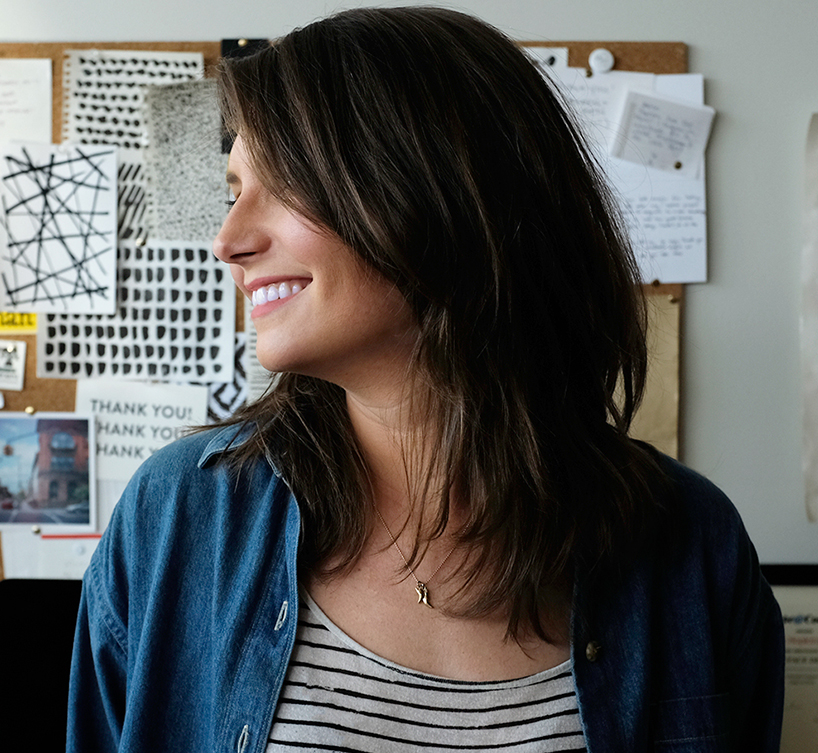 Meghan: Originally from Cincinnati, Meghan spent 9 years in New York City before moving back to Ohio in 2015. She holds a degree in Visual Communication Design from the Ohio State University and a certification in Typeface Design from the Cooper Union in NYC. Her background includes stints in textile design, branding, advertising, public relations and television. She concentrates mostly on hand lettering & typeface design and runs their letterpress. If Meghan's not hanging out with her cat (Linus) or dog (Martha), she's almost definitely got pen, pencil, brush or roller to paper.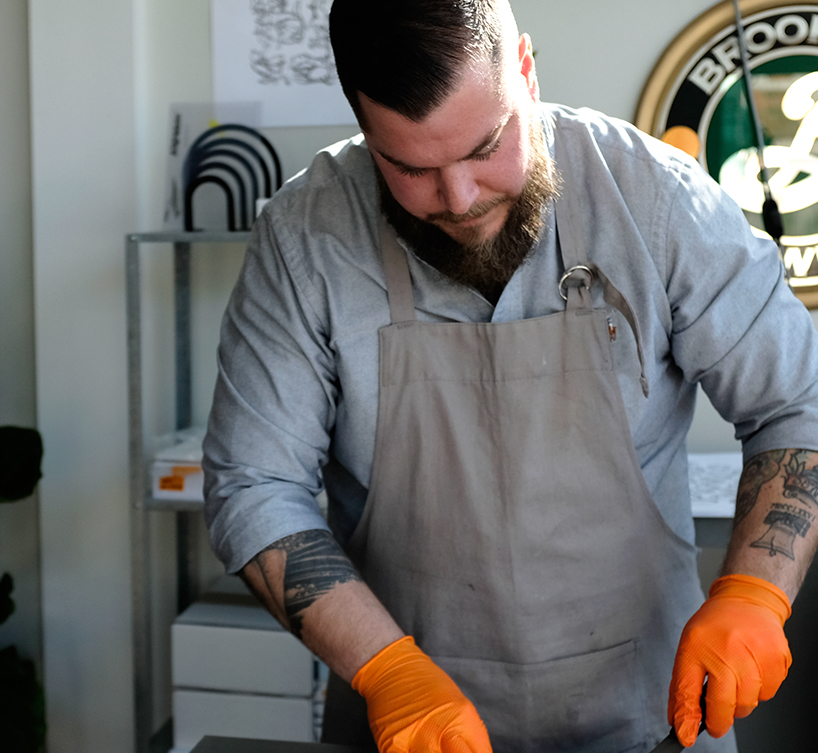 John: John was born and raised in the woods of South Jersey just minutes away from the Atlantic and graduated from Philadelphia University's School of Design, with a background in branding, advertising and web/digital design. He moved to the Big Apple in 2007 with two dollars in his pocket and suitcase full of dreams, then followed his wife's whims and moved into a crooked Victorian house in Columbus in 2015. When John's not mixing inks or pushing pixels around, you can find him tinkering on one of his two-wheeled vehicles, walking Martha or trolling Spotify for the best Yacht Rock playlists.
We quiz the dynamic duo to find out more about setting up the company, working as a wife and husband team, inspirations and their love for handcraft design.  
Let's talk a little bit about how And Here We Are got started. What inspired you to set up the company and how did you make the idea a reality?
It all started with our actual wedding back in 2011. Both being designers, we really went all in with our own wedding paper goods — design and production wise. We spent a lot of time designing collaboratively and we landed on a design that felt like "us". After the whirlwind time of the actual wedding and honeymoon, we submitted the suite to a few blogs and it got picked up and had a good reception. Around that time, I took an "Intro to Letterpress Printing" workshop at a local studio in Brooklyn, The Arm (HI DAN!).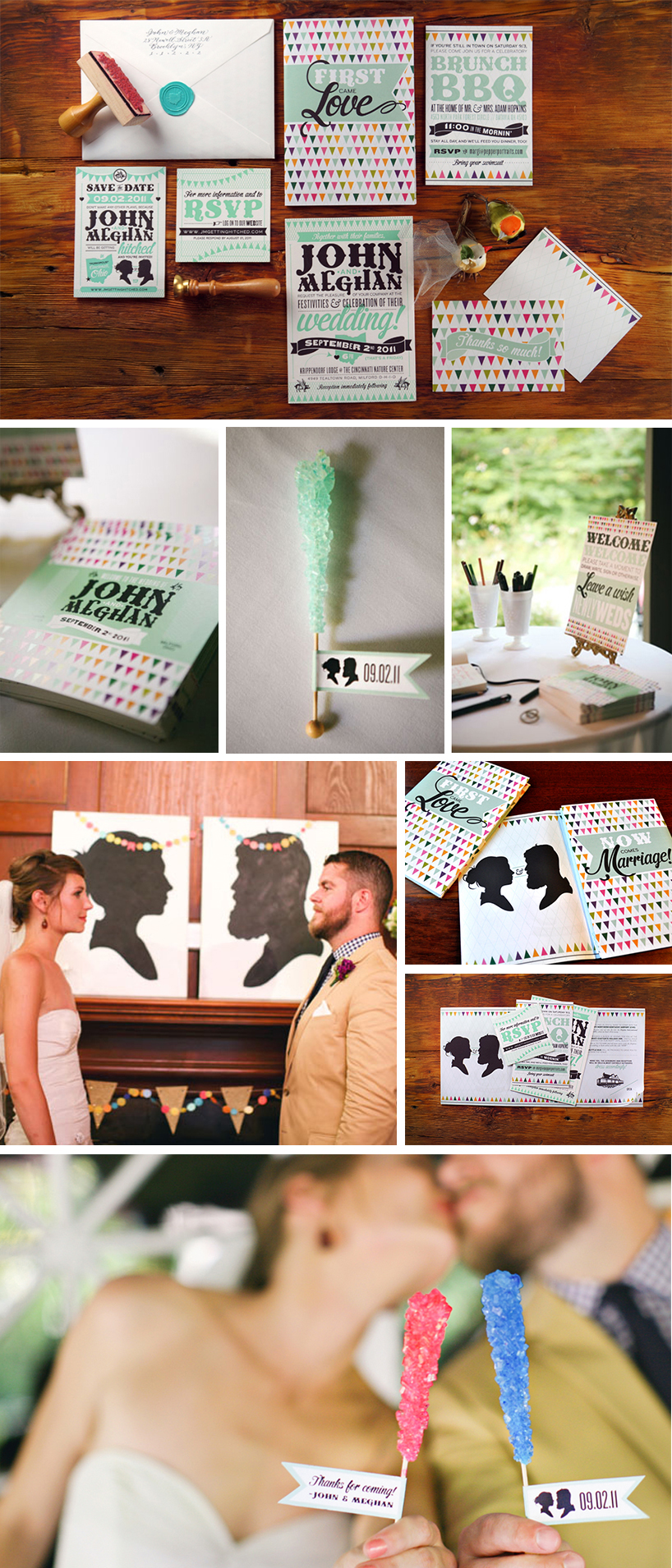 Then it all just snowballed from there. I took on some custom wedding jobs, designing nights and weekends, then printing at The Arm by renting a press hourly. In between wedding jobs, I started to work on some of my own custom lettered and printed paper goods. And by the end of 2012 I was getting enough wedding and client work that I was able to quit my 9-to-5 (well, 9-to-whenever in New York) and dedicate all of my time to And Here We Are. I also went back to school at the time for type design. John was working a regular agency job as a digital design director and noticed I was getting more and more work and pretty much asked if I needed help. And I did! He put in his notice, took a leap of faith, and joined And Here We Are in January of 2014.
Do you both come from a design and creative background?
Yes. We both went to school for design (me at the Ohio State University, John at Philadelphia University), and I went back for more (typeface design at Cooper Union). Both of our college programs were pretty good and set us up for careers in branding, leaning more on the corporate side. I moved to New York right after finishing school and actually got a my start as a textile designer. After that, I worked for a small branding agency where I met John. We actually both got laid off from said job (thanks recession), then we were hired in house by our one major clients, TOGETHER. We worked there for a few years setting up their in-house design department, and then I moved onto to the design department for a large TV network, while John worked in a couple of different digital agencies until he joined me at AHWA.
What does your average day look like?
All over the place! After we get rolling and John or myself walks our dog, Martha, we both usually buckle down for admin-y things for a few hours — planning out the week, emails, paying invoices/bills, etc. It's usually not until late morning or even early afternoon until either of us actually do any real design work. John has pretty much taken over the role of project manager, so he might spend the rest of the day emailing with clients and vendors, or writing proposals and estimates, while I'm lettering or drawing at my desk for upcoming AHWA goods. And throw in at least a half hour or so for when we walk the dog around lunch. It lets us get out of the studio, get some fresh air, and maybe soak up some inspiration.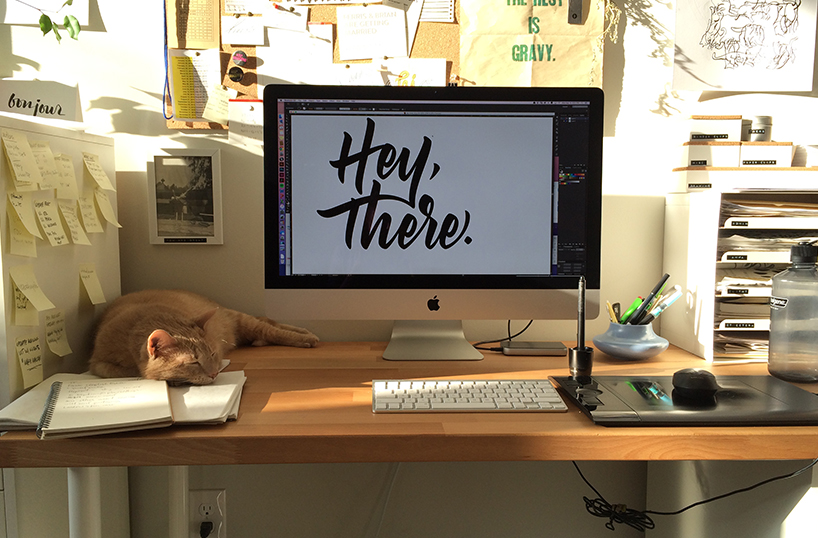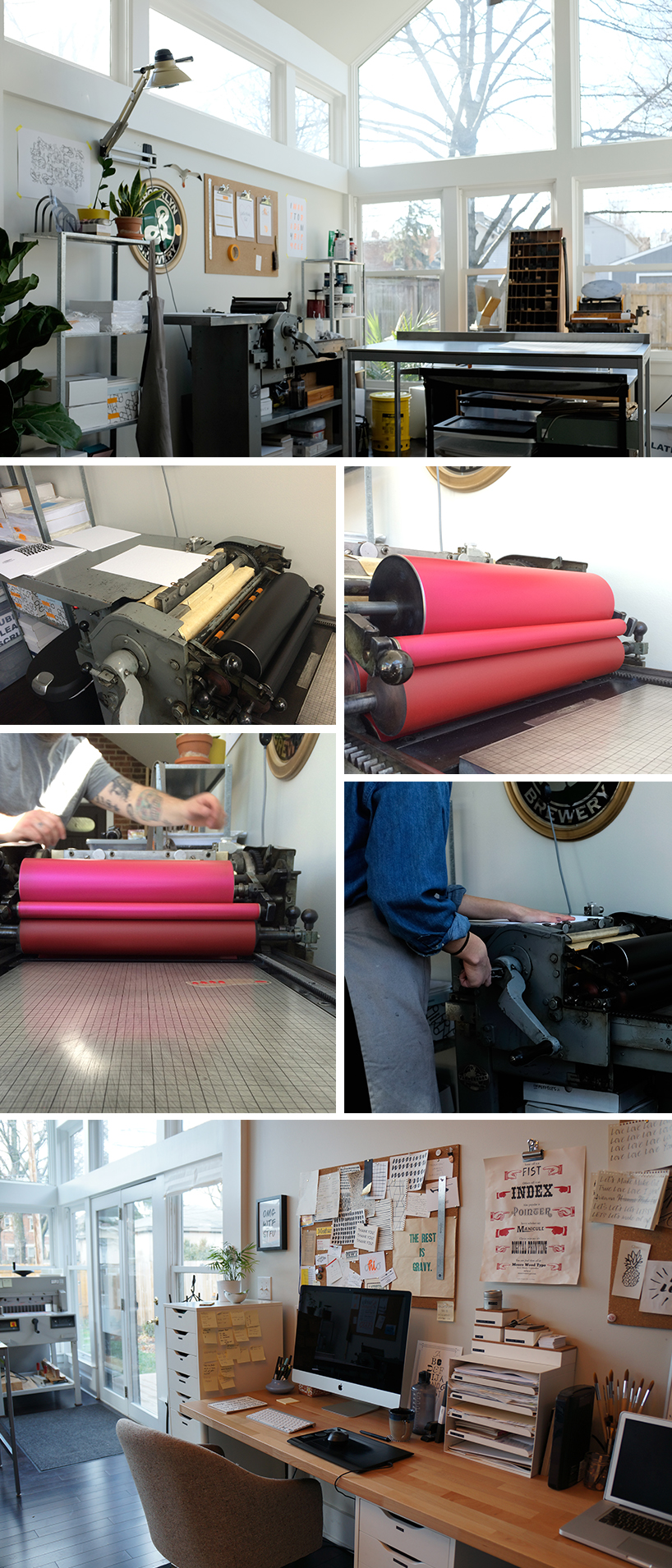 When we're working on custom wedding projects, we usually split the design work right down the middle. I'll handle the custom lettering and any illustrations, patterns, etc. and John handles the overall layout, typography, colors. It's a really collaborative process, and pretty much goes all the way back to how we worked together at that first agency and somehow everything comes together perfectly!
How do you find working together as a husband and wife team?
It's great. That doesn't mean there aren't bad days, but for the most part we work together well and have always played off each other's strengths and weaknesses, design-wise. We get this question a lot. "How do you work together, ALL the time!?" The thing is, we've been doing it for years before AHWA even existed. We met at work, became best friends, worked side by side through long nights and weekends, started dating, and the rest is history. The fact is we always worked well together and in an actual corporate setting, we had to separate work from personal life. I guess since we already had that division of work and life from the start of our relationship, it's carried all the way through the years. Now with a baby on the way(!!!), things might get VERY interesting…
Explain the process of creating a design, for say a wedding invite, from start to finish:  
We consider it "event branding." We treat it almost the exact way you would treat a branding or identity project. After an initial creative kickoff with the client to pick their brains, we usually jump right out of the gates to start concepting. These few concepts can be based off past work we've done, Pinterest boards they've supplied, anything really. We'll get together about 2-3 solid concepts in the form of mood boards and share those with the client. After we've talked through them and chosen an overall concept, then we start designing and fleshing out the actual pieces — from invites to RSVP cards to custom maps, wrappers, bands, etc. We then supply 2-3 design options, which while still under the main concept, will vary in lettering or type styles, colors, sizes, paper choices and more. From there, we'll just whittle it down to the final design after a few rounds of feedback and edits, then move into production. We might be handling all of the printing here if letterpress, or sending things out to various vendors for digital printing, foil stamping, die cutting, etc. It's not unusual to be working with 3-4 separate vendors across a single wedding suite. We'll get everything back in the studio, assemble, wrap it all up nice and pretty, GET PAID, then send it off to the bride(s)/groom(s) to be!

It's pretty clear you are both passionate about design. Who / where do you find inspiration?
That's a tough question. Back a few years ago, inspiration meant cruising Ffffffound or Designspiration a few hours. Now I can't even remember the last time I visited those sites. We do our best design thinking when we're out and about in the world, seeing new things, visiting new or old places, whatever. Don't discount anything! We've based whole projects off, say an old sign we've walked by or a pattern I noticed in an old blanket at a thrift store. I also keep a few pretty full Pinterest boards of color, type and design inspiration, and have a pretty robust library of typography books that I dig through from time to time. For us, key is to be as observant as possible.
There's a clear love for typography and modern hand lettering in your work, taking design off screen and going back to hand crafted basics. Tell us about using traditional methods of letterpress printing, screen printing, foiling etc. What advantages / problems do you have when it comes to using these techniques and do you think it gives you a slight edge in a market swamped with digital creative?    
For me, the urge to draw letters and illustrate by hand stems from the same place as my urge to print my own work by hand. After years of working in digital design, where all of my work lived as computer files, it's insanely satisfying to create something physical. Plus, it's fun to work on these big machines, getting a little inky and dirty, and really feeling like you 'worked' all day.
Compared to digital (flat) printing, some of the clear advantages of letterpress/screen printing and foil stamping are the tactile quality and the fact that each piece inherently feels handmade and special. We are also able to work with many more paper options (thicker, textured, colored, etc) than we have access to in digital printing, although that is changing fast. On the downside, we can usually only work in a few colors since each color is printed separately, so we'll go with flat printing when working on something with loads of color or with gradients (watercolor illustrations, for example). The other disadvantage of these methods over digital printing is the cost.

I don't know that our methods give us an 'edge,' but I sure am glad that there are so many people out there who are interested in what we're doing and willing to pay us for it.
We know you offer services in everything from wedding invites, packaging design and calligraphy to website design and user testing. What are your plans for the future? Do you wish to see your designs in high street stores or keep the company boutique?  
In addition to the custom wedding work and our own lines of paper goods, we still do a substantial amount of other design work — branding and identity for small companies (or even large corporations), designing and building websites, and even some small individual illustration or lettering jobs. Our ultimate goal would be to design a handful of "all out" wedding suites a year, while focusing more of time and energy designing, printing, and selling our own goods, either directly or wholesale. We love doing flea and craft markets where we get to sell our products directly and face to face with people, and we'd love to have our cards and prints in the big stores too.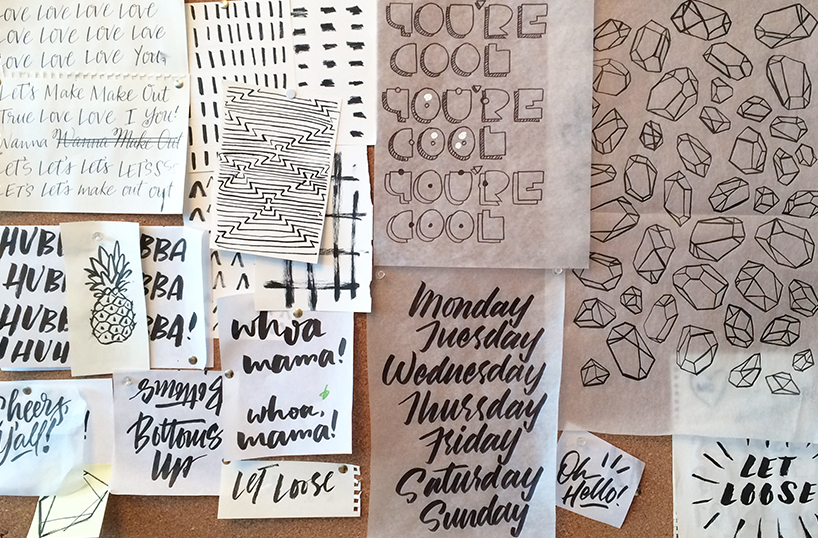 How do you both balance work and play?
Since we left New York over a year ago, work and play balance is MUCH more even now. In New York, we'd look up from our desks and realize it was 8 pm. Now that our studio is its own dedicated space rather than the corner of our tiny Brooklyn apartment, we try to keep pretty regular hours and shut the door behind us. In New York, after-work-time usually meant grabbing a drink somewhere and hanging out for a few hours. Now, it's more like — "Oh man, I really need to weed these flower beds!"
If you could give one piece of advice to a student looking to break into the design industry what would it be?
Try everything. Take as many internships as you can, get yourself out there and try as many things as you can. If you're lucky enough to find your niche, pursue it with all you've got.
And be confident. There were a lot of projects and jobs I passed on as a young designer because I didn't think I was good enough. I look back on that now and realize I was MORE than capable to handle them, but was scared to fail. It's a cliché, but it's true, you learn more from your mistakes and failures than anything else. Fail away!
And finally… a little while ago we did a post on 21 things we wished we had known at 21 (read here). If you could go back, what would you tell your 21 year old self now?
Wow, that's a loaded question. 21 years old would put me back at the end of design school. In some ways, I wish I'd learned lettering and type design earlier. But then, if I hadn't taken the few random jobs that I took in those first years, I wouldn't have learned textile design, I wouldn't have worked in television, I probably wouldn't have learned half of the production tricks I know, and, most importantly, John and I wouldn't have met. I guess my advice is just not to take any experience for granted.
John says he would just tell his 21 year old self to "stay in shape, don't be a jerk, and buy stock in Apple."
Many thanks to Megan and John.
Want to know more? Check out And Here We Are's website here.
Images © And Here We Are