Brand Review: Fine Cocktails //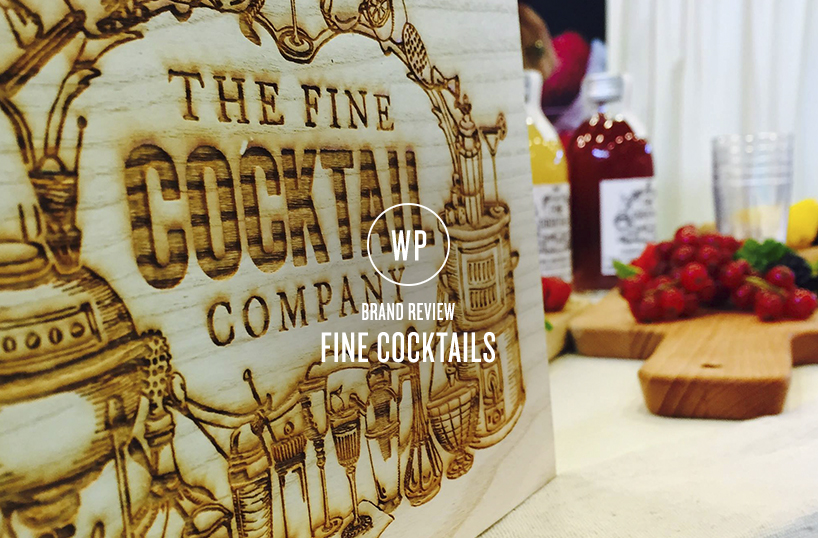 TWOP spoke to The Fine Cocktail Company, a pre-mix cocktail company with a difference… they taste delicious! We talk about setting up the company, aspirations, inspirations and about a shared love for a great cocktail.
Fine Cocktails – A group of cocktail lovers who were wondering why there were so many ready to drink cocktails on the market, yet nothing that was fresh and actually tasty. No matter how much we like to go to a venue to have a cocktail in a fancy bar there are occasions where something that's ready to be enjoyed is perfect to have at home and is a winner. After realising there was a gap in the market the company was born.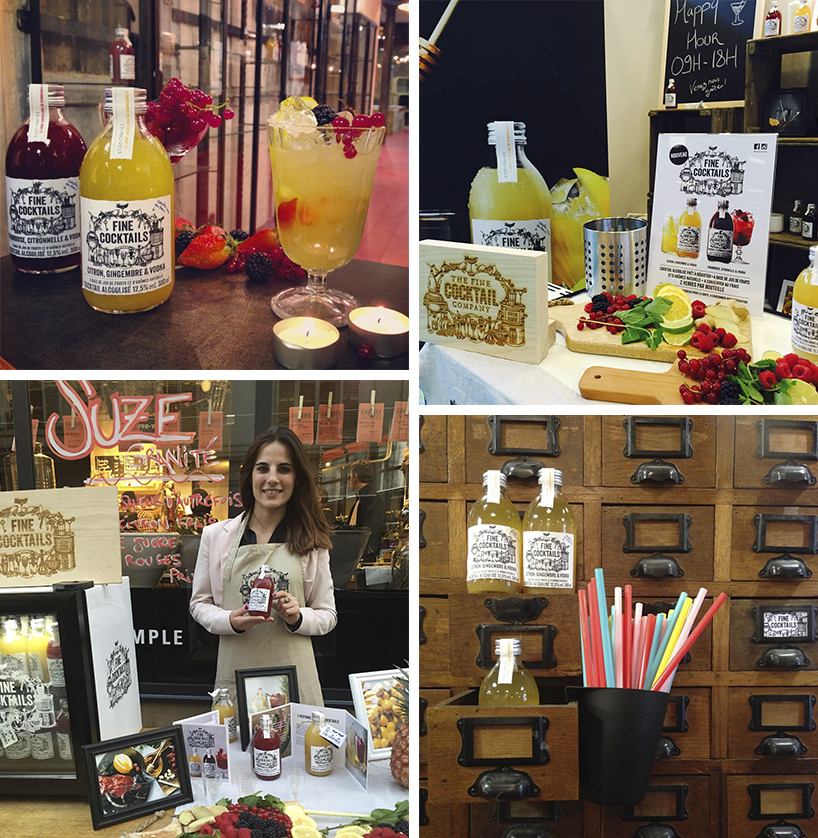 It is not always easy to prepare a good cocktail, to find the right balance between different textures, not to mention how difficult it can be to gather all the ingredients for one recipe. Knowing this, but still determined to bring a premium mix product to the market, the team set out with an aim; to reproduce the flavours that are familiar in cocktail bars and capture this in a bottle. The process started by developing the recipes, finding natural ingredients of the highest quality, sourcing the freshest fruits and the finest spirits. They then handed these to an entrusted and experienced mixologist to craft whilst always ensuring the highest quality was produced. After a year of research work, experimentation and tasting, Fine Cocktails were ready to unveil their product to the world.   
We first met the company at Clapham Foodies Festival and although there were a huge number of drinks brands that turned up to the event, Fine Cocktails in particular caught our eye. The French vintage style branding was an immediate draw, and, along with cheerful staff and the offer of alcohol, we were sold. We tasted the two flavours on offer, Raspberry & Lemongrass or Lemon & Ginger, and were pleasantly surprised by how good they tasted. The product itself is a perfect hybrid of premium spirit, fresh fruity ingredients and above all… they taste great, especially in comparison to other pre-mix drinks we've tried before. After the festival we contacted the guys to talk further about the product and the future of the company.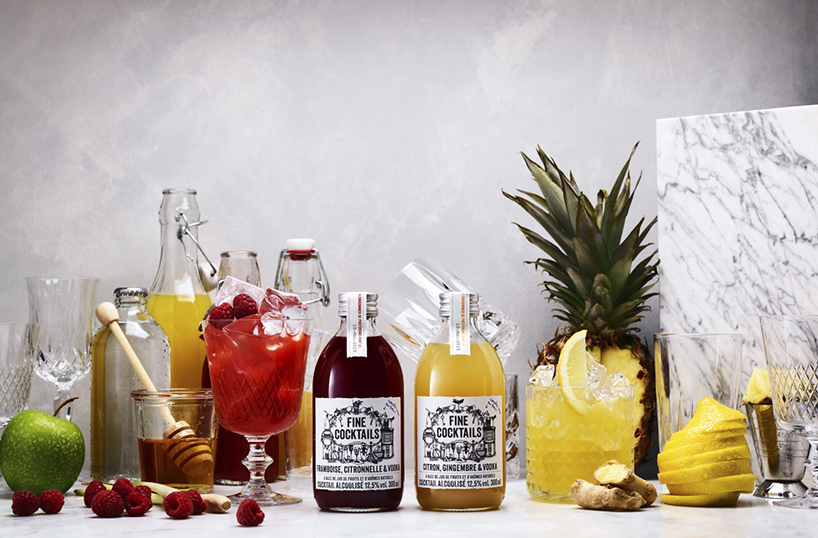 How did you start the The Fine Cocktail Company from having the concept to making it a reality?
We experimented with different ingredients and interesting flavour combinations together with a great bartender that we know. We also made homemade samples and crashed a lot of parties and dinners at our friends' place to make everyone help us out with the development. We also did sampling in 2 stores for a week and met more people to understand if people liked our products as much as we did. Finally we approached a team of passionate production specialists at Pernod Ricard to help us crack the challenges we faced with producing the cocktails at the quality and freshness level we wanted. Together with a producer in southern France we were then able to produce our first batch.
Who do you take inspiration from in the industry and which companies do you aspire to be like?
We haven't really been looking at other companies when working with this. We have been focusing on our own values of fresh, natural, convenient and convivial. France and the French dedication to high quality in food and drinks have also been inspiring to us.
How many people are in your team and how does the structure of the group work?
We are three people working full time, but plenty of other people on hand to help out in many ways.
Your premium and quaint branding is one thing that really stood out to us when we spotted you amongst the crowds at the Clapham Foodies Festival. How did this come about? Who had the concept? Did you do it in-house or hire someone in to look after your branding?
We have been working with an amazing design agency in Stockholm. They have done a great job to help us express our vision with the branding and are huge fans of our cocktails. Of course, like with all design processes, it takes a while to get to where you want to go but it's been an incredibly fun and insightful.
Did you make the conscious decision to ride the healthy food wave that has hit the market recently or did you always see there was a gap to be filled in providing customers with healthy alcoholic premixed cocktails?
Healthy is not something we would ever consider talking about alcohol. Natural ingredients and high quality is our main focus – and that was a gap that we spotted. Of course we have been following the overall trend of people wanting products that don't contain lots of preservatives and other chemicals, and that's what we were looking for ourselves also.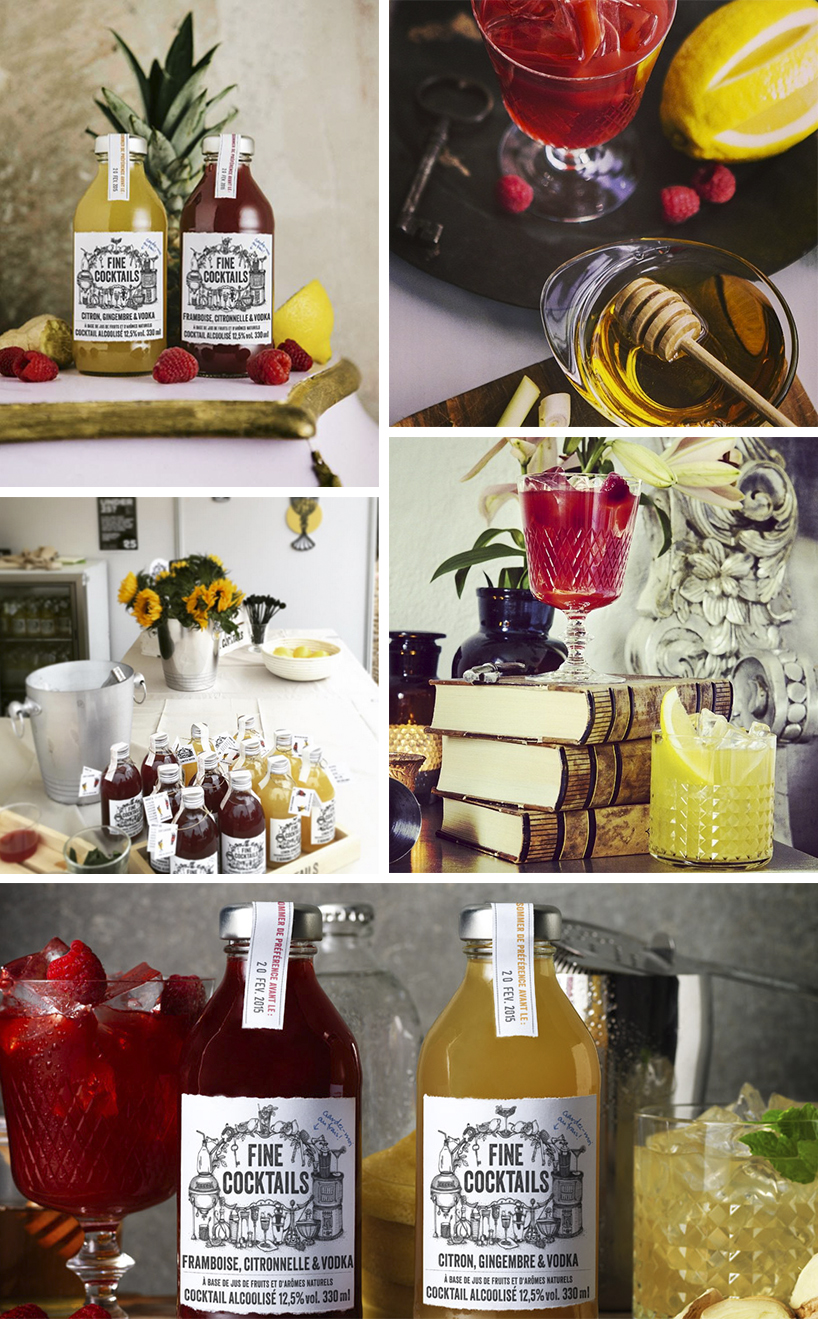 How did you decide on your flavours and will we be seeing some creative concoctions in the future?
As I mentioned we have experimented with a lot of flavour combinations, but ended up with making three versions initially. After testing to sell them in Paris we realised that 2 out of the 3 had great potential. This is a way we will determine the potential also in the future – testing them out in stores and making a decision based on the sales. Right now we are at the final stage of finalising two new flavours; Bourbon base with Mango and a twist and Gin base with lychee and ginger. As soon as they are ready we will start selling them to selected stores as a test.
How do you get your voice heard in an industry as saturated as the alcoholic beverage market?
Early on we realised that we needed both funding and expertise to make this happen so we approached Pernod Ricard with our idea and they were all over it. They have been a great partner on our journey by letting us develop things our own way but always being there with expertise when we needed it. This of course gives us a lot of advantages in the industry.
What issues have you come up against and how did you overcome them?
The biggest challenge has been to figure out how to produce Fine Cocktails in a way that keeps the freshness of the cocktails. The only way to overcome it is to constantly experiment with everything from ingredients and bottles to temperature in storage and filling techniques. Also, the supply chain is still a bit of challenge – chilled storage and shipping for spirits products with all its regulations is not hugely common.
You're a fairly new brand, only starting in 2014. What are your plans for the next couple of years? Where do you want to push the brand and what locations do you plan to launch it in?
Expanding in London and Paris are our two first goals. We have also been talking to Wholefoods in the North East region in the US and they would like to test out our cocktails soon as possible in two of their stores. Apart from that, in the long term we envision expansion both within the US and in the EU the coming years.
Where can we currently buy Fine Cocktails?
In London you can buy Fine Cocktails in Bean & Hop (Earlsfield), Dugard & Daughters (Herne Hill) and Hack & Veldt (Chiswick). In Paris we are launching in Causses in September.
What's the plan to evolve the company? Will we see you in our high street stores soon?
We are actually looking to hire a person in London to help us sell and promote Fine Cocktails as we speak – and we will slowly, but surely expand our business within several channels and see how far that will take us.
And finally, what's the best bit of advice you would give someone looking to launch a business like yours?
Stay true to your vision and have a lot of fun!
With thanks to the Janna and the Fine Cocktails team.
Visit the Fine Cocktails website here for more information and to get in touch with the guys.
[Imagery courtesy of Fine Cocktails]