Brand Review: John & Pearl //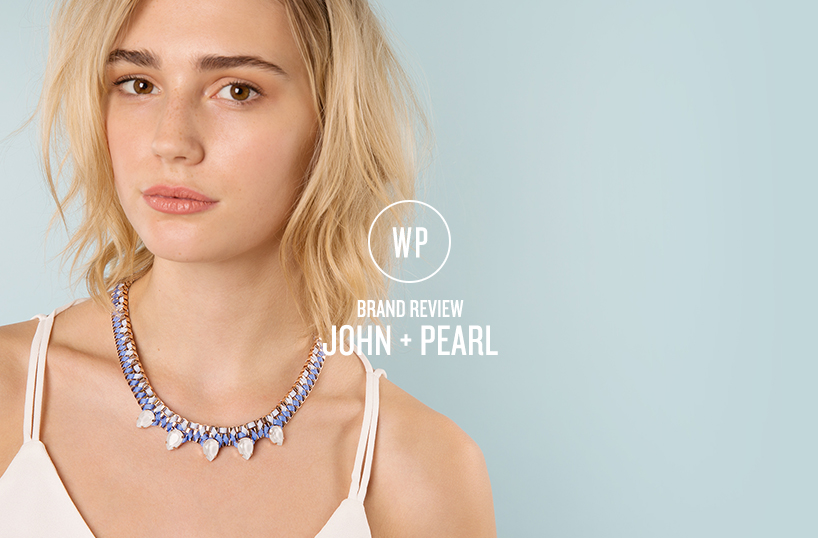 TWOP talk to boutique jewellery brand John + Pearl about unique collections, childhood creativeness, launching a beautiful site and finding inspiration from family memories.   
The TWOP team love jewellery, that's no secret. And although we all have our own fashion style, we come together in certain instances when we find a brand that's fun, unique and above all has a background story that we fall in love with. John & Pearl does all three. Nat discovered the company at POP Brixton and after handing over her credit card and buying a bracelet was intrigued to find out more about the brand.
So who are John and Pearl? Well they are a couple and a brand. The couple are the grandparents of Julie who taught her as a child about love, style and travelling the world. The brand came as a result of years of experiments by Julie, a creative girl who loved colour and making things.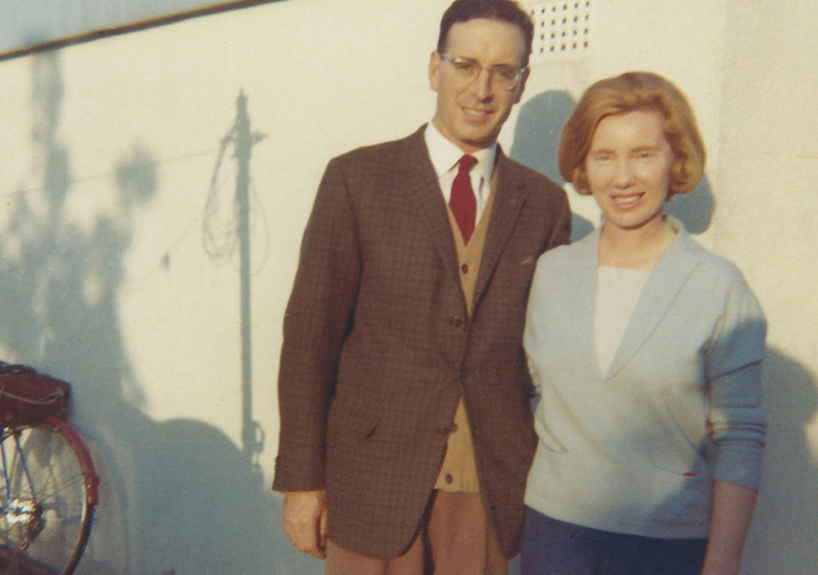 The company, which was set up in 2012, designs and samples all their products from scratch in London's lively area of Brixton. The use of contrasting material combinations provides a unique line designed to suit a simple, street luxe audience and has had celebrity endorsement from the likes of Jessie J, MIC's Rosie Fortescue and Leona Lewis. It's become renowned for its bold, multicolour statement accessories and quirky, British statement jewellery.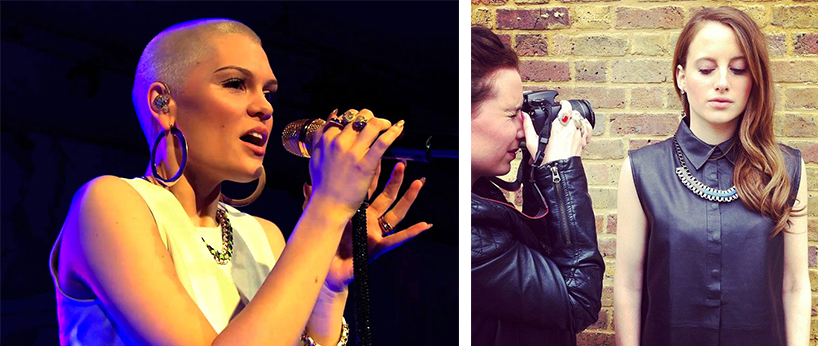 We caught up with founder Julie Macauley, to dig deeper into creating jewellery, talk childhood inspiration, discuss setting up a business and shed light onto the background of the company itself.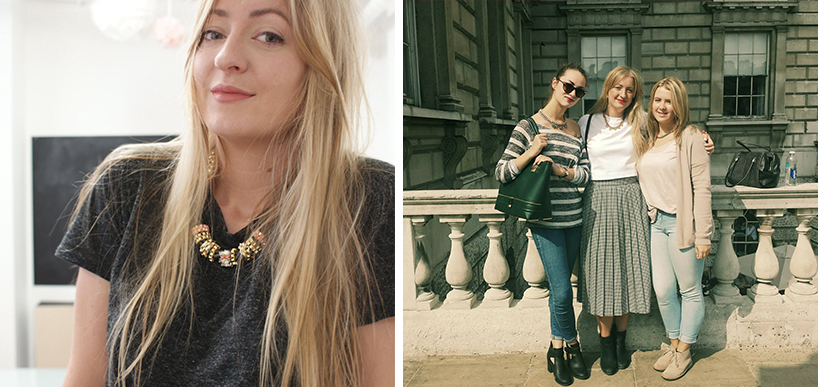 Firstly let's go back to childhood – Nat believes being a designer is something that can't be taught, but is deep rooted from childhood. Did you spend your early days creating masterpieces with glitter glue and pasta? Tell us about your childhood background:
I grew up in a really rural area outside Glasgow on an old farm that my parents converted. My brother, sister and I spent a lot of time outdoors and creating our own fun. My mum is an artist and loved to nurture our creativity. We shrunk crisp packets, made plaster cast figurines, painted by numbers, (felted by numbers!), sewed Barbie dresses, made miniature food with Fimo, lino cut, invented perfumes and built forts. I credit my imagination and ability to problem solve creatively to my mum and her encouragement to make things!
And let's talk about your education – How did you start your career as a jewellery designer? Did you study design at uni or college?
I studied at Edinburgh College of Art doing a BA hons in design and applied art. My foundation year was spent smeared with plaster and paint. The jewellery department really intrigued me. There were so many tools I wanted to learn how to use and I liked the idea of working in 3D and making wearable things. In my second year I chose jewellery and silversmithing as my three year specialism.
When I graduated, I moved to London where I spent the next six years working in both jewellery production and design.
Moving on to John & Pearl – How did you form the company from the bottom up?
The label started with a bracelet I made in neon pink ribbon and chain which I assembled from my sofa in my flat. I realised that I had to give myself a shot at going it alone and created the rest of the collection under the brand name John and Pearl, named after my grandparents. I showed my first collection "Pigment" at a London trade show Pure London, in August 2013, and got orders from ASOS, Urban Outfitters and Zalando. I took the collection straight over to Paris and we picked up some super Japanese stockists… it all went from there.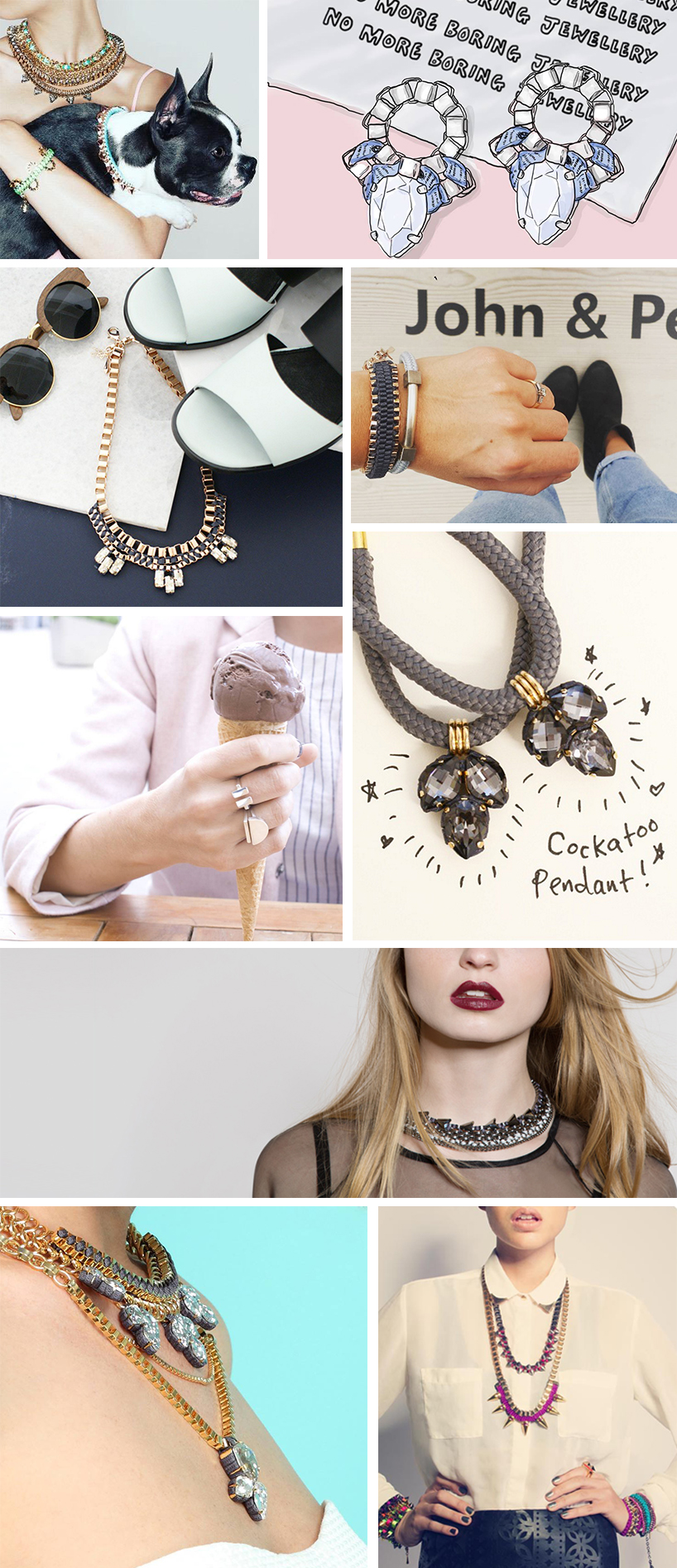 You mention you named the company after your grandparents. Can you give us some background into John and Pearl as a couple and how they have inspired the brand:
My grandpa, John, ran his own company and lived for his cars, his garden and most importantly, his family, especially his wife. Perhaps he encouraged an entrepreneurial spirit in me. My gran loves fashion, friendship and family. She is always immaculately dressed and even now that she is 90, still insists on having her hair back combed and curled, having her signature coral lipstick on and her Anais Anais perfume.
One of my favourite stories about them was when my gran impulse-bought a little dachshund puppy in Harrods on a trip to London. She walked her daily in Hyde Park before returning her every night to Harrods until they went home to Glasgow. She was always so immaculately turned out, the vision of her walking this little dog always makes me smile. They were very close to me as I grew up, were incredibly proud, happy and supportive and I wanted to name my brand after them because of what they represent to me.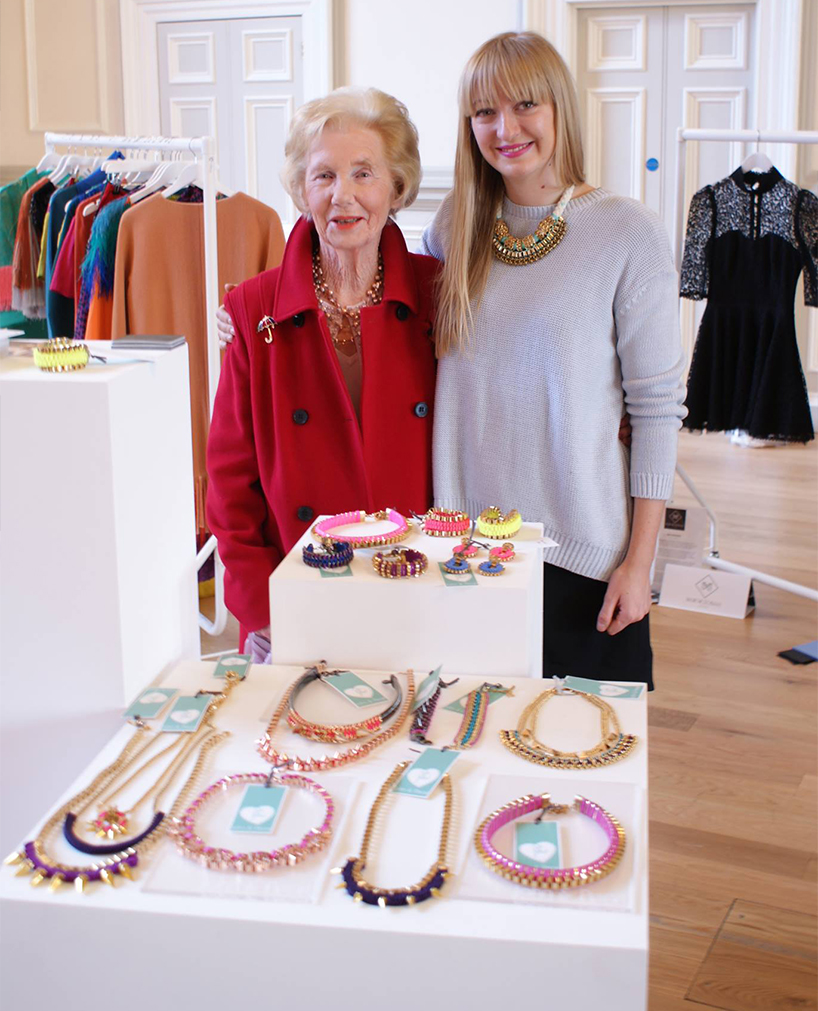 Your collection is very unique. In terms of style and jewellery design where do you find your inspiration?
I think getting out of what you are doing in your normal daily routine is a really good way to get inspired. It is always a different answer when I am asked about my inspiration because it depends on what I am doing at the time. I work a lot in a hands-on way rather than a sketched plan, so although it sounds a bit unusual, it is often materials that lead my inspiration. I like to investigate the patterns I can create between them and their potential to be added, bent, integrated or woven together.
Starting a company is challenging. What obstacles have you come up against and how have you overcome them?
Every week brings new challenges! Mostly I struggle to make time to manage all the tasks I have and all the roles I need to fulfil. If you run your own brand, you are designer, production manager, sales rep, PR rep, marketing manager, stylist, strategist, accountant and more! I am still learning how to better manage my time but I have overcome some of the time drains by using online apps for accounting, invoices, schedules and production.
How do you start a new collection? What's the process that takes place?
I always start preparations for new seasons with material and colour research. I'm constantly drawn to bright colour and start designing by testing how colours behave together and exploring how their combinations make me feel. I research themes to find a story or a 'feel' that I could explain with my jewellery then curate swatches, images and components to make a mood board. Lots of patterns and samples then get tried out, some evolve into jewellery but often they end up in a box of bits that didn't made the cut.
I then develop sampled elements into jewellery by repeating sections, investigating methods of weaving pieces together and evaluating as I go. I wrote a post about the making of the new Miami collection on our site here actually!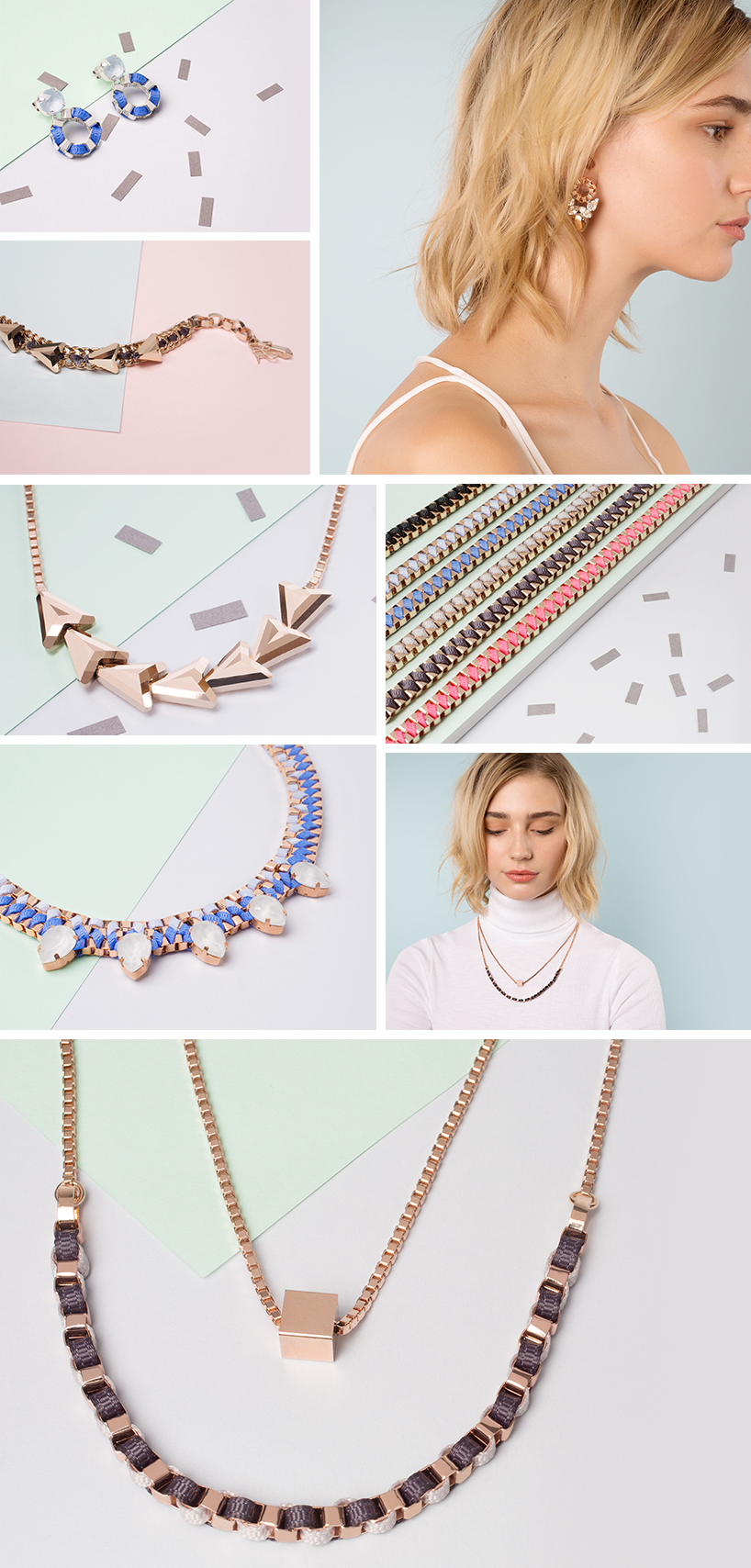 What's been the most exciting point to date?
Sitting on the Eurostar on the way back from Paris after the first collection was shown, exhausted but thrilled with a pile of orders on my lap. It was verification of the plausibility of what I wanted to do, a 'this could really work!!!' moment for me.
We understand that you recently launched a lovely new site. Were you involved heavily in the branding and art direction to get the site to where it is today?
Yes, I love colour and I was very confident of the artistic direction that I wanted, especially for the imagery. I style all my own look books and the images used on the site are a great collaboration with my close friends and photographers We Are Studio. The web designers understood the aesthetic I was looking for and translated the brief in a really collaborative way. The site took over a year to develop, we wanted to get it right.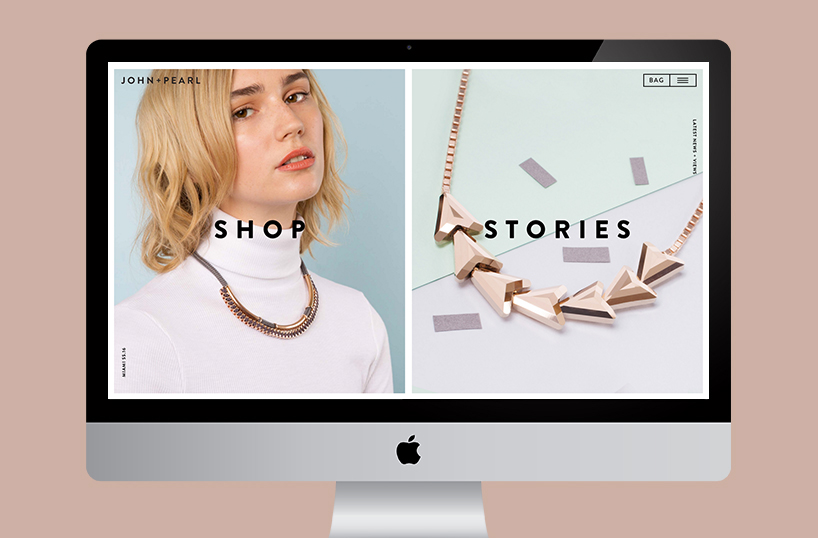 Do you find social sites like Instagram and Pinterest have helped you raise your profile as an independent brand and reach a wider customer base?
Yes and no, Instagram is a great visual voice. I am a bit erratic and don't like to be too conformist. I know that we could boost our reach with more minimal stripped back lifestyle imagery and a certain type of aspirational image, but I only want to post things that are true to what we do. We are not perfect, I don't get a perfectly poured latte every day and I don't really think that it is worth showing everyone if I did!
People are using Instagram to get to know brands in order to make informed decisions about what they buy. Creating that relationship with our customers to give them that understanding is very important. It is hard to give Pinterest the time it needs to be up-to-date, but I do use it for research.
What style trend do you forecast will be big in 2016?
A migration from 2015's 'normcore' to a slightly less ordinary and more unique take on basics. Updates on staples worn with a bit more creativity and imagination. Look out for asymmetric earring sets, contemporary chokers and the return of gold in jewellery options.
We first met you at Pop Brixton in your Christmas pop up shop. Do you have plans to open a permanent shop in the future? Or do you plan to feature in department stores or focus on e-commerce with the online store?
I like the challenge and constraints of temporary space that gets you thinking creatively about re-imagining a space and creating an 'installation' environment. For now we are focussing on our online store and will run another pop up store in the Spring. I think both work in a very complimentary way for us.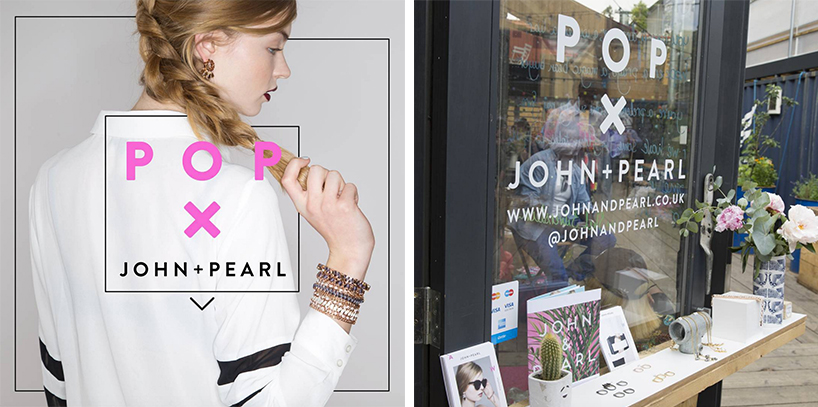 A little while ago we did an article on 21 things we wished we had known at 21 (see here). If you could have a conversation with your 21-year-old self, what would you say?
Be curious, laugh lots and drink more water.  
And lastly, what's the best bit of advice you would give someone wanting to set up their own brand and follow a similar path as you have done?
Research it, dream about it, plan it, then try it. Remember that if it sinks or floats you will learn a heap about yourself in the process. Be kind to yourself but be realistic and just have a go.
With thanks to Julie.
Visit the John & Pearl site here or give them a shout on Twitter @johnandpearl.
[Images courtesy of John & Pearl]