Brand Review: Karma Cans //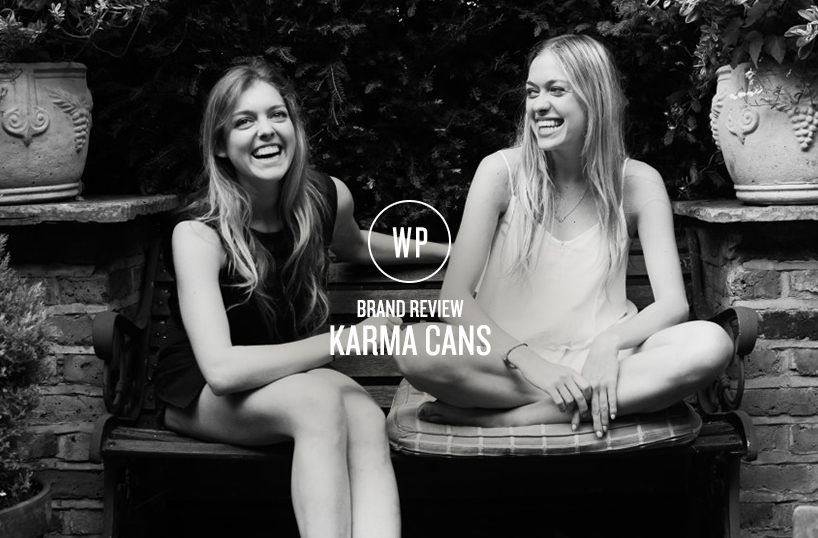 Busy lunching Londoners we have the answer to all your prayers – a well balanced meal brought straight to your office door. We speak to the ladies from Karma Cans to discuss their modern meals on wheels service, healthy living and the launch of their first book.
Lunch meals don't need to be unhealthy, but we all know the anxious feeling when you only have 5 minutes to run to get something from Pret where 500 calories can be consumed in a single sandwich – but hey it's quick and we are busy working folk. Well what if a healthy, balanced lunch was brought to you? Sounds too good to be true doesn't it? But it's not.
Karma Cans started in 2014 by sisters Eccie and Gini. The idea for the company comes from when Eccie was working in Mumbai and noticed the dabbawalla delivery system. Fresh food made by mothers and wives, travelled all over the city in time for lunch – this system was the basis for Karma Cans idea.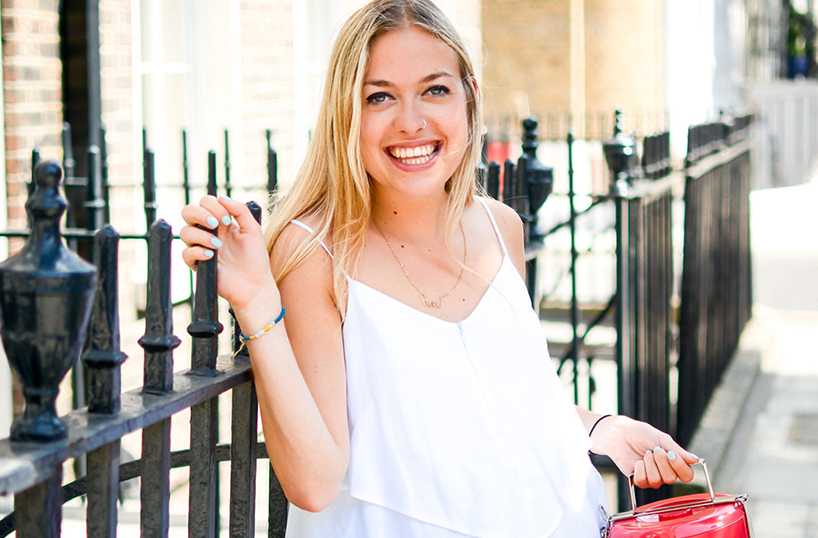 In the early days the concept started off as a hobby as both sisters shared the love for good wholesome food. The company also had a kick start when Eccie offered a week of packed lunches for someone who worked in the city, to a friend of the duo who was running a charity auction. Her lunches went down so well that she was asked to continue by a number of people working in the same office. At the time, Eccie was completing a Masters and working part time as a private chef and "packed lunches" became the perfect extra source of income. Later on that year both ladies finished university; and having noticed a gap in London's saturated lunch trade, saw the opportunity to build Karma Cans into a business.
With a nice simple brand, great exposure and healthy living at its core this service offers the whole package. We dig deeper into the concept, discuss the launch of "Raw is More" and find out what the future holds for the talented sisters.
Tell us about how you started the company to where you are now:
When we started Karma Cans we were running it from our house, cooking the food every morning on our own and also doing all the deliveries. We started will only £5, we had no money invested in the company it was completely carefree as we had nothing to lose. It's been a gradual organic growth, with no input of capital we have taken every step as it comes. If we didn't have the money to buy a new bike we would have to wait however long it took to get one. The next step was moving to a shared space in Soho. It was a club in the evening so we took the underground kitchen in the mornings. It was a great move for us working in a kitted out kitchen but as you can imagine being underground for hours was quite a shock. As orders continued to increase last summer we moved into our own kitchen (a shipping container), which we built ourselves. We found a kitchen closing down in Norfolk and got a great deal on all their equipment so went down there and stripped it all out. From day one we have always made do with what we have, when building, cycling, cooking, everything. The main thing is that we also are enjoying the work we are doing. We have just in the last few months built our largest kitchen/ HQ which is an awesome achievement for us. To think not too long ago we were running the company from home.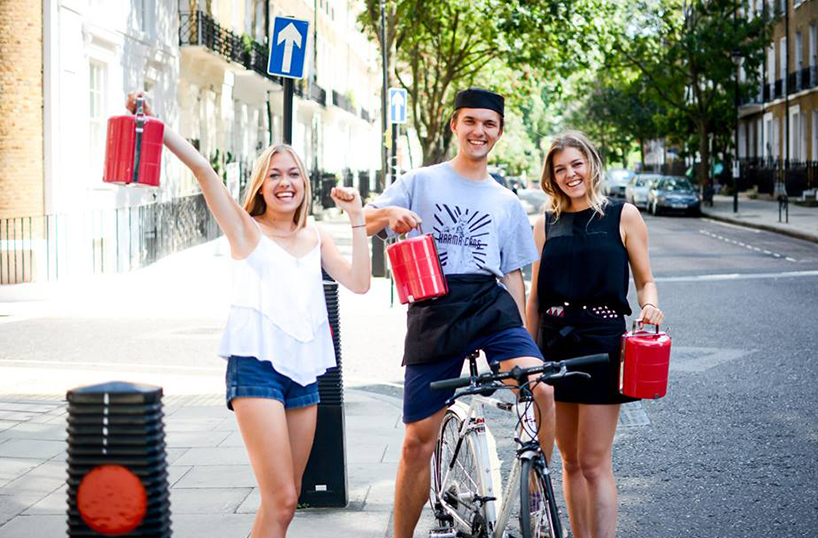 There was a definite gap in the market for a healthy lunch delivery service in London. What inspired the concept?
Lunch delivery when we started didn't really exist. We noticed that the lunch market in London was saturated with unhealthy, unsatisfying and unexciting food. We both would prefer to make a packed lunch then eat out. In London today it's incredibly rare that you get more than 20 minutes to take lunch, so who wants to spend it in a queue? Karma Cans was our solution, something healthy and time saving that brings excitement back into your lunch break!
Do either of you have a background in catering or is good food just something you are both passionate about?
Good food is something we definitely have been brought up with coming from a family that loves to cook. Our Nan on one side is Russian, so loved cooking heavy Russian specialties and our Nan on the other side made the most amazing pies. Although it's not what's on Karma Can's menu, these amazing flavours were always around us. Eccie does have a background in cooking; she worked at Petersham Nurseries and many other restaurants when she was younger.
Who / what inspired the brand name?
We were inspired by the dabbawalla delivery system in Mumbai. This tiffin delivery system Eccie witnessed when she was studying in Mumbai. It's incredible sustainable with reusable tiffin tins and bike delivery. Something we inspired to be.
What challenges have you had to overcome to get the business to how it is today?
I think with any start-ups cash flow is always tricky. It's not been easy to overcome this and there are always going to be times where this problem repeats itself.
How many people are in your team? How does the service work?
We have 8 people that work for us, mainly chefs and cyclists
Is it just a lunchtime service you offer?
We are mainly a lunchtime service but we do often to breakfast for large corporates. We also have been doing a lot of catering recently. One of our side projects is running three awesome festival stalls, which is fun.

It feels like you have healthy living at the heart of your operation, which makes your service very appealing. Is it something that was a must have when you set out a business plan for the company?
To be honest we never started with a business plan, it was a hobby and the business plan came later. We did not even think about health really. Of course it was healthy but effortless, we cooked the food we liked, full of flavour. Overtime we have become more focussed on health as a priority as we saw this is what our customers want. We want people to feel good and energised after sitting at their desk all day.
It seems that another big aspect of your service is sustainability – from the packaging to using locally sourced products. Tell us a bit more about this:
Sustainability has always been important to us; it's amazing to see more and more people thinking about the environment. We don't want to preach but if we can do our bit, even if the customer doesn't notice, we are happy. We are now trying to grow some of our herbs outside the kitchen and have got a grant from the council to improve our garden, which is exciting.
You've just released a fab cookery book. That must have been exciting! Does the book follow the same concept as your lunch service?
The book of course is slightly different as it focuses on raw food. But it shares the same concept of the importance of eating together. Eating together is when great things happened, at home and at work. Karma Cans pushes the importance of communal lunch, even our team sit down together for a team lunch every day. Our book is all about this too; large amazing dishes to share with friends. But also the great thing about raw food is at any dinner party you don't spend all the time in the kitchen you can be part of the event too.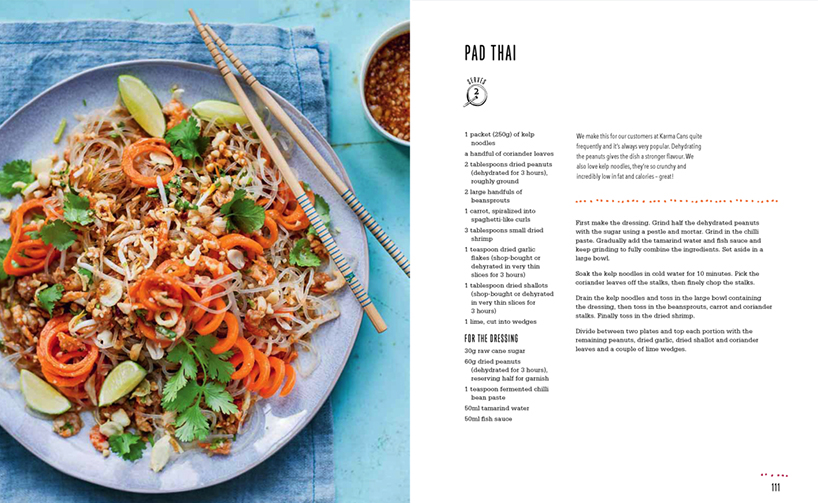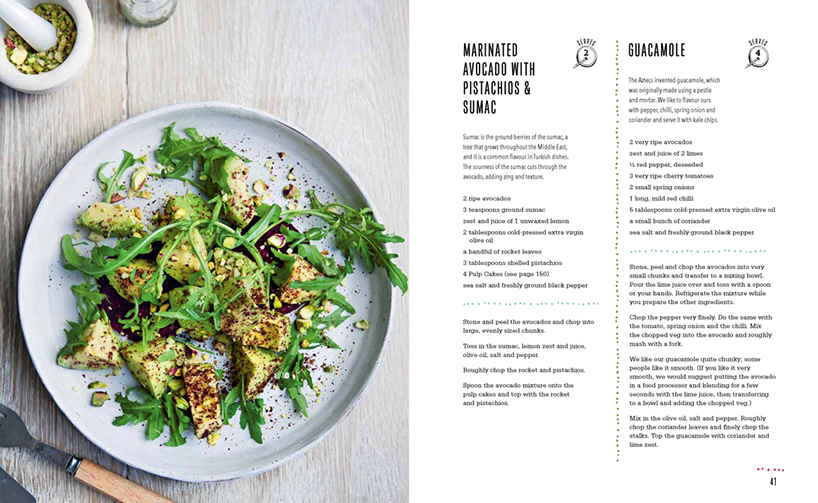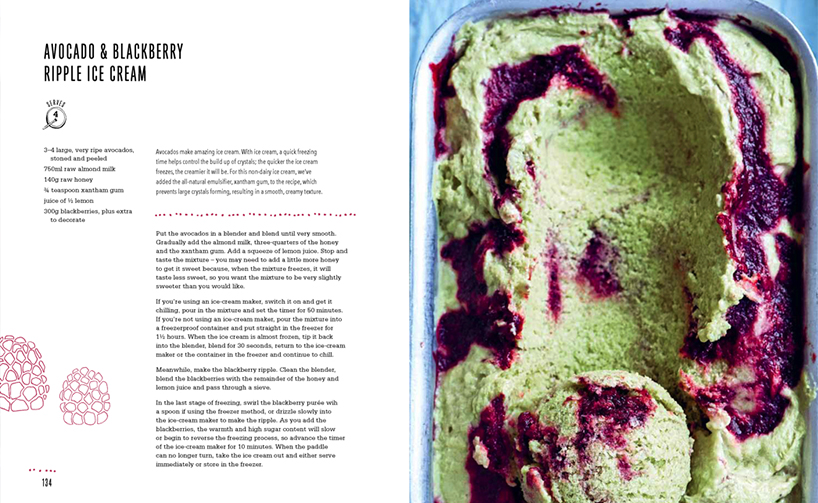 Last year we saw a boom in the health food industry, with ladies such as Deliciously Ella, the Hemsley sisters and Madeleine Shaw. Do you wish to follow in the footsteps of these, now very popular, healthy cooks or do you wish to go down a different path?
Of course the food industry overlaps and they all have achieved great things but we don't see ourselves as too similar. We share the love of healthy food and have a book but Karma Cans is about the people, a service. We really want to focus on community and changing the work world all round, not just in food but taking the time to sit together and eat our food. Our job at the end of the day is to build Karma Cans, making healthy sustainable food available to everyone.
And finally, give us a sneak peek into what you have in mind for the future of the company:
TAKING OVER THE LUNCH MARKET… Aka Queen's of Lunch.
Many thanks to Eccie and Gini.
Like to oder some food now? Check out the Karma Cans website here.
Images © Karma Cans