Brand Review: Trouva //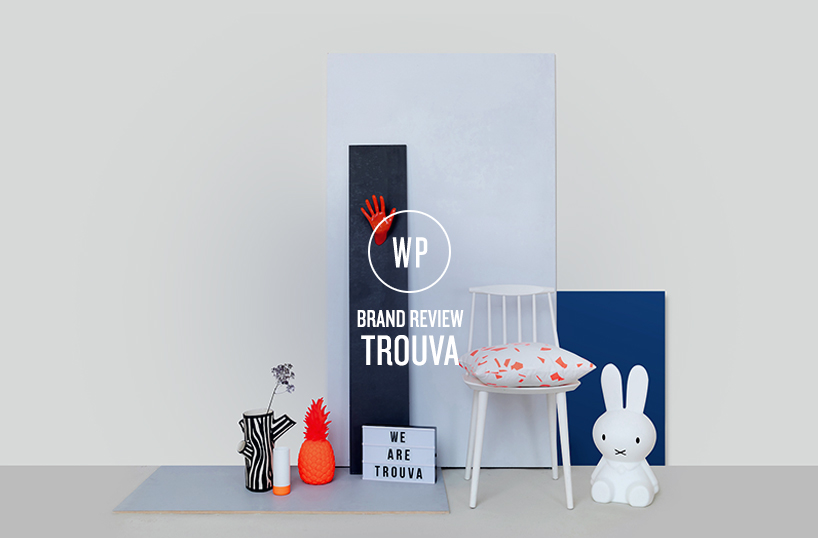 We talk to the team behind gifting website Trouva, an online store making boutique shopping simple, discussing the evolution of the company (formally known as StreetHub), the criteria to handpick products and how they managed to secure funding from some of the most sort after venture capitalists the industry has to offer.
If you haven't checked out Trouva then do it NOW… and you can thank us later. Previously known as StreetHub, Trouva is your gateway to a treasure trove of 'lucky finds'. It's a place to discover a handpicked collection of the best independent shops, something so special that no one else has (apart from us and now you). Bringing you inspired finds from the best boutique stores, in your area, the site has a collection of glorious goods from stylish homeware to quirky gifts for designers and cute clothing for the kids.
The London based start-up began life in 2013 and was the brainchild of Mandeep Singh, Maxim Berglund and Alex Loizou. The trio raised $1.2m from investors with the original business model designed primarily to drive more footfall and sales to local stores, helping small shops and boutiques be discovered and sell online. Customers could see products through the website or iPhone app, which provided a 'Click and Collect' to independent retailers. This model used specialist technology to drive customers in store bringing online and offline shopping together.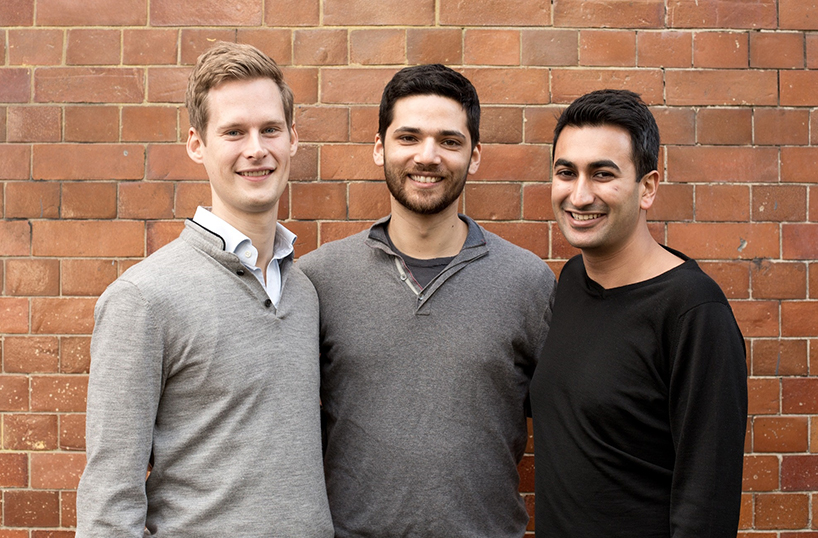 Whereas the original premise was online to offline, the new model that Trouva offers sits in the e-retail market and lets you purchase items regardless of location, providing a larger customer base and product range.  
In a recent statement, Mandeep Singh, co-founder of Trouva, said: "We've seen huge success with our iPhone app launch last year, with over 40,000 customers using the app to discover and purchase from independent shops in their local vicinity. This is how we identified the compelling opportunity to also serve people who are keen to discover shops which are a little further afield too, and offer worldwide shipping."
The company's current network of boutique retailers consists mainly of London and Brighton-based fashion and homewares shops, although it aims to expand across the rest of the UK.
Trouva not only provides an alternative online shopping experience but also offers a convenient delivery services including same day, click and collect as well as traditional shipping methods. So, bearing all this in mind we talked to the guys to find out more about their ever growing retail empire.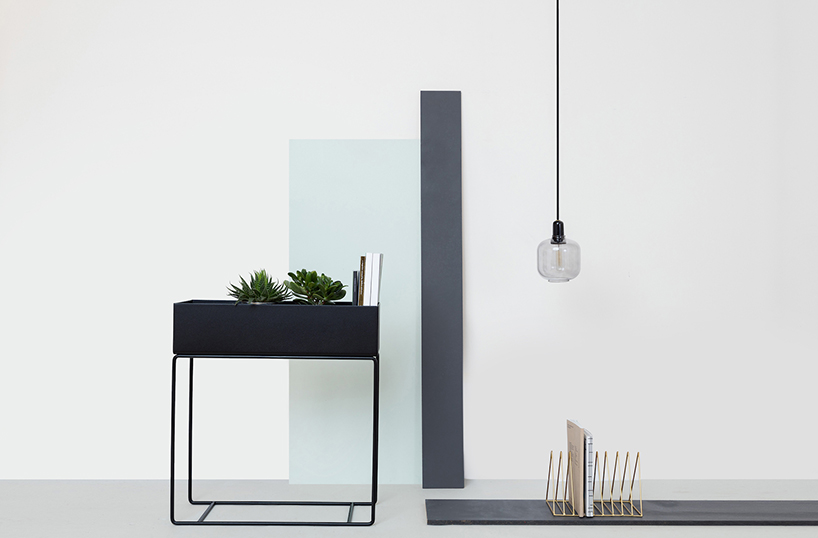 Let's talk a little bit about how Trouva got started. We know the site started off life as Streethub and evolved the company to Trouva, but why did you make this change and what implications did it have on the model and brand you had originally set up?
StreetHub was set up by three co-founders, all men, which meant the stamp on the brand became automatically masculine. We quickly discovered that StreetHub's customers were predominantly women and realised that in order for the website to reach its full potential, the brand needed to adapt to its audience, hence the birth of Trouva. It's been a long process which has involved a lot of market research to enable us to refine the boutiques and products offered on the Trouva website. Our customers like quality and originality, and we work closely with the boutique owners to ensure that their message and individuality comes across; this can cover everything from feature interviews on our site to regular boutique visits by our Community Manager.
How did the founders meet and think up StreetHub / what's now Trouva?
Alex is a self-starter who used to work as a freelance developer alongside his studies. Upon leaving LSE he went on to be a part of the Entrepreneur First programme and in 2013 he teamed up with Maxim & Mandeep, who worked together in private equity, to start StreetHub.
The new site is wonderful. We really like the clean, modern design and simple browsing ability. How did you get the new site to where it is today? How has your business evolved since you first launched?
We spent several months talking to our customers to really understand what they wanted to see and who our target customer was. We then teamed up with an amazing design and branding team who really helped us in defining our brand and brand name. We have now started taking a lot of this work in-house; with a hire of a Creative Content Manager who is ensuring that we stay true to our brand as we grow.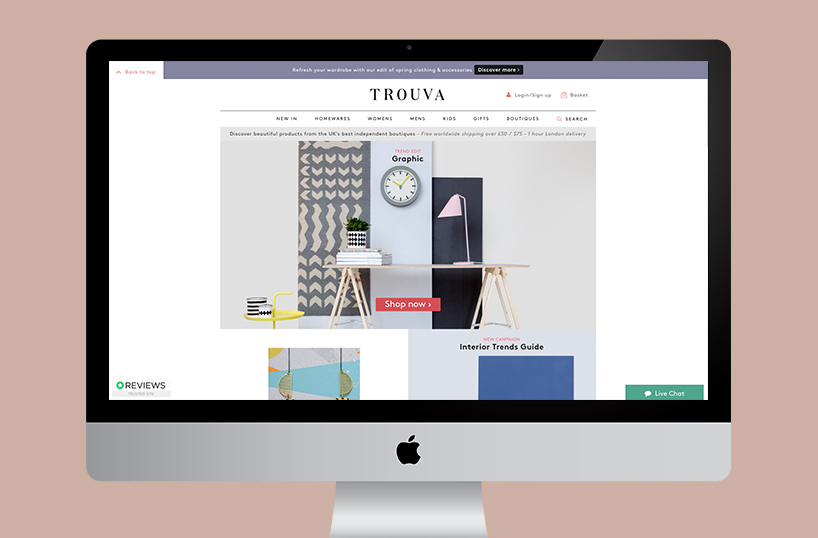 We love that Trouva means 'A lucky find'. Who had the brainwave to call the company this?
It was the product of an internal brainstorm which was then tested with the customer. We started out with a long list of names and Trouva emerged the winner.
We know you initially gained funds from Index Ventures (who have backed the likes of ASOS and Net-A-Porter), and recently had new investment from Secret Escapes investor Octopus Ventures. What was the processes involved in gaining these funds and getting backing from these well acclaimed investors?
The most important thing is to have a vision and passion to build something big, and then some track record to back that up. When raising money from Venture Capitalists they want to see you can build a big business. We consider ourselves fortunate to have these industry greats backing us.
With high demand in the homeware and lifestyle world, what would you say specifically sets you apart from competitors in your industry? How do you set yourself aside from online competitors such as Amazon and Notonthehighstreet?
From the beginning we set out to support independent shops and our focus is exclusively on bricks and mortar (physical shops). Great creativity and expertise go into curating the pieces sold on Trouva; and we want to help the curators and their boutiques to get their message and products out to a wider audience.

It's difficult to get recognition in the online retail world. How have you gone about raising your profile and improving the new concept?
We think carefully about who we collaborate with and invest heavily in our brand, sending our message out through a range of channels such as: social media, digital marketing and tube marketing.
Have you had any particular success stories with the independent stores featured on the site that may have gained a larger customer base and greater footfall with the help of Trouva?
Rigby and Mac, one of our wonderful boutiques in Dulwich attribute 10% of their overall sales to Trouva. For some of our retailers it makes a difference to whether or not they can then pay rent. Other boutiques such as Roullier White and Future and Found have expressed how wonderful it is to be a part of the Trouva community and work with people who are so passionate about what they stand for.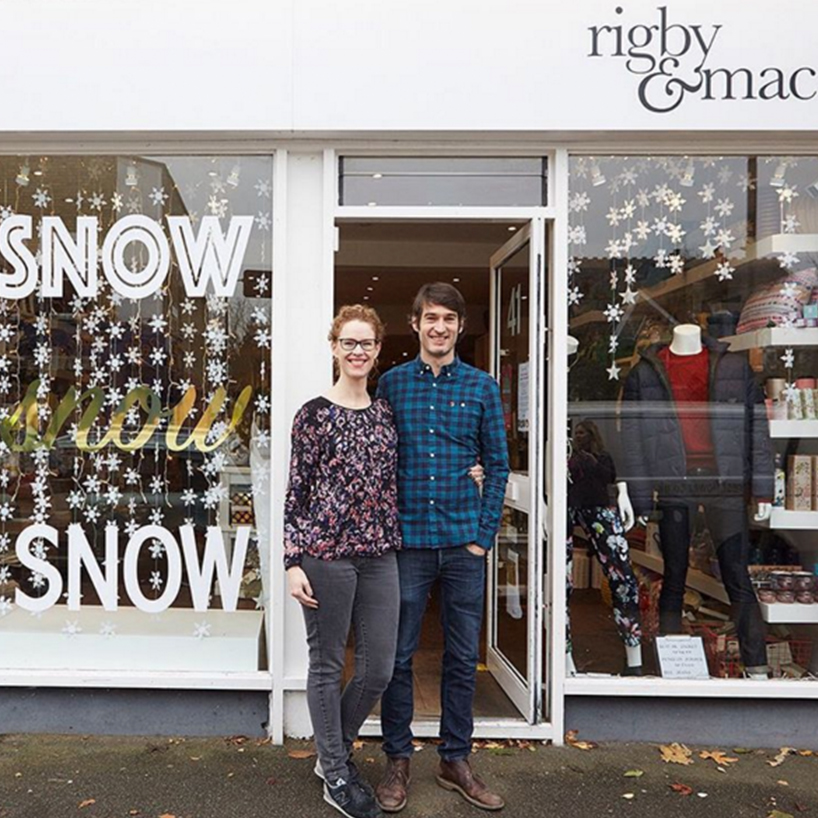 You mention that you work with 150 boutiques over the UK and that you use 'curators' to handpick gifts for the site. What's the exact role of a curator and how do we get the job? We are intrigued…
Our boutique owners are really our chief curators, sourcing items from all over the globe with years of experience and a variety of different backgrounds. We then have an In-house team that determines which products from the stores will end up on the Trouva website.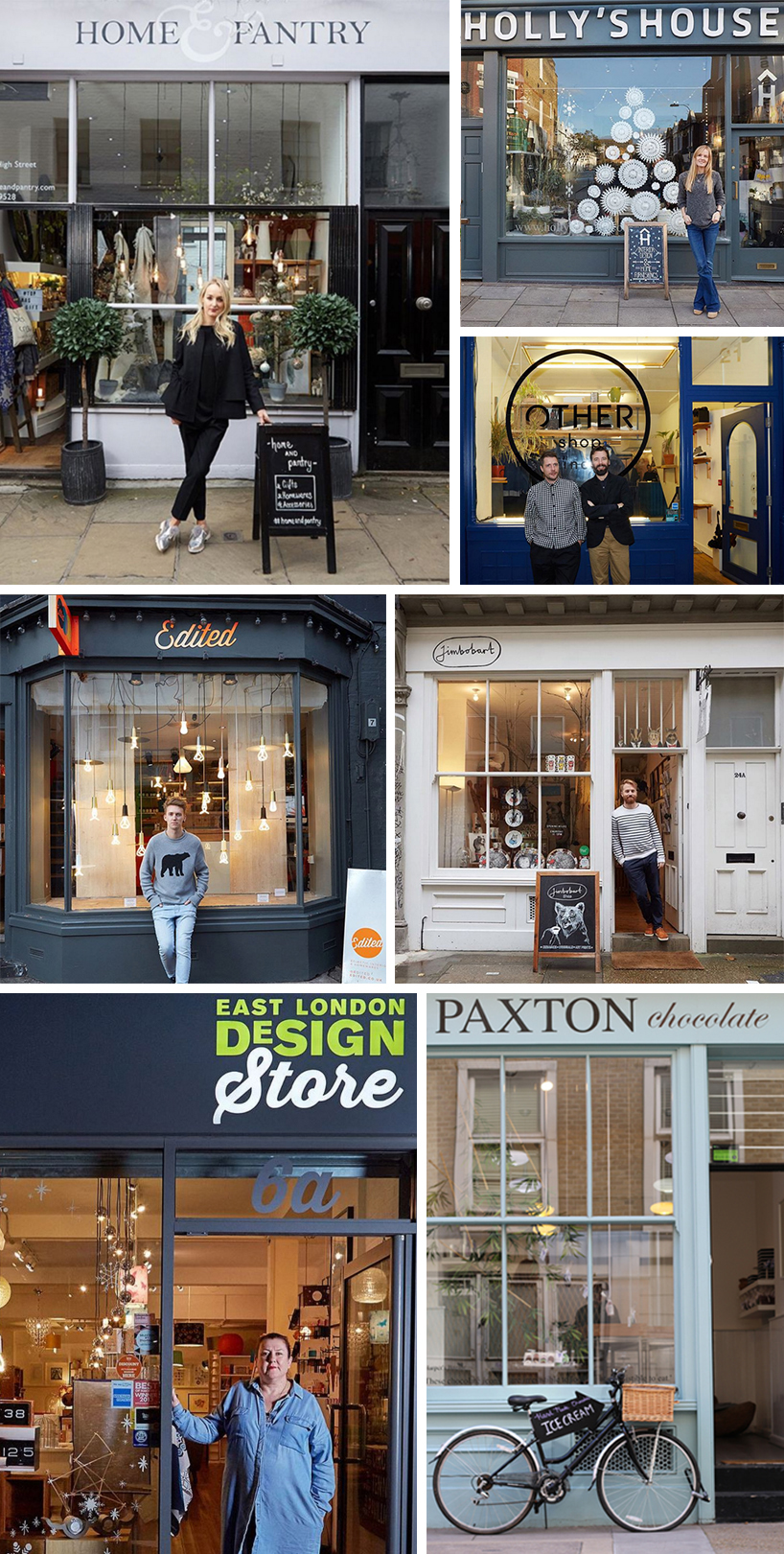 We are all OBSESSED with homeware (ask our boyfriends) and not only does your site appeal to our interior needs, it appeals to our fashion and design cravings also. As a team, give us 5 of your favourite products currently featured on the site: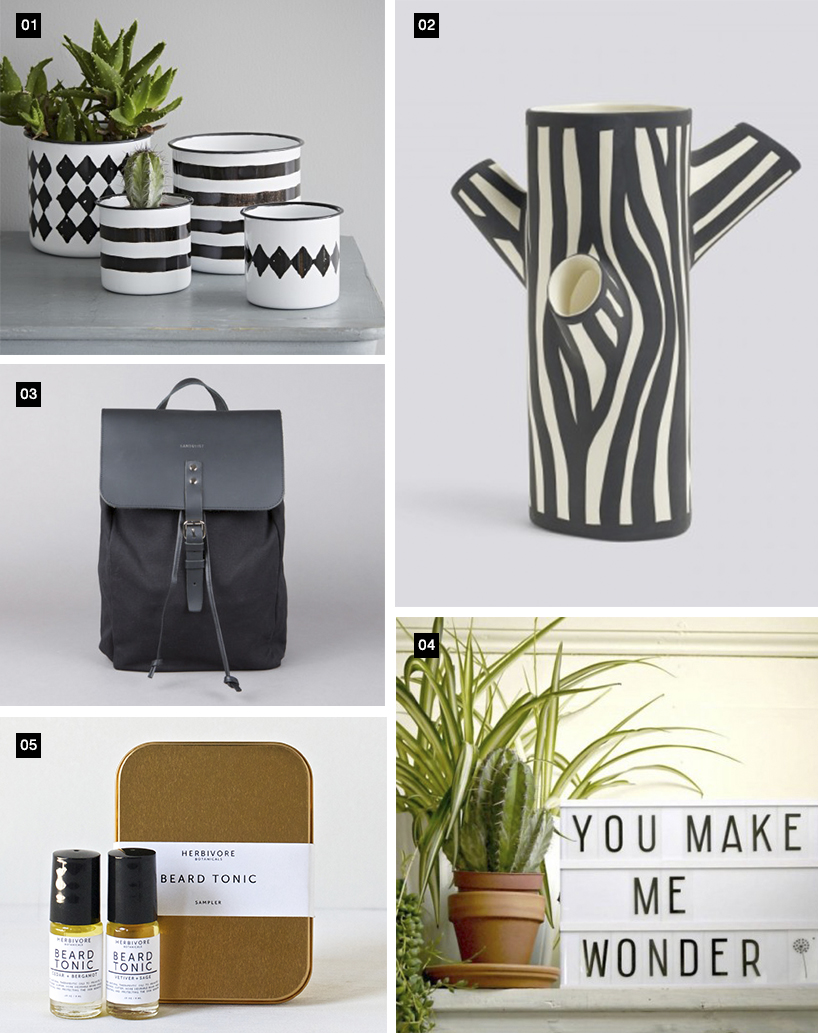 1. Black And White Enamel Pots
3. Customizeable Cinematic LED Light Box
4. Sandqvist Alva Bag In Black
5. Herbivore Botanicals Beard Tonic Sampler Set
What do you have in store for the future of the company? Do you plan to extend your offerings to worldwide market or to keep it within the UK?
We hope to expand the concept to cities across the globe such as Berlin and New York so that everyone can shop the best of each city's independent boutiques.
And finally, a question for the co-founders: A little while ago we did a post on 21 things we wished we had known at 21 (read here). If you could go back, what would you tell your 21 year old self now?
Maxim: Learn to code.
Many thanks to the Trouva team and special thanks to Izzy.
Visit the Trouva site here to start your shopping binge from the comfort of your desk. Happy spending!
[Images courtesy of Trouva]