Buy a poster, build a business //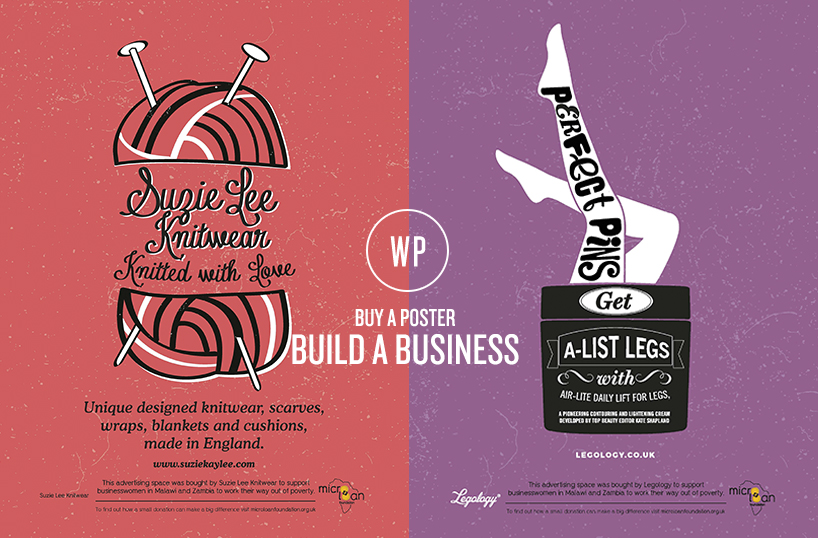 Nat explains DLKW Lowe's latest charity campaign, which aims to help the UK's entrepreneurial women through the MicroLoan Foundation. Intrigued? We were…
At To Work or Play we are fierce advocates of entrepreneurial talent and small business, that's why, when Vanessa spotted this concept, I did a little silent applause at my desk. After briefly explaining the concept in July's Roundup (view here), I wanted to delve deeper and find out more. Here's the full story:
This campaign is brilliant. It's not for business profit, not for the big daddy million pound brands and doesn't scream 'buy me because I'm cool and wrapped in a pretty package', but a simple idea, to promote and support female business minds and women-led start-ups in the UK whilst funding a worthwhile charity in Africa.
The creative minds over at DLKW Lowe have released two hundred posters around the London Underground in a campaign they call "Buy a poster, build a business", where all said posters have been purchased by female entrepreneurs to support MicroLoan Foundation – the charity that enables women in Malawi and Zambia to work their way out of poverty.
In a new angle to transitional charity advertising, and rather than advertising the foundation themselves, MicroLoan sold their 200 ad sites, which were kindly donated by JCDecaux and Total Media, to female entrepreneurs and women led start-ups in the UK. The money raised from the sale of the space will contribute in helping to empower women in rural Malawi and Zambia to start their own businesses with loans from MicroLoan Foundation. The profits from these businesses allow them to pay back their loans and lift their families out of poverty, paying for vital food, education and shelter. Wonderful.
So where do the businesswomen of the UK come in (apart from buying the space)? Well each of the UK business taking part had a beautifully crafted, unique typography poster designed for them by ad agency DLKW Lowe with a total of 82 companies in all. These companies range from osteopaths to sweet shops and burger bars to recruitment firms, with the minimum donation of £100 per location, which has resulted in over £20,000 being raised for the Microloan Foundation before the posters even went live!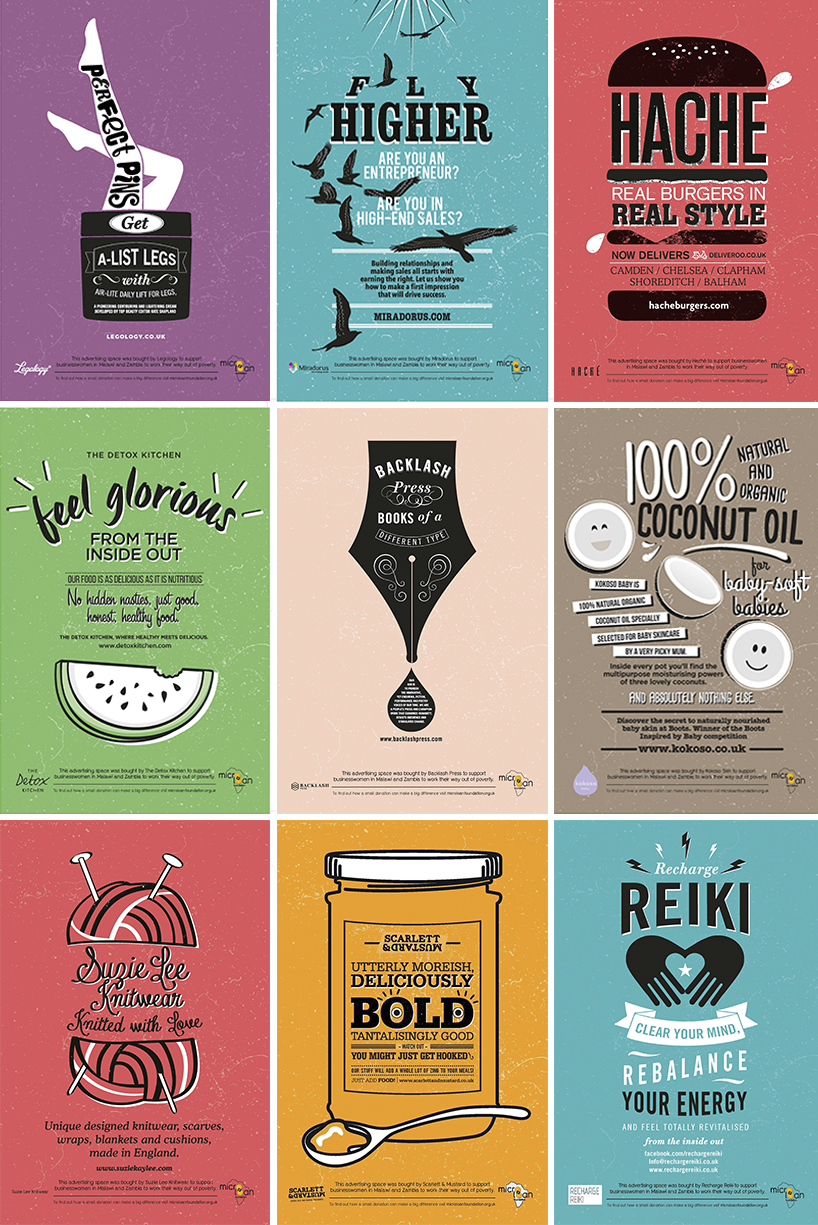 Commenting on the poster campaign, Peter Ryan, CEO of Microloan Foundation, said, "This poster campaign has been brilliant on so many fronts. Using the generous donation of media space from JCDecaux and Total Media, along with the creative minds at DLKW Lowe, we were able to generate more income and support from the 200 static posters than initially seemed possible.
"The motivation from the poster buyers to get involved was both generous and humbling; in many cases, it gave them an affordable opportunity to use this type of media for the first time. The £20,000 generated will help almost 300 women in some of the poorest parts of Africa to start micro businesses that will lift themselves and their families out of poverty. I urge everyone who sees one of our posters to share it with their online communities using #SeeaPosterHelpaBusiness to help us raise awareness for the campaign."
Not only does the campaign raise much needed awareness for the MicroLoan Foundation, but it also allows female-led companies to take advantage of an opportunity to promote their business whilst simultaneously supporting entrepreneurial women in rural Africa.
We wish we had been involved… Is it too late to buy a TWOP poster guys? Would love to see more of this kind of campaigns please! For more information take a look at a little video from the campaign here.
Words by – Natalie Jahangiry