Career Profile: Sabrina Ghayour //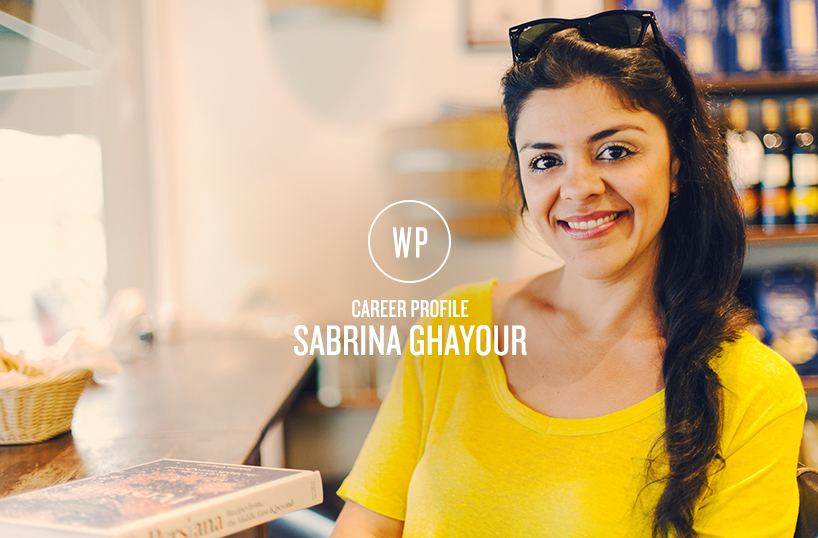 We talk to fellow British-Iranian Sabrina Ghayour about leading a trend in Persian cooking, inspirations, past collaborations and how she started her career by hosting supper clubs from her kitchen. We also discuss appearing on Come Dine With Me (yes it happened), cookery classes and the launch of her new book Sirocco.
Name: Sabrina Ghayour
Location: London
Career: Chef, Author and Food Writer
Site: sabrinaghayour.com
Twitter: @SabrinaGhayour
Most people have heard of Sabrina Ghayour, but for those of you who haven't she's a British-Iranian Chef, food writer and author. Born in Tehran, Ghayour moved to west London in 1979 at the beginning of the Iranian revolution with her mother and grandmother.
On finishing school Sabrina started her 15 year career working in events and marketing for top London restaurants as well as corporate catering. Unfortunately she was made redundant and around the same time had seen Thomas Keller's £250-a-head pop-up at Harrods advertised and joked on Twitter about doing her own for £2.50. Not expecting anyone to have noticed her Tweet, she was surprised that within hours she had more than 30 bookings and an offer to use a restaurant on a Sunday, with all ingredients included. Jason Jason Atherton's Pollen Street Social team offered to do the front of house. The night resulted in the team serving 80 people while raising £4,000 for Action Against Hunger.
Continuing on from the success of her pop-up night, Sabrina started inviting strangers to eat at her supper clubs, hosting up to three nights a week from her Earls Court home, while taking private cheffing jobs and teaching Persian cooking to the masses. And it's the popularity of these supper clubs that propelled her into the cookery limelight.
In 2014 Sabrina launched her first cookbook Persiana, which played homage to her Iranian heritage, with recipes from Persian and Middle Eastern cuisines. It was on the bestseller list for nine weeks and earned her critical acclaim with home cooks and chefs alike. The book simplifies and explains classic Persian cooking while providing flavoursome dishes that are easy to recreate at home. At the time Sunday Times' Gizzi Erskine said "Sabrina Ghayour is a phenomenal Persian Chef" and Chef Raymond Blanc OBE said "Sabrina delivers Eastern promise in its delicious gastronomic form".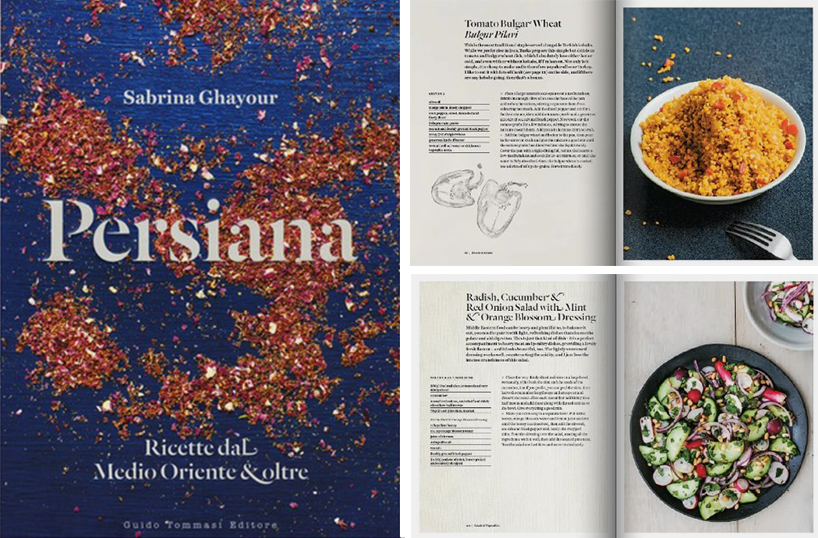 Building on the success of Persiana and after being given the title of "The Golden Girl of Persian Cookery" from The Observer, Sabrina has since gone on to host a 'Passage to Persia' pop-up with Anna Hansen at the Modern Pantry with guest chefs Ben Spalding, Omar Allibhoy, Alexis Gauthier and Tim Anderson all cooking Persian food and has been a regular guest at Chef at Oliver Peyton's 'Friday Night Social' at The National Gallery. More recently she hosted a 'Middle Eastern Feast' collaboration with Bruno Loubet at his popular restaurant Grain Store.
Sabrina has made regular TV appearances on shows such as BBC's Saturday Kitchen, Great British Menu and Sunday Brunch. She's also featured in Taste of London and Jamie Oliver's Big Feastivals, is a Middle Eastern cookery teacher at prestigious London cookery schools like Divertimenti and Leiths cookery schools and more recently has launched her second book Sirocco.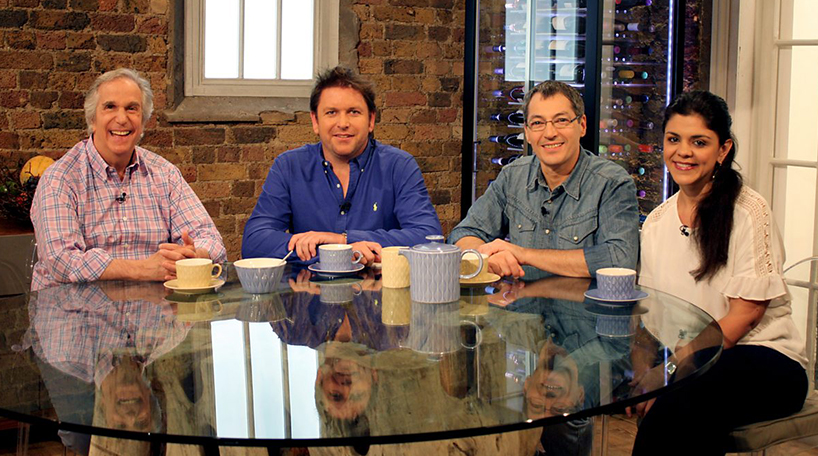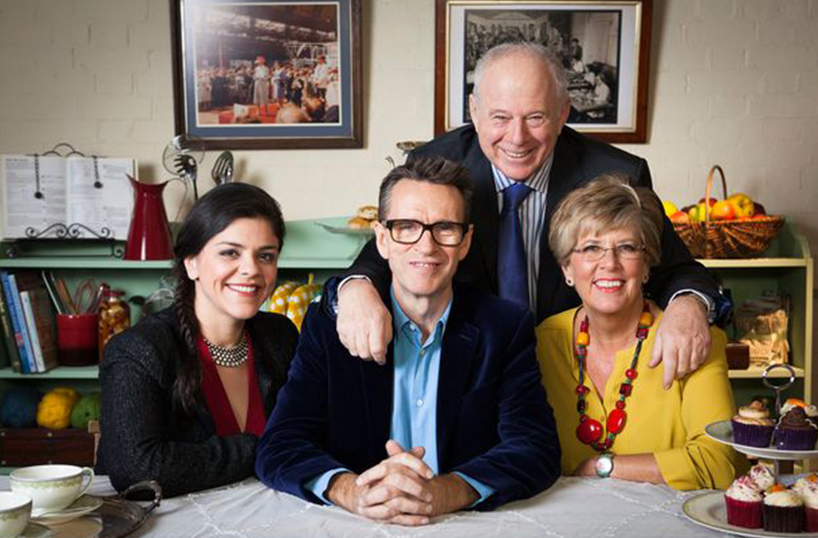 It's safe to say Sabrina spins many plates. In a brief moment of spare time we managed to quiz the lady of the moment on life, inspiration and our shared love for Persian cuisine.
Let's talk a little about your background. Have you come from a household where everyone has a passion for cooking or is it something you personally became interested in? Was a career in food something you have always wanted to pursue?
I come from the rare Middle Eastern circumstance where absolutely nobody really cooked or had a passion for cooking. My mother always loved food and was so fun to be with when I was a kid. She would take me to try all different kinds of cuisines from Italian and French to Japanese and Chinese, even teaching me how to use chopsticks from an early age. Things that don't sound very special in today's world but in the early 80s, this was all still fairly new. I fell in love with cooking from a very young age and because nobody was in the kitchen bossing me about, I was always unafraid to cook and try combinations that perhaps most people wouldn't dare. This kind of confidence has made me the cook that I am today and for this, I am truly thankful.
How did your supper clubs come about? What sparked the idea?
Necessity! I lost my job during the economic crisis and I suddenly had no income and needed to earn money somehow. Cooking was the one thing I loved doing and was good at so it was natural to try and earn a living somehow and supper clubs were just on the brink of becoming a 'thing' at the time.
So we know you used to host your supper clubs from the family kitchen, but who / what inspired you to expand on this venture and write a cookbook?
To be honest, the best things in life happen when you are usually busy doing other things. I was working 7 days a week trying to earn a crust and had no time to sit down and think about writing a book proposal. The book deal walked right up to my supper club after my editor came to dinner as a guest. Thank god she did, it changed my life and was the much-needed break I was hoping for!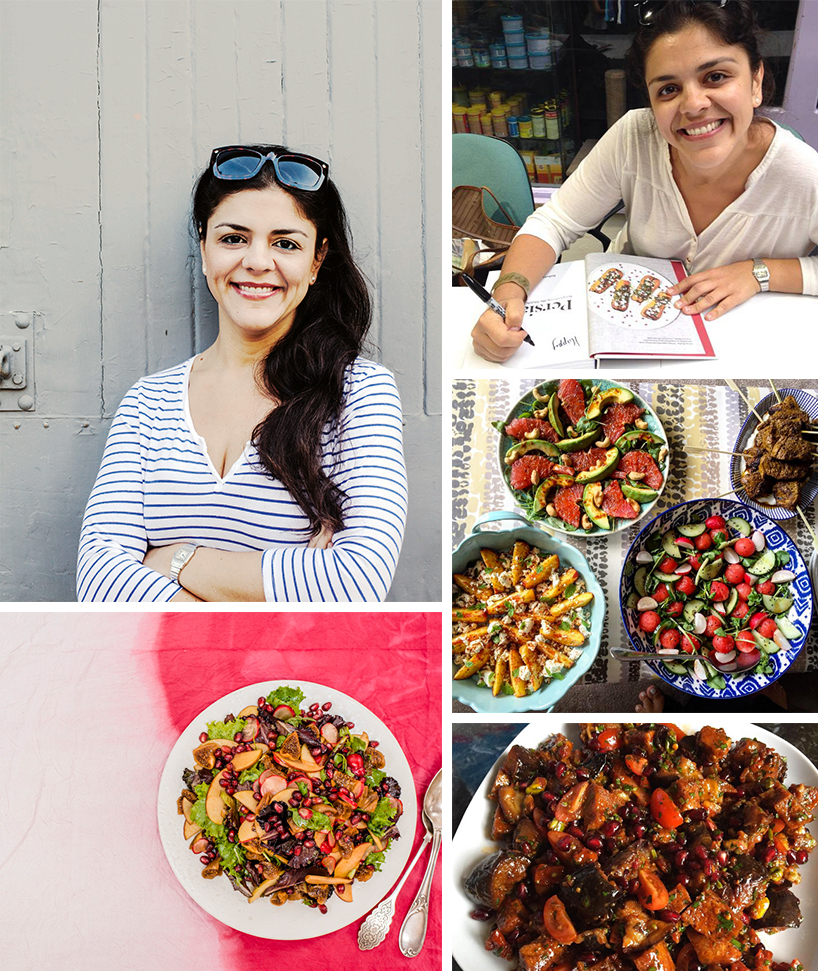 Do you think being a self taught cook has allowed you to express a true insight for ingredients and flavours from your background or would you have preferred to train in a traditional classic manner if you had been given the chance?
Classical training, I have a lot of respect for but it really is not for me. I'm a terrible student, I have a short attention span when it comes to studying and when I was younger, I was a pig-headed, stubborn know it all who would mostly likely have been kicked out after day one in a culinary school. Also the principles of classic culinary training revolve around French techniques and discipline, which are not remotely relevant in Middle Eastern and North African cookery. We cook in a completely different way, using our senses to feel, taste and really pour love into what we make. There is no perfection, no pretty presentation and definitely no one-way to do things. Every house, every cook tackles a task differently using ingredients that are available to them. We waste nothing, after all this is home cooking and nothing more… But it is beautiful, colourful and flavourful home cooking often with only simple, humble ingredients available to feed an entire family.
With two of our team being half Persian, we can totally relate to your background and heritage with Persian and middle eastern cuisine. What's your favourite Iranian dish and why?
It has to be Ghormeh Sabzi stew with rice and Tahdig with potatoes (ask Nat and Firuze, they'll tell you). It is absolutely magnificent, so much so that there are even Facebook groups dedicated to it and if my memory serves me correctly, someone once shot a video of them using Ghormeh Sabzi stew as a pizza topping. Awful, I know but it does give you a grasp of just how popular this stew is. Stews are the cornerstone of Persian cookery and this stew was the reason I had to teach myself how to make Persian food because I loved it so much and never got enough of it!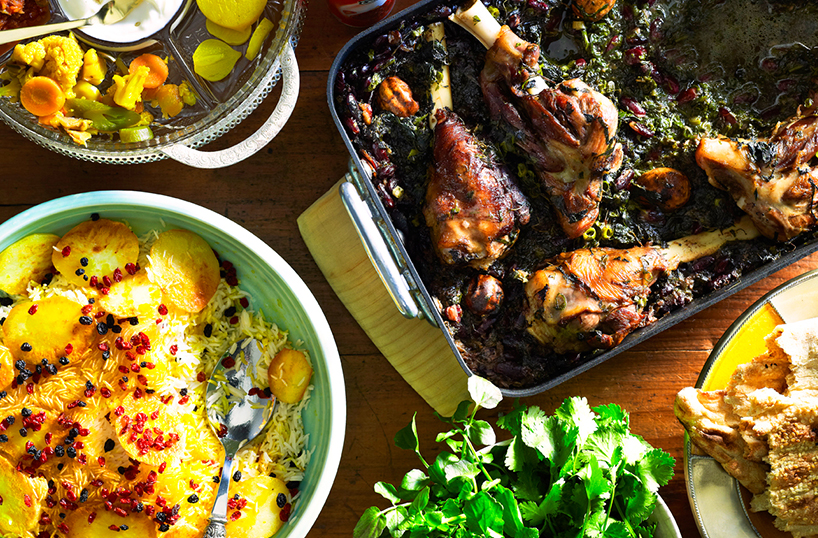 Nat's favourite is Lubia Polow and Firuze loves Fesenjan, we will put our orders in now – when can we come for dinner?
Well for Firuze, come in winter! Iranians don't tend to eat Fesenjan in summer as it is known as a 'hot' food, referring to things you shouldn't eat too often and should be served more commonly when its cooler weather. Lubia Polow is epic. No doubt about it, but there has to be Torshi Liteh with it (ask Nat what I mean) I couldn't even imagine eating Lubia without Liteh. There is even a song about it that ends "Albatteh, Liteh, Liteh!" – which means "Of course Liteh, Liteh!" (Liteh is a mixed pickle of aubergines and other vegetables).
You have been leading a trend in Persian inspired food with a run of pop-up events like 'Passage to Persia' at the Modern Pantry, a Middle Eastern Feast collaboration with Bruno Loubet at the Grain Store and regular guest spot at Oliver Peyton's 'Friday Night Social'. To date what has been the most enjoyable experience?
Each and every experience has been truly wonderful. There I am, a total dork, getting to work with some of my culinary heroes and THEY are listening to ME talk about what I know and share my techniques and flavour combinations! It's still mind-blowingly surreal. My last collaboration was with Angela Hartnett and Luke Holder at Limewood back in November, it was so much fun and I now have the confidence to push people during service, where I was shy and didn't want to overstep my mark before. Ask Angela, she said I was a grafter but a bossy one!
Your new book Sirocco brings tastes of the East to Western-style dishes. Tell us a bit more about this book and how it differs from your first, very successful book, Persiana:
Persiana was my simplified recipes of Persian, Arab Middle Eastern, Turkish and North African recipes. Simply put, Sirocco uses flavours and ingredients from the East in everyday more familiar cookery style. It's how I eat at home.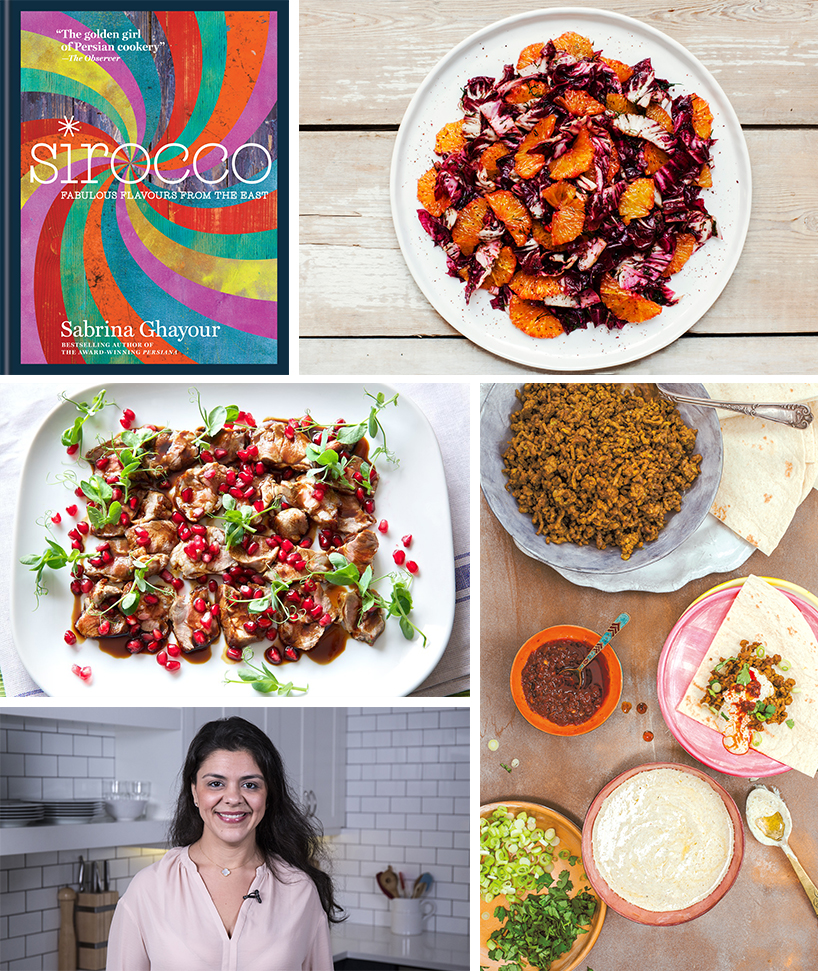 Give us your favourite recipe from Sirocco?
How can you ask me to choose between my children? Well, the older I get the more simple my tastes become… So vine leaf baked feta is one of my favourites, that's for sure.
Persian people are generally good at eating and being social (we would know)… in your spare time where are your favourite places to eat and socialise in London and why?
When I have time, I want to go and eat good food… actually strike that, I want GREAT food. I have a love and fondness for all things Corbin and King (That's Chris Corbin and Jeremy King who own The Wolseley, Fischers, Bellanger, Delaunay & Colony Grill etc) Never have I been disappointed with a meal or service at any of their establishments which makes me fiercely loyal and I do try and eat as regularly as possible at The Wolseley and Colony Grill, especially. Barrafina in Adelaide Street is also incredible… better than any food/tapas I have ever had in any part of Spain. Why travel there when the best quality stuff is on your doorstep. Apart from that, Sartoria, Modern Pantry, Roka, Grain Store, Shackfuyu, Bau, Hoppers, these are all very much the kind of food I like to eat!
When you aren't preparing dishes supper clubs, writing cookbooks or appearing on TV, what can we find you doing? How do you balance work with play?
Thankfully I no longer host supper clubs… My home is now a tranquil haven which I use to unwind and relax in, as it should be. I love going to the movies, often alone, same with galleries, museums and long walks in the heart of Hyde Park where nobody is around and the sound of London just melts away. I love nature, I find it very soothing and peaceful… This, I guess, is when you know you are getting old, right?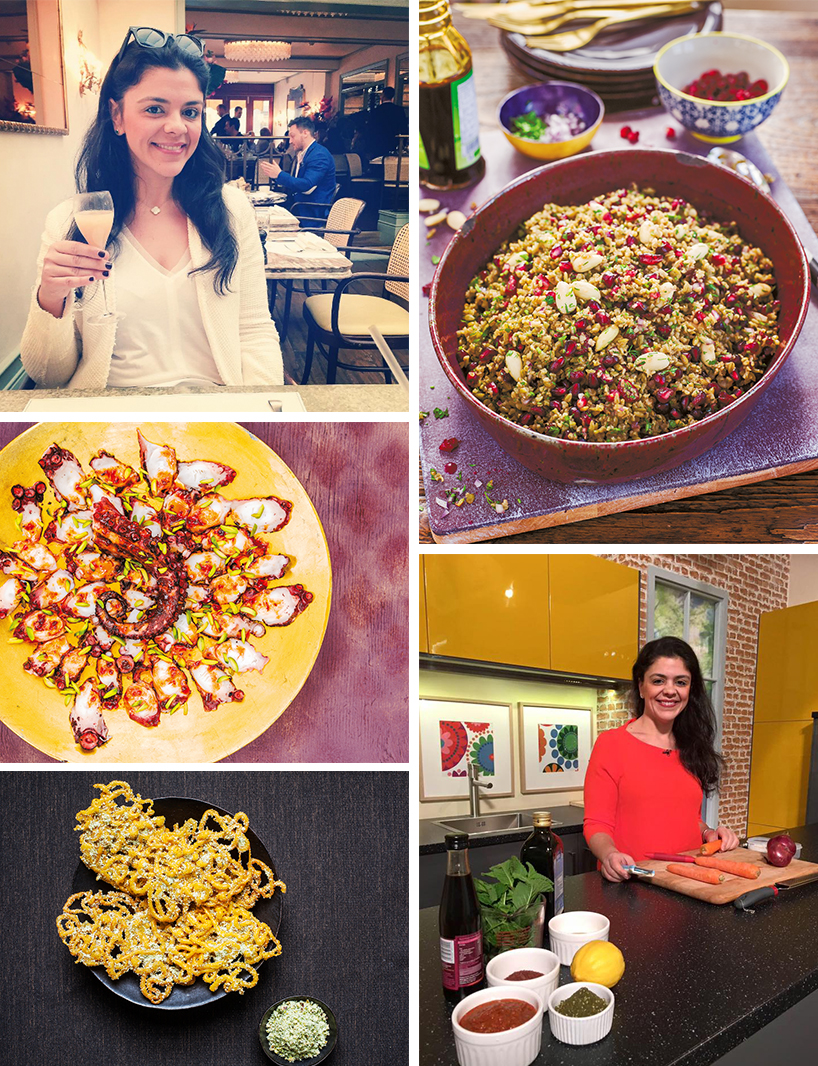 Is it true that you once appeared on Come Dine With Me? What was that like?
Errr… yes. Gosh, that was back in 2007 long before I became a Chef. It was intensely tiring and most of the people were absolutely bonkers. I am in touch with one lovely person, Greg, who was the only other sane one amongst them.
What has been your best achievement to date? What has made you most proud?
My career… turning my life around from having no job, no money and no career and creating this career out of thin air, all by myself. It made my Mum very proud and perhaps making her proud has made me very proud of my achievements.
You've branched out into teaching cooking classes. What's next for you? Give us a sneak peek into what you have in store:
I've actually been teaching cookery classes for 6 years. The past 4 years with Divertimenti who I've taught with the longest and still work with to this day. If I told you what I was doing, I would be lying… as always I never have a clue what is next and am usually just trying to catch my breath and roll with whatever comes my way next. I have a habit of overthinking things and as you get older you realise it can be incredibly hard on the mind and body… Going with the flow always seems to reap bigger rewards, just as long as you aren't sat on your backside doing nothing.
And finally… If you could offer any advice to someone looking to follow a similar route to yourself what would it be?
Don't go looking for fame, fortune, Instagram/Twitter followers and book deals… just WORK HARD and be good, not great, at what you do and strive to do something unique. If you work hard and are unique, good things will come. It baffles me how many people forget that good old fashioned, hard-graft is what reaps the most rewards in life. Social media has distorted that a lot and not many people seem to want to work hard anymore. They just want instant book deals, magazine spreads and TV appearances. Build an actual career, find what you are good at and make it your niche. The rest will come whilst you have your head down and are getting on with things.
With thanks to Sabrina and Caroline.
Visit Sabrina's website here to keep up to date with all her musings.
Images © BBC, SBS & Sabrina Ghayour