Creative Instagram Bakers //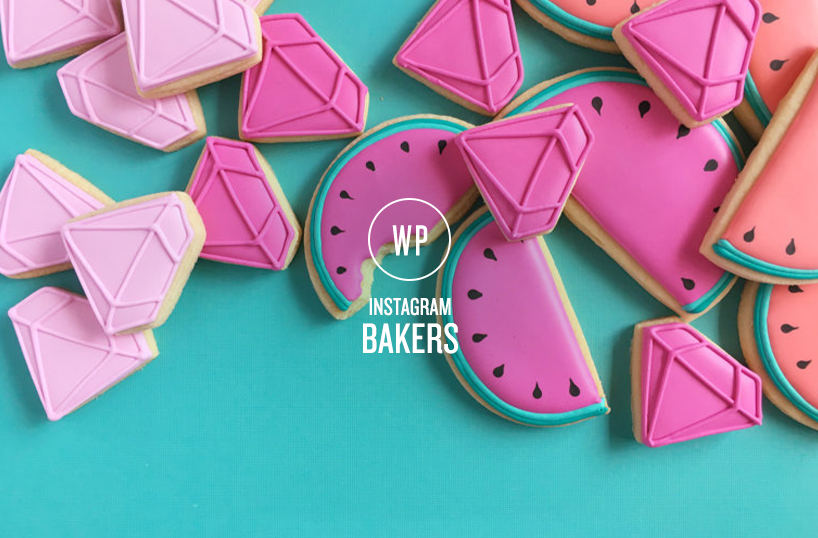 Nat looks at popular Instagram bakers, giving you her pick of profiles that have caught her eye. Get your cake tins at the ready!  
I spend a lot of time on Instagram… but don't we all? Whether you use it to have a nosey into other people's lives, get inspiration, discover recipes or find fashion tips, it's all great insight into new areas of creativeness. It's safe to say I love food, and love art, so when the two are mixed I am right there gathering inspiration, saving pics, adding profiles and trying to recreate the work  I see before me. I particularly love baking and the masterpieces some people are able to create astound me. So here I give you some of the profiles that have caught my eye from bakers worldwide. Delicious.  
@vickiee_yo
Doughnut lovers rejoice, here's an account to set your cravings on fire.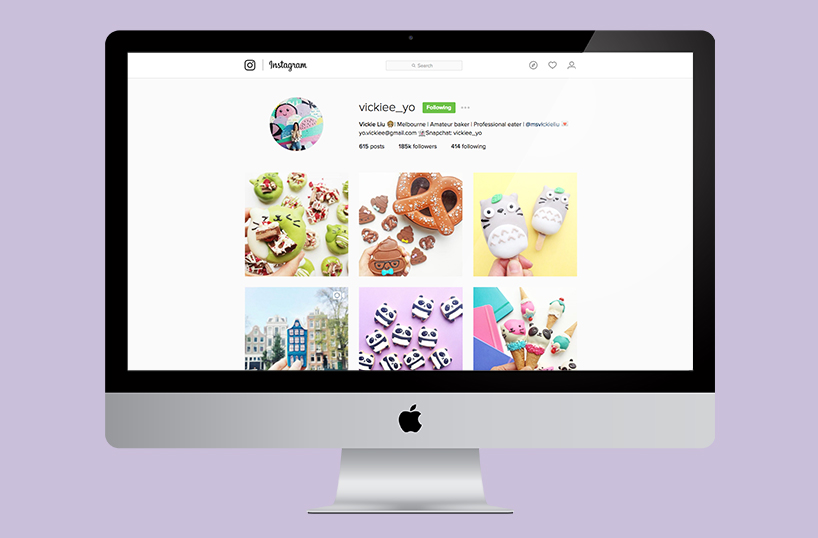 A few years ago Vickie Liu went from building structures as an architect to building cakes. Directing her inspiration into baking rather than brickwork, the talented Australian based cook has fused two of her passions, food and design, to unleash her inner creative talents. Showing her skills in pie, doughnut, cake and cookie art there's no end to her sweet talents. A definite fav of mine – but be warned, don't browse while hungry (or #hangry for that matter). For a more detailed Q&A with Vickie read over on Little Gatherer here.
@cococakeland
Coco Cake Land is a magical place full of panda cookies, bright bold ice cream, inventive cakes and much more.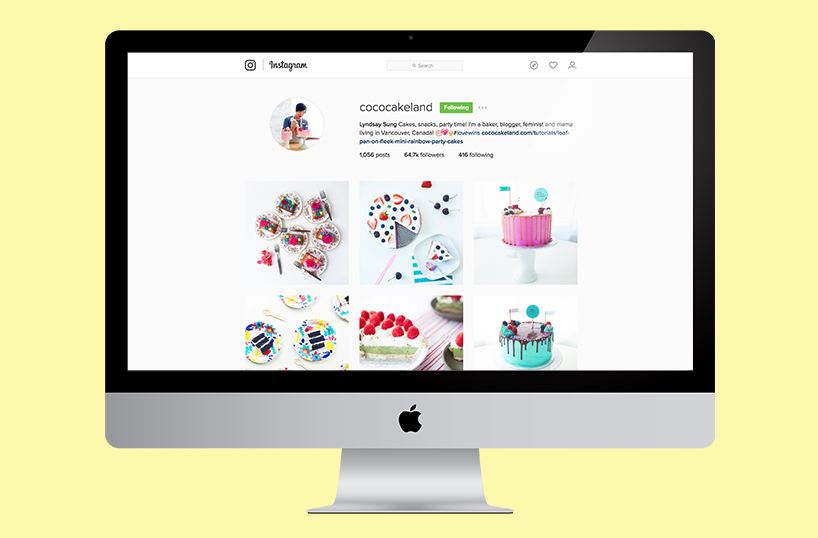 The account and company is the brainchild of Lyndsay Sung, blogger and mama from Vancouver, BC. In 2015 Lyndsay was named 'Yahoo Food's Blogger of the Year' and we can see why! On her Insta profile and site you'll find mouth watering creations, but not only that, you will also gain insight into a few snippets of her life beyond cakes – family stuff, and inspiration. Last year she was diagnosed with breast cancer and writes about her experiences, as well as creating accompanying cakes. I particularly love the Fuck Cancer Cake and Breast Cancer Cake. Keep up the great work Lyndsay!
@fluffegram
"I make fairy floss. Invite me to your party or buy some online"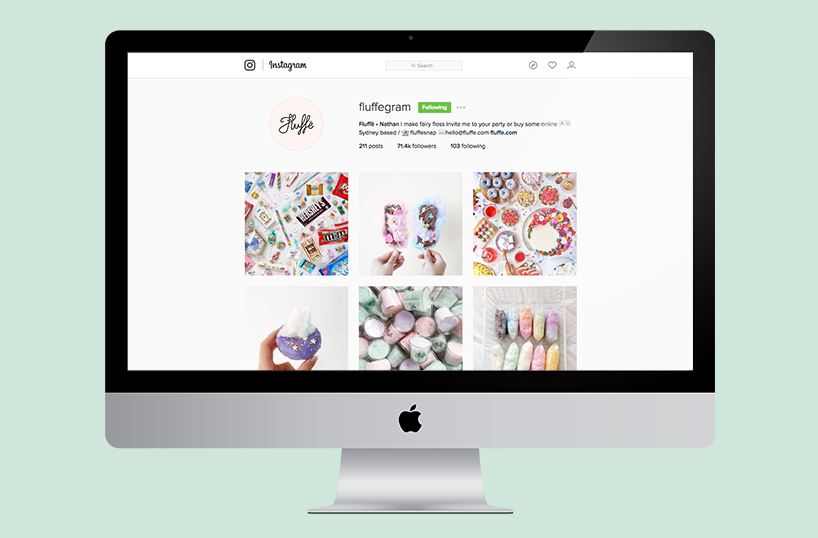 Ermm yes please! Only problem is Nathan, the man behind the account, is based in Sydney… no Fluffë for me (sad face). Instead I can just stalk his whimsical Instagram profile and dream about Fluffë milkshakes, panda doughnuts, cloud like candyfloss and cotton candy bark (no I didn't know what this was either, but I do now!). The profile is mainly based around candyfloss, but includes some scrumptious looking baked goods also. Visit the Fluffë site for more.
@neighbourhood_bakes
Neighbourhood Bakes are a specialist cake company based in Finsbury Park and Hertfordshire.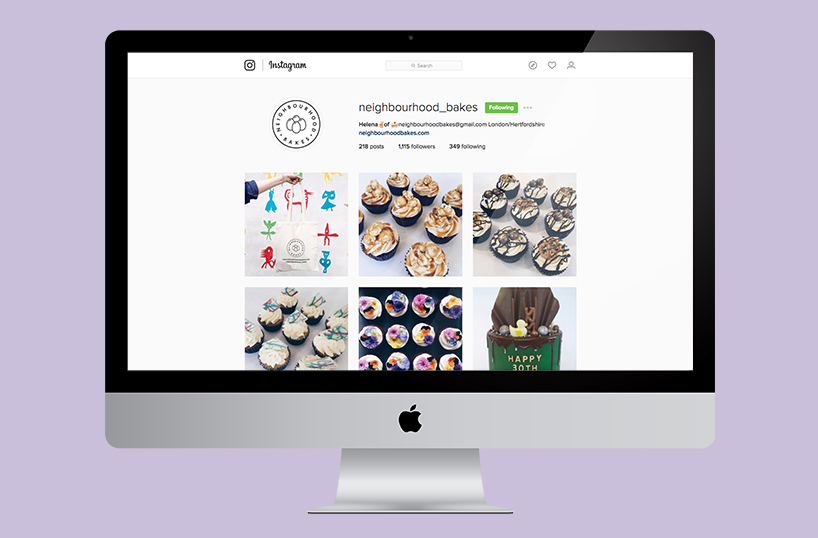 Providing designer bespoke cakes for weddings, birthdays and general celebrations. Grown out of a passion for baking, the company is led by Helena who is now a professional foodie and master baker. Turning what was a hobby into a business Helena posts pictures of sensational cakes, all with unique designs and mouth watering appeal. Stand aside GBBO, this lady has skills to rival even the most impressive creations.
@nutmegandhoneybee
This account, run by Meghan Rosko, shows beautiful baked creations from cookies to cakes and macaroons to milkshakes.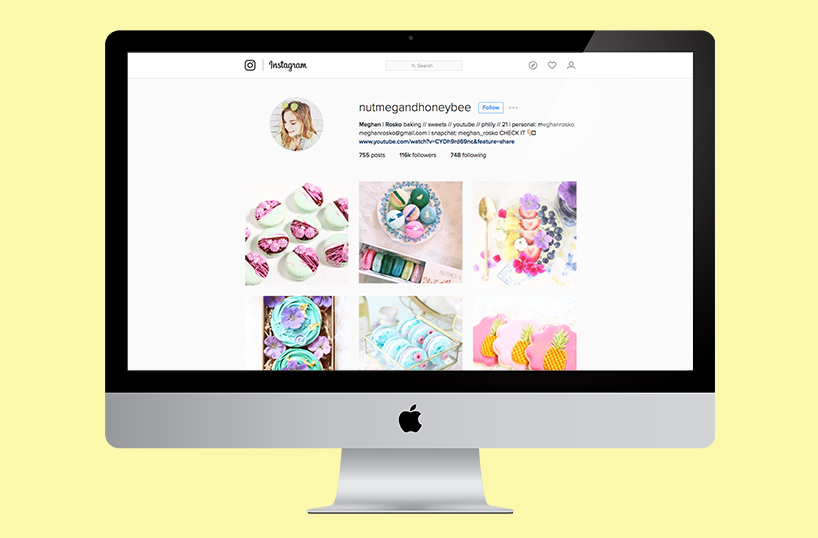 Explaining that she has a "strong interest in baking and design" the profile was set up in 2014 with a simple set of sugar cookies for a wedding. Since then it's grown into a popular account with Meghan now creating sweet treats for celebrities, TV shows, fashion events and bloggers alike. The name comes from a nickname that she calls her brother ("B" which led to honeybee), who has been a strong driving force behind Nutmeg and Honeybee not only as an Instagram project but as a brand. To see more fab creations and getting a greater insight into Meg's work visit her website here.
@rymondtn
With panda pops, flower cakes, glitter doughnuts and pastel macaroons Raymond has the *cute* factor covered.

This Melbourne based foodie is another of our self taught bakers, mastering the art of Disney-esque designs and sweet treats so good they are almost too pretty to eat!
@hol_fox
Holly Fox, the creative lady behind the account, describes herself as "Pantone loving, lipstick wearing, jewel collecting gal that's not afraid of a little leopard".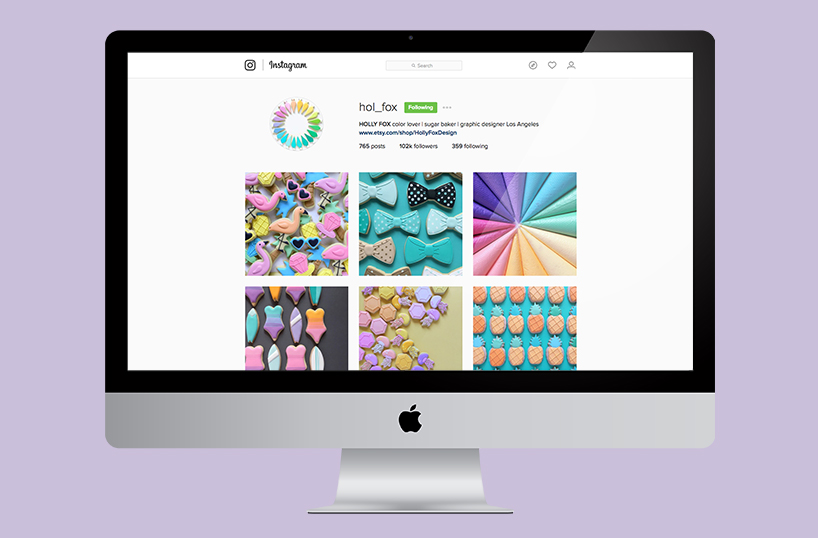 A fellow graphic designer she loves to bake in her spare time, mixing the design world with her love of colourful sugar creations. Based in LA Holly combines her design skills with her obsession for a Pantone palettes, crafting fun and inventive cookies from diamond rings and jeans to bikini's and watermelons. And what's more, if you like her biscuit designs, you can purchase (and customise) them over on Holly's Etsy shop.
@copenhagencakes
I LOVE this account. I feel this sense of total food envy every time they post a pic – like when you go to a restaurant and the person next to you has ordered a more fabulous looking cake than you have… grrr.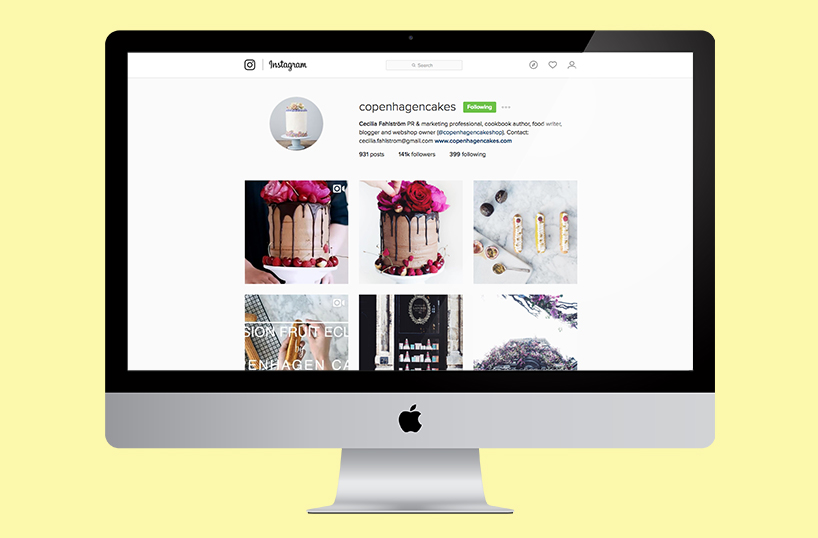 Created by Cecilia, a 27 year old foodie living in Copenhagen. During the day she is a PR & Marketing manager in the restaurant scene and in her spare time runs her blog (view here) and accompanying instagram account. Last year Cecilia even launched her first book, Copenhagen Cakes! Bravo. Now if you could just move to London Cecilia, our lives would be complete. Watch out for a Q&A with Cecilia coming soon.
Words by – Natalie Jahangiry
Images © @vickiee_yo, @cococakeland, @fluffegram, @neighbourhood_bakes, @nutmegandhoneybee, @rymondtn, @hol_fox & @copenhagencakes