Face your Fears //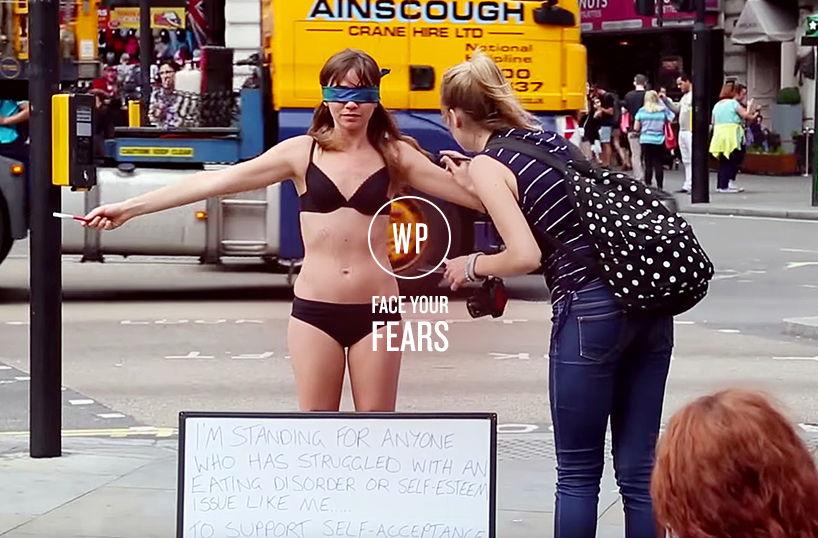 We love a good TED talk. We especially love a good TED talk when it inspires people to change the way they think for the better. Read how Amanda Palmer's talk, "The Art of Asking" inspired a courageous stunt in a bid to change the public's perception on body complexes:
We all have body hangups. So think about these issues, the ones which make us doubt the way we look, and imagine stripping off to your underwear in the middle of Piccadilly Circus. Sounds like your worst nightmare, right? It's definitely mine. But why do we feel this way and why should we feel this way?
In a recent experiment Jae West faced her fears by walking into one of London's busiest areas and undressing. She then placed a sign at her feet, blindfolded herself and stood very nervously with her arms stretched out holding pens. But why? Well the stunt, brought to us by a group called The Liberators, was designed to make an impact on the general public and represent a powerful message to love your own body.
In a blog post written by West, she describes how she had suffered from an eating disorder which affected her life from high school to her early 20s. After watching Amanda Palmer's TED talk, "The Art of Asking," she knew she needed to make a change. In Palmer's talk she talks explained how she had stripped naked and let her fans draw and write anything they wanted on her. The post explains the idea that "linking the vulnerability of nudity with self-esteem issues" gave her a reality check and made her think about how critical we can be on ourselves and how we place "unrealistic expectations" on how we look.
West describes her anxiousness and the "overwhelming sense of vulnerability" she felt before going through with the idea, but knew it would be something people could relate to and how by putting herself in the situation it was "really a stand for everyone out there that has been confronted with self-doubt in relation to the way they look." She also goes on to describe the moment her clothes fell to the ground and she placed the blindfold over her eyes. "As my clothes fell to the ground and I placed the blindfold over my eyes I could feel a shift of attention and confusion stirring in the air. My heart was racing while all the worst case scenarios were going through my head. I was scared that no one was going to draw a love heart on my body and I was going to be left out there in the open in my underwear on show to be ridiculed." She goes on to say "As the minutes passed it felt like hours… All of a sudden I felt one of the pens in my left hand slip out of my grasp. The feeling of the felt pen on my skin was one of the most overwhelming feelings of relief, gratitude and love that I've ever felt. I just burst into tears. I don't know who that first person was but I am so thankful for their contribution."
She explains the most inspirational moment of the stunt was when she could hear a father explaining to his children what she was doing and the fact he acknowledged that "everyone should love themselves exactly as they are and appreciate the bodies that they are given". She goes on to explain that "If everyone could know and appreciate how beautiful they are from childhood I think this world would be a very different place."
Finishing her post West explains "With the growing prevalence of eating-disorders and self-esteem issues around the world, this public act of self-acceptance aims to get people to question the true relationship that they have to themselves and body-image."
View  Amanda Palmer's TED talk, "The Art of Asking," below:
Words by – Natalie Jahangiry
[Imagery courtesy of Youtube]