Brand Review: POPS //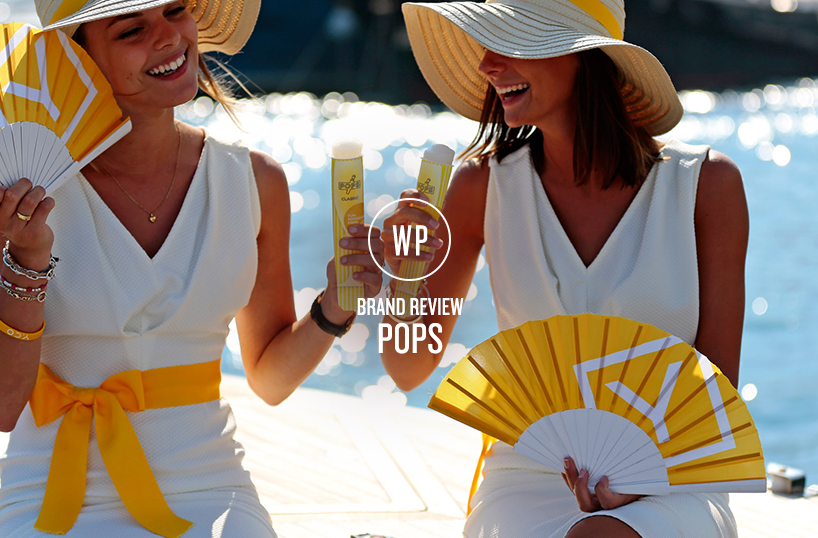 TWOP recently skipped over to central London to meet POPS for a little taster session of their famous popsicles while talking to the team about their delicious brand. Here's what we found out about the alcoholic ice pop creators:
When you think summer you think of happy times frolicking in the park with the sun on your face and the wind in your hair (no – we're not writing a romance novel here… stay with us). And what more do you want than a cold refreshing ice pop to refresh the system. Well what if we told you that you can now have delicious hydrating ice pops that are alcoholic! It's the dream right?! What's more… they are low in calories and contain your favourite ingredients such as champagne, strawberries, mint and elderflower. For you, lovely reader, we only showcase the best products and this is one of them.
We first discovered POPS on Facebook when a photo of the beautifully designed packaging popped up after doing the rounds on social media, and we knew it would be a brand we wanted to pursue. After contacting the co-founders Harry and James we arranged a meet and wanted to know more about the idea, how the POPS family operate and what the future of the company holds.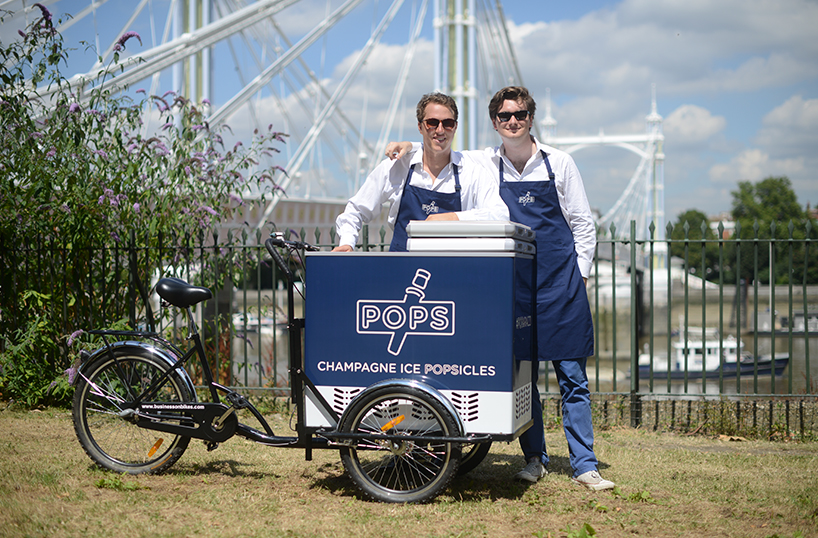 POPS are premium ice pops made only using natural ingredients and are created right here in the UK. Founded in June 2014 the company is a baby to the food and drink market, but has already been picked up by the likes of Fortnum and Mason, The Ivy and Mews of Mayfair with each company having their own uniquely branded ice treat. Over the past year POPS have been featured in 100 global press publications and 3 national TV shows. They've even had celebrity endorsement and have been served at some of Europe's most high profile events. There's no stopping these guys on their rise to success! We spoke to Harry and James to find out more.
How did you start POPS from having the concept to making it a reality?
We were entering a market and category that was new to both of us so initially we spent time on market research, then established suppliers we wanted to work with who shared our vision and from there built what you see today.
Who do you take inspiration from? Which companies do you aspire to be like?
Ewan Venters, CEO of Fortnum & Mason is an inspiration and we admire brands such as Fever Tree, Chase Distillery and Geronimo Inns.
We love the branding, did you hire a team to work on this or did you do it in-house?
We work closely with a freelance graphic designer but all briefs and development is handled in-house.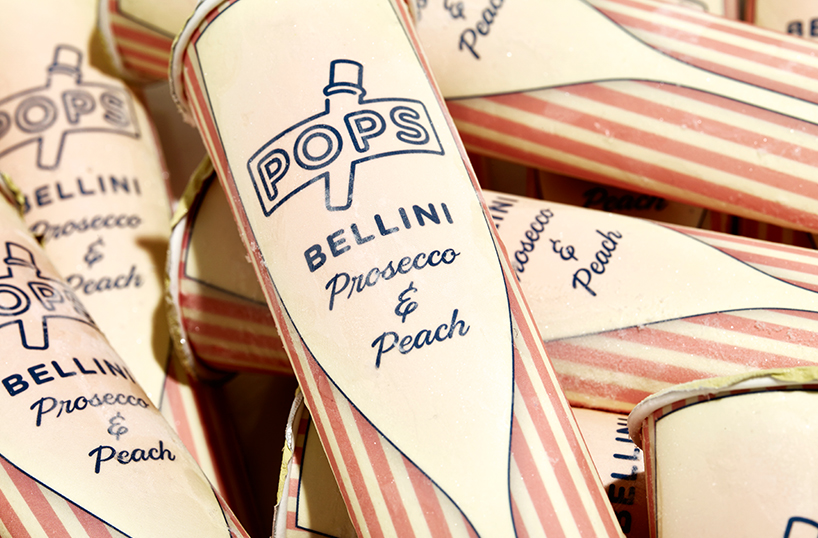 How many people form the POPS team?
We have 5 in our London office and 2 in Ibiza throughout June – September.
You often brand your POPS for certain shops or events, such as Fortnum & Mason. Is this something you will continue to do?
This is something we do not actively pursue or wish to make a core aspect of the business but when the right opportunity or association arises it is something we consider. Being aligned with luxury global brands such as Fortnum & Mason only re-enforces our message of quality and that POPS are premium products made using the finest ingredients.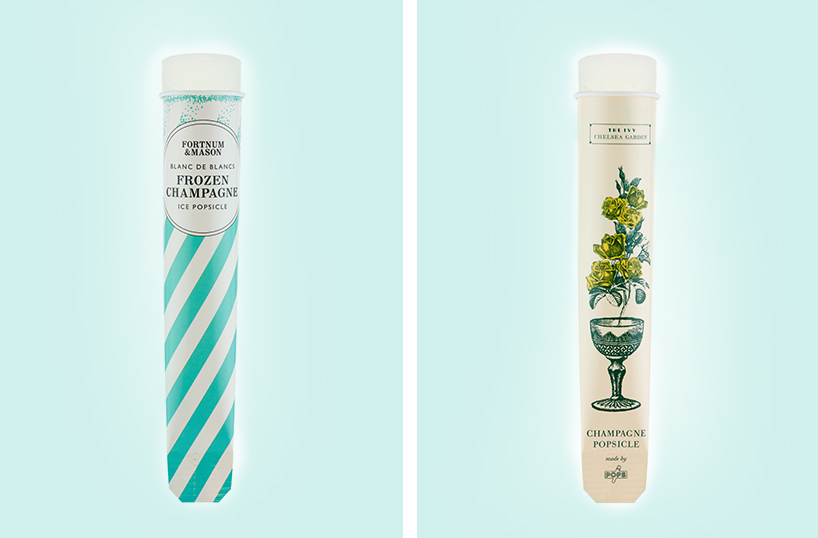 We can see that your popsicles are low in calories and made with natural sugars… Does that mean they could actually be a healthy tipple for us?
Our CLASSIC (Champagne) product has the same calories as an apple and with half a glass of champagne it's certainly a guilt-free treat!

How did you decide on your flavours? What creative concoctions may we see in the future?
The CLASSIC was our first product, naturally the BELLINI had to come next and our STRAWBERRY & MINT and APPLE & ELDERFLOWER were combinations we believe were the best with regards to taste, association with the summer and appeal to markets both the UK and across Europe.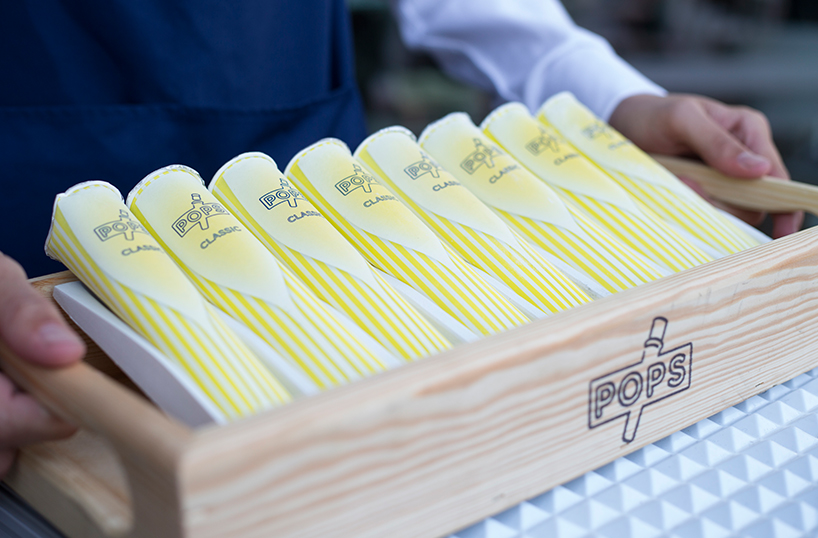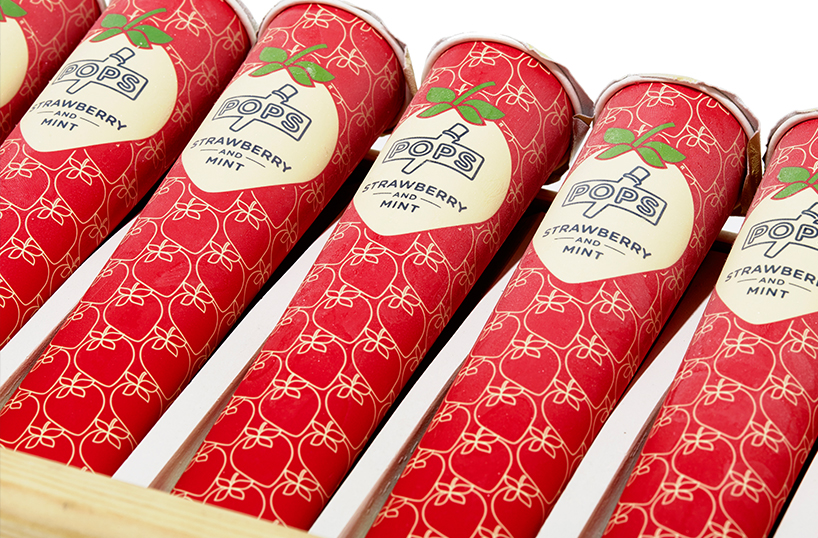 If you're not wheeling a POPS cart near us any time soon where can we buy one?
Vintage Salt (Selfridges), The Ivy Chelsea Garden, Geronimo Inns (upmarket pubs across London), Fortnum & Mason, Lucky Voice Soho, Mews of Mayfair and more. Please visit our website for a full list of stockists.
What issues have you come up against and how did you overcome them?
Educating the consumer on our Champagne and Prosecco products and their value for money is always work in progress but with any new product or concept it takes time and we are always working on enhancing brand awareness for POPS.

What's the plan for the future of the company? Will we see you in our high street stores soon or do you plan to keep it off the supermarket shelves?
We have exciting plans for POPS and our expansion across the UK but can't reveal anything yet. Watch this space.
What's the best bit of advice someone has ever given you?
Don't assume anything.
And what's the best bit of advice you would give someone looking to launch a business like yours?
There is no rulebook. Focus and plan ahead. Don't give up.
With thanks to the POPS team.
Visit the POPS website here for more information and to get in touch with the guys.
[Imagery courtesy of POPS]