Waving Goodbye to My Twenty Something Self //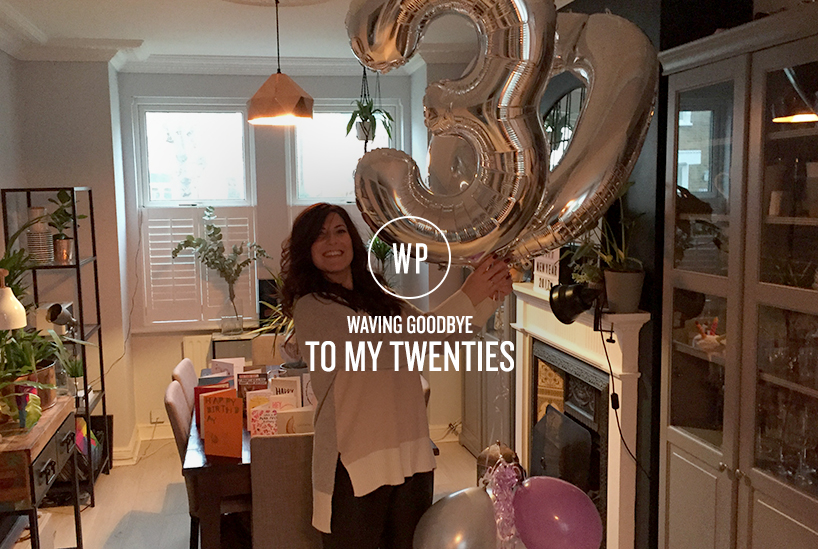 As Nat turns 30 she reflects on life as a twenty something and the lessons she's learnt over the past 10 years.
It's happened… I've turned 30. Today is my birthday and at the weekend I toasted the big 3-0 with my nearest and dearest in a flurry of parties to celebrate my milestone birthday. Do I feel different now that I'm 30? No, not really. I don't know what I expected, or what anyone expects really… to wake up on the morning of your 30th and the birthday fairy has cast her magic spell to ensure you have your life together ready to be a proper adult? No more messing around, you are now a thirty something.
My twenties were fun, the good years, the years that taught me a lot about who I am as a person. Although some may say it's your teenage years where you learn the most important life lessons, I would argue that in fact it's your twenties that shape you as an adult. As I wave goodbye to an important decade in my life I look back at the lessons I've learnt.
Take the pressure off your shoulders
"Where do you want to be in your career in the next five years?" is a standard interview question many of us have heard time and time again.  And while it's easy enough to say "in your shoes" that might not necessarily be the right path. I used to live by deadlines with a very clear mindset of where I wanted to be by what age, but growing up I realise it's ok that I'm 30, don't have 2 kids, I'm not married and I don't own a design empire. I'm not saying I lack ambition, I have that in bundles, but I now don't believe in setting out my life to deadlines. No one is perfect and we all strive for different things. Plans change, life throws a curveball and shit happens. It's more important to be happy and go with the flow rather than setting impractical targets that ultimately could make you sad if you don't meet them. By not pressuring myself I have actually achieved more than I ever imagined I would by 30. The key to happiness – don't compare yourself to others, don't settle for something not good enough, don't set unrealistic deadlines and don't pressure yourself into the wrong life choices.   
Don't live your life in FOMO
In my mid twenties I worried I had missed out on vital 'experiences' such as travelling or a gap year. I, instead, chose my career over travel and because of this I feared I had missed the opportunity to see the world. What I have come to learn is that, for me, I made the right choice and that it's never too late to travel the world in a different way. If you want to choose family over career, career over travel or travel over career then do so. Do what is right for you at that stage of your life. Don't live in fear you have missed something out, there's always time.
Failing is the key to success
It's hard to imagine that the word 'fail' can be associated with a positive outcome, but it's vital and something I learnt early in my twenties. Being made redundant, messing something up, getting a bad grade, isn't a bad thing as long as you recognise your faults and learn from them. Jo once wrote an article that stuck with me entitled Fail Fast (see here) in which she explained that learning from your mistakes is key to success and I couldn't agree more.  
People change
Don't be disappointed to discover that people change, relationships crumble and friends grow apart. You will get betrayed, hurt and upset with those you thought you would be close to forever, but the lessons you learn from this will make you stronger as a person. Don't forget that although some people aren't who you thought they were, your real friendships and relationships survive the test of time. Some of my most valuable relationships are those I made as a twenty something. As your grow older you understand the true meaning of these people and how important they are once you have found them.
Shit happens
… it really does, but how you deal with it will determine your future. In my mid twenties I was shocked to my core when the life I knew shattered around me. My then-partner of 3 years, who I lived with, gambled everything I had, stole from my friends and family and wound up in prison. No one saw it coming, he was an everyday guy I met through work. Sat in a rented flat I couldn't afford, with a mountain of debt I had acquired thanks to him, I made the decision to not let his actions destroy me. Thanks to the amazing people who supported me I got back on my feet, sorted out the destruction he had caused and rebuilt my world. A few months later I bought my first flat on a shared ownership scheme, poured my efforts into work and concentrated on me. 4 years later and I haven't looked back.
All three of us TWOP girls have had a fair amount of shit thrown our way in our twenties – Firuze survived cancer for the second time and Vanessa is overcoming Lupus – but powering through these bumps in the road and staying strong have made us into the passionate, focussed characters we are today.
Your parents know best
As much as you don't like to admit it you know I'm right. It was my twenties that taught me to listen to my parents more than any other time in my life. They have been there and done that, failed and succeeded and tried and tested most of what life has to bring. Although you might not like the harsh reality of what they may say, you know their advice is from a heartfelt place and carries weight with experience. So after rebelling in your teens learn to listen in your twenties. You will thank me for it in your thirties.   
Be brave in your career
So as for my work life, what I have I learnt in my twenties? Well… I've learnt a lot. Here's a few things I have found vital to succeeding in my career.
Make yourself heard, not as the loud, gobby office nuisance, but make a name for yourself and raise your profile from day one. Ask questions, lots of them, no matter how stupid they may sound. Make yourself invaluable to a company. Don't be afraid if things go wrong, hold your chin up and learn from your mistakes. Throw yourself in at the deep end and move out of your comfort zone. Put yourself out there, volunteer, go to events and socialise with industry folk. Make lots of connections – they will come in handy one day. Ask for what you want and if you aren't getting what you want leave rather than get into a rut. Everyone has an opinion and that's ok, it might not be what you want to hear, but it's important to listen. Don't be scared to make the leap into a new world, change jobs or career – your twenties are the perfect time to bounce around and find your feet. By doing this it's the fastest way to learn. Not everyone will like your work, like your style, believe in what you say, but as long as you stay true to yourself that's all that matters.
Don't compare yourself to others
It's quite easy to look at someone's romantic relationship and long for what they have, but you have no idea what happens behind closed doors – things might not always be as perfect as they seem on social media and more importantly everyone is different and therefore so is every relationship. Don't compare your career choices to that of your friends – if you feel like you aren't happy in your job then make a change, but don't worry if you aren't climbing the ladder as quickly as your pals. If you want to sit at home snuggled with the cats eating ice cream and watching trashy TV while your twenty something friends dance the night away in a trendy club, then that's ok. You are your own person with your own relationships and needs, it's only you that knows what will make you truly happy. Don't be a sheep.
So, it's safe to say my twenties have taught me a lot of vital life lessons and taken me through learning curves and important experiences. Truth is, I'm looking forward to my thirties and what the next 10 years have to hold. Bring it on.
————
Words by – Natalie Jahangiry
Want the latest posts, offers and exclusive tickets straight to your inbox? Subscribe to our newsletter and never miss out again.
Images © To Work or Play 2017