Content Marketing: The Good, The Bad and The Ugly //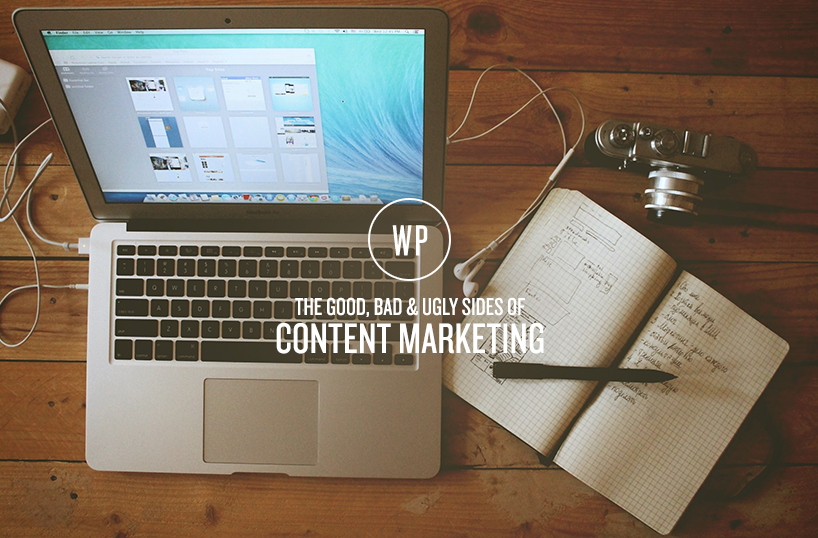 Vanessa recently wrote about The Rise of Content Marketing. Taking this further Alice, our guest writer from over the pond, talks about the good, the bad and the very very ugly side of content. 
In today's internet-centric world, it's important to remember that an online presence can make or break your company. Businesses who implement a content marketing strategy are 35% more likely to succeed. 35% percent!
Businesses that don't take advantage of the opportunity to grow in a burgeoning market miss out on a major opportunity for increasing sales growth. If you are interested in learning a few tips to create an effective content marketing strategy, you might want to check out this article written by Vanessa – The Rise of Content Marketing.
Though the term "content marketing" has been around for a while, it's only more recently that small businesses and fresh startups are seeing its benefits and scrambling to get involved.
Thanks to its popularity, there's been a delightfully confusing mix of good and bad content marketing. Some of which can get your company de-indexed from Google, or, if you've done things right, your company's webpage might just get moved to the much coveted Page 1.
This article will go over the bare bones of the good, the bad and the ugly of content marketing. Its purpose is to ensure that you are able to understand the ins and outs of a major global industry:  
The Good
Let's start by taking a good look at the positive side of content marketing. A number of businesses are realizing that content marketing does a number of things: first, it provides their loyal customers with high quality content that either educates or inspires, second, it raises their site's DA (domain authority) significantly, and lastly, it gives them a lasting presence online that energizes their brand image and draws in a new stream of customers (AKA raised profits!).   
Organic Content
The crux of all good content marketing is organic content. Organic content marketing should always have an authentic feel to it, thus the term "organic". Simply put, it should aim to either inspire, educate, or create a call-to-action (CTO). Content that appears spammy or like an over-zealous sales pitch, will only deter, serve to annoy, and get you swiftly de-indexed.  
Organic content often comes in the form of an article, a guest post on a blog, a mention on a resource list, or guides and how-to's.
Organic content should never:
– Be littered with a bunch of links leading back to your company's site
– Be irrelevant
– Be old or overused
– Be deceitful – for example, don't write an article about indoor gardening and then link the word "soil" to your e-commerce page featuring vintage teacups.
White-Hat SEO
White-hat SEO is a term coined for content marketing that focuses on people by creating informative, high quality content and following the rules and policies favored by search engine algorithms. A white-hat SEO company will create and implement a strategy over the long-term rather than short-term which is often more beneficial for a website's ranking. Organic content is an integral part of white-hat SEO.
Google's Algorithms
Google's algorithms favor high quality content, so if you are maintaining white-hat SEO tactics then you have a higher chance of being exposed to a large number of people. In a bit of an oversimplified nutshell, Google's algorithms favor: long tailed search questions, organic content, mobile friendly sites, high quality websites, relevance and https/ssl.  
Lose the favor of Google's algorithms by implementing black-hat SEO and you will eventually be de-indexed. De-indexing means being taken off of Google completely, and we all know what happens to sites when they're taken off Google *shudders*.
The Bad
For every good content marketing strategy out there, there are at least one hundred bad strategies. Often times, these are implemented by old-school businesses that just don't know any better. Not every business owner realizes the importance of following a great content marketing strategy. Many business owners don't even realize that Google's algorithms are a major success factor in a company's online presence.   
Businesses that Don't Use Organic Content
This tends to be very unintentional. Outsourcing is used more often than not when it comes to content marketing and many businesses cannot afford to pay high dollar to expand their online presence. The businesses who choose to penny-pinch often end up in sticky situations thanks to black-hat SEO.
Black-Hat SEO
Black-hat SEO tends to involve cheap, overseas labor with individuals who often do not speak or understand the language they are "marketing" in and who often plagiarize the work of other individuals using spinning tools. It also includes keyword stuffing, spammy content, duplicate content and a whole lot of bad links.
This terrible form of marketing is deceitful and gives a bad name to the rest of the industry. Remember, using black-hat SEO might achieve results in the short-term but will eventually get you de-indexed.
Google's Algorithms
Google majorly penalizes businesses that partake in black-hat SEO. Its algorithms tend to show disfavor to sites that implement: bad links, "cloaking", keyword stuffing, duplicate content and non-mobile-friendly sites.
Do any or all of the above mentioned algorithmic no-no's and you will be effectively de-indexed. A business owner should realize that if your site is de-indexed, it might as well not exist to a HUGE chunk of the world's population who uses the internet.
And The Very, Very Ugly
There are few things uglier for web-based businesses than the moment they find out they've been penalized, been de-indexed, or when they have the knowledge but continue to use bad tactics.
Getting Penalized
Getting penalized by Google because another business has created faulty or low quality content in your business's name is one of the stickiest situations an online business can run into because it leads to a rash of many of problems.
Sometimes, and this is quite common, your competition might hire cheap black-hat SEO companies to create a large number of spammy content and backlink it to your site. They do this because it will eventually get your site de-indexed.
Let's call this reverse content marketing. If your site suddenly loses most of its traffic and you know you haven't participated in anything that Google might have penalized you for, then you might want to check out your backlink history using tools like SEM Rush, Majestic and Moz.  
You can always contact Google and ask to have bad links disavowed.
Getting De-Indexed
After being penalized by Google, some sites continue their bad tactics and others continue to be attacked by competitors using reverse content marketing. Each instance will almost always get your site de-indexed, although you can go to Google's support page and submit your site for reconsideration.
When Google de-indexes your site, it is only because its algorithms detect that your site is not trustworthy. As Google's main goal is to provide its users with the best experience via providing them with quality sites that can be relied on you should never take this personally.
Getting de-indexed sucks on a massive scale, but it's never final if you can regroup and hammer out a shining new strategy. Just make sure to clean up your act!
Continuing With Bad Tactics
Please do not use black-hat SEO tactics. Just don't do it! It will only hurt your business in the long run, not to mention your brand image! Everything you do online can and will affect your business entity whether for the good or the bad.  
If you don't know where to start, you might want to consider beginning by outsourcing to a well-known content marketing business. Make sure you do your homework on whomever you choose to use, and when in doubt, cross them out! If you think there's something iffy about a company, then your intuition is probably at work.
If you continue using black-hat SEO tactics after reading this article, then getting de-indexed is a very real and very imminent possibility. There are better ways to market your brand and build a relationship with your customer-base and publishing seedy content is definitely not one of them!
Words by  – Alice Vuittonet
Alice doesn't have social media, but she can be contacted at a.d.vuittonet@gmail.com